Supporting artists is incredibly important to us at Cass Art and the Cass family has been doing so for over 100 years! Today they are helping future generations of artists through the Cass Scholarship. Funded by Eric and Jean Cass, the scholarship supports one student each year at The Royal College of Art, by funding their tuition fees in full.
We caught up with this year's graduate Blythe Plenderleith to find out about her work, experience of art education and how the scholarship has helped her as she begins her creative career.
Hi Blythe, it's great to speak with you! Tell us a bit about your creative journey so far.
I'm originally from London but moved to Somerset at a young age. It was quite a stark contrast from city living to small town living which has been a predominant attribute to my work, especially small town living; from the community spirit to perhaps the darker underbelly. I studied BA Hons Sculpture and Environmental Art at the Glasgow School of Art. My time at GSA challenged my understanding of sculpture, where I had tutors that were crucial in the development of my practice, confronting and querying themes, theory and debate. I relish debate and GSA nurtured my desire to question. Due to the Cass Art Scholarship, I was then able to complete an MA at the Royal College of Art. The RCA gave me many opportunities that would otherwise not be possible such as creating work to 'take over' Dame Barbara Hepworth's Single Form at Battersea Park. I also studied in the last 2 year MA course at RCA which I am very grateful for as I was still able to complete a thesis and gain a distinction, examining notions of perfection and making do. This level of research and probing has unequivocally influenced my practice and artwork helping me gain 'Excellent' in all eleven categories in my exam; the highest qualifications possible.
My work in the RCA2023 graduate show got selected as 1 of 6 out of the 1000 students exhibiting at the Truman Brewery as a must-see and 'An Artist to Watch' in the London Art Roundup. Other significant shows this year have been the RSA New Contemporaries 2023 at The Royal Scottish Academy, Edinburgh. It was here I won the Fleming-Wyfold Art Foundation Award 2023 which helped towards the production fee of my new work. I have also been selected to take part in the RWA 170 Annual Open Exhibition at the Royal West of England, Bristol from 9 Sep 2023 - 14 Jan 2024.
Try
How would you say that the RCA Scholarship has helped you on your journey during your MA?
To put it very simply, without The Cass Art Scholarship I would not have been able to attend the Royal College of Art. This scholarship not only made it possible to complete my MA but gave me access to the possibilities the RCA had to offer such as the diverse projects which were often site-specific and working in collaboration with different companies, councils and galleries. Being able to attend the RCA also gave me the opportunity to meet visiting artists, lecturers and tutors which demanded me to be critical and self-reflective both in my practical work but also my written work.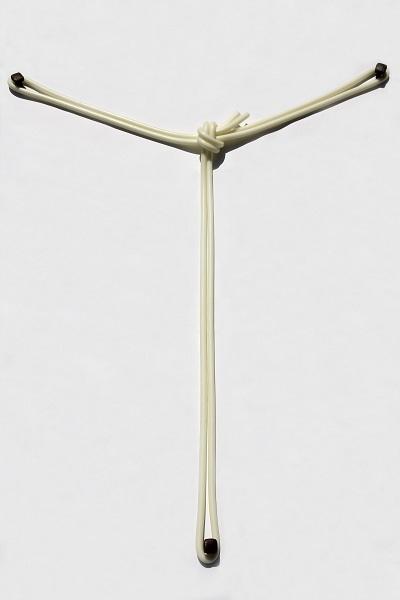 Inertia
Can you explain the themes in your work and how you explore these in different pieces?
My research and practice observes small town traditions of farming, harvesting, quilting, barn raising and furniture making thus aiming to redefine standards in an age of mass-production and cheap imitations. Drawing from my own experiences of community spirit and perhaps the darker underbelly of small town living, I often showcase a fascination with a certain mode of behaviour. Relishing the decorative arts of America as well as the traditions and techniques taken from my Scottish-American heritage, I probe the terms craftsmanship, twee, needs-must and improving, questioning small town living and paying tribute to its historical matrix; necessity is the mother of all invention.
Try is the result of working with small town businesses and manufacturers and contrasting that to the mass production of Chinese imported goods.464 bought, encase 1 handmade pie funnel, which has been slip cast and reflects the 10% shrinkage in the making process. Either protected or surrounded by the cloud, the central pie funnel is overlooked by the iconography of a 60's ornament. The handmade is encased by the mass-produced blending the boundary between different objects/techniques/level of skill/mass-produced objects and the handmade.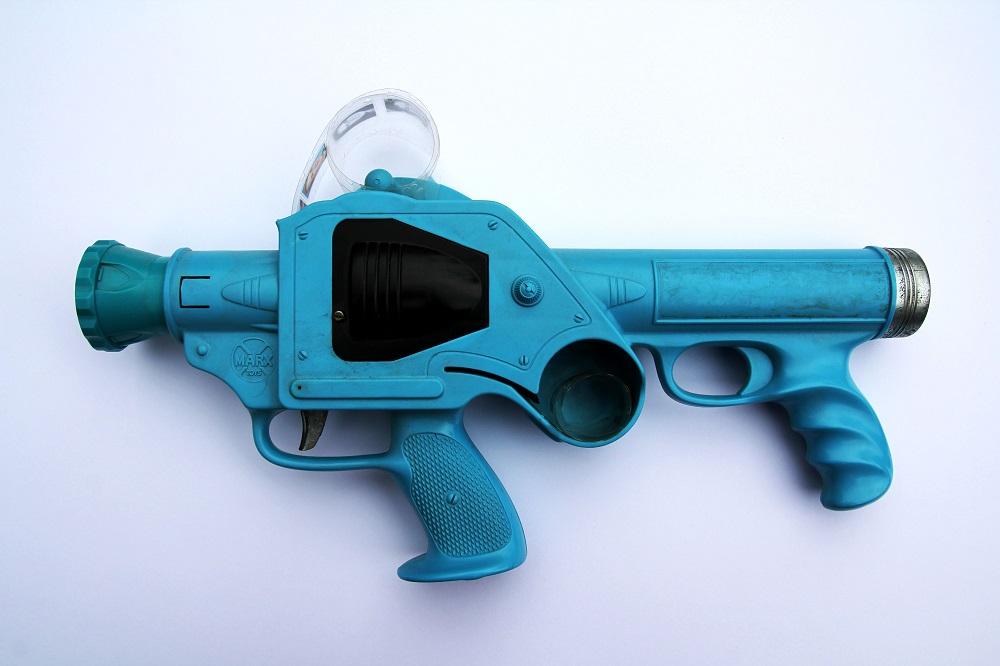 Secondary
Secondary, is the result of many years of research. Secondary is a toy gun projector that invites viewers to pick the gun up and pull the trigger showing the 13 school photos of the individuals killed in the Columbine shooting; 12 children and 1 tutor. It is always so shocking shootings are becoming increasingly normalised and I wanted to probe the point at which play and realisation meet. Playing cowboys and Indians, playing with spud guns, water pistols, projector guns and video games, even as children we become immune to violence as if we can reset our actions like a video game. I have used the death of loved ones as a resource and I am potentially in some people's eyes diminishing the trauma of that, but that's part of the work. I wanted to use school photos as part of Secondary as they feel like they have been lifted directly from family photo albums. They do feel potentially invasive and it is intended to make viewers feel uncomfortable.
Inertia is a 2 x 14-foot length of wax twisted and knotted into shape. This year I have worked in collaboration with many places of manufacture and it was working with Charles Farris Ltd which was an invaluable experience, gaining knowledge through research and practice. Charles Farris Ltd enabled me to make Inertia, my knotted candle in the shape of a cross; expanding my own skill set and pushing the boundary between the conceptual and final execution of work. It was here I was taught how to manipulate the wax as it came off of the factory line, the exact time the candle is malleable and the different percentages of beeswax and how this impacts the malleability of the wax. Inertia is fastened in place by 3 cast nails. Hanging on the wall it is my exact measurements, the candle wax hardened, fragile but woven for support and strength.
Young Filly is an A3 lenticular print. Positioned on the floor, as the viewer walks past it, the image changes from a jar of dying roses to the jar of roses fading completely. It attempts to observe moments of the fleeting, the closeness of the artificial and real life. It combines notions of shrine-making as a form of remembrance, love, forgiveness and death.
Young Filly
Your work has recently developed to incorporate performance, the ready-made and working directly with manufacturers, what made you decide to take your practice in this direction and how has it impacted your work?
I have always had a love for different mediums and especially a fascination with performance, theatre, costume, poetry and the written word. Prior to RCA I spent my time honing my own skill set as it was important to me that I could make my own work and know how to manipulate materials to perform in a certain way. I now feel very confident in my ability to make and bring my ideas into fruition and I didn't want to spend my time at the RCA doing something I knew I could do. RCA gave me time to reflect and I wanted to gain more knowledge through research and practice. Working with different communities and talking to other makers who focus on the hand-made or even individuals working in factories and manufacturers has impacted my work hugely.
In some of my works I adopt ready-mades but I wanted to encompass a very different kind of ready-made. Becoming Quentin Crisp. There was something really simple about just putting on a hat and a slightly camp jacket. I got in contact with Mark Farrelly, the writer of Naked Hope and his publisher and spoke about taking his work and performing it. There was something home spun cabaret about what I was trying to achieve. I watched Mark perform his monologue and I wanted to learn the craft of doing it and turn it into a sculpture. My interest in objects is now opening out into a different kind of arena.
Do you have any advice for future art students?
Trust in what you do. If you think it's a good idea and can justify it but are told it's a bad idea, it probably means it's a good one. If you got into art school it means you're pretty good.
And finally, what's next for you?
I am currently on a road trip across Canada and America, exploring my Scottish-American heritage and my fascination with small town living. This will be used as part of my research for my next body of work. I have plans for a solo show in the next few months and I hope to incorporate all that I experienced along the way.
Thanks Blythe!
See more of Blythe's work at blytheplenderleith.com, see her Glasgow School of Art Showcase here and her RCA degree showcase here.
---
Feeling inspired?
Read more artist interviews on the Cass Art blog.