Made in Arts London (MiAL) is a not-for-profit enterprise that sells and promotes art and design from University of the Arts London current students and recent graduates. Each year since 2015, Cass Art has awarded a materials bursary to one MiAL artist. Ahead of her exciting degree show, we caught up with artist Charlie Russell, winner of the 2022 bursary to see how she is getting on and find out more about her work…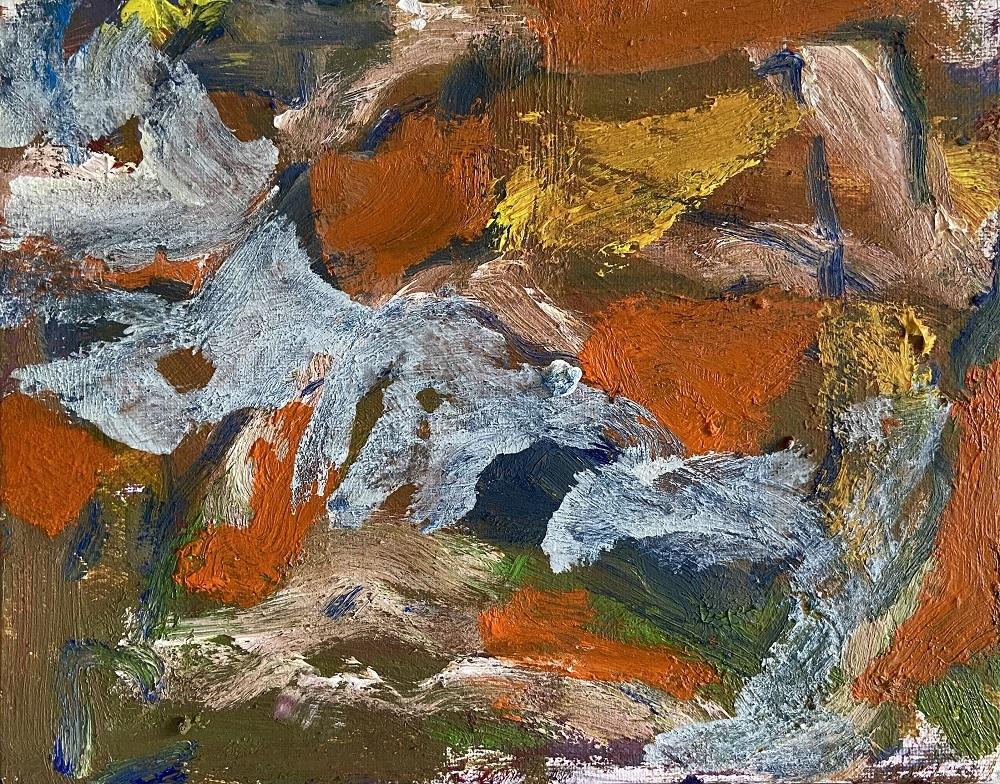 Let Me Lay My Head to Rest
Hi Charlie, firstly congratulations on winning the Made in Arts London Cass Art Bursary Award! Tell us a little about your creative journey so far.
Thanks so much! I've lived in south east London my whole life and I'm currently in my third and final year at Camberwell College of Art at University of the Arts London. This is how I discovered MiAL and submitted my work to their annual open call where my work was selected.
Troubled Water
What has your experience been like on the BA Fine Art Painting Course at Camberwell College of Arts? How has your work developed during your time there?
Because of lockdown during my first year, my experience on the BA Fine Art Painting Course at Camberwell College of Arts has been challenging. My tutors, lecturers and support at MiAL (including Lotte and Katie) really kept me going and without their encouragement I don't think I would be putting so much into my work that I have, especially at the start when I didn't feel that confident in my work and had horrible imposter syndrome. My tutors have always pushed me to experiment with ideas and motifs, especially those which I wasn't sure how they would be received - mostly working-class topics.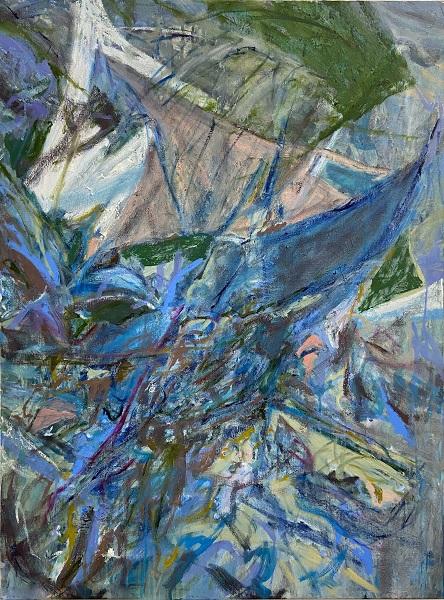 Windowpane
Although abstract, your work explores important topics such as social housing and the impacts of commodifying working-class culture. What inspired you to make work about these subjects?
My work explores topics that I feel either concerned or affected by, which are integral to who I am and how I see the world. Even though the topics I explore in my work are personal to me, I remember as a teenager feeling confused when I would hear or see harmful stereotypes and depictions of working-class people in the media, in film, in conversations I had with others. I felt like I was being told I was wrong for who I was and where I came from, but at the same time I saw this trend of working-class culture being a commodity for people who wanted to pick the 'nice parts' of it. Thankfully I realised how ridiculous that all was and how this is unfortunately a pattern for marginalised groups. It's another example of cultural appropriation, without any means to improve the lives of working-class people. That's why I explore the topics I do in my work. Because for working-class people the reality is neglected living conditions, lack of opportunities and social mobility, addiction, unemployment etc, are not a choice and the people who experience them aren't being heard enough. I feel it's particularly crucial to present this to the art world so I try to get that across in my work whilst also being cautious not to further exploit the conditions and experiences of working-class people.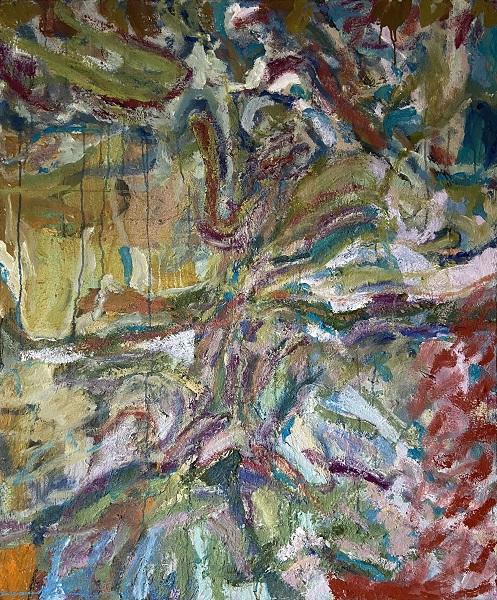 Growth Spurt
Abstract works, of course, are open to different interpretations by the viewer. How do you use the language of abstract painting to communicate your message? Is it important to you that the viewer gets a sense of the subject matter behind your work, or are you equally happy for them to simply enjoy the visual richness of your paintings?
I've found that texture is a great way to communicate what I want to an audience who may not have any previous understanding or experiences with topics like homelessness or poverty. When I layer building supplies like flooring adhesive and raw materials like wax and sand onto the canvas, there is some capacity to relate to a feeling or memory of a place. The disruptions and sharpness that those layers create can present the complexities of topics I explore, asking the audience whether their idea of home aligns with mine. The idea of home is universal and yet we all have very different feelings towards it. It's complex and maybe too intricate to put into words so I like leaving it to the textures in my work to start that conversation with the audience. I think it's a more compelling way to challenge them. With all that being said, I am happy for the audience to simply enjoy the works for what they are. I am still an artist who enjoys works for how they are; I don't necessarily always question them and I think that's important in itself. So long as the audience already has an understanding of or questions the barriers that exist for marginalised groups in other walks of their life, then I have no issue with them enjoying the work for what it is.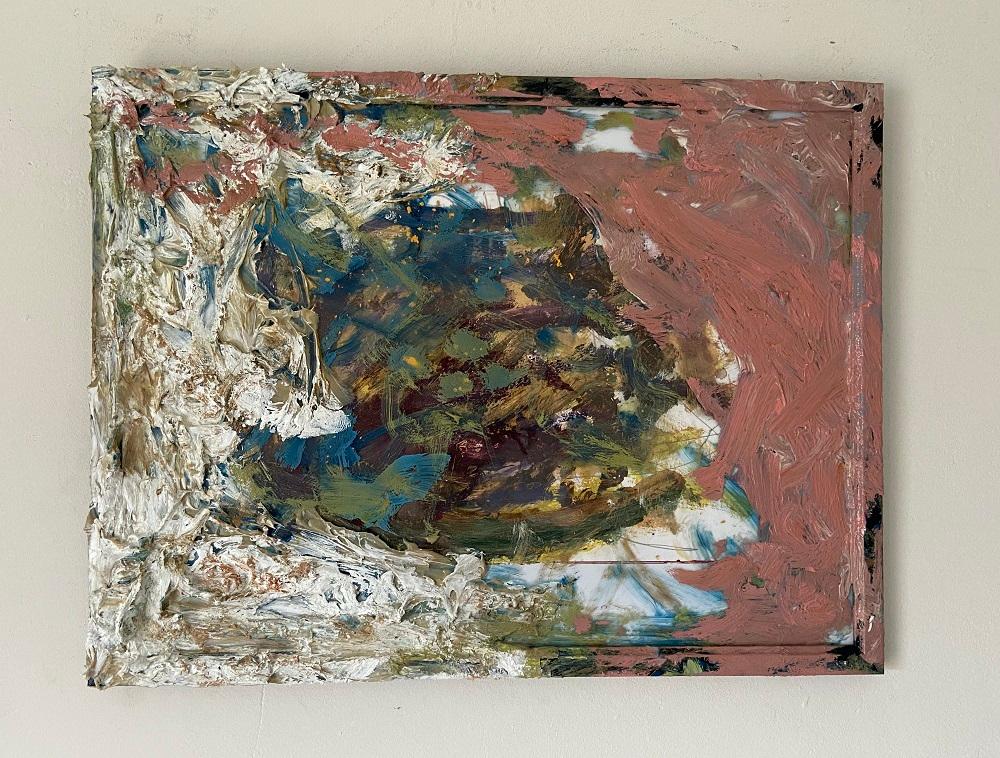 Rock by Rock
You use a range of materials in your works, from oil bars and acrylics to sand and wax. How did you come to use this experimental range of materials and can you talk us through your process?
I think a lot of working-class artists have to battle with limited space and time and the affordability of materials, making it difficult to fully engage with the arts. When lockdown happened in 2020 this was all exacerbated and I found myself working from my tiny bedroom with no access to supplies, so I had to find alternative ways of making and this included exploring different mixtures as a substitute for paint. I started to incorporate things like flooring adhesive, sand and wax I had lying around. I figured using raw materials and building supplies might help communicate concerns I had about working-class spaces. There isn't a specific process to each mixture, I do it intuitively. When I build these mixtures, I layer, scratch and peel at them. Sometimes I build more than others and I might leave some sections out for contrast, filling them in with oil stick for example. Works usually need time to dry before adding layers but sometimes I enjoy working with wet surfaces and seeing how they react with different mixtures. Generally, I work on several pieces at once because of drying times, and they often form a series. I love how different mediums repel against each other, like mixing oil paint with acrylic and watching them separate as I apply them to the canvas. Insecurities about not having enough 'art knowledge' or education, not knowing how to use mediums and paints used to really bother me, so I threw it all out the window and just began exploring it for myself. If it works for me, then it's good enough!
Detail of 'Unknown Memories'
If we were to rummage around in your studio, what art supplies would we find and what key colours would we see on your palette?
You'd mostly find Winsor & Newton's 200ml oil paint tubes and Sennelier oil sticks. I find both products really easy to work with and effortless when applied to a surface. I remember instantly falling in love with Sennelier oil sticks the first time I tried them back in 2020. My favourites are Light Blue and Cerulean Blue for their richness. I try to incorporate these oil sticks in all my works, even if it's just a little as this is great for contrast, especially when paired with oil or acrylic paints, which I often use Sennelier or Cass Art. I do this because of how beautiful they are and also to remind myself of the first time I had tried them out as I was in a bit of a slump with my work before then and trying them really fuelled my practice. I love using the Winsor & Newton Professional Cotton Deep Edge Canvas as a surface and used the 30x40" for 'Babytooth' and 'Lechuguilla' which won the Cass Art Bursary. But I also love working with any materials and surfaces I can find lying around and think this is really important for any artist.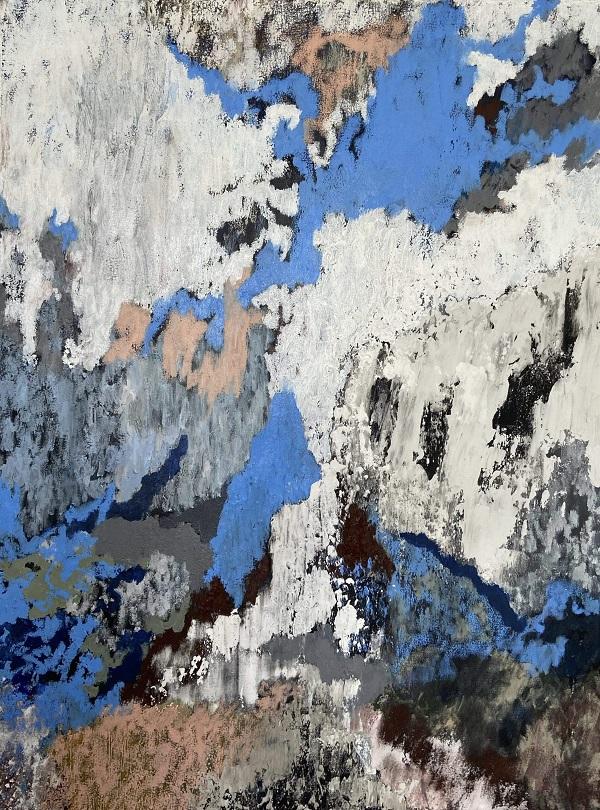 Staffa
And finally, what are your plans for the immediate future?
I'm currently working towards my degree show which opens to the public on 12th to 16th June. I'm trialling out some new ideas for it so that's really exciting! In the meantime, I'm also applying to residencies and looking for opportunities and studio space for next year. I will also be working with The Tagli on their upcoming 01.23 collection catalogue that they are launching with a show, so I'm really looking forward to working with them.
Thanks Charlie! Keep up to date with Charlie's work on Instagram @charlierussellart and at charlierussellart.com.
---
Feeling inspired?
Read more inspiring interviews on the Cass Art blog. Visit the Made in Arts London website to find out more about how they support student and graduate artists.