Posted by Cass Art on 22nd Sep 2021
The Big Walls and Windows Project 2021, sponsored by Liquitex and Cass Art, is an opportunity for students at Central Saint Martins and Camberwell College of Arts to make temporary artworks at each site, on a scale that would normally be prohibitive due to material and equipment costs.
Selected from a panel of judges for the Camberwell project, Sarah Savage, BA Fine Art: Painting student at Camberwell College of Arts, is a Northern Ireland born artist who depicts landscapes that are introspections of her experience growing up in a divided country. Sarah studied Foundation level at Belfast Met and has previously attained the Finalist position for the Young Artist of the Year Award in Northern Ireland.
For the project, Sarah has created a mural within Camberwell College of Arts that explores universal symbols that appear on roads around the world, during our travels to and from home and work. She explores how these simplistic shapes can evoke feelings of solitude, nostalgia and belonging, while also representing notions of safety, danger, boundaries and freedoms.
Watch the video below to hear Sarah discuss her project with the panel of judges and read on as we catch up with Sarah to find out how she tackled the installation step by step.
Hi Sarah! Congratulations again on being selected for the 2021 Big Walls and Windows Project in Camberwell. Since our In Conversation you've now completed the mural, how did you find the experience and were there any big challenges?
Hello! It has been a great opportunity to be selected for this year's award, since having the In conversation I have made a massive step in understanding my materials and practice as an artist. There is a lot of energy and strength needed for this scale of work and that in itself was a challenge. However my biggest challenge was the simple little tree that sits beside the house, at the beginning I tried to make it replicate the same linear bold design found in the house as well as placing it at the corner of the wall (this mistake is very noticeable in the time-lapse video). When it wasn't working I blackened it out and painted it as nature would intend a tree to look 'in its most organic form' and if I had not made that decision the mural would have taken on a different meaning and would have created a distraction from the final realisation.
Can you tell us how you tackled the project step by step?
In the beginning I borrowed a laser beam to mark the straight lines across and down the wall and then after I placed masking tape down, these initiated the basic shapes of the motorway, road sign and other signs before painting. I then began to add mediums, ceramic Stucco and modelling paste directly onto the wall to prepare for a series of layers and colours on top, so there was a lot of planning and forethinking around how to form an effect later in the painting before even starting.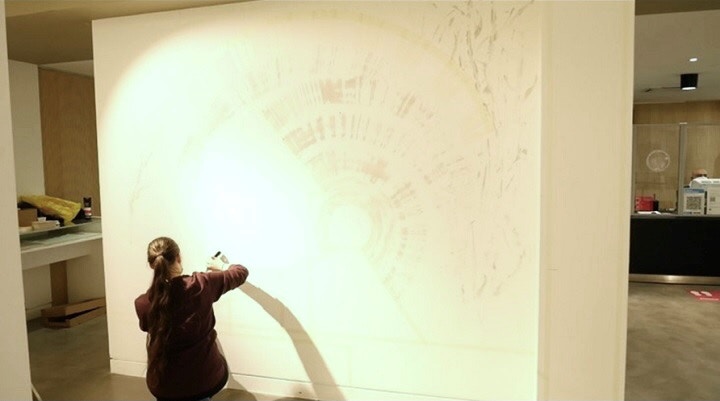 Then I began to cover the whole wall with black primer and some of the signs with grey primer. I began to apply my paint, the colours were phthalocyanine blue (green shade), phthalocyanine green (yellow shade) and a mixture of different shades using an Indian yellow and a muted colour set.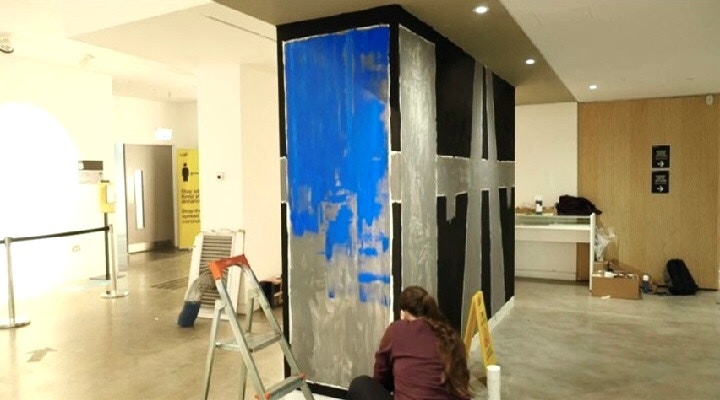 I then painted over the black primer with the Liquitex phthalocyanine blue (green shade). It was around this time I removed all the masking tape and began to resurrect my white areas.
The mistake I was making with the tree is very noticeable at this stage.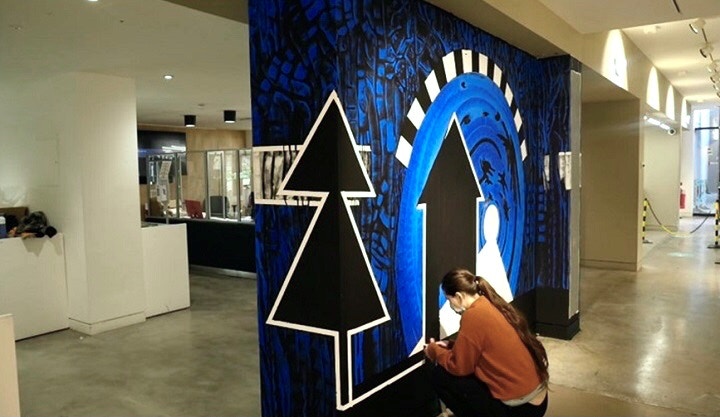 I added Liquitex Texture Gel Black Lava in areas to create shadows and inside the house I also added the medium White Flakes inside the tunnel to reflect the light. I incorporated the more organic looking tree as opposed to the more graphic design earlier. I used a sponge roller to get the effects in the trees surrounding the tunnel.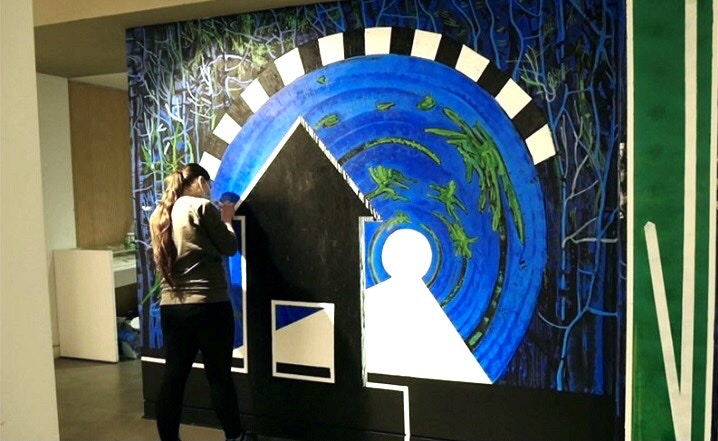 Lastly, I added final detailing and outlining using Liquitex Markers.
What are your final thoughts on the project? How has it helped you to develop as an artist?
This project has helped me to understand the importance of painting as a means to share space and thoughts that go outside my experience and are received by another. I may continue to look at similar images to develop my work, I like how it can place someone in a certain time and create a shared understanding about a painting.
And lastly, what is next for you?
I will stay in London until the end of the study year perhaps to work on some new, big paintings and visit some exhibitions, my subject always draws on our man-made and natural world and how humans try to imitate the natural world. These new studies can be followed on my Instagram @miss_savage_sarah and more information about my work can be found on my website sarahsavage.myportfolio.com and in the new released publication NURTURE magazine.
See Sarah's Big Walls and Windows mural at Camberwell College of Arts, 45-65 Peckham Rd, Camberwell, London SE5 8UF until 26th June 2021. External visitors will just need to sign in at the front desk and get a temporary pass to see the mural. All visitors are required to wear face coverings and must also adhere to the government social distancing guidance.
Image credits: Top image @petercattrellphotography. Video editing and stills by Iman Osman.