Posted by Cass Art on 1st Feb 2019
When it comes to alcohol markers, Copic markers are the first choice of pen for professional illustrators and graphic artists. Copic are the highest quality alcohol markers in the world. Originally developed for Japanese manga artists, they are now also widely used by comic artists, architects, product designers, graphic designers, industrial designers, calligraphers, quilters, scrapbookers, and for journaling and mixed media arts too. Once you try Copic marker pens for yourself it's easy to see why.
A good investment
There are so many reasons why Copic markers are popular artist pens. Copic markers don't come cheap, but they are good value. Once you purchase a marker it is yours for life. Each marker is hand-tested for quality. You can refill the marker and replace worn nibs, so your marker will last a lifetime. What's more, Copic markers will not dry out when not in use. They have a guaranteed three-year shelf life, so your investment will not waste away in storage.
Choosing your colours
The "Copic Color System" is a helpful tool for evaluating which shades will blend best or for creating the perfect palette for your work. Every Copic marker has a unique code: four distinct elements starting with the Colour Family, followed by the saturation number, and then the brightness number. The letters at the beginning of the code indicate the Colour Family ( R = Red, YR = Yellow-Red, Y = Yellow, YG = Yellow-Green etc). The saturation level indicates the purity of the shade. A low number indicates a higher degree of saturation, meaning more vivid or intense colour. A high number indicates a less saturated hue; colours will appear dull or washed-out in comparison to the markers with low saturation numbers. The brightness number indicates the lightness or darkness of the colour; the lower the number, the lighter the ink will be.
Copic size and price to suit everyone
Copic markers are available at a range of sizes and price points with different nib sizes and styles to suit your work. You can choose from Classic Copic original, Copic Ciao, Copic Sketch and Copic Multiliners. We put Classic Copic original, Copic Ciao and Copic Multiliner pens to the test in our parrot illustration artwork.
Classic Copic Original Markers
The Classic Copic Original Markers, are the first markers in this series. They come in 214 different hues and are typically the most expensive as they hold the most amount of ink. You can refill the pen nine times from one ink bottle. Each pen comes with a medium broad chisel nib and a fine nib when you first purchase it. But with nine different nib options, it's a really adaptable drawing tool.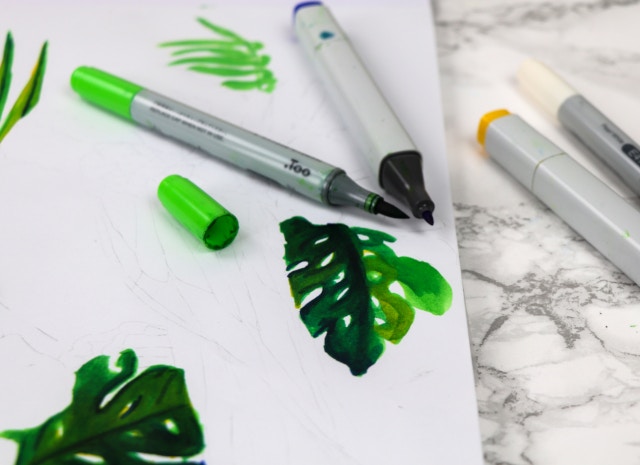 Copic Ciao Markers
The Copic Ciao Markers are the cheapest of the range and a great entry-level buy for beginners. With a round barrel, these pens are cheaper as they hold the least amount of ink and are available in 180 colours. The pens have a standard medium broad chisel nib and a super brush nib as shown.
Copic Multiliner marker
The Copic Multiliner marker is a great black fine-liner. The nib is encased in metal ensuring stability when used with stencils, rulers, templates and when drawing free hand. It's excellent for overlaying outlines and details over any existing Copic pen work as it will not bleed or smear. It's available in nib sizes 0.03 - 0.7 and a Brush Nib.
How to use Copic Markers
The Copic's alcohol-based ink dries acid-free and does not lift or fluff paper fibres the way water-based inks do. We created our illustration on a Cass Art Marker Pad . The pad's 70gsm paper is extremely smooth and bleedproof, so it's the perfect background for drawing with marker pens for graphic illustrations. It's a great choice if you're getting started with Copic makers.
Copic ink applies smoothly and is easy to blend and layer. So although the pens come in a wide range of colours, you can create eye-catching, colourful artwork and professional effects with just a handful of pens. For instance, the combination of Classic Copic Original Markers and Copic Ciao is really powerful. The Ciao's super brush nib has a unique, flexible brush that allows for smooth blends and paint-like application. The Classic marker's chisel tip enables bold strokes and quick coverage. And the original smaller, tipped nib gives you the ability to work within detailed areas.
Bleeding Copic markers
You can blend Copic markers in a variety of ways. Drag wet ink with a lighter colour, moving quickly as you work across the paper. This creates a painterly effect as shown on the monstera leaves here. You can also apply a light colour or add darker shades on it for the depth as on the flowers (see above). Alternatively, layer lighter hues over a dark colour for more texture and interest as seen on the parrot's plumage below. You can also achieve seamless blending between Copic markers with a Copic original colourless blender marker.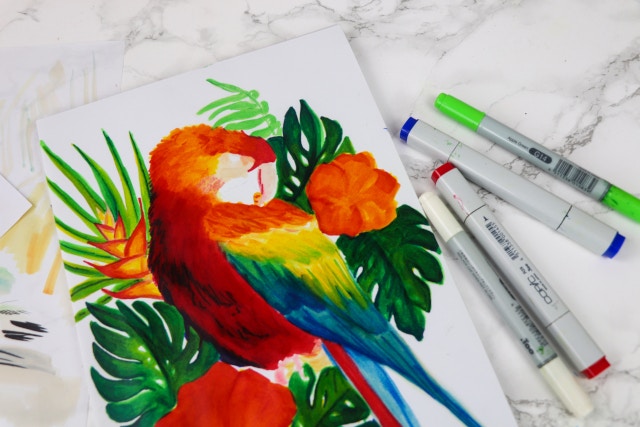 As mentioned previously, the Copic multiliner is great for detail and overlaying. While we added large black detail with a Copic ciao brush tip, the finer lines defining outlines and delicate detailing around the bird's face and feathers were made with the multiliner as pictured.