Posted by Cass Art on 17th Aug 2022
Affordability combined with versatility, System3 from Daler Rowney are the perfect introduction to a wide range of materials. System3 materials can be intermixed with one another, from their acrylic paints, screen printing mediums, and acrylic inks. Explore the full range below, sit back and watch all of these materials in action!
LEARN MORE ABOUT SYSTEM 3
---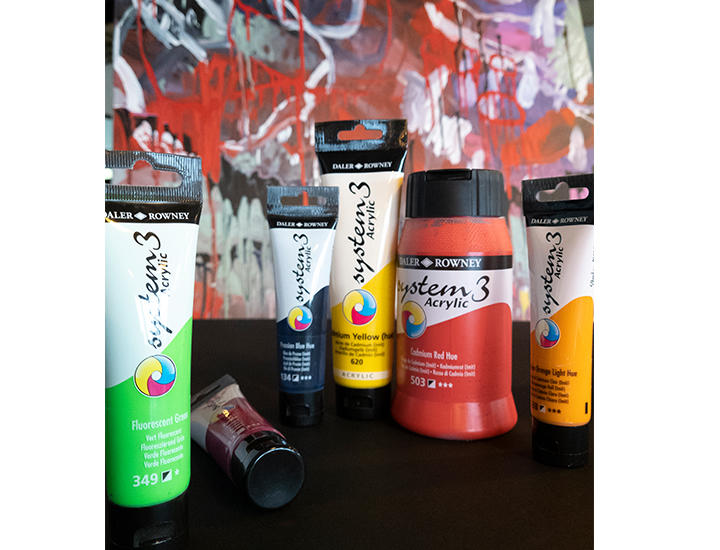 System3 Acrylic Paint
From respected colour-maker Daler-Rowney, System 3 Original Acrylic Colour is a versatile range offering you good-quality acrylic colour at an excellent price. The pigment-loading is greater than comparable ranges, increasing covering power, and both lightfastness (apart from fluorescents, as with other brands) and permanence are excellent. It's also quick-drying and can be thinned with water for washes, making it ideal for everyday use, particularly for work on large areas. Once dry acrylics are permanent and water-resistant. Range is sold in 59ml, 150ml, 250ml and 500ml in selected colours. Stocked in all our UK stores. Full range available online.
---
System3 Fluid Acrylic Paint
Fluid acrylics are acrylic paints with a runny or thin consistency, designed to flow and spread easily without sacrificing colour intensity. Fluid acrylics are ideal for pouring or dribbling paint, rather than applying it with a brush.
So If you're looking for a highly versatile medium that allows you to experiment with both the look and style, then acrylic paints are the medium for you. With their easily mixable functionality, as well as the ability to create paintings that look like watercolour or oil paintings, or going for more traditional finishes such as gloss or matte, acrylics are extremely adaptable to your needs and style.
---
System3 Acrylic Brushes
Daler-Rowney System3 brushes are resilient and durable, perfect for painting with acrylics. The dark-tipped synthetic filaments and black shadow aluminium ferrule combined with an ergonomic black handle give this brush style, affordability, flexibility and comfort. Available in short and long-handled options, System3 brushes are an ideal fine art and craft painting tool for beginners and enthusiasts alike.
Daler-Rowney System3 short-handled brushes feature soft synthetic filaments that give a good snap and perfect spring ideal for thin to medium flow acrylic colours. These short-handled brushes are available in 10 series of head shapes and sizes from 10/0 to 30. System3 long-handled brushes feature stiff synthetic filaments that retain their shape even after heavy use, allowing the artist more control and accuracy and are ideal for heavy body acrylic colours. These long-handled brushes are available in 5 series of head shapes and sizes from 0 to 12.
Explore all System3 Acrylic Brushes
---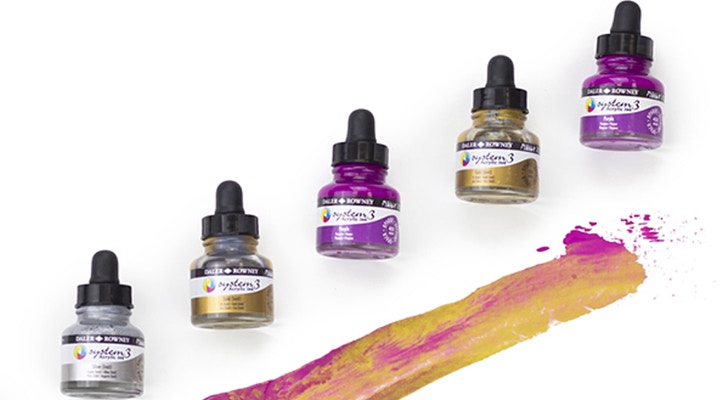 System3 Acrylic Ink
Daler-Rowney System3 Acrylic Inks are multi-surface, pigment-based opaque inks, ideal for mixed media and multi-technique applications. The System3 Acrylic Inks are water-based, water-resistant when dry and can be used inside as well as outdoor.
Pigment-based acrylic inks.
High lightfastness (3*).
Opaque.
Can be thinned with water.
High versatility: multi-surfaces, indoor and outdoor, ideal for mixed media.
Usable with airbrush and technical pens.
Available in sizes of 29.5ml, 180ml and sets.
Made in England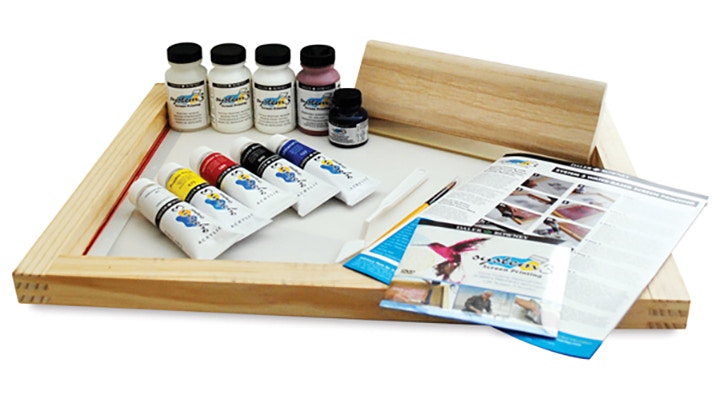 System3 Screen Printing Kit
---
The System 3 Acrylic Screen Printing Set has everything you need to start screen printing at home, including instructions and tips. Use it to print acrylics onto fabrics, paper, canvas or board without the involvement of any solvents. You will find this is a great introduction to screenprinting that brings you high-quality results.
The System 3 Acrylic Screen Printing Set contains: Wooden Frame (41cm x 55cm) with high quality mesh Squeegee (28.5cm x 8mm) 5 x 75ml Tubes System 3 (Vermillion Hue, Ultramarine, Process Yellow, Process Black and Titanium White) 260ml System 3 Textile Printing Medium 130ml System 3 Screen Printing Medium 29.5ml System 3 Screen Drawing Fluid 130ml System 3 Removable Screen Block Plastic Mixing Spatula Step-by-Step Project Sheet Please note: Although stated on the packaging that an instructional DVD will be included in this set, this has now been replaced with an online link.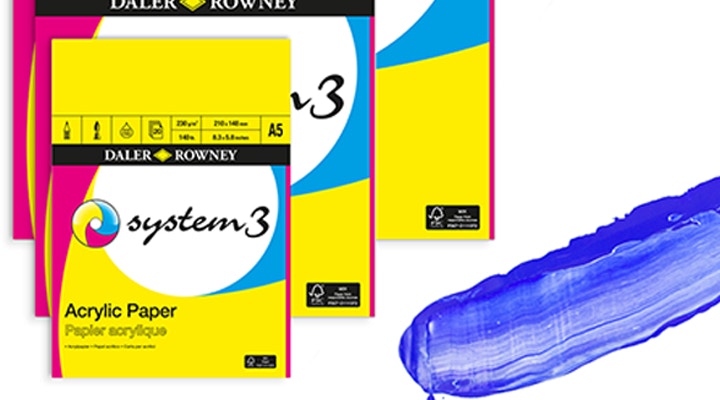 System3 Acrylic Paper
---
Daler-Rowney System3 Acrylic Paper is a high quality acrylic surface featuring a texture which recreates the random weave of linen. Ideal for use with all acrylic colours and mediums, it is a perfect surface to both practice and develop techniques as well as for finished works.
Feeling Inspired?
See below as artist Kerry Lemon brings her System3 on the go to the Brighton seaside.
---
Shop online for everything you'll need. Don't forget to hashtag #cassart on social media to show us your creations.