Posted by Cass Art on 12th Jun 2018
This June we are excited to host Ecclestone Art Agency and The Holly Bush, Hampstead for their delivery of Rosso: Going Solo. This new solo exhibition in our Art Space in Islington is the culmination of Rosso's achievements in the twelve months since winning The Holly Bush Emerging Woman Painter Prize. After receiving the prize in 2017 Rosso has continued to move onwards and upwards with her career at a rapid pace. In this past year she has had exhibitions at The Bloomsbury and the Mall Galleries, and is now on show at Zebra One Gallery in Hampstead. We caught up with Rosso to talk some more about her practice: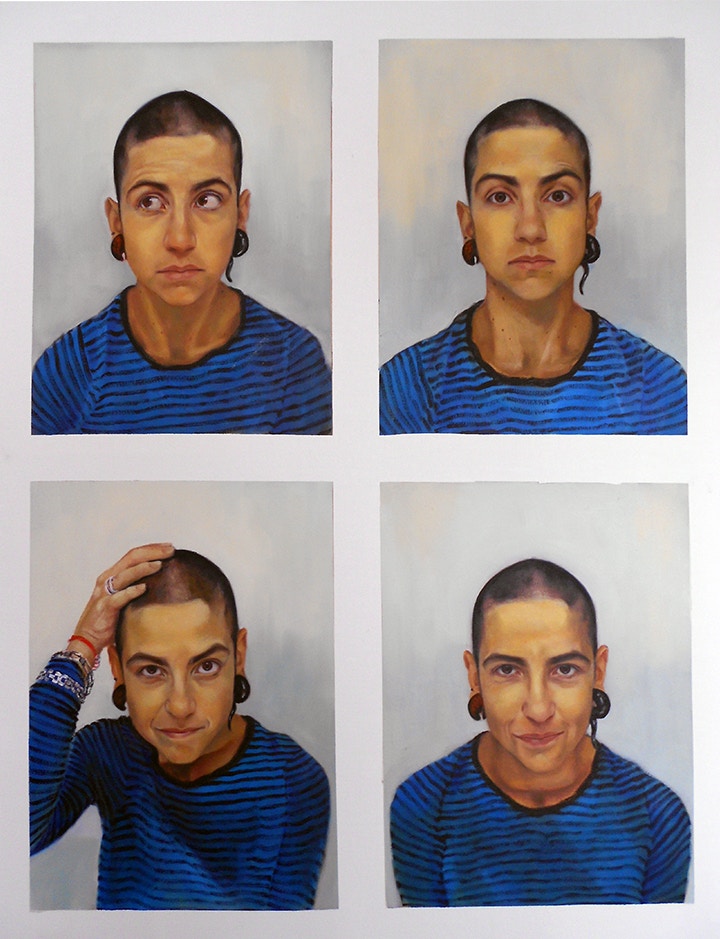 Above Image: Lost Identity
Could you tell us a bit about your process when painting?
A big part of my painting process involves visualisation, different stylistic approaches, the consideration of the imagery and the story behind the subject matter. I paint in oil only, and mostly on wood panels, linen canvas and linen canvas boards. During the actual painting action I swing between two different approaches – a more disciplined approach where I follow my original plans and sketches, and then a more instinctive and impulsive way of working. This is often connected to my state of mind and my mood whilst I'm painting. I love the interplay between rational and irrational drives – especially how it affects the actual handling of paints and the choice of colour range. It makes the whole creative process rather unpredictable.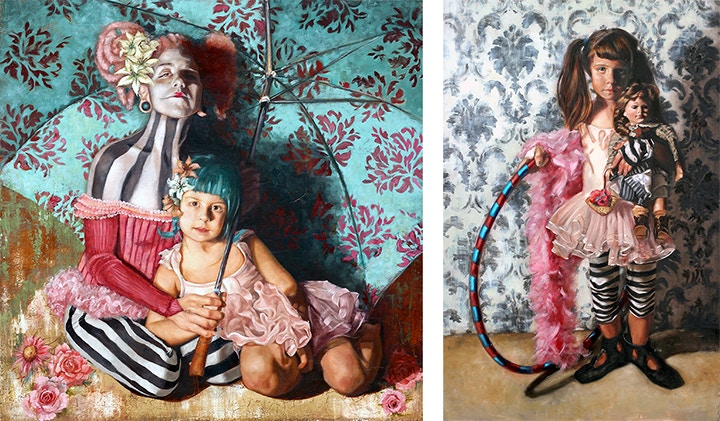 Above Images: Left - Pink Symphony Right - Ballerina
The figure is very prominent in your work, how to do you go about selecting your models: what draws you to a person?
In most of my paintings the people are not portrayed as themselves, rather, as characters representing certain human feelings: a state of being. One aspect that I have always felt a strong urge to explore is femininity, in particular about my identity as a woman in our contemporary society – which although is an extremely personal subject it is commonly shared with millions of other women. For this reason the female figure is predominant in my paintings, especially when they are exploring more intimate feelings connected to gender identity or motherhood. For these works I used myself as a model. When other women model for me, implicitly or not, I am looking for elements in their appearance and personality that resonate and connect with me. The beautiful thing about involving other women as models is that they 'add on' their own internal reality to mine – which in turn makes my ideas more accessible and objective.
Above Images: Top - Reflections (On The Self) Bottom - My Beautiful Pierrot
What sort of challenges do you think female painters face in particular?
I suppose we share the same challenge as in many other fields, of establishing our identity in the 'public' domain just as men have traditionally always done. I feel extremely lucky and privileged though to live in a society where I can witness substantial changes towards achieving gender equality, and I want to be optimistic that the art field will be no less.
Do you have any advice for those wishing to enter The Holly Bush Emerging Woman Painter Prize?
Be selective with the work you submit, and passionate about your art.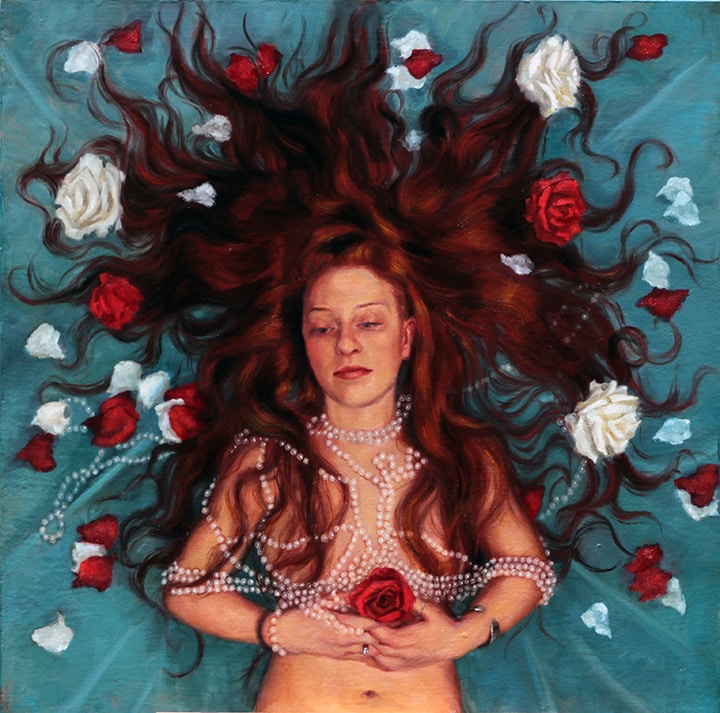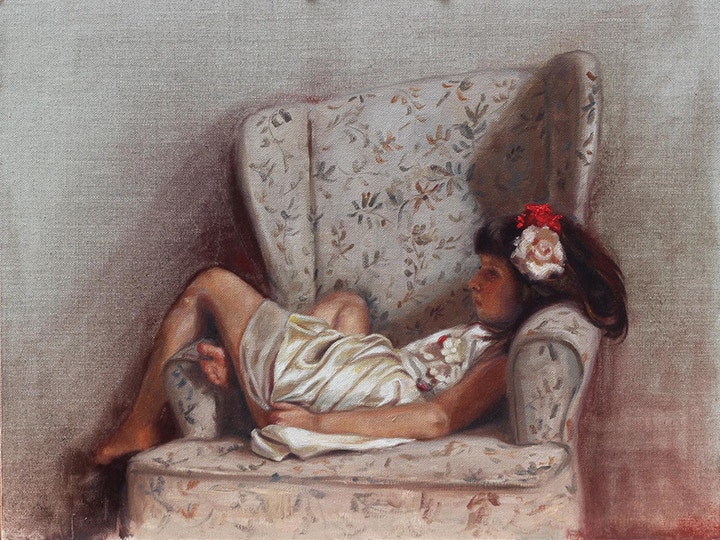 Above Images: Top - Cherry Blossom Bottom - Whispers at Twilight
Rosso on winning the coverted prize:
"I have spent many hours in my studio [since winning], developing new ideas and subject matter, at the same time I have been exhibition my work in new and prestigious venues. I have been working and finishing a whole new range of portraits, some with a narrative, some very simple and delicate. Because of the financial award from The Holly Bush, Hampstead, I had the chance and pleasure to paint with models from life.
I am very grateful to The Holly Bush for sponsoring this prize and to Ecclestone Art Agency for pioneering an event which, apart from the financial aspect, has resulted in exhibiting opportunities and promotion support for the winners and participants!"
Above image: Juggler
More about the prize
The Holly Bush Emerging Woman Painter prize is part of a wider project to support, celebrate and champion female artists. At Cass Art we are also delighted to help support this prize and encourage female painters in their development. The runner up will receive £250 of art materials to help support them in their painterly practice. It aims to help them extend their artistic practice, to nurture their creativity and develop their artistic careers beyond the studio. In July the 21 shortlisted entrants will exhibit at Burgh House Hampstead in an all-female painter show, from there a winner and first runner up are selected.
First Prize:
£1000 from The Holly Bush Hampstead
A slot at the Flux Exhibition in London
The winning painting will be exhibited alongside the runner-up and the other finalists at the Peggy Jay Gallery at Burgh House Hampstead London
The first runner up will receive The Cass Art Emerging Woman Painter Runner-up Prize 2018
£250 of Cass Art Materials
Feeling Inspired?
Find out more about The Holly Bush Emerging Woman Painter Prize and how to enter
See more of Rosso's beautiful work here
Rosso: Going Solo will be in our Cass Art Islington Art Space June 13th – 28th Join us for the Private View on Thursday 14th June 6:00pm to 8:00pm
R.S.V.P islingtonartspace@cassart.co.uk
Image credits: Rosso
Lead image: Portrait of Kimberly