Posted by Cass Art on 3rd Jun 2018
If you go down to the woods today you're sure of a big surprise. Driving along the West Sussex countryside roads, you'll see a flash of colour from the vegetation. Visitors are greeted at CASS Sculpture Foundation with the words "Socialism Good" (translated), emblazoned on the grass in a striking red, yellow and green flora and fauna. The work by Zheng Bo is a fitting introduction to themes in the exhibition
A Beautiful Disorder
currently on display which features commissioned works by 18 contemporary Greater Chinese Artists.
The exhibition takes its name from the French Jesuit missionary Jean Denis Attiret's description of the Chinese landscape tradition which had inspired English garden culture form the 18th Century. Centuries on, this pleasant English woodland houses striking, site specific pieces that play with the landscape whilst critiquing Chinese culture, politics and society.
As you wander through the beautiful CASS grounds, the woodland clears to an extraordinary view, obscured by Wang Wei's Panorama. The curved wall depicts a mosaic mural of the scene beyond, a practice often used in animal enclosures to make the visitor feel, at least subconsciously, the animal has more freedom. Wei was stuck by the artificiality of such murals at Beijing Zoo and with this work makes us question whether our own freedom in society is simply illusion.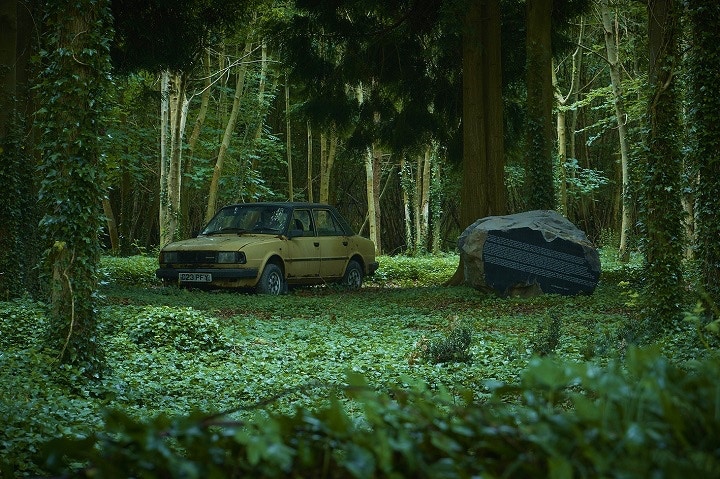 You may feel you've wandered too far as you stumble across Lu Pngyuan's Ghost Trap, which toys with the clichés of horror stories. There's something very sinister about the rusty, abandoned car in the woods, and the nearby boulder is inscribed with a ghost story about apparitions and demonic creatures encountered by one young man who loses his way on the CASS grounds one dark and stormy night. Are you sure you know the way back to the main gallery?...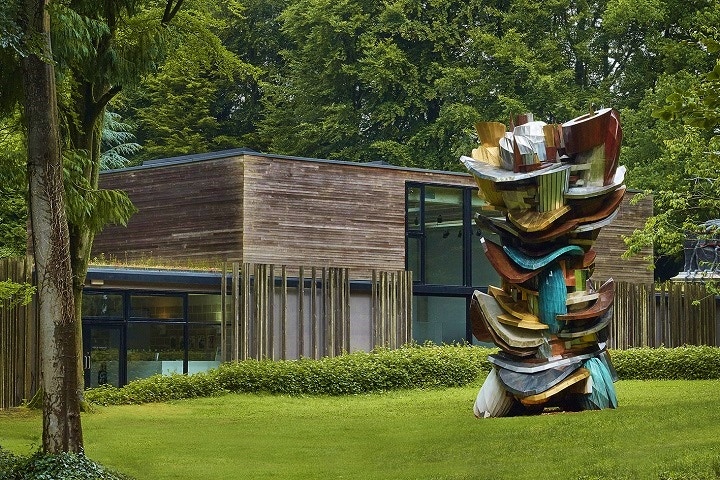 …Here it is, and it's hard to miss with Wang Yuyang's Identity towering in front of it. This work incorporates brass, copper, fibreglass, concrete, marble and metal in a totemic, six metre tall, multi-coloured sculpture. Whilst the forms may look like alien plant life, incredibly, the work is a 3D rendering of Karl Marx's Capital: Critique of Political Economy. The artist converted the text into binary code which determined the whole structure, material and colour of the piece, blurring the boundaries of art, technology and ideology.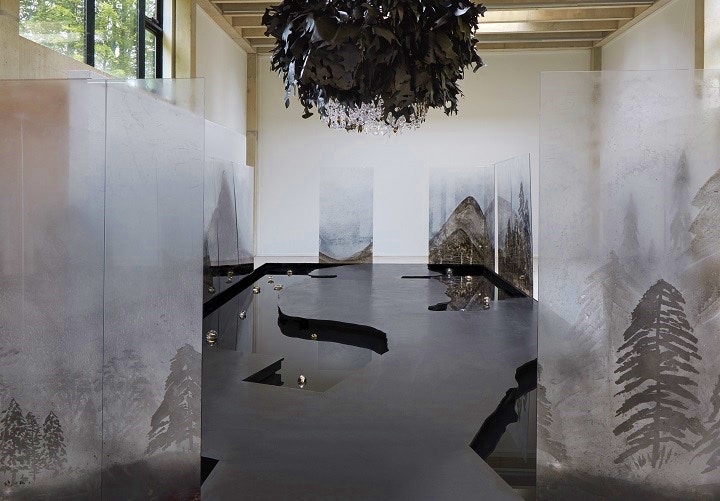 Drop into the Main Gallery and immerse yourself in Jennifer wen Ma's installation Molar. Ma explores the trans-cultural history of mythological gardens and paradises, as pools of Chinese ink, traditionally used in Chinese landscape painting, loom beneath an upturned tree made of black Tyvek and a collection of tear dropped glass forms hang, chandelier like above.
Visit the exhibition
Exhibiting artists include Bi Rongrong, Cao Dan, Cao Fei, Cheng Ran, Cui Jie, Rania Ho, Li Jinghu, Lu Pingyuan, Jennifer Wen Ma, Song Ta, Tu Wei-Cheng, Wang Sishun, Wang Wei, Xu Zhen, Zhang, Ruyi, zhao Yao and Zheng Bo.
Image credits:
Photo: Barney Hindle © 2016 Cass Sculpture Foundation, Zheng Bo, Socialism Good, 2016
Photo: Barney Hindle © 2016 Cass Sculpture Foundation, Wang Wei, Panorama 2, 2016
Photo: Barney Hindle © 2016 Cass Sculpture Foundation, Lu Pingyuan, Ghost Trap, 2016
Photo: Barney Hindle © 2016, Cass Sculpture Foundation, Wang Yuyang, Identity, 2016
Photo: Barney Hindle © 2016 Cass Sculpture Foundation, Jennifer Wen Ma, Molar, 2016