Posted by Cass Art on 9th Jul 2021
The variety of spray paint styles on offer gives you a wealth of creative possibilities. From murals and fine art to up-cycling and fabric spray paint, you can be led by your project and find the perfect effect to suit. So, if you're looking for spray paint for plastic, spray paint for wood or spray paint for masonry, there are no limits to your creativity as the choice of spray paint finishes is immense. Whether you need vibrant matte or high-gloss colour coverage, shiny metallic and chrome spray paint or effects such as chalkboard, glitter, crackle and marble, there's a spray paint for you.
Best loved brands
Take your pick from well-loved spray paint brands such as Molotow One4all and Belton, Montana, MTN and Liquitex.

Montana
Montana GOLD spray paint is famous for its solid colour coverage with its quick-drying NC-Acrylic lacquer. The spring in the valve system allows you to control the pressure and quantity of colour on release ensuring greater accuracy so it can be used for both tricky details and overall coverage. Montana GOLD can be applied on canvas, wood, concrete, metal, glass or even flexible surfaces. It can also be used with Montana TECH and EFFECT sprays as well as its water-based acrylic markers.
Montana BLACK spray paint is ideal for outdoor work, making it a favourite with street artists. It's short drying time allows for immediate re-application and overlapping with other colours.

Molotow
Molotow One4All Spray Paint is a water-based acrylic paint. Opaque and quick drying colours dry matte without cracks or breaks. It also boasts good lightfastness (meaning work won't fade) and UV resistance. The paints can also be mixed with Molotow One4All Paint Markers and diluted with water, making it perfect for mixed media work.
Molotow Belton is a premium spray paint. Like the One4All spray paint, the permanent paint is quick drying, opaque, has excellent UV resistance and lightfastness. Molotow Belton dries to a semi-gloss finish and features anti-drip technology.
MTN
Mtn 94 spray paint is extremely versatile, working well for both interior and exterior projects. Available in 91 colours, including metallics and fluorescents and two varnishes, the paint dries to a matte finish.
Mtn Waterbased spray paint is ideal for interior use in spaces with little or no ventilation due to its low odour. It comes in handy 100ml cans that can be deployed on a wide range of surfaces including; paper, card, wood, metal, canvas, plastics.

Liquitex
With an extensive choice of 100 colours, including transparent, iridescent and fluorescents, Liquitex Artist Acrylic Spray Paint is designed for artists who want to use water-based acrylic paints for mixed media painting, canvas pieces or stencilling. Liquitex Spray Paint has a choice of nozzles (you can buy skinny and fat nozzles as well as the standard supplied), a low odour and works on fabric, canvas, wood, masonry, glass and even polystyrene. You'll also find it's excellent for layers, large areas and under-painting. They are fully compatible with other Liquitex acrylic colours, as well as gels and mediums, and because the paint stays wet longer, you can use a brush to move it around too.
Primers, cleaners and varnishes
The great thing about spray paint is you can apply it to virtually any surface, but you can help it along by prepping your surfaces beforehand and protecting your work afterwards.
The Montana GOLD TECH Universal Primer can be used on wood, canvas, board, leather as well as many other materials. It promotes greater adhesion with any subsequent layers of colour and ensures the fullest colour brilliance. A clean surface will allow spray paint to adhere better. Montana Acetone Spray removes annoying residue and is suitable for pre-treatment before objects or to remove paint residues after painting. While its great on walls and wood it also works on porcelain, glass, ceramics and blank metals.
To protect your work use a varnish. Liquitex Spray Varnish uses water-based technology, has a low odour and is permanent and durable. For interior and exterior use, it can be used alongside spray paint to protect acrylic colour from harsh elements. Once dry it is a water-resistant, non-tacky, hard, flexible surface which is resistant to dirt. It also doesn't discolour.
Innovative effects
While spray paints are great for large-scale artwork, these innovative products are not just the domain of the street artists. Many people use spray paint for decoration, restoration and up-cycling projects.
Chalk-paint furniture has been a popular trend with interior designers of late. Montana Chalk Spray is a great solution, removing the need for fiddly brushes in awkward nooks and crannies. The high quality eco-friendly chalk-based pigment can be made permanent by sealing it with a varnish afterwards. You can also create a vintage or aged look in an instant with Montana's Crackle effect paints.
Marble is another hot look right now. Rather than spending time feathering, use the Montana Marble spray to achieve deceivingly realistic marble effects in a matter of seconds.
If you love a bit of razzle dazzle why not lift your work with a touch of glitter?Montana Glitter Spray can be used on many different surfaces such as paper, cardboard, primed canvas, wood, glass, metal, ceramics, porcelain, stone, acrylic and other paintable materials.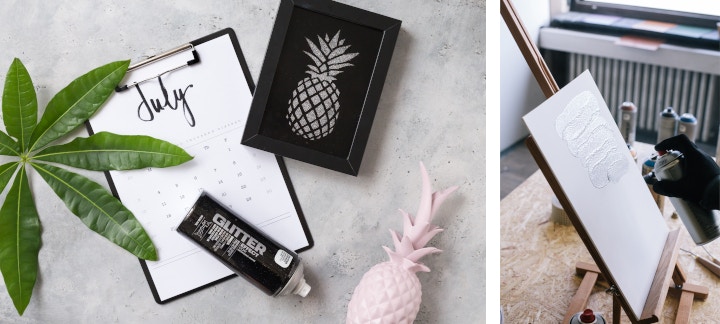 Layer on coats of paint to give the glitter a higher density and once dry, a final top layer coat of Montana Varnish Gloss will enhance the metallic effect. With Fabric spray paint you can even indulge your love for spray painting when customising clothes and upholstery.
Fabric spray paints produce great effects across a range of textiles; mixing them, overlaying shades and using with stencils. Tulip Colour Shot fabric spray works great on natural and synthetic fabrics. It provides even coverage that doesn't drip or splatter, dries quickly and is soft to the touch. Permanent and machine washable, colours can be blended on fabric allowing for some interesting results.
Feeling Inspired?
Check out Cass Art's full range of spray paints.