Posted by Cass Art on 14th May 2020
These are very strange and uncertain times for us all. The idea of the unknown is a difficult place to be in. This period in our lives will be the utmost test of our mental strength and courage. It's really no surprise that in times of unease we turn our attention to fictional stories which in most cases have a relative comfort resolution to distract us from what's going on outside and in some cases inside our front doors. In this series Art in Isolation each week we want to speak to different artists and creatives from around the art world to see what they're doing during this period of self-isolation whether they're making, reflecting or simply taking a break. To see what this time means to them personally and professionally. Also, what art means to them, something that shouldn't be forgotten
Johnny Morant is a contemporary visual artist who has an unmissable aesthetic and explores themes of sustainability and social awareness. We speak to Johnny about his practice and this period of self-isolation.
Hi Johnny, thanks so much for taking some time to chat to us. Firstly, could you tell us a bit about yourself and your journey as an artist?
Hi and thanks for getting in touch. I grew up in the West Country and moved to London after Art College to be around artists and galleries. I've had five solo exhibitions in London and I'm currently working towards a sixth in the City on Threadneedle Street in late September. Back when I started out I was all about capturing light in oils -traditional stuff but an important stage in learning my craft. Over the years my work has evolved to focus on narratives and more complex themes. My last solo show Grounded explored concepts of global sustainability, technology and biodiversity, leading to a full on obsession with astronauts as intriguing symbols of our capacity for progress.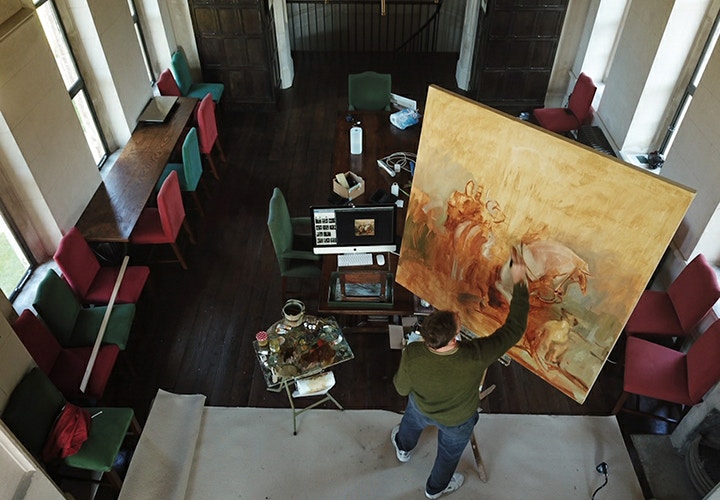 What's quite noticeable about your work is the versatility in your subjects. You've a wonderfully broad portfolio of work that's immediately identifiable as a Johnny Morant. How do you chose what to paint?
I have a compulsive nature and often become consumed by a theme that might be at a complete tangent to what I've just been working on. This results in series of paintings, beginning with one idea and then delving deep into the subject and exploring it to the point of exhaustion. Paint is the medium with which I best express myself, so I tackle each painting as a collection of thoughts that must be rendered in order to move on. While I work I tend not to think too much about style, as I find that on reflection that my mark-making will look like my work because it is.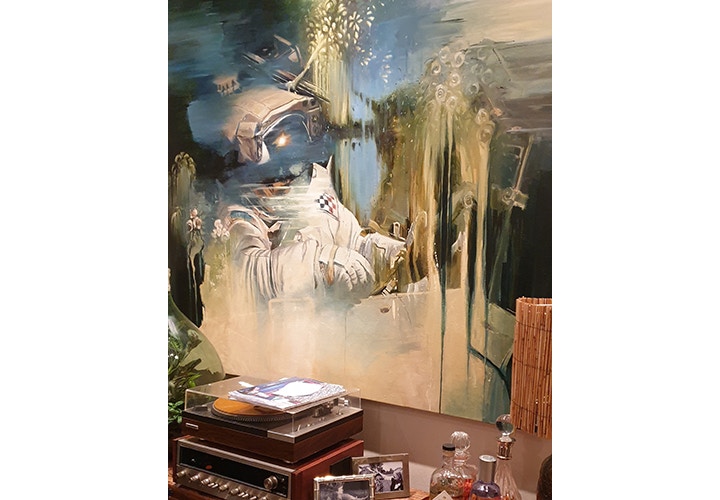 Looking at your show Grounded your works took on almost dreamlike aesthetic, there's wonderful elements of mystery attached to each piece I find. Could you talk us through your painting process and how you capture this?
My early ideas begin as collages of images in sketchbooks and in Photoshop. While at this stage I experiment with concepts, compositions and scale. As soon as I begin to see something that excites me I'll stretch up an appropriately sized canvas and prepare it with a coloured ground and maybe a faint grid. I'll then sketch shapes and tonal ranges in thinned oil, using a grid to help scale up any details that I want to retain. Then the hard work begins as I build up the layers of paint, adding and removing elements until I reach a glimpse of what I'm chasing.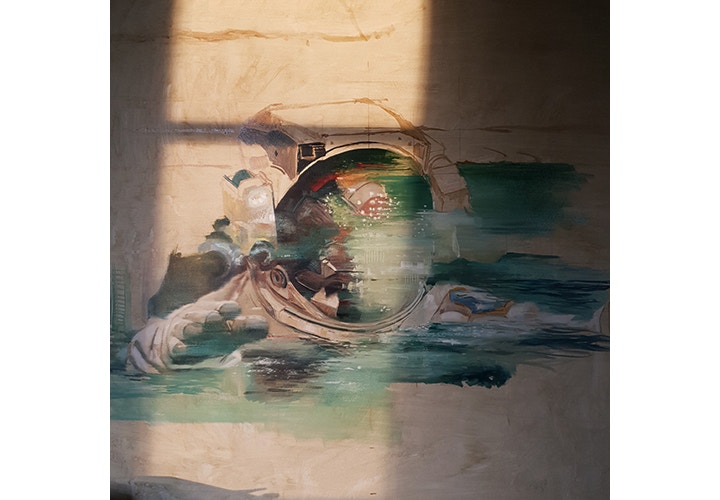 What materials do you use and why are they important to your practice?
I don't hold back on my materials - if it's worth the time and effort then it deserves decent materials. I use Michael Harding oil paints for their high pigment content. I mix my own medium with sun thickened linseed oil, turps and sometimes dammar. I get through a lot of brushes so I sometimes use student ranges from Da Vinci. Also important is a large brush cleaner and a huge glass palette with a scraper. I like to spend the maximum amount of time painting and the minimum cleaning up.
Can you talk to us about this period of self-isolation? What are you doing with your time, whether it be making or reflecting?
Self-isolating is pretty much what I do every day so this has not been too much of a shock to the system. I'm working towards a solo show in September so I planned to have my head down, working for these few months anyway. Not everyone can be cooped up for so long so my wife Julia and I headed down to the countryside to stay with my folks before they announced the lockdown. I have been lent a wonderful space to work inside a historic building with plenty of light, so I am very lucky in that I am able to carry on working.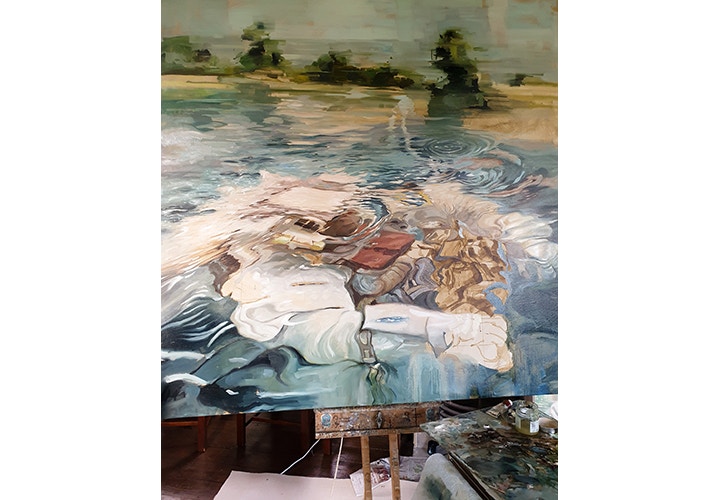 Why is this time important to you and you're practice?
With everyone taking similar measures to isolate, I have found my days to be almost void of interruption. This has allowed me to really go deep into the current direction of my work and where I want to take it. Moving to my temporary studio has taught me that you can have too much light! This will be useful as I have another (hopefully permanent) studio move coming up soon.
In the current climate I think it's always important to reflect on topics as broad as this. But why art is important to you?
It's important because it's all around us and is connected to everything we see and do -some ignore it, others simply can't. Just labelling something as art can start a discussion and you'll soon see that everyone has an opinion. In our current climate of life and death headlines I think art offers relief and an outlet to find balance in our daily lives and retain a little bit of sanity!
We're obviously in a strange place right now. Do you have any advice for anyone struggling with finding their creative flow?
Yes, maybe try woodwork or poetry, I think lockdown will result in swathes of people discovering talent they didn't know they had and there's already plenty of painters. I'm joking of course! Use this time in isolation to create work without the concern of showing it to others- see what you make when the social anxieties of the creative process are temporarily removed.
---
See more of Johnny's work here.

Shop online for everything you'll need. Don't forget to hashtag #cassart on social media to show us your creations.
So we're still in self-isolation and maintaining social distancing which is ironically the most basic act of human social solidarity right now. What does help is arts unique resourcefulness of social connectivity to keep us symbolically together yet physically apart.
"Learn the rules like a pro, so you can break them like an artist." - Pablo Picasso