Posted by Cass Art on 6th Feb 2021
We spoke to artist and illustrator Sally Clark about her practice, creative time during lockdown and her experience using the new Cass Art Markers.
Hi Sally, thanks so much for taking the time to speak to us, firstly could to you tell us a bit about your practice?
Hi thanks for asking. I like to use a wide range of materials in my paintings, such as marker pens, inks, watercolour, collage and acrylics. My work is very loose and gestural, I am interested in mark making, creating interesting surfaces and playing with blurred and sharp edges. I mostly paint landscapes; I am always trying to capture its spatial qualities, movement and vibrant colours.
Over the years I have had many exhibitions and commissions, locally and in London. I fit my painting around working as a part time art teacher for special needs children I also run many art workshops and classes for adults including some for the NHS to help with wellbeing and mental health recovery.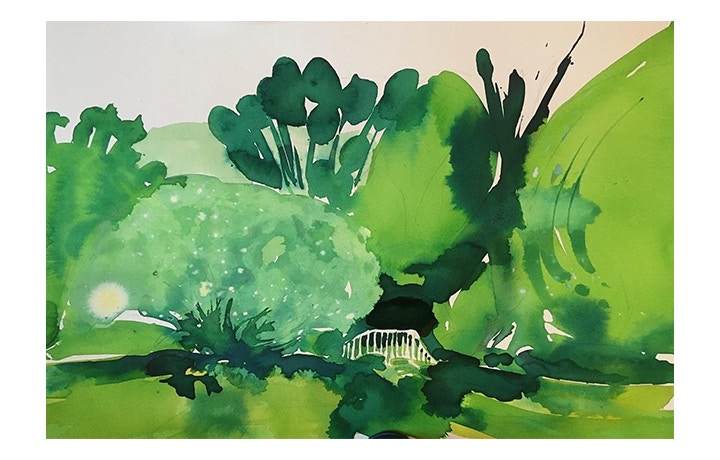 Watching a lot of the tutorial videos you made over the past couple of months you use such a great variety of techniques to create your colourful abstractions. Would you talk to us about your process of producing a work?
I think when you have been experimenting (being playful) with art materials for many years you really get to know what various materials can do. Therefore I have built up lots of ideas of how to put different techniques together to get the affect that I am aiming at. I like to encourage students to have this playful approach too, to not have too fixed an idea of what you want!
I love, for example, layering paint on top of collage and oil pastels and then using marker pens to add final calligraphic marks and details. Each material has something exciting to add to the whole, it may look a mess but often there is a good section and I just frame that part and bin the rest!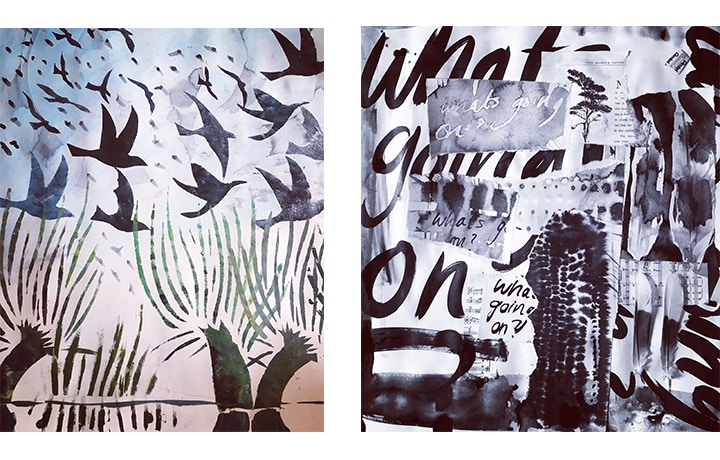 These are such strange times coming in and out of lockdown over the past 10 months. How have you found this impacted you creatively?
I have found it a very creative time. I started making short art tutorial videos for friends to do whilst they were all stuck at home in the first few months. I shared these on social media and had a huge and positive response becoming a tiny bit of an Instagram sensation!!
Also I have done loads of paintings; there has been time to explore new directions with no pressure to exhibit it has felt very freeing in a way.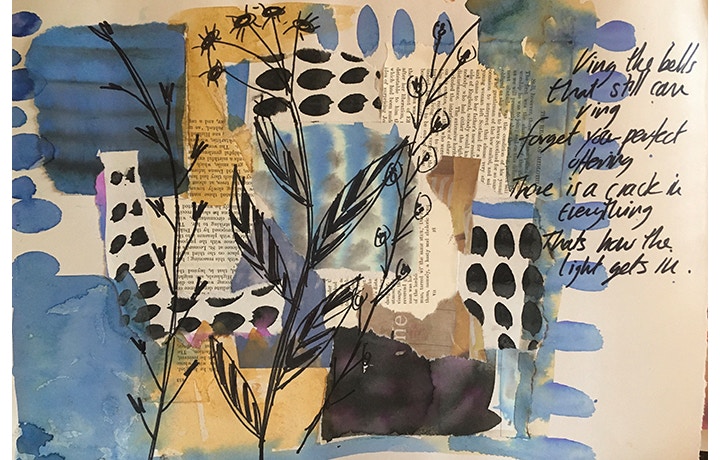 What materials do you use and why are these integral to your practice?
I use lots of different materials, so mixed media. It feels a bit like having many instruments in your orchestra and I want to use interesting combinations to create different moods. But not always, sometimes I love the simplicity, say, of a well painted watercolour flower, translucent and vibrant!
Could you tell us of your experience of using the Cass Art Markers?
The Markers are great because of the mix of muted and 'hot' colours. So playing around with interesting combinations of good colours is just what I'm looking for. They work well, for example, blending and layering- there is lots I can do with them. It's also great fun drawing on different surfaces like plastic and glass. I like the calligraphic type lines that the pens make, I love to use materials in their idiosyncratic way, so not just using pens for filling in colour, you could use a computer to do that, but really using a quality marker to make exciting expressive drawings!
You can follow Sallys amazing work on her Instagram channel here.
FEELING INSPIRED?
---
Shop online for everything you'll need. Don't forget to hashtag #cassart on social media to show us your creations