Posted by Cass Art on 17th Feb 2021
Chris Gambrell is an artist and fashion illustrator who creates drawings and paintings which explore form, colour and texture. He has worked with large European fashion houses and featured internationally in fashion magazines and wider press. In 2020 he was chosen by illustrious fashion magazine VOGUE, to be one of seven artists picked to draw their favourite couture looks from Vogue's Runway archive pages. We spoke to Chris about his journey as an artist and his process of drawing and painting and developing a style which is captivating in its vibrancy and loose aesthetic. Enjoy.
Hi Chris, thanks so much for taking the time to talk to us. Firstly, could you tell us a bit about your journey as an artist?
I've always been a keen observer and as a kid, I'd copy photos of animals from books as well as my favourite cars and football players as I'm sure most other kids do. I grew up knowing that I could draw birds and animals quite well but was perplexed by the shape of humans and the way they move. So, as a teen, I devoted an unhealthy amount of time to drawing from life, going to cafés and sitting around my home city of Bristol filling sketchbook after sketchbook with fast and fluid lines. I graduated from an illustration degree at the University of the West of England after having wrestled with the choice of drawing or sculpture and got my first illustration job from the final show. It was a notable job producing the masthead illustrations for the Mayor-to-be of the city on a new theatre and café he was opening in a fashionable part of town. I transitioned into fashion illustration as a very natural continuation of the drawing in the streets – which was always a parade of textile, colour and shape in an exciting flurry of movement. I took a sabbatical of 12 years whilst travelling and learning to teach in Europe and Asia and only returned to it in 2016 which was around the time I started my Instagram account. Since then, I am lucky enough to say that I have had opportunities to draw from catwalks in Paris and Florence, been published with my own book, been commissioned to produce the book jacket for the Guardian art critic – Jonathan Jones' biographical work on Artemisia Gentileschi whose retrospective opened to critical acclaim in the National Gallery last year.
You have such a unique aesthetic and your work is immediately identifiable as yours, can you talk us through how you approach a piece and speak about how you achieve this individualist look to your work?
I think certain movements and marks become etched in your aesthetic over time and the process of drawing has certainly done that for me although every piece feels to me as if it has been done by a total stranger to the person who made the work prior. I've been told that I approach things with more of a design structure – working to a brief, addressing the outcomes and 'what's called for', whether that is true or not, I certainly don't have a set way of working. Looking at a subject, media suggests itself along with colour and style. I tend to go back and forth with colours in order to tune and harmonise them – or not. I listen to a lot of music but find it difficult to listen to music I haven't heard before when making a piece which may be the fact that it requires more of my attention. I also choose music to compliment the mood of the subject.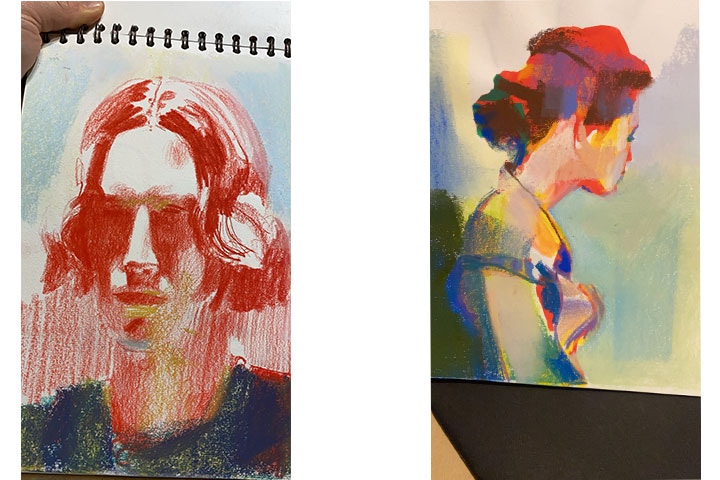 Looking at your work I can see wonderful influences from the like of Toulouse Lautrec and Edgar Degas, what artists have influenced your work and how?
Degas was actually a big influence but there are bits of Klimt, colours and rhythms of Lorenzo Mattotti, surface textures and treatment of form and mood from Euan Uglow and a lot of influence comes from Giacometti, Brancusi and Henry Moore.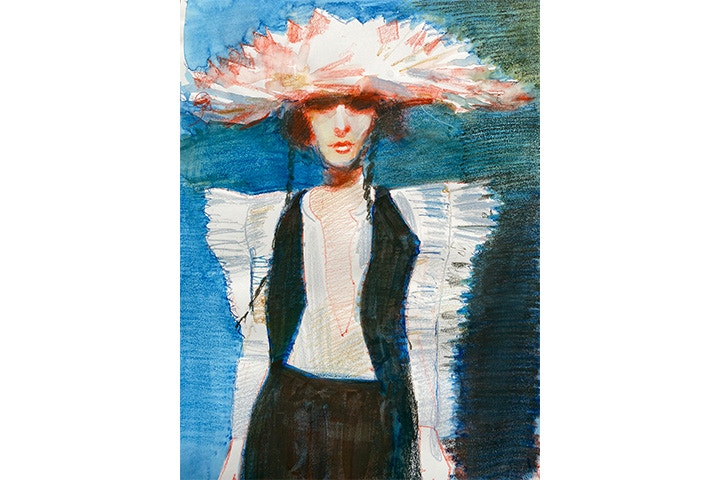 Rembrandt Soft Pastels are an essential part of your practice, what is it you like about them that makes them key to your work?
The pigmentation in Rembrandt Soft Pastels is so intense that you have a lot of control when going back and forth with colour. The colours are so vivid and the powder so soft that they intermingle and create new blends well. The colour also seems to withstand deterioration well.
Could you offer any advice for students starting out at going down the route of fashion illustration?
I know it always seems fitting to recommend what had been one's initial induction into the discipline but I would have to say that there was nothing better than my time spent drawing people from life moving about the streets of the busy city and rendering the hang, swing and stretching of fabric. Choose a safe space to experiment such as a sketchbook and keep collecting those observed samples of life – they will inform everything you produce from that point on. When you are happy enough to start sending drawings off to people in the fashion industry, publications etc. do it with conviction and confidence.
You have a wonderful social media following, how do you think this has impacted your career and how important a platform is it for artists and creatives these days?
Instagram began as a journal for my own personal development. I think this may be true for a lot of creatives. It was and is primarily for documenting work. It also happens to be one of the best, most financially viable ways of getting your work seen. It's been a phenomenally useful way of connecting with other active professionals in the industry as well as providing a bridge to clients around the world. As a very simple portfolio site at the very least, Instagram cannot be overlooked by artists and creatives but it certainly doesn't have to be limited to just that.
One thing we've been asking most artists we've spoken to over the last while is how lockdown has affected their creative output and the answers have varied greatly from good, bad to indifferent. How has the last few months affected you creatively?
I would perhaps fall into the indifferent category, whilst its presented more opportunities to produce – the inspiration I would have got from being out drawing or visual stimuli from moving around has been limited.
Thanks so much for your time Chris, lastly have you any projects planned in 2021 you can let us in on that our audience can look out for?
Yes, actually, I am getting involved in some teaching which I know people have been asking for a long while, I am happy to say that this is now happening – keep an eye on posts for more about this.
Do check out Chris' amazing work on his Instagram.
FEELING INSPIRED?
---
Shop online for everything you'll need. Don't forget to hashtag #cassart on social media to show us your creations