Posted by Cass Art on 4th Feb 2021
David Callear is an artist and illustrator who creates vibrant marker sketches of buildings, townscapes, urban environments and harbour scenes. He sketches the places which he has travelled to and documents these through the medium of pen, marker and paper. We spoke to David about his journey as an artist, the scenes he depicts and what is it about Winsor and Newton Pro Markers which are essential for his practice.
Hi David, thanks so much for taking the time to speak to us today. Firstly could you tell us a little about your journey as an artist?
My pleasure, thank you for asking me. I've sketched and drawn for as long as I can remember and also sketch as part of my 'day-job' as an architectural technologist. Sketching as an artist is something of an extension of that, although it took an evening of drawing with my daughters and nieces a few years ago to reignite the flame. From that moment it became a very addictive hobby and as more and more friends and family saw my work, giving me positive feedback, I thought I would give marketing it a go. I started posting pictures of my work on my personal Instagram, which then lead to a dedicated art account. I now sell my work online and at local artisan markets.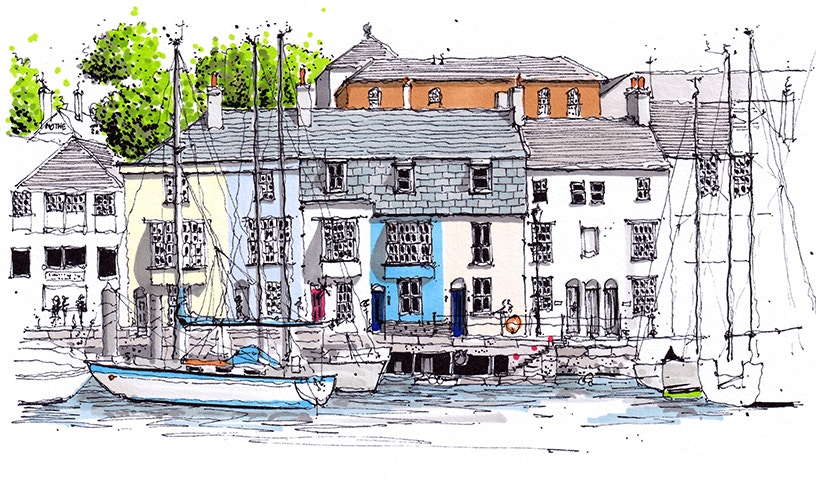 How do you choose the landscapes/subjects you decide in your work? Do you necessarily have to have a relationship with these places or is it more so based on the aesthetic of the scene?
A little of both to be honest. Certainly I see some buildings or street scenes and immediately think it would make a great sketch, whether it's because of the composition, a jumble of rooftops, industrial chimneys, or a striking building. I also feel some scenes or subjects lend themselves to being sketched in my particular style (I'm particularly proud of my North East coast series for example), whereas I would shy away from particularly ornate buildings which I haven't managed to translate well enough yet. I'm a firm believer that its beneficial to have been to the place before sketching it, otherwise you're slightly detached from it. I would much prefer to go to a place, see it, feel it, and then hopefully that connection comes across more in the final piece. In that vein there are a few places that I'm particularly attached to that I've wanted to sketch, whether it's because they were childhood holiday destinations or my hometown, that have been a real joy to sketch which I hope comes through in the finished work. I'm currently working on a series of Dorset sketches, which is somewhere I visited recently and where I used to holiday as a kid. I've massively enjoyed revisiting those places, and then seeing them through the prism of my sketchbook.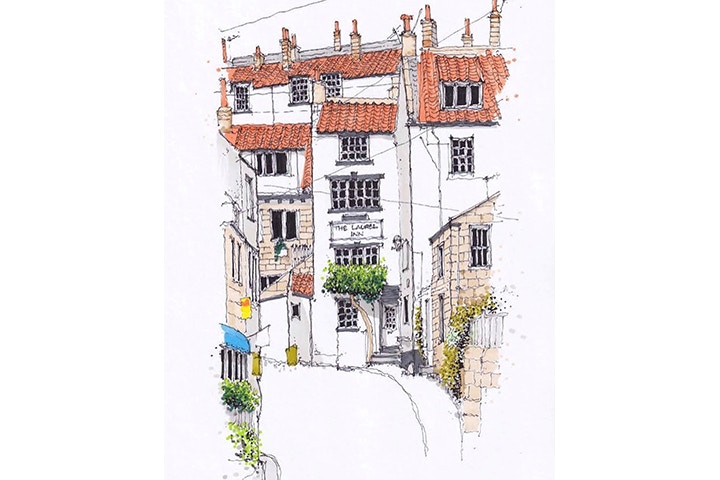 What is it about architecture that you're drawn to?
I've been working in architectural practices for twenty-four years; it's now so ingrained in my personality that I couldn't imagine sketching anything else to this extent. Buildings and the build environment can affect us in so may ways, it can be so emotive. I try to capture some of that in what I do. It's also immediately accessible, everyone can imagine themselves stood in a particular spot enjoying that view, or have been to that pub, or have been on holiday to that destination. I'm a firm believer in the old saying that you create the kind of art you want to see.
Are there any particular artists or illustrators who have inspired your style as an artist?
There are so many sketchers and artists that I've learned from and feel inspired by, too many to list every single one. I'd say the foremost inspirations are Phil Dean, whose almost casual eye for detail is enviable. Albert Kiefer produces some wonderful energetic marker pieces. Although we don't work in the same medium, Alex Hillkurtz has a real talent for capturing the mood of a scene, and the character of a city.
Could you tell us about what products you use to create your wonderful pieces?
I use fineliners for the linework firstly. I've used a variety but my preferred ones are Unipin and Winsor and Newton fineliners. I start the basic scene in a 0.03 pen and then pick out the outline of the shapes in the foreground in a 0.05 pen. I then either add colour or block out windows and dark shadows with a 0.3 or brush pen. A brush pen is great for creating different line strengths and thicknesses, and gives the feel slightly of a watercolour painting. I sketch initially in Moleskine sketchbooks, the paper is very smooth which the inks take to nicely. I've used one or two other sketchbooks and brands but have found Moleskine to be the most satisfying to work with. For colour I use promarkers and brushmarkers by Winsor and Newton.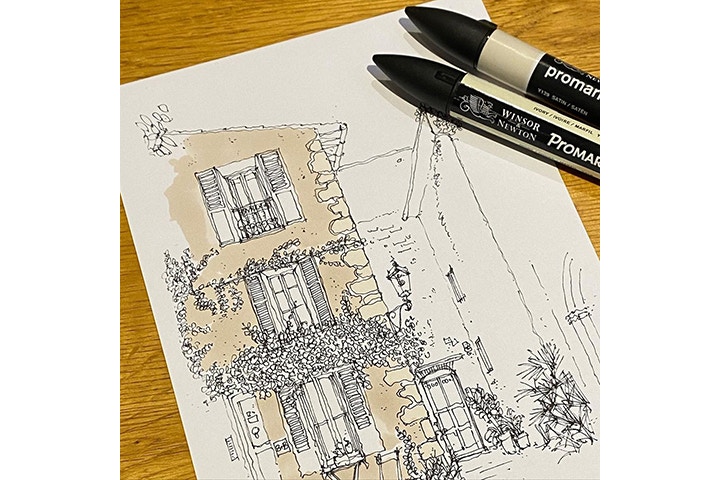 What is it about Winsor and Newton Promarkers which makes it an essential in your art tool kit?
The Winsor and Newton Promarker range of colours is extensive, particularly the ranges of greys, browns, creams and yellows which I use in my palette. The flow is nice and even and they're very comfy in the hand. I've tried other markers but for the very accessible price I'd say they're the best around. I was immediately drawn to the brand for sketching having used them in architectural practices, back when they were Letraset, so I was already very familiar with the product. I really like the brushmarker tip which is available in the range. Just like the brush fineliner I mentioned earlier, it enables a range of weights and thicknesses of line and creates the appearance of a paintbrush which a bullet tip doesn't readily allow.
David, thanks so much for taking the time to speak to us, one final question. We've been speaking to quite a few artists over the last 5 months about how lockdown has affected their creative production. Some found it quite productive, some it found it great time to reflect over their entire practice and others said their creativity was diminished by it. How have you found the last 5 months since lockdown hit?
I've absolutely found it to be more productive. It's been almost a form of therapy, relaxation and escapism to vanish to a place via my sketchbook and pens, to lose myself in the excitement of a new sketch from one of our travels. I've found that creating one piece which I've been really pleased with has then lead immediately to starting work on another piece. Like a batsman being in good nick, I've wanted to continue sketching whilst I've been in the right space to do so. It's certainly given me the time to expand my portfolio whilst the pubs have been shut!
You can follow David's work on his Instagram page here.
FEELING INSPIRED?
---
Shop online for everything you'll need. Don't forget to hashtag #cassart on social media to show us your creations.