Posted by Cass Art on 7th Jun 2020
We caught up with award winning fashion and multimedia designers VIN + OMI. Daler-Rowney Fashion Ambassadors, and previous recipients of a NESTA award for their innovation in fashion, research and their unique business models. Focussing on sustainable approaches, VIN + OMI are one of the leading pioneering eco fashion brands today. Read about how they've been staying creative during lockdown, their approach to their work and what they love about Daler-Rowney materials.
Hi VIN + OMI! Thanks for taking the time to chat to us. Firstly, could you introduce yourself and how you began your creative journey?
We've been working in fashion for 16 years. We started making accessories and developed into full fashion collections. Our sustainable approach has always been at our core, partly to do with our resistance to wasting anything, our love of the environment and our need to be responsible and 'do the right thing'. Eco and sustainable were looked on as negatives in the press when we started! In addition to fashion we have developed our interior design and consultancy practices which focus heavily on creativity. We have developed a range of social impact projects which act as anchors to our eco and sustainable textile developments and fashion work. We put on two large fashion shows a year during London Fashion Week (I think the last was our 14th show) we don't want to be part of the typical London Fashion Week circus, which perpetuates the damage fashion does to the planet, we disrupt and show outside of the schedule, but during. Our process and practice evolves organically every day. We're lucky enough now to have been in almost all the worlds newspapers and many TV stations, partially due to our high-profile collaborations and ground breaking eco work. Now we are a mix of art lead creativity, eco and sustainable innovation, brand consultation, fashion development, social impact projects, interior design, art projects and more, but sustainable fashion is still at our core. I really believe just doing what is in your head is the IMPORTANT thing - don't deviate, stick to what is real and you'll resonate with the right people.
When you look back starting out was so precarious it is easy to get swayed by other designers and the industry. We have always stuck to our own path and created what makes sense to us. Creatively it's always good to do exactly what feels right for you as a brand and we've always done that. I have a sculpture background and Omi was a photographer before we started doing fashion so art and visuals have been very much part of the process all the way.
We're asking our community how they're staying creative during the current climate. What are your top tips for keeping a creative headspace during a lockdown?
This is the time to learn something new. There are so many 'How to videos 'on YouTube. We are also using this time to get familiar with products. There are so many new products and different products on the market and often a lack of knowledge stops us using them. It's great to watch videos of how other people have developed techniques. This is also the time to push your creative boundaries... while no one is looking!
Art and Fashion have always been intertwined. How do you think that they inform and influence each other?
Fashion is a strange, complex, business, for typical brands it is largely ruled by marketing forces and creativity goes out of the water. Any brand that sells fashion has to think of its customer base and often that means they are risk adverse and often creativity and expression get dampened down and suffer to ensure the brand gets safe sales. VIN + OMI don't sell or operate in the typical way. Saying that art obviously does has a large crossover into fashion in direct references; the direct adaption of prints and artist's concepts into garments has always been around. There is an increase in hand painted jackets and bags. Many artists are finding they want to develop their work onto garments and retain control over their work and sell it thorough their own channels, this is a great way to expand an art market.
Our artist hats are always on when we are designing; once an artist, always an artist. It's impossible for us to separate the two when we are designing.
There are many well-known collaborations in both the Art and Fashion worlds – how do you find working together influences the way you approach projects?
As mentioned, we are unique in the fashion world in that we are not driven by sales, so we have more room to experiment as we don't have a host of buyers to edit and limit what we do. We can, in effect, do what we like. We have now developed over 50 collaborations with various brands world-wide. We like to think we bring a special artist-based creativity, to our collaborations. Collaborating with Prince Charles and our muse Debbie Harry works so well as they don't edit what we do. We are given free rein to be artists. The only art brand we collaborate with is Daler-Rowney.
We looked around at which brand we wanted to partner with and Daler-Rowney stood out at the right brand. We are their Global Ambassadors. We have been collaborating with Daler-Rowney on two fashion shows a year and other projects. Our relationship works extremely well. A big part of this is the open-minded attitude of Daler- Rowney to our ideas. They let us get on with it and support us without editing or suggesting compromising our work. This is very important to us. It is also vital that we have a flexible stock of products to support our very fluid creative process, which often changes at short notice.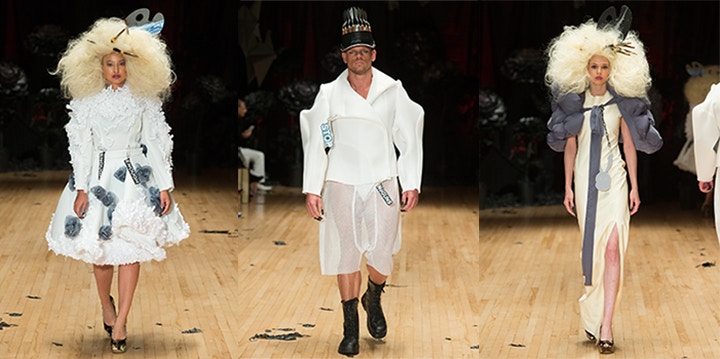 One of the first shows we worked with Daler-Rowney was called The Dreaming. The ceiling of the vast London Congress Centre was hung with paper folded birds, the models had paint brushes, paint palettes and pallet knives in their wigs and some were carrying paint tube bags. We wanted to directly put the products onto the catwalk to show our connection with art.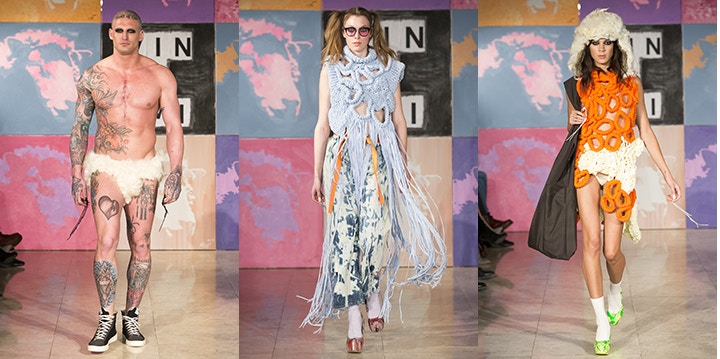 For our show We Are Not Sheep we focussed on screen printing bags and using Daler-Rowney's great range of screen-printing materials (great for using in lockdown by the way). We also had a three-way collaboration with Daler-Rowney and artist Conor Collins to do the backdrop for the show.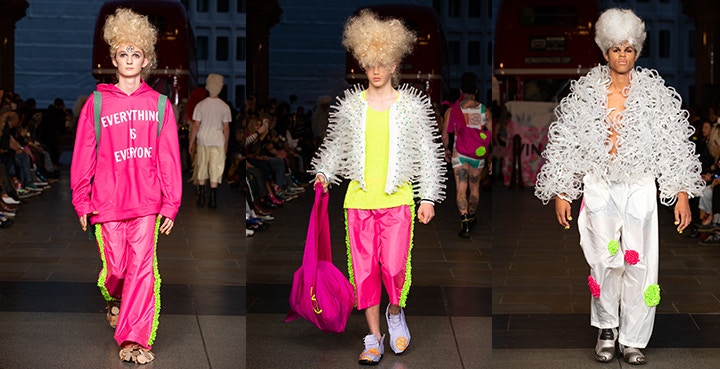 Our show Thought is the New Religion we took over St Pancras Station and used DAS modelling clay to produce the jewellery and Daler-Rowney System3 Acrylic paints to paint the backdrop, which was painted by the great artist Kit Skellington.
---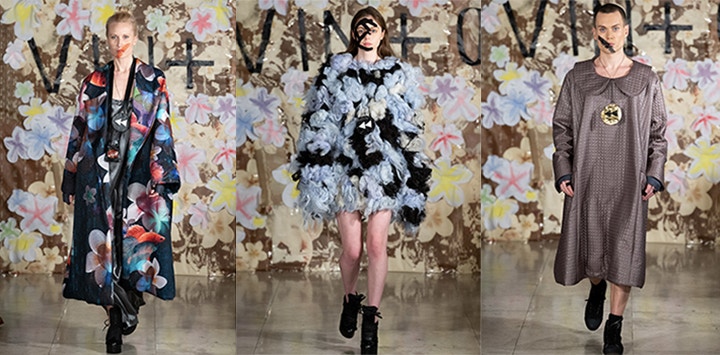 Planet Rewind was a great collaboration with Daler-Rowney as we moved into our area of sustainable practice. We converted waste paint tubes into textile and printed it for our collection. We also used DAS modelling clay for the jewellery and Daler-Rowney products for the backdrops. The shoes were recycled and combined and painted with Daler-Rowney System3 Acrylic.
Our show called STING was focussed on converting nettles from Prince Charles's estate into fabric and garments. We wanted the main part of the collection to have an earthy, arty feel and maintain that 'you can do this at home 'feel so we went really crazy with Daler-Rowney's screen printing materials and blitzed sustainable and recycled fabrics with symbols and messages. Some of the pieces will be going to the museums around the globe and one of the Daler-Rowney screen printed garment will become part of the Victoria and Albert Museums collection
As our partnership with Daler-Rowney grows, so does the complexity of the collaborations. Our last show RESIST was held at the Savoy Hotel (our stainable collaborative partner). This complex show had recycled shoes painted with System3 Acrylic, masses of mountboards boards and System3 Acrylic to make up the complex set which included lots of toys and children's play cubes to form the backdrop. We worked with Brookes University and Goldsmiths students on the very complex set project. We experimented with System3 Inks to dye our latex to coat jackets and trousers. We again recycled Daler-Rowney waste plastic into textile for the printed garments. This forward-thinking approach by Daler-Rowney lets us explore and develop new ways of working.
Your collections include strong prints, bold silhouettes and slogans. Fashion often speaks out about hard hitting subjects; indeed, you often tackle social and environmental issues in your work. How important is it that your work retains a message, and what is it about fashion you think makes it such a good platform?
Once you attach something to a body, there is no better advertising. We couple this with our large advertising partner Ocean Outdoors who have digital boards across the UK and Europe. It was great to get our show on the Piccadilly Circus boards and across the UK this means our reach is extended. One of the most important campaigns for us with the Stop F**king The Planet campaign that we did for Debbie Harry. We created the phrase and around 30 or so logoed garments. Debbie wore the Stop F**king The Planet work on many of the Blondie shows in the last few years. We estimate approx. 500k people have directly seen it at shows and millions online. That's a good feeling when you're collaborating with friends for the right cause that has a great reach and meaningful message.
What is it about Daler-Rowney Materials that you love?
We really love the ranges that Daler-Rowney produce we have never thought of a concept then couldn't match it with a product. We still feel there is so much to explore with them. Their System3 Acrylic ranges have proved invaluable for our shows.
And what are your favourite products to use?
Personally I like FW Acrylic Inks. But it's difficult to decide as there is an infinite number of ways we can combine the products and also our textiles and accessories.
What advice would you have for the next budding VIN + OMI?
It's a familiar phrase but BE YOURSELF and don't copy anyone - do what is in your head, not what you think people want.
And finally, when we're able to get out and about again – what's next?
Lockdown has started to bring up some very very exciting projects. Watch this space!
Feeling Inspired?
---
Shop online for everything you'll need. Don't forget to hashtag #cassart on social media to show us your creations.