Posted by Cass Art on 5th Feb 2021
Magda Hassouni, also known as Madillu, is a Polish illustrator currently based in Italy. She graduated Cracow School of Art in photography, however her journey of mastering drawing skills started only a few years ago, initially as a way to release emotions and fight anxiety. As for today, by using variety of tools, mostly fineliners, promarkers and gouache she creates dreamy illustrations of skies filled with stars. It is a reflection of how much we, as people, need to keep our imagination alive, and stay in touch with nature to remain connected to the universe. The dreamy scenes of full moons and starry nights turned out to be a perfect way to portray her clients in their favourite places to preserve their best memories. Drawing has become a full time activity for her, bringing satisfaction both to her and people she coopers with on a daily basis.
Hi Magda, thanks so much for taking the time to speak to us today. Firstly could you tell us a little about your journey as an artist?
Thank you so much for including me in your wonderful series! My journey as an artist started quite a long time ago, when I was a teenager. First I was into drawing, mostly for fun, but then I got into photography so much that I enrolled and graduated Cracow School of Art in photography and was involved in that field for almost 10 years. Then again I reached for pencils and paper, mostly out of emotional, personal need, but that quickly developed into full time passion. It's great to be able to put my ideas on a paper, something that photography didn't exactly allowed me to do. Paper has no limits and there are so many wonderful techniques and tools yet to explore.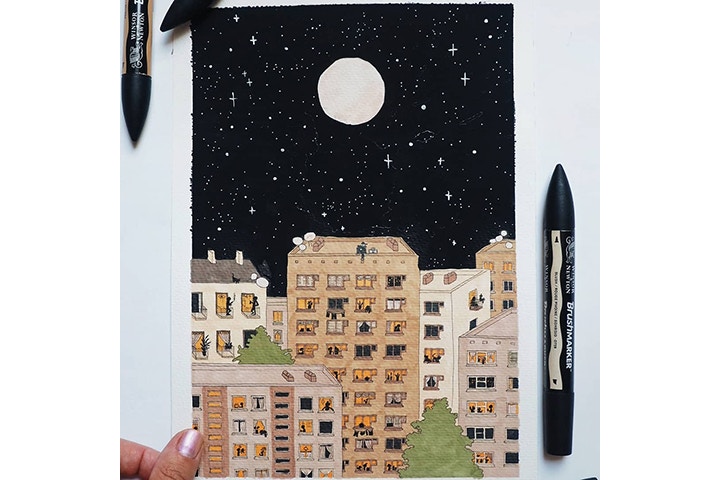 Your illustrations are very unique and you have such a variety of different styles, where do you find inspiration for your creations?
I realised that the more I create the more ideas I have. Generally speaking, inspiration finds me working. But also a great source of staying creative is to be in touch of nature, keeping your eyes always open to colors, textures, etc. I also love remembering my dreams, which I have many and oftenly they are quote vivid and detailed. Also, I love buying new art supplies, it's like an addiction now. Whenever I have a new paper to test or a new color of a marker to try, I just feel the urge to sit down and start creating.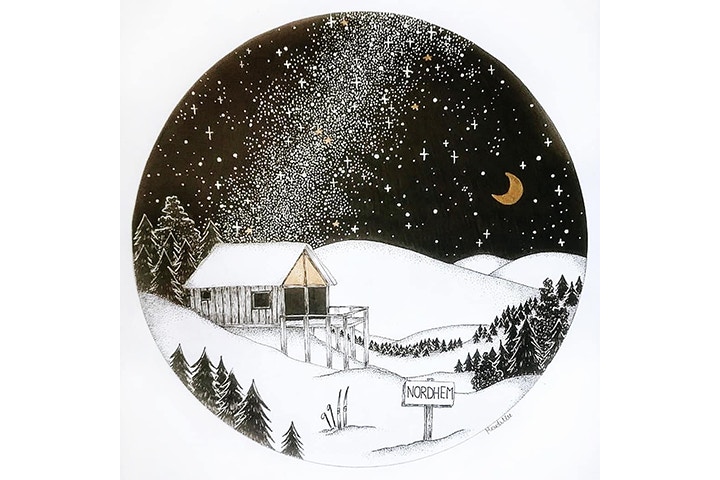 Could you tell us a little bit about your studio habits at all? How do you tap into that state of flow to make art?
Having two little kids and a little free time made me as flexible as possible. Many times I just sat down next to them napping with my sketchbook in hand. But I do also have my workspace where I keep my favourite things, my desk and all the tools and this is the place I love to sit down and create the most. This is the place I charge my batteries after all the buzz. Rule number one is to have things organised, I like to have everything on hand while I'm on the flow.
If we were to wander into your studio what art supplies are we likely to find? (Ideally something we sell ha!)
I always wonder if my tools and techniques are limited or not ? I started with fineliners, so you would fine plenty of those, but now I'm so into promarkers and gouache so now I focus on them. You would also find some gold leaf, which I'm planning to experiment more with in the nearest future and some charcoal I keep for moments when I have a feeling for getting my hands dirty. And lots of sketchbooks, pencils, notebooks, some canvas and wrapping papers.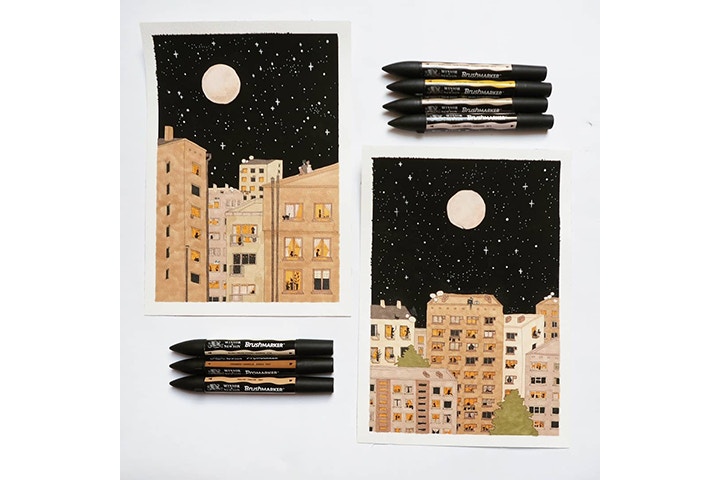 What is it about Winsor and Newton Promarkers which makes it an essential in your art tool kit?
I absolutely love their palette, they have a huge variety of colors. I'm currently working on completing my palette which now revolves around earthy tones, browns, warm greys, dark greens and oranges. I like using their markers for actually many reasons. I love the precision this tool gives me, variety of colors and they are really long lasting. I don't have to run to the store to stock up on them, as I had with other markers.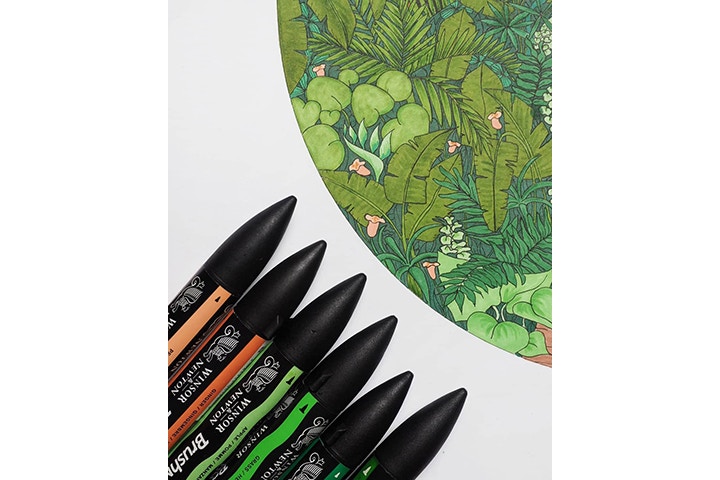 We've been speaking to quite a few artists over the last 5 months about how lockdown has affected their creative production. Some found it quite productive, some it found it great time to reflect over their entire practice and others said their creativity was diminished by it. How have you found the last 5 months since lockdown hit.
It's been a truly weird time for me. In the first weeks, as I am usually busy with my children, I didn't have much time to think about what's happening, you know, to truly reflect on the events. Everything came crashing down on me in the evenings, when the house became silent and I was ready to do some work. And then I realised that it's difficult to just dive into drawing. My hand was drawing, but my head was busy reliving the world's events, I was anxious and disconnected. I didn't stop creating though, for some time I just let myself do whatever felt right so I baked many cakes in that time, haha! Fortunately this phase passed and I'm long back to my normal flow and work pattern. I actually quite adapted to the new normal now, although the unpredictability of things is unsettling.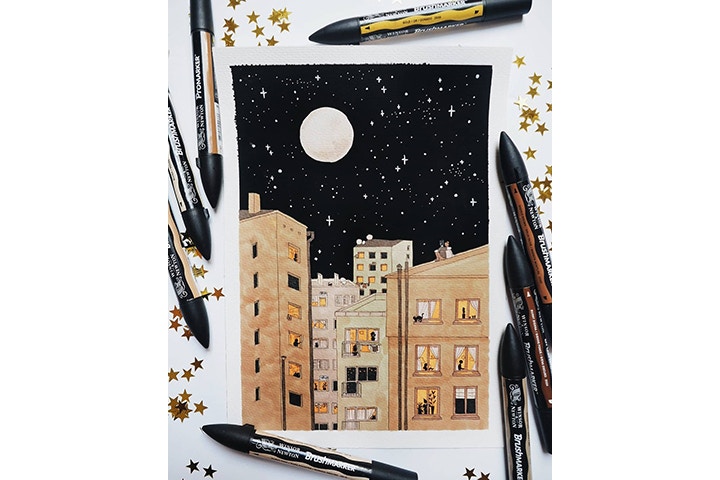 Finally, what's the rest of (the surreal year that is) 2020 got in store for you?
Someone may think it's crazy giving the current events, but we are actually moving to Italy! My family is international, my husband comes from Morocco and after 6 years of living in Poland we decided to move back to Italy, where we first met and where some of my husband's family lives. We want to give our children the opportunity to bond with other part of the family. I'm so curious how this change will impact my art. Italy is a beautiful and inspiring places with so many colors and textures, I can't wait to explore it all again.
Follow Magdalena's work on her Instagram here.
---
Shop online for everything you'll need. Don't forget to hashtag #cassart on social media to show us your creations.