Posted by Cass Art on 7th Mar 2020
Georgie Mason is a painter, mixed media artist and social entrepreneur. Working from her studio in Stepney Green her large scale oil paintings are intense celebrations of colour and texture. She's the co-founder of Masterpeace, a social endeavour providing space for mindful expression. We caught up with Georgie to chat about her favourite materials, her painting process and how important creativity is to mental well-being.
Hi Georgie, Thanks for taking the time to chat to us! Firstly, could you tell us a bit about your creative journey?
Hiya, sure. Growing up, my life was full of creativity. Every day I was drawing, painting, making things, writing songs, singing. I was brought up in the countryside with artistic parents: my Mum used to spend hours making things with me and my Dad, who worked in the city during the week, at weekends would help me write poems and endure me trying to teach him how to harmonise (he wasn't the musical one, so much. I was very lucky to have parents that encouraged my creativity and I'm aware how rare a gift that is to have been given. Most parents understandably encourage their children to go into a normal job that will provide conventional 'security'. My upbringing had given me a belief system that creativity was always a viable route and that success is about more than financial security - so going down that path felt inevitable and intuitive. Whilst at Nottingham university where I studied English Literature I was doing more music than art, gigging and writing songs, but in my second year I hired an exhibition space and put on my first solo show. From this I was offered a show in London and then more opportunities came up, I took them all and before I knew it I had secured my first studio in London. Since then painting has been my bread and butter.
If I went delving into your Stepney Green studio what am I likely to always find?
Motivational post-it notes, Ape Coconut bites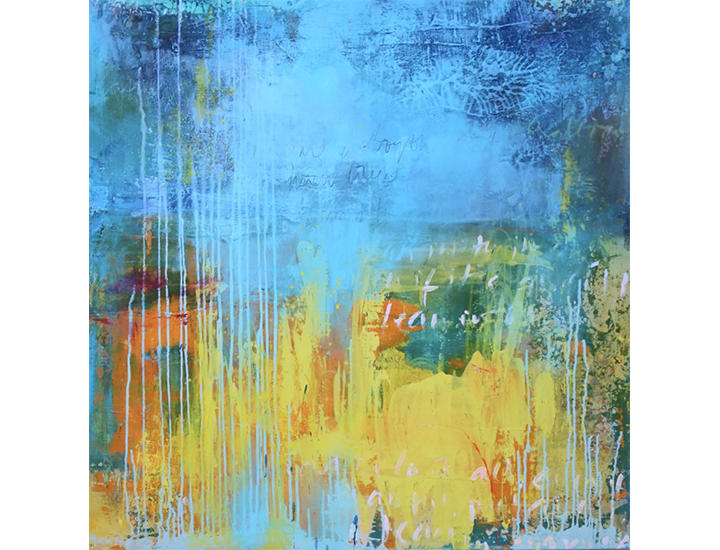 Georgie Mason, Colourfall, mixed media on canvas 100x100cm
Your application of paint is very varied, be it with palette knife, brush, scraping or splashing! You also use a mixture of other materials underneath the surface of the paint to accentuate different textures. The resulting qualities of marks and surface of paintings are just wonderful. What is it about texture that interests you?
I'm not sure, texture adds another dimension to the works; it brings layers and with layers come stories. I don't want my work to be 2D. I want as much interest as possible: I want to be able to look into the painting up close and discover more and more hidden within it. I guess my paintings are a reflection of human life: we peel back layers of ourselves, bare our souls, cover them up, peel them back, and the result is a complex, textured person/painting, the whole of whom/which will never be fully seen as parts will always remain hidden, even to ourselves/the creator. Maybe my paintings are an attempt to make sense of the human condition. That's not a definitive answer, by the way: that's just how I've responded to the question in this moment of time. There's no definitive answer.
And on materials, what are your go to essentials? Are there any specific brands you turn to?
I like working with Cass Art products as they're always good value and I love going into the stores, everyone's super friendly and knowledgeable. I also love to use Goldens textures for example Clear Tar gel and crackle paste. Then there's straw, sand and mud from the farm, reclaimed roof tiles, all sorts of found materials.
What is it about them you love to use?
The Cass own brand oil paints are really good quality: the paints glide onto the canvas easily and they have a range of rich and deep colours. I also like their canvases - they're really well made and come in lots of different sizes. Golden's Tar gel is a bit more pricey but so great for creating a translucent layer over the painting which I then work over with oil.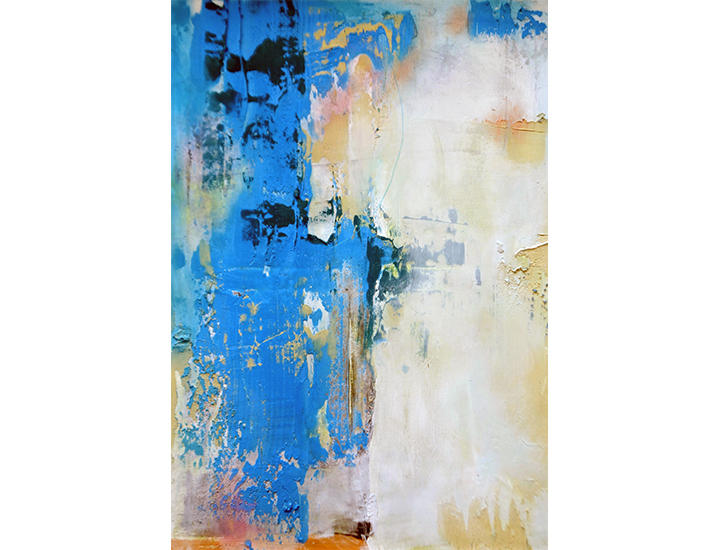 Georgie Mason, Another Side, mixed media on canvas 70x100cm
You immerse yourself in your painting process, and it seems like you have a lot of fun doing so! What does a day in the studio look like for you?
I tend to go to yoga most mornings, do a bit of laptop work in a cafe and get into the studio at about 10am.
I make myself a cup of tea, put my headphones on and delve straight into a podcast. When I'm plugged in I don't think so much about what I'm painting which is usually a good thing. If I don't do this I end up faffing for ages. I get the studio really messy when I work - if it's all tidy then I can't let go. I sometimes get into a flow state, where my mood, my art and the world are all in harmony, but this usually doesn't just happen. It takes work, motivation to keep pushing through, keep trying things and stick at it until something clicks. If I'm happy with the way my work is going it happens much more easily and it's the best feeling. 'Flow' looks like: me dancing around the studio with bare feet, working on about ten canvases in one go, splashing paint about, running outside to grab some straw from the donkey's pen, getting glue all over my hands, spilling paint everywhere, clearing it up, standing back to look, having six cups of tea consecutively whilst staring at a piece until I work out what it needs, holding four brushes in my hands, drying wet bits with the heat gun, sanding back other bits, stopping and starting but all in a continuous flow until I run out of steam. If I'm not in 'flow' then I just eat digestive biscuits and stare at the wall all day, maybe do a bit of painting here and there that I don't really like. Then I cycle home, usually at about 6 or 7 pm. I always try to have a proper break for lunch and if there's even a hint of sun out I'll sit outside.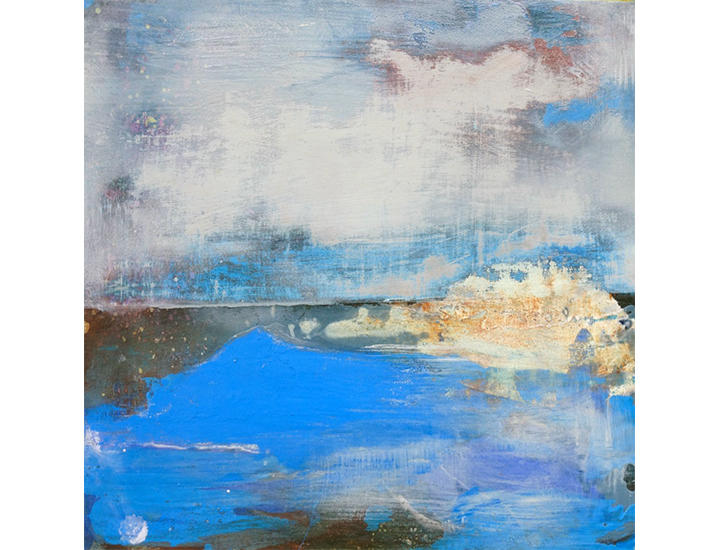 Georgie Mason, Being, mixed media on board
Can we talk a bit about art making as a therapeutic process – what is it about creativity that nourishes a person's mental health?
Sure, art is a direct, innate form of self-expression. Art was around in Paleolithic societies and has existed in every culture throughout time. It's essential to our existence but unfortunately all too often in today's society this isn't recognised. Instead we go to school where the system grades and judges us for essentially expressing ourselves. If we are not deemed 'good' at it, we give up, believing art is only for a select few.
Art is so effective in recovering mental health for a simple reason. Most mental illness is rooted in some form of disconnection; art is a process of reconnecting with a deep and ancient part of ourselves. Whilst connected to that place (engaged in the art-making process) we feel safe, grounded - so all the mental noise, the thought patterns we're so often stuck inside, can take a back seat for once. This gives us a chance to live from the heart rather than the head - a welcome and therapeutic break in the modern world.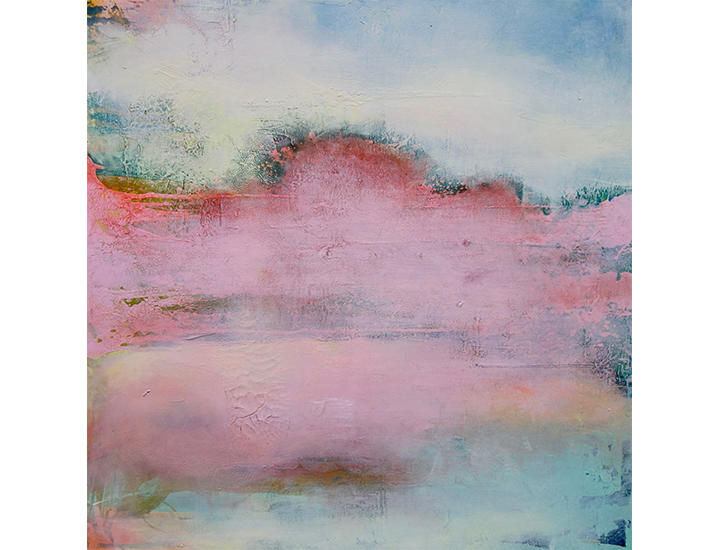 Georgie Mason, Safe in the arms of love, mixed media on canvas, 100x100cm
On that note you're the co-founder of Masterpeace – a creative endeavour aiming to provide a space for mindful expression. Could you tell us a bit more about the project and how it began?
Sure, so MasterPeace is the brainchild of Zena El Farra (Founder & CEO), and she had been working on the business for months before we met. In June we came across each other through mutual connections and she explained her vision to create a beautiful, relaxed studio running drop-in art classes focused on the mindful aspect of the art making process. These classes would be suitable for all levels, even complete beginners, and require no commitment. The aim was for anyone and everyone to feel welcome to express themselves creatively in a completely non-judgmental environment. I was already running art classes from my studio at Stepney City Farm so I helped set up the artistic side of things, sourcing many of our first art instructors through my own network and helping shape the class format into what is now the MasterPeace experience. Having secured a space in Eccleston Yards, Victoria, we were given the keys on 1st September, kitted out the space from scratch and launched on 8th September so it was a tight turnaround. It was a crazy period, heightened by the fact I didn't have a home at the time - I was moving around every two weeks or so dog sitting - but it was so exciting seeing it all materialise. I have taken a step back from MasterPeace now to refocus on my own art career: sadly there's not time for everything!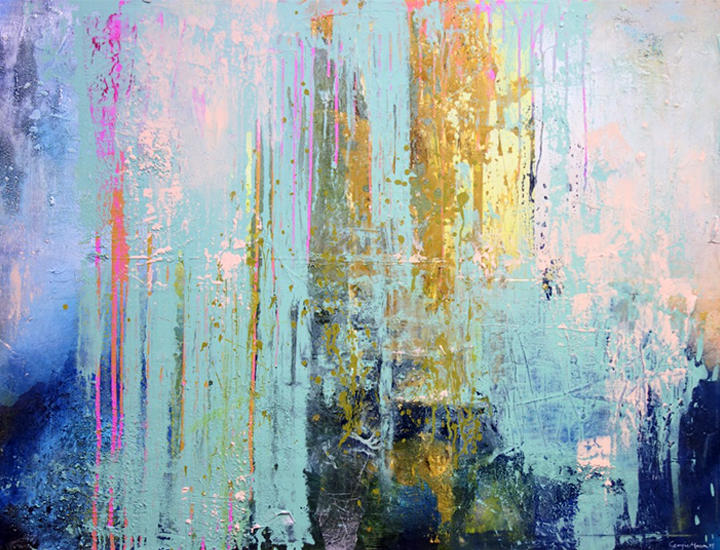 Georgie Mason, mixed media on canvas, 90x120cm
You allow your paintings to very much exist outside of yourself, and don't prescribe a meaning to them after their completion. With this in mind, what is more important to you as an artist – the process or the finished result?
The main reason I love this job is for the way I feel whilst engaged in the act of painting, and the scope that comes with it for discovering things about myself and the world through the process. But that's not to say I am completely nonchalant about the aesthetic of the final product. Ultimately I want to like the look of my work, but that's not synonymous with wanting them to be 'nice' to look at. It could be that a painting is interesting or evokes a strong emotion or memory. I wouldn't disregard the way a painting looks, it's just not my primary concern.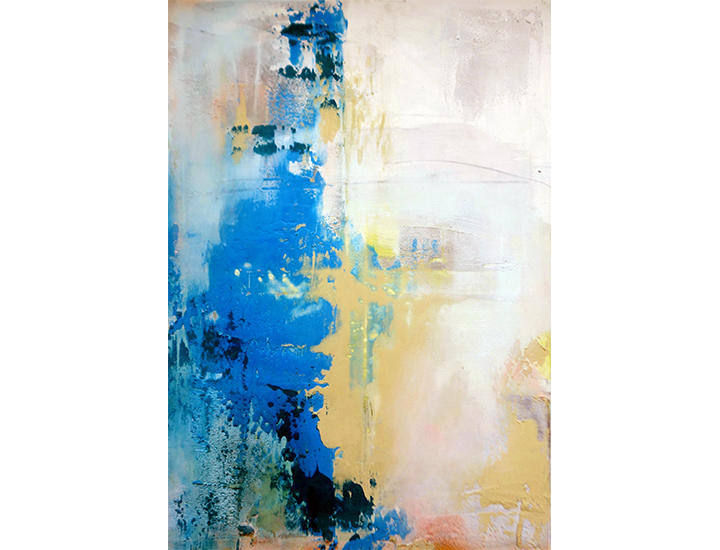 Georgie Mason, Shadow Self, mixed media on canvas, 70x100cm
Thanks so much for taking the time to chat to us Georgie, it's been fascinating to learn more about you and your practice. Finally what's next on the horizon?
My next solo show, 'Breathe', is coming up on 24th April - 3rd May at Lavenham Hall Gallery in Suffolk. It's a collection of works representing the past two years of my life, in which I have reconnected to my essence through centering activities such as yoga, meditation, dance, breathwork and painting, ultimately culminating in a much deeper sense of inner peace and self-knowledge. Apart from that I have some exciting commissions and partnerships with various consultancies on the go. I'm also planning to train part-time as an art therapist, and I'm in the process of writing a book. Variety is really the spice of my life...
---
Feeling Inspired?
You can see more of Georgie's work on her website