Posted by Cass Art on 23rd Sep 2022
Galeria Moderna, are the online gallery and organisers of the exciting brand of city-based 'Invitational' art contests. Each contest will see twelve winning artists selected by a panel of esteemed judges: each judge a gallery owner or manager from the host city, alongside special guest judges. The selected works from the winning artists creates the 'Invitational Art Exhibition'.
Working in association with Castle Fine Art the UK's leading commercial art retailer, Galeria Moderna endeavours to provide the winning artists the best possible exposure, with a combination of both physical and online exhibitions along with prizes from patrons. Below we catch up with the twelve winning artists for The Oxford Invitational 2022 to find out more about their work.
BRYONY WINGFIELD DIGBY
Congratulations Bryony on winning the Cass Art Award as part of the Oxford Invitational 2022! Can you tell us about your award-winning pieces and how you became interested in monoprints and the use of gel plates.
I graduated with a degree in sculpture and then went straight into teaching. I was very lucky to work in a school with amazing printmaking facilities and learnt some very basic skills. When I left the school, after my 3rd child, I decided to pursue printmaking further but no longer had access to a press. I began googling mini presses and gelli prints came up so I ordered one and have used them for all my work since. Everything has come from trial and error and I have developed my own unique way of using them. I love that they are so accessible, and you don't need any expensive equipment. My only frustration was being limited to the size of the gel plate which is why I started to build them up from multiple prints and the grid like element has become a key feature to my work.
Your work covers a wide range of topics from wildlife and landscapes to cityscapes and figures. Do you have a preference and what attracts you to your individual pieces.
Everything is about texture and trying to create contrasting effects using whatever materials I can find, such a lolly sticks, bubble wrap, textured wallpaper, packaging, lace, leaves etc. I'm definitely more drawn to more natural scenes but have enjoyed the challenge of figures and cityscapes.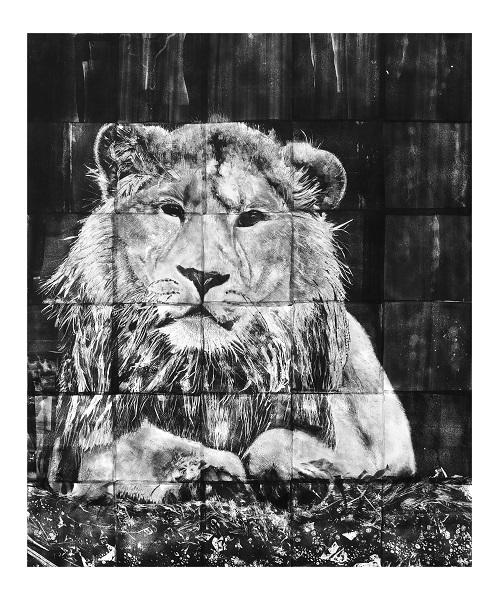 Are there any new exciting projects you are currently working on that you can share with us?
I have not managed to do much of my own work in the past year because I ended up teaching again. From September I'm hoping to be back in my studio again and have plenty of ideas to keep me busy. My main focus over the next couple of months is going to be colour. So far the majority of my work is black and white and I'd really like to explore colour further. I am working on a project with children from my school to raise money for The David Shepherd Wildlife fund. All of the children have been making gelli prints to sell for the charity.
Are there any specific products you use to help you achieve the effect you create?
I mainly use Gelli Arts 6x6 inch gel plates. I also use Caligo safewash relief inks which as great because they don't dry out quickly which means I have plenty of time to work on the plate. Other than that, all of the other materials come from my recycling box!
ANNE SCHWEGMANN-FIELDING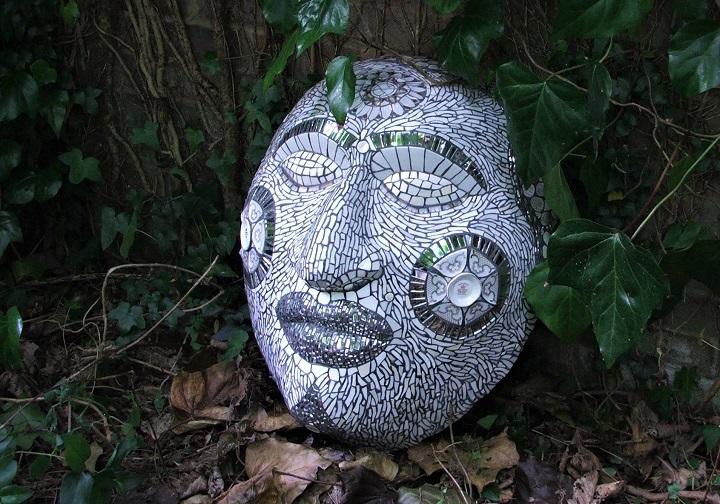 Hi Anne! Can you tell us where your passion for art stemmed from?
I've always collected, drawn and made things. So, working in collage and assemblage type sculpture came naturally. The transformation of things is what excites me, the ordinary made extraordinary, simply making the world more beautiful.
Can you tell us a about your award-winning pieces submitted for the contest?
Tumalo is a sleeping head, based on a Hopi Indian legend about a man who had a vision. He is made from carefully cut plates and mirror. Yemanya is a Brazilian Goddess who grants wishes. She is created from recycled materials including crockery, string and shattered bus shelter glass.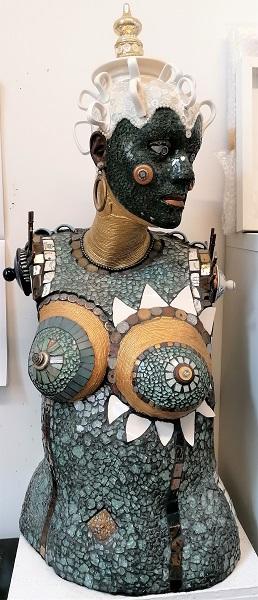 Your sculpture work and mosaic is stunning, can you tell us how you became involved in such detailed mosaic work and why you use recycled material for your work.
As the world gets more generic and mass-produced, my work places evermore importance on the handmade. I have always used recycled materials. Discarded, overlooked objects inspire me. Being resourceful means by valuing everything, nothing is wasted.
Are there any particular materials you prefer to use?
I never tire of cutting up plates and crockery. I've also rekindled a love of broken windscreen glass. In 2023 I'll be celebrating my "Pearliversary". I will be making 30 sculptures using pearls to celebrate.
CAMERON SCOTT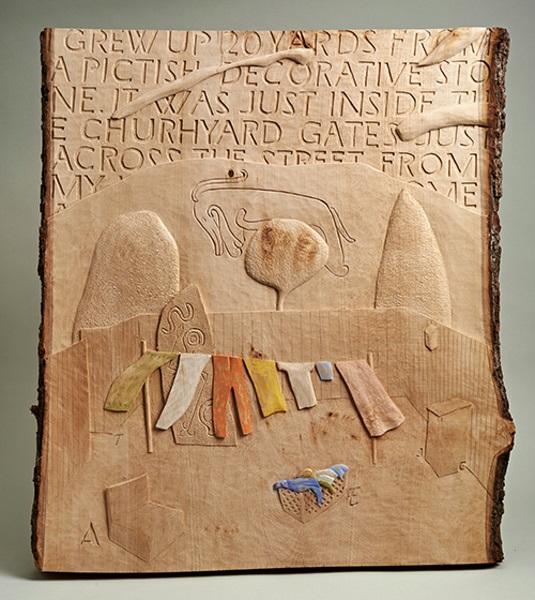 Hi Cameron! Can you tell us a about your award-winning pieces and how you became interested into wood relief art.
I came into relief carving by a happy accident. Whilst working at Shrewsbury School of Art the technician had come across half a dozen boxes of old chisels which he was going to throw out, so I grabbed a box. They were mostly early 20th century chisels, and they then sat in my studio for about 6 months before I thought I must do something with them.
The initial pieces were more assemblages than carvings and gradually as I learnt how to carve (and sharpen chisels) the pieces became purely carving. I am totally self-taught and carve in a way which suits me and is not really the normal way of carving. I work in lime wood and leave the bark on so it is obviously a piece of a tree and the pieces are about my experience of life.
You work in collage, can you tell us about your thought process when creating these?
I approach both my carvings and collage in much the same manner. An idea starts to form in my mind and I do a series of drawing where I start to put together the elements of what the final piece will be. With the carvings the drawings have to be quite specific for once I start chiselling wood I have to know what to leave and what to cut away.
With collages it usually involves my taking loads of photographs of images which I might use, and also exploring the internet for images I need. This then becomes a slow process of cutting and pasting (collage in the old fashioned way) and trying out combinations of images to eventually find the combination of foreground/background that helps me produce a piece which started as an idea in my head.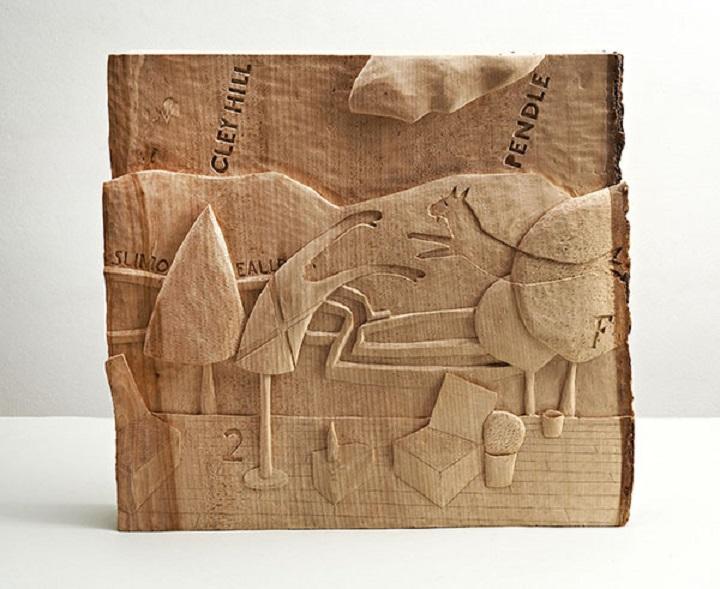 Are there any projects you are currently working on that you can share with us?
I am present preparing for a solo show at Trowbridge Town Hall Art Centre and in getting to know the Trowbridge area I discovered it was once a major weaving centre, and after researching this I have completed a series of 7 collages which incorporate the history of the town with what is happening in the town at present, (which seemed to be many charity events).
As well as these collages I am showing work I have produced over 60 years, from woven lengths produced when I was a student at Grays School of Art Aberdeen, early collages, paper pulp collages assemblages and a series of my lime wood relief carvings.
Are there any products you use to help you achieve the effect you create with collage?
The most important tool I have for creating collages is my phone camera. Once I have an idea, I will take a few hundred images around the basic idea. Seeing these images will often make me change direction at times. Being able to transfer my photos to my computer and then print them out has made the collage process quite easy.
I am of the old fashioned type of collage artist – I cut and paste images. No photo collage software just my scalpel and spray mount. I also often use maps of the place my collage is set and the internet is very useful in helping source period maps.
LALEH KAMALIAN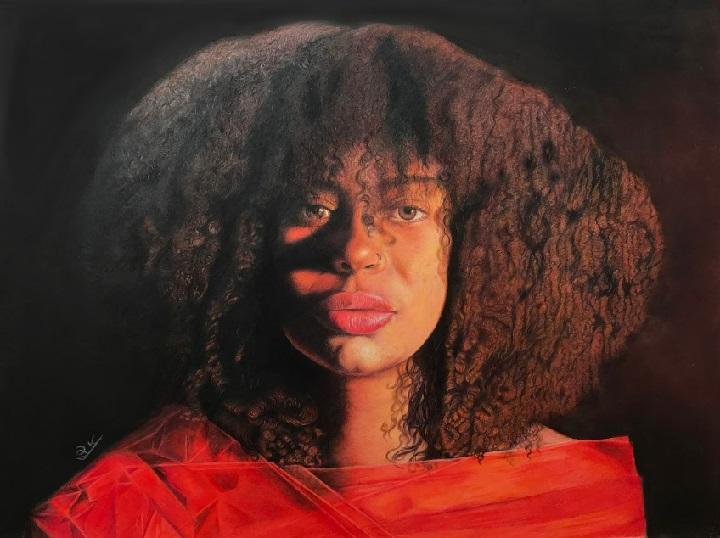 Hi Laleh! How and when did you start using coloured pencil and pastels?
When I discovered I could draw in 2014, I started with graphite pencil, copying old masters like Albrecht Durer's drapery studies, which probably is the reason behind my ongoing passion for drawing drapery. Then I moved to colour pencil, then pastels. But it took me trying all the other main media to realise that colour pencil was my favourite, on which I concentrated since 2018. I did six portraits with CP while I was in the hospital, which formed the start of my art journey as a profession rather than a hobby, and perhaps the reason colour pencil became somewhat special for me emotionally as well as technically. Pastel made its way back in 2019, at first to create a smooth background on colour pencil works quicker and less laboursome. Later, I tried pastel for the whole artwork, and I fell in love with it almost as much as colour pencil.
We can see you used your time well in lockdown with some inspired art produced. Where do you normally get your inspiration from?
Out of everything in the world I love people the most. I think human beings are the most beautiful subjects for art with their unique characters and personalities. The difference in the way we look through our eyes, and show our facial expressions are fascinating. Some of it is genetic, but most of it is related the path we have taken and the experiences we have lived. Every line around a person's mouth or eyes, or in their face is probably related to a period of life they have lived. So, people are my inspiration. That is why I have become a portrait artist. However, I love nature too. I never refrain from drawing a beautiful thing when I see one especially with bright colours.
What can we look forward to seeing from you in the future and do you have any advice for emerging artists?
Portraits, and more portraits. I would like to find striking characters and catch their personalities in their portraits. They will mostly be human, but don't be surprised if I create a few wild animal or flower portraits too! However, I am going big in size. Presently I am working on a "Light and Shadow" portrait series, using extreme light and dark contrast to help depicting a strong emotion, character, and personality. So, expect large size striking portraits.
My advice would be not to give up, follow their dream, keep learning and improving. It does not happen overnight, but it will happen, one only needs to carry on. Also, it is very important to recognise a constructive criticism from a destructive one: listen to the former and dich the latter and move on.
Are there any specific brands that you could recommend for artists using your medium?
I use five or six brands of colour pencils, and I have favourite pencils from each brand that I frequently use. However, I think a set of Faber Castell Polychromos, and Caran D'ache Luminance 6901 would be enough to complete any colour pencil project. Caran D'ache and Faber-Castell Pitt pastels in my opinion are the best pastel pencils. PanPastel is very useful in covering large areas. I know some brands are not available in some countries, but in any case, the artist should note the lightfastness of the pencils or pastels to ensure the artwork won't fade over the time.
My favourite surfaces for colour pencil are Strathmore Vellum 300 or 500 (the more plies the better), Clairefontaine Pastelmat, and Grafix double matte 0.005 drafting film. For pastel work I mainly use Clairefontaine Pastelmat or UART 800 sandpaper.
DARREN NISBETT
Hi Darren! Can you tell us how your journey into photography started?
It was a long time ago when I first met my (now) wife and she was doing a course in photography. I had dabbled with film cameras growing up but quickly got hooked on digital pictures and what you could do with them in photoshop.
Your body of work has many different themes and styles, can you expand upon how you approach each concept?
There tends to be an underlying theme of rust and abandonment which runs across my work and I use several ways that I work to present them. The Oxford invitational featured my Metallurgy series which are photographs printed onto gilded aluminium. The gilding I use is gold, bronze and silver which gives an extra dimension to the prints, especially in certain light and it works especially well with the old and rusty subject matter.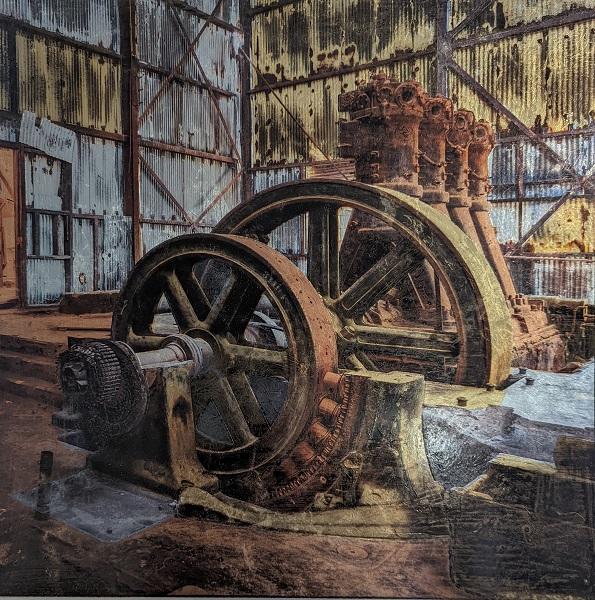 What can we expect to see from you in the future Darren and are there any new concepts you are working or developing?
I am currently developing the metal printing and have been using acrylic and model paint and spray paint alongside the gilding to bring in colours and textures which interweave with the printing
Finally, are there any specific products you use to enable you to create such wonderful effects?
One product that I use is called inkaid which is a liquid substrate that allows me to print over the paint and gilding also my 24" inkjet printer.
DAVID DESSERT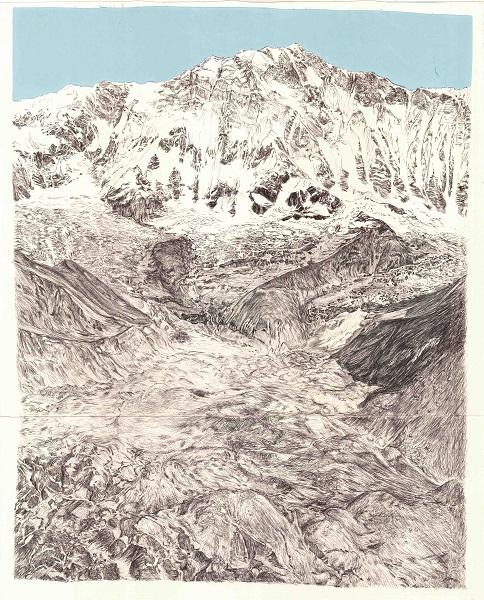 Hi David, congratulations on winning the Mayor's Choice Award! Can you tell us about both pieces that were submitted?
The first piece "Walnut Tree"was drawn in an allotment garden in Berlin it was drawn over a period of three years with biro on 28 sheets of A5 paper. The second piece "Annapurna" drawn was drawn with biro on 2 sheets of paper with a piece of blue paper for the sky.
Both drawings are part of my visual diary in which I draw my surroundings and places I traveled to. The Walnut Tree was drawn in my allotment garden in which I spent a lot of time in my last years in Berlin. Annapurna was drawn from photographs after a memorable trip to Nepal.
Both your submissions are in Biro is this the medium you usually work in and how did this become your preferred medium?
Most of my drawings are in biro I have also been using pencil recently and experimenting with watwatercoloursd coloured pencil. I like to keep the media I use as simple as possible. I don't have a studio and have limited space so drawing with a ball point on paper is partly a practical solution. It's very easy to take the drawing out and put it away again and the ink dries very quickly. I also enjoy working with biros because of the strong bold mark they make (when working properly) it gives the picture a lot of contrast.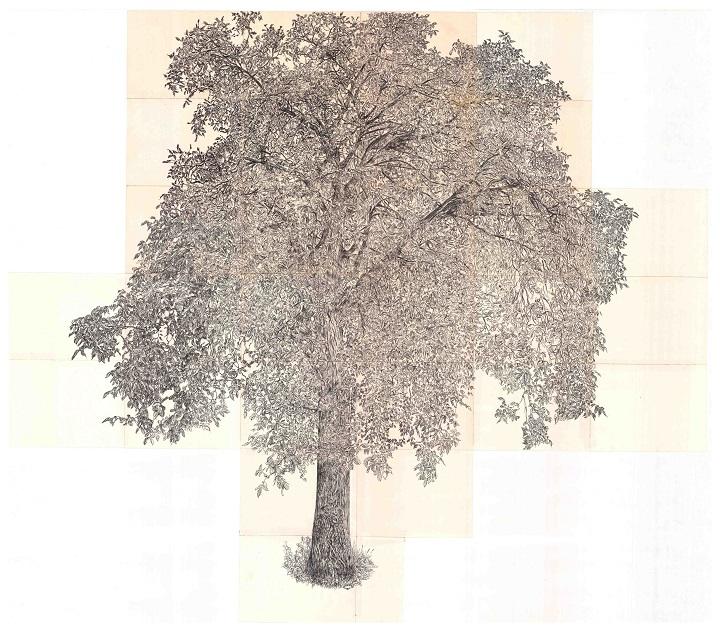 We know you love to capture images when on your travels, what location can we expect to see more of your work emerge from?
I have just come back from Peru where I did some sketching so hopefully something will come out of this. I moved to east London last year and have a few sketches of the area and a large piece on the south downs which I have almost completed.
Finally, is there any specific types of pen & ink or biro you use to create these amazing pieces?
No. One of my concepts was to only use media that was readily available. I haven't bought anything for these drawings. I only used paper that was found or given to me. Biros were all found or promotional products.
KAREN CHARD
Hi Karen! Congratulations on being a second-time winner, having previously won and exhibited at the Cambridge Invitational. Your award-winning work uses sculptured ceramics, what attracts you to that particular medium?
I use clay a lot in my work because I like the sensory feel of the material and its mouldability. Clay is an incredible material, it has had a life before I ever get my hands on it, it will have travelled time and distance, it connects me to those times in history, life and the earth, that I may never know its story is not important but being a part of its journey is my journey.
I am at a crossroads in my life, I had started my PGCE in September with the aim of teaching Art in Further Education, but I am no longer doing this, the course took me away from my art and the academic level was just too high for me. Whilst the teaching was really great, I feel I can teach workshops that I love, that I can plan to suit my needs without having to be a part of the education system and that suits me better and am planning to facilitate Memory/heirloom doll workshops where people can stitch their grief and or memories into a unique doll. I continue to make tiles and planning to set up an alternative funeral directors and natural burial ground live/work community, as a Community Interest Company, bringing death into our daily consciousness and including crafts and art.
Are there any new exciting projects you are currently working on that you can share with us?
I like to work with textiles and ink too, making my own inks from time to time, and today I plan to pick and strip stinging nettles and process them for spinning. I recently made a piece from clay tiles, set in hanhand-madelt, in a wooden frame, mixing textiles and clay is something I explore from time to time and making unexpected things from clay that actually function, I am making a clay jigsaw puzzle for example and I have made back strap heddle looms in clay, that actually do work and have woven my homespun fibres on them, this was after being knocked back on a degree application and being told I was not a fine artist! It initially knocked my confidence then I had something to prove and I question constantly what is fine art and what is craft, the heddle looms and weaving have now become fine art pieces and hang as wall hangings or mobiles but they are still craft.
Is there a certain brand that you use to ensure you achieve the effect you create?
I don't choose a particular brand, I have been working with terracotta clay recently but in the past have preferred to use crank clay, the pieces I entered into the Galeria Moderna Invitationals were made from stoneware clay.
LINDA LENNARD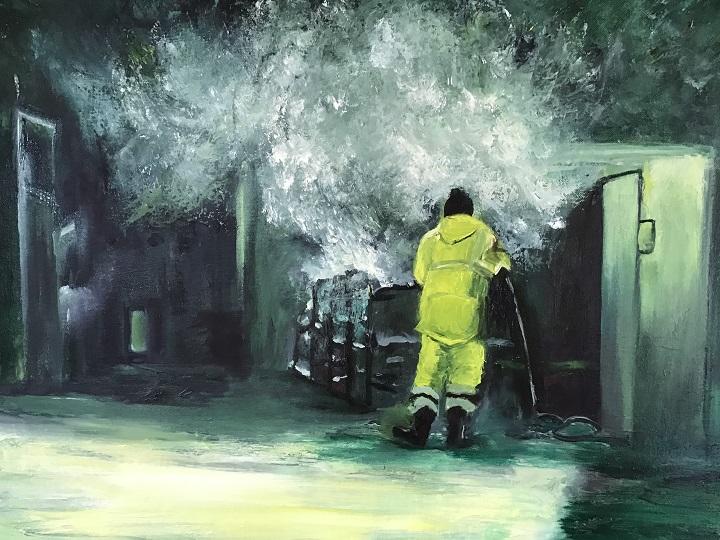 Hi Linda! We know you prefer to use oil paints, but you have also used various media over the years. Why do you feel oils are best for you and when did you first start to enjoy the medium?
I have become addicted to oil paints over the last 15 years or so. Having experimented with other mediums, oils just feel right! It is because of their luminosity, intensity of colour and that they offer myriad ways of working to achieve different results. The slowness of the drying process compared with other mediums is a big plus.
Covid 19 inspired one of your pieces, what usually inspires you?
I try to evoke a sense of atmosphere, place and energy in images ranging from the figurative to the semi-abstract. I normally paint quite loosely – often with palette knives - as it is exciting to see where the process of painting itself can take you. The subjects can vary a lot but are often based on the natural world.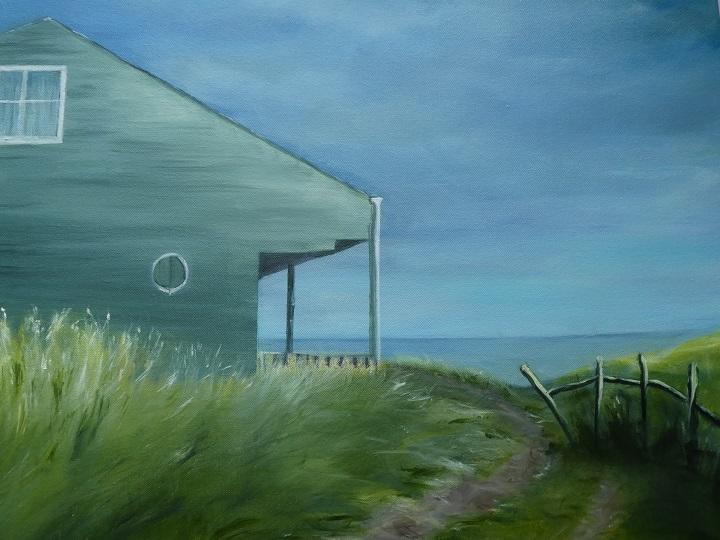 What can we expect to see from you in the future Linda and have you any exciting new work in progress?
I am starting to paint on a larger scale with oils and aim to be more experimental, including using mixed media.
Finally Linda are there any particular brands that you use and would recommend?
I use a mixture of Michael Harding, Old Holland and Schminke ranges of paints, as well as Cass Art products and Rosemary brushes.
LISA TIMMERMAN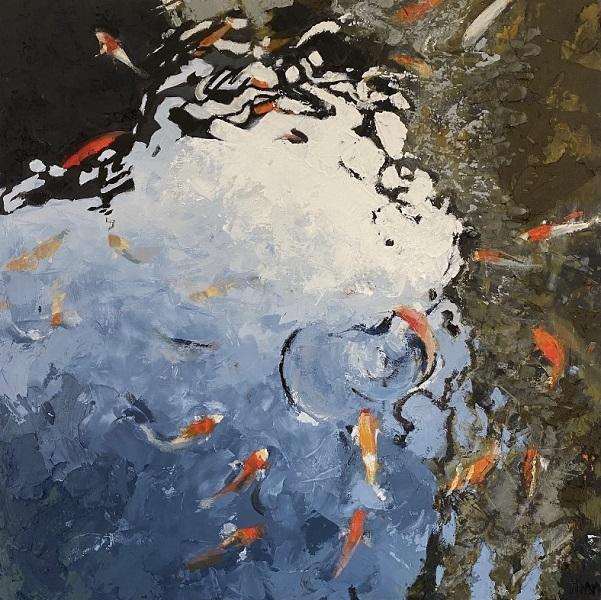 Hi Lisa! Congratulations on winning the No. 1 Ship Award. Can you tell us how your journey into painting started?
My journey into painting started from working as a designer in the fashion & textile industry. I had a strong instinct for colour & composition but it wasn't until I learnt to mix subtle & interesting colours through working in fellow Leicester artist Paul Wright's studio that I really felt I had the visual vocabulary to create something more personal to my own vision. I then joined my local open studios trail 10 years ago & with a deadline set, started to create my own visual world & story.
Your body of work includes a variety of themes and styles. Can you expand upon how you approach each concept?
My artwork has always been focused on what I needed to express at the time. I started with portraits, wanting to raise the profile of the women in my family. Sometimes being cross or having a negative person around me motivated me to want to show how beautiful the world is, how beautiful light is and to zoom in & focus on the things to be grateful for. This took me from portraits into a world of white roses & sunlight. I loved that white roses were hardly white at all but a myriad of subtle greys. I then noticed the silent beautiful sunlight that entered our house. However bad the atmosphere in our house was at times, this sunlight would enter as if to say, I've been here long before you & will be here long after you've left. I started to imagine hens entering with this sunlight & a new series of 'hen house' paintings emerged. The koi paintings came from this same feeling. The ripples are the turbulent atmosphere that's created, the koi are the people's minds thrown around by this turbulence but the beauty is there throughout and as the ripples pass the koi swim on silently, peacefully.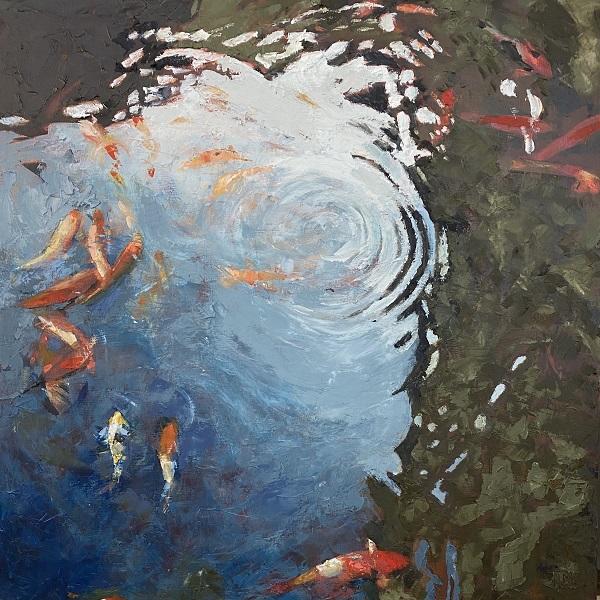 What can we expect to see from you in the future and are there any new concepts you are working on?
For now, I am still totally absorbed by the qualities of water & movement within water. Having scuba dived I'm fascinated by muting the sounds of the world above and by the importance of controlled breathing. The work will evolve but it has to happen naturally & feel totally honest to me and from within me. I'm interested in finding ways to capture glimmers of magic & hope using light. The koi, like the hens previously, are vehicles of colour & light to direct composition. I'd like to try different colour ways at some point so the koi will change colour & will no longer be koi as such. The work may evolve to be a little more abstract as I try to get to the essence of what I'm trying to communicate but the underlying feelings will still be there - keep going, don't let negative turbulent energy distract, stay focused on what's good.
What products would we find in your studio?
I'm a big fan of 'Zest-it' products. I was using them before I realised the company is based in Leicestershire but now, having met the owners, I know they genuinely have the artist's health & well-being at their core. They're a family business & don't have product ambassadors or paid promotors. They just focus on innovating products for artists to use without long-term health implications, very important if, as I am, you're using them every day.
I use their cold wax medium, mixed in with whichever oil paint I'm using. I have lots of different brands of oil paints all jumbled up in an old, battered, leather suitcase, divided into transparent or opaque which you can find on the side of the tube.
I tend to buy 'professional artists' quality paint as they contain more pigment so are more satisfying to use and buy whichever brand has a large 200ml tube in the colour I'm after. But I rarely use colour straight from the tube onto the artwork, I always mix my own colour first to make it more interesting. Mixing colours is probably my favourite thing in the world and quite a challenge when you first start painting but my advice is be brave & experiment by mixing 2 contrasting colours & adjusting with dots of titanium white till you get the tone you want. What an inexplicably glorious gift colour is!
PADDI DIMITRI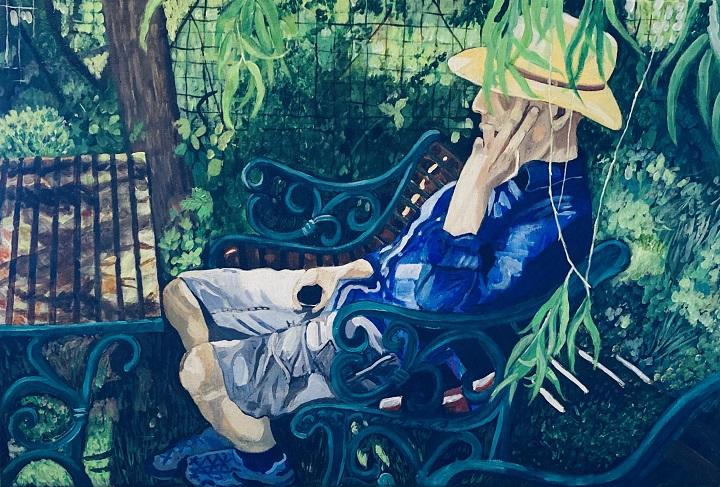 Hi Paddi! How and when did you start painting and what was your inspiration?
As a child I was always a creator even babysitting I would draw things in the room. After school I went to Art College but dropped out after the foundation - being under 18 meant I couldn't get a grant. Then life happened!!! I started painted 22 years ago but as I was working there wasn't a lot of time. In 2003 I graduated with a BA (hons) in fine art. Unfortunately, they were into conceptual art so there wasn't a painting teacher. Nevertheless, I seem to be driven towards painting and dropped textiles and sculpture to concentrate on not being Jack of all trades but master of one.
Can you tell us about your winning artworks for the Oxford Invitational?
I still do figurative work but find the abstracts immensely exciting and satisfying, not knowing what the finished piece will look like. My winning paintings with Galeria Moderna were figurative and painted from photos I took locally. They were inspired by the light on sunny days and I could see them as abstracts.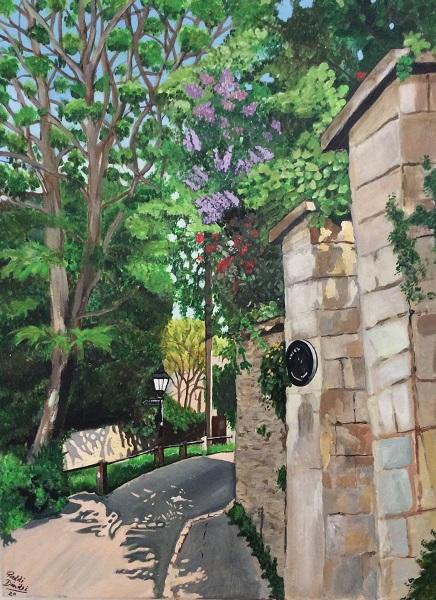 What can we look forward to seeing from you in the future and do you have any advice for emerging artists?
The future is exciting……just keep showing up and do the work which can only get better! Emerging artists need to find out what they like and which medium suits their style. And WORK WORK WORK. There is no point procrastinating and intellectualising just play like you are a child. Don't worry what other people will say just do it for yourself. Try different methods, learn colour theory, use anything to apply paint and enjoy. If you don't enjoy it you won't do it! Eventually your own unique style will develop and show itself. This is a long process and doesn't happen overnight.
What are your go-to art materials?
When I started out I tried watercolours and oils. Watercolour didn't suit my heavy hand and with oils I was allergic to the mediums. At first I hated acrylics but persevered and started enjoying its properties. Initially I used Systems 3 which are good but now I've advanced to Golden which are more expensive but have more intensity. They also have a range from heavy body (very thick) to fluid pouring colours.
ROBERT WILLIAM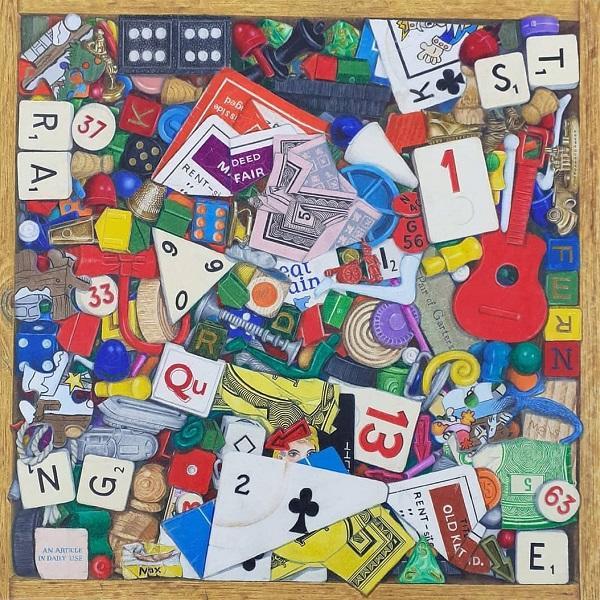 Hi Robert! Can you tell us where your passion for art stemmed from?
As a child I use to copy characters from The Beano, and ironically some of my recent painting has been the same characters but from McDonald's Happy Meals. I studied Art at school, Art College and eventually taught art at secondary school for 20 years. I love to see the variety of responses in a range of media to the same stimulus.
Can you tell us about your award-winning pieces you submitted for the competition?
I collect things, I always have, and have to put them somewhere so tins, boxes, drawers etc contain a plethora of useless, discarded odds and ends. The work I entered reflected this obsession with my Squashed Board Games, odd pieces of games that had no purpose now they were not with their original set such as a pawn, a monopoly bank note and a selection of dice. The other work was a colour pencil drawing of 4 Chair legs which had been thrown away but collected by myself. Their colour and distressed appearance appealed to my desire to paint and draw objects that had been forgotten and not wanted anymore.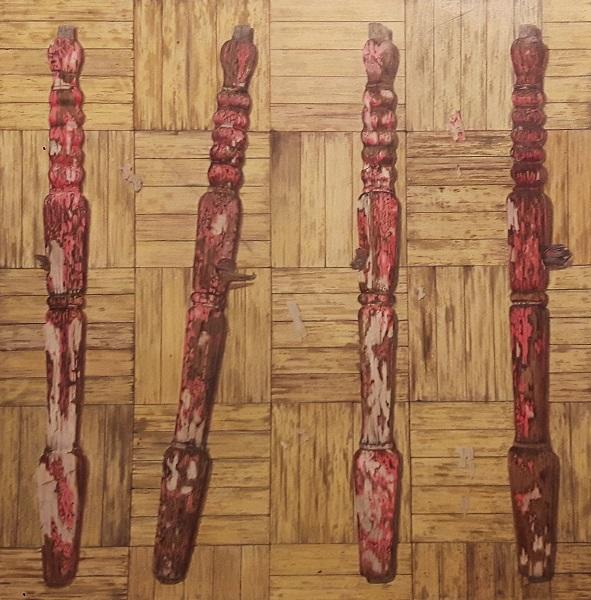 You work in several mediums, paints and pencil, can you tell us about the materials you use to create your incredibly detailed work?
I very much enjoy using Parismacolour pencils as they are soft, easily blended and colours can be layered effectively to create a range of textures. Colour pencils are a much ignored medium often seen as a child's drawing tool, however, they have such potential and can be used anywhere for work from sketching to fine-detailed final pieces. Plus I use Caren D'Ache Luminance as a medium pencil and Pablo for a harder pencil. I use Derwent for pastel and watercolour pencils.
VICKY PRINCE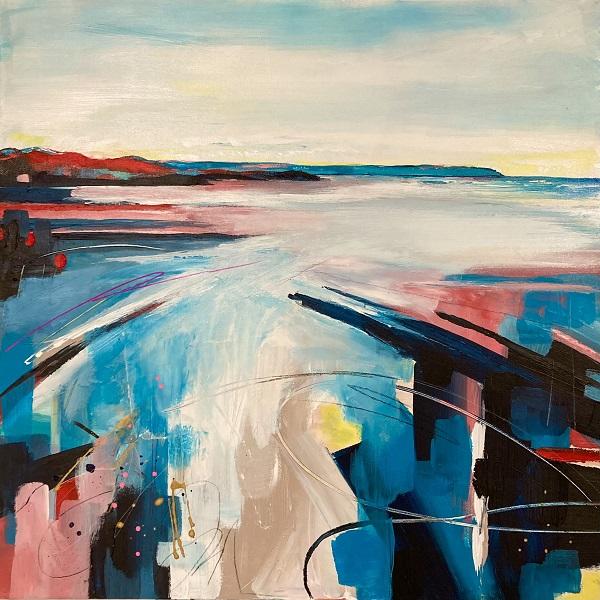 Hi Vicky! Can you tell us how your creative journey began?
I've been painting for many years, having studied design at University. Work and a young family kept me busy for over a decade until about 4 years ago when I got well and truly addicted to painting again, engrossing myself in land and seascapes inspired from around the UK. I started to exhibit again and so set up my website a year ago, which has taken my art to the next level. Taking part in 'The 100 day challenge' a few years ago, was an exhausting challenge but well worth it. It forced me to explore and push myself to create every day, allowing for experimentation and reconfirming my style.
Can you expand upon the method and the style you used for both your award-winning artworks?
I love colour and gestural mark making. I frequently like my audience to be able to recognise my pieces as for where or what they are, but to have the colours, shapes and composition exaggerated into abstraction. I love to sit and look at a landscape and begin to dissect what I can see into sections and lines, blocking in colours and taking out lots of detail; choosing only essential parts.
What can we expect to see from you in the future and have you any advice for emerging artists?
I am currently creating work for a Northumberland gallery and will be starting to run workshops, focusing on expressive landscapes from our UK coastline in the Autumn. My advice for the emerging artist is to keep creating; regular practice, a time to make mistakes and not to be afraid to experiment is crucial.
Using such vivid colours as you do, are there any brands you can recommend that you find work well?
I use so many! The Golden brand is always good for the heavy body pigment. Pebeo for the brights and Liquitex for the metallics. I also love working on wooden panels; the surface texture is great for mixed media and withstands aggressive mark making tools!
Thanks everyone!
---
Feeling inspired?
To learn more about the award-winning artists and future contests, visit www.Galeria-Moderna.com
Read more interviews with artists on the Cass Art blog.