Posted by Cass Art on 1st Aug 2018
A homeless man wrapped in a tartan blanket was the iconic portrait that won the BP Portrait Award last year. Painted by Thomas Ganter, an artist and illustrator from Frankfurt, his portrait of a homeless man named Karel humbled the judges, asking the viewer to consider dignity, respect and the coexistence of wealth and poverty.
Now the good news is it could be the time for your own painting to shine, because applications for the BP Portrait Award 2015 are now open. This year, it's easier to enter than ever before. For the first time in its 36 year history, all artists are invited to submit their portraits digitally rather than sending the physical artwork.
To enter the BP Portrait Award 2015, all you have to do is upload a photograph of your finished painting to the BP Portrait Award website. Your piece will then be considered by the judges in the first round of the competition. The successful entrants in this round will then be invited to hand-deliver or courier their work to a venue in London for the second round of judging and final exhibition selection.
The judging panel will be chaired by Pim Baxter, Deputy Director of the National Portrait Gallery. Other judges include Sarah Howgate, Contemporary Curator of the National Portrait Gallery, Kim Mawhinney, Head of Art at National Museums Northern Ireland, artist Peter Monkman, Historian Simon Schama and Des Violaris, Director, UK Arts & Culture, BP.
Previous winners of the BP Portrait Award have included Wim Heldens for his portrait Distracted, and Peter Edwards for his portrait of Marguerite Kelsey.
A prize that inspires originality and brings together both traditional and contemporary portraiture, it's one of the highlights of the art calendar every year, and who knows, this year could be yours to win.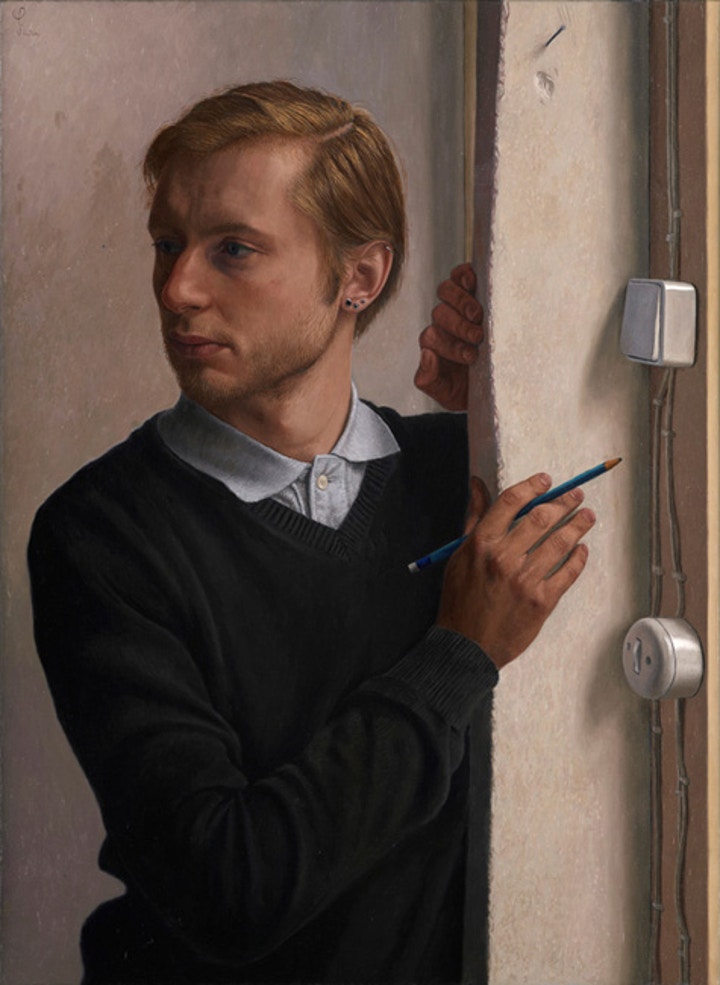 Feeling inspired?
Applications close on Tuesday 3rd February 2015, so there's plenty of time to get your portraits perfected.
The BP Portrait Award 2015 exhibition will run at the National Portrait Gallery from Thursday 18th June to Sunday 20th September 2015.
Image credits:
Image 1 - Luciana by Javier Palacios.
Image 2- Thomas Ganter, BP Portrait Award 2014 first prize winner, with Man with a Plaid Blanket. Photograph by Jorge Herrera.
Image 3 - Distracted by Wim Heldens, BP Portrait Award 2011 first prize winner, 2011 © Wim Heldens