Posted by Cass Art on 25th Feb 2021
Artist Jules Penlington brings her expert advice to us with her complete guide to getting started with acrylic paint by showcasing her go to products.
Jules Penlington is a mixed media artist based in Liverpool. She has been doing freelance commission based work for 3 years in which she has designed numerous works for weddings and special gifts. She primarily uses watercolours and acrylic for her wonderful personalised building commissions which you can see below. The main acrylic paint brand she uses are Liquitex and Golden due to being densely packed with pigment.
Jules also runs regular adult watercolour, acrylic and oil painting workshops around Liverpool City Centre; within these workshops she teaches both beginners and hobbies how to use the different mediums and show the different techniques that you can use.
In this video Jules explores the following products
Acrylic Paint and Mediums
Golden Heavbody 60ml Set of 6 is a range of excellent-quality acrylic colours. Made with pure pigments and without fillers or extenders, these are smooth and thick colours that produce outstanding results, holding peaks and brush or knife marks particularly well and with high permanence and lightfastness. You can also explore the full Golden range such as fluid and high flow as featured in this video here.
Liquitex Basics Acrylic Mediums 75ml Set of 5 You can experiment with the enclosed mediums to add effects and textures to your work - this set contains gesso, gloss gel medium, modeling paste, iridescent medium, and coarse texture gel.
Molotow One4All Acrylic Pump Marker Basic Set of 10 Molotow is one the worlds leading name in Acrylic markers. 'One4All' premium quality pump marker pens are the only refillable acrylic marker on the market and feature their patented capillary and valve system – making them a truly unique and remarkable product. This Molotow One4All 127HS 2mm Basic Set of 10 contains the colours: Zinc Yellow, Orange Dare, Traffic Red, Shock Blue Mid, True Blue, Currant, Neon Pink, Mister Green, Signal White & Signal Black.
Brushes
Cass Art White Synthetic Brush Set of 6 This Cass Art Synthetic Brush Set of 6 brings you a great team of all-rounders. Like the rest of our own-brand range, we designed them to give you really high quality at an excellent price. You can use them with all brands and types of paint not just acrylic but also watercolour,oils, gels and mediums, and all techniques. They have exceptionally soft synthetic bristles with fantastic spring which are very durable and are particularly well suited to fine detail work, or when you're applying light washes.
Surfaces
Cass Art Oil and Acrylic Pad 250 gsm Treated with a sizing agent this pad contains 12 sheets of 250gsm acide free paper that offers the right absorbency and grip for acrylic paint and internally sized to prevent oil paint from sinking through. Ideal for any oil & acrylic techniques (smooth or heavy body).
Winsor and Newton Canvas Boards These canvas boards provide a high-quality alternative to canvases, more portable and rugged for painting al fresco in oils or acrylics. Suitable for oil, alkyd and acrylic colours, it's a cotton canvas laminated onto a stable board and stretched by hand, then prepared with acid-free sizing and two coats of pigmented primer.
The work of Jules Penlington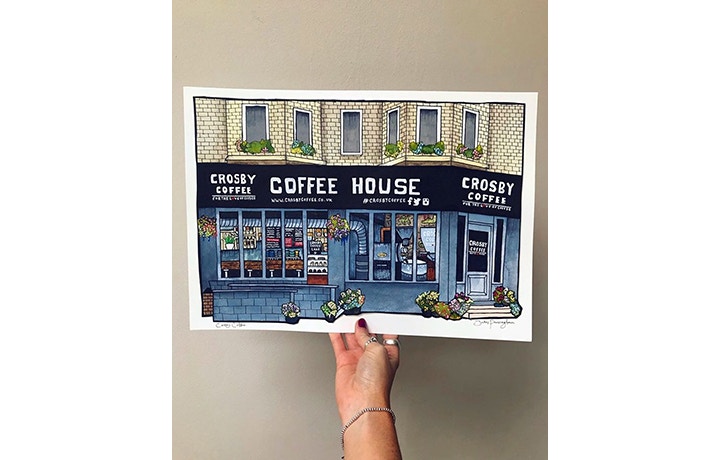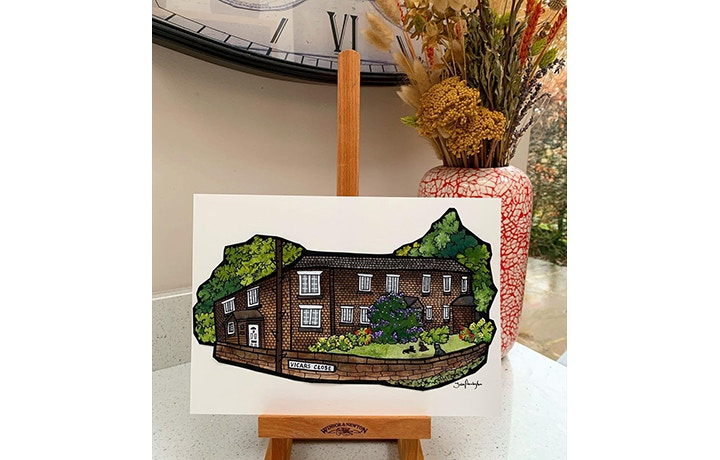 You can follow Jules work on here Instagram here.
---
FEELING INSPIRED?
---
Shop online for everything you'll need. Don't forget to hashtag #cassart on social media to show us your creations