Posted by Cass Art on 5th Jun 2018
Image above: Detail from Zoe's Winning piece What Are They Waiting For
We're thrilled to continue supporting The Batsford Prize by awarding a £500 Cass Art Bursary to the talented Zoe Wenban who's graduating this summer from a BA in Textile Design from Falmouth University; her wonderful designs excited and inspired us. We caught up with Zoe to find out more about her work and plans for the future:
Firstly congratulations on winning the £500! How are you doing and do you have any plans for the bursary?
Thank you! I'm doing really well, my degree is finished and the final show at Falmouth University is currently open. It's been such an exciting and busy time of year, especially since winning the Cass Art prize. There's still so many costs with putting my portfolio together and going to New Designers. I have lots more business cards and promotional materials to get, as well as a really nice portfolio case - from Cass Art of course! I'm really grateful to win this amazing prize that can help with all my opportunities to come.
Image above: Screen prints from What Are They Waiting For
What Are They Waiting For is your prize winning piece, could you explain the story behind it?
When looking for inspiration for my illustrations and patterns, I loved visiting my university library and seeing the wide range of books they had. One of my favourite sections was actually Photography, and I found the photograph 'What are all these people so worried about?' by Barney Cowherd. To me, it was such a visually interesting photograph of American people waiting to cross the road, but the composition and close zoom of it meant you couldn't see the whole picture. This was the main inspiration for the design, and hopefully a similar conceptual result.
Your work is beautifully detailed – I'd love to hear more about your process, how does a project make it off the sketchbook pages and into reality?
There's so much process in developing a textile collection, from initial visual research, to colour palette development, and contextual research of other artists, designers, trends and world events. Once I have completed these stages, I then find specific imagery that really inspires me, and gives me ideas. I always hand paint the motifs using emulsion paint, and for simpler repeats, I scan them into Adobe Illustrator to make patterns. For my more complex patterns, such as the 'Rear Window Ethics' cityscape design, it takes a lot of careful planning, measuring, trial and error to repeat the whole pattern plate by hand – this one took two solid weeks in fact.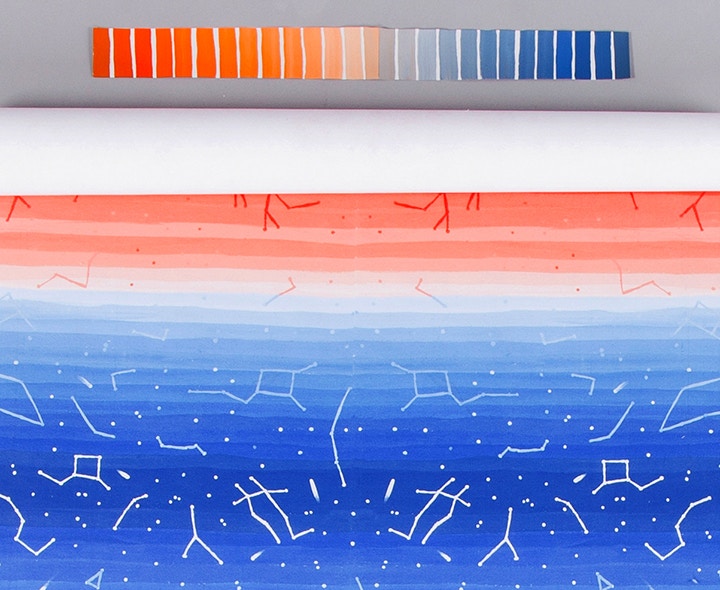 Image above: No More Mr. Night Sky
And how do you find navigating the relationship between illustration and textiles?
When I first started my course, I didn't expect to work with paint as much as I now do. Studying in a textile print discipline, you naturally need strong drawing, mark-making or illustration skills to depict your chosen imagery. Even though it can take me quite a few hours to do one small painting, this is my favourite part of the whole making process. I've always loved how my drawings and paintings can be used for decorative purposes on textiles. It's so satisfying seeing them on a large length of fabric, or splitting the motifs into different colour layers and screen printing these to see them come alive in a different way.
Could you tell me a bit about your experience as an undergraduate student? And do you have any advice for future students of Textile Design!
I've had such an amazing time of my course and was so glad to have chosen Falmouth. It's the most beautiful place to study with so much inspiration on your doorstep! My favourite thing about it is the sunsets, and how clear the night sky is, which was actually the inspiration for my piece 'No More Mr. Night Sky' as there's no light pollution here. The course has been everything I've naturally loved: colour theory, mood boarding, drawing, screen printing etc.
Always experiment and never be afraid to try new ideas. It was told to me all the time, but as a designer you naturally want to work with what you're comfortable with and a style that you like. My best advice however, is to take a look at what other people are doing, and then do something completely different. Having an identity to your work, especially on a course of 50+ people studying the same subject as you, is what will make you unique.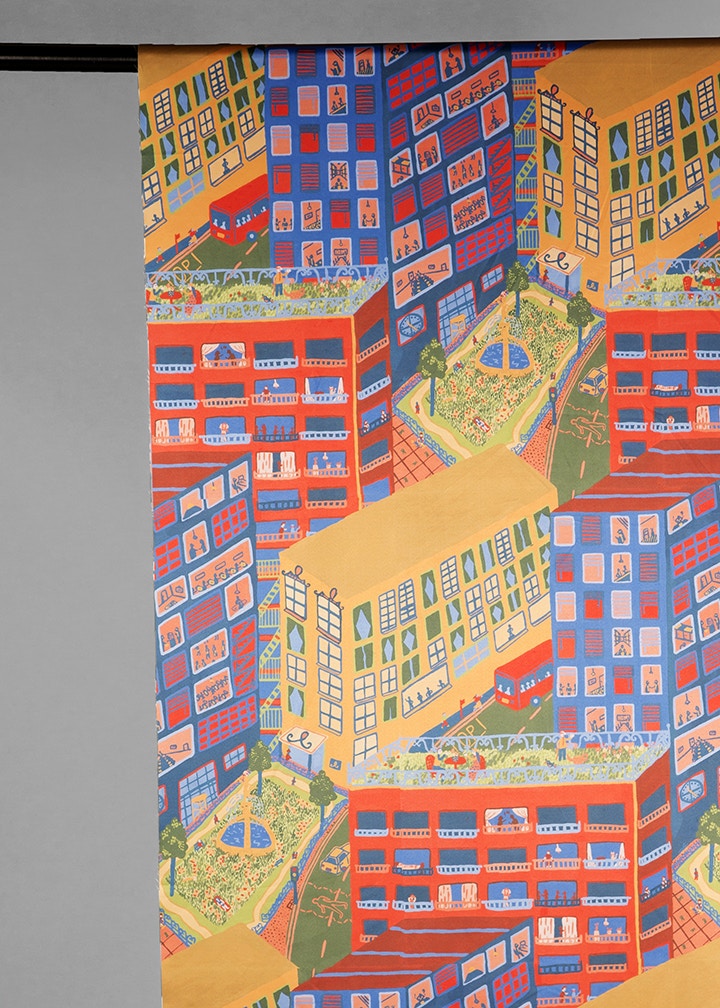 Image above: Rear Window Ethics
We're looking forward to seeing your work in this year's New Designers in London; what are you planning on showing?
New Designers is about showing your strongest work that best represents you as a designer and grabs attention. We are currently in discussions with our tutors about this, but I will probably be showing a large length of one of my designs, with a few smaller fabric samples and the original illustrations too, as these are just as important!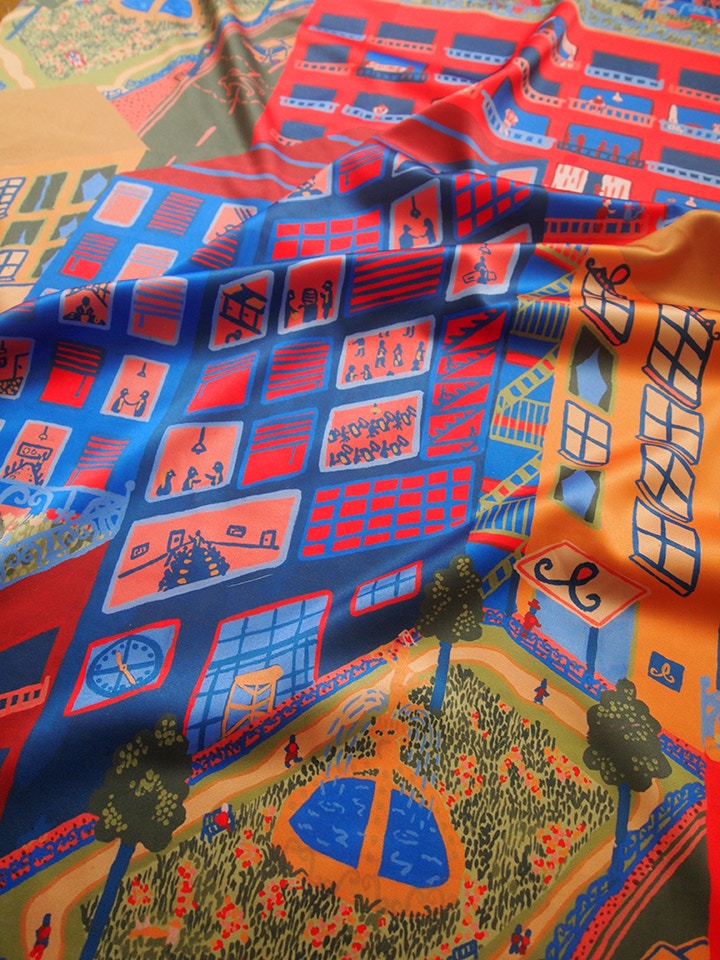 Image above: Detail image of Rear Window Ethics
And finally, after a well-deserved rest! What's next?
I've recently been working on a recipe book and an album artwork for other Falmouth students, which are due to be launched in the next few weeks. These were really successful, so I'd really love to undertake more commissions now that I have more free time.
I'm interested in doing another internship to really learn the inner workings of a business, but would love to start working full-time in the industry next year. The Cass Art prize has been such a boost to my confidence in my work, and hopefully the start of more exciting things to come!
Thanks Zoe!
Feeling Inspired?
Read more about the Batford Prize 2018 here
Find out more about Zoe's work on her Instagram to stay up to date with her latest artistic ventures
You can shop in-store and online with us for all of your art material needs