Posted by Cass Art on 11th Feb 2020
Jake Spicer is an artist and author, well known for drawing portraits, faces and animals fluidly and accurately, as well as a tutor that teaches drawing across the country. His 'Draw in 15 Minutes' book series offers helpful tips on learning to draw certain subjects, and his most recent book, DRAW, is a wonderful book that covers a broad range of drawing exercises that you can work into your everyday life.
We wanted to find out more about his impressive new book, as well as a bit more about his artwork and the artist behind the pencil lines.

Hi Jake! Congratulations on your new book, DRAW. Can you tell us about it?
It's a book intended to help people draw more as part of their daily life. It's full of practical exercises that you can complete day-to-day in a variety of locations that are easy to access, all with simple materials.
How does it differ from your other specific 'Draw People', 'Draw Faces' and 'Draw Cats in 15 minutes' books?
It's not so subject based, it's more about location. It's about making drawings whilst at work, on public transport, at home, sitting down…you can dip into the book and you're allowed to spend more than fifteen minutes on each exercise! I mean, some of them suggest you take 20 minutes. It's wild. There's one exercise that will take as long as you can endure being outside, because it involves sketching trees!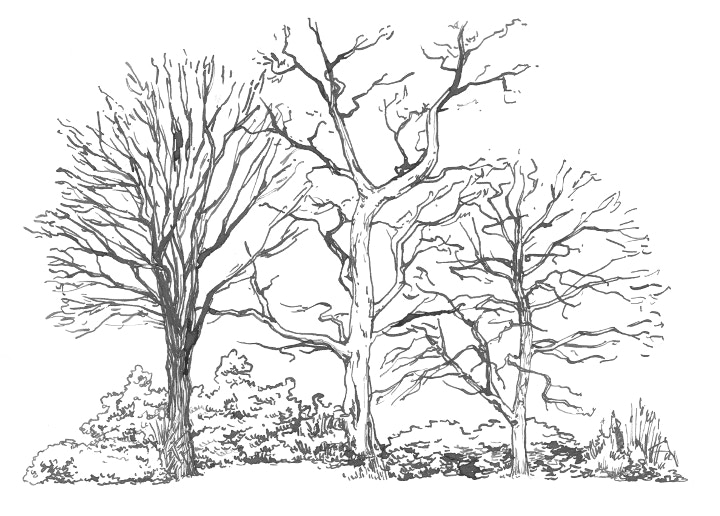 The book showcases your skills in a broad range of media – sketching pencils, ink and wash, coloured pens and pencils…but what three art materials couldn't you live without?
I've got a big chest of drawers full of bits and pieces which is completely organised, but I do try and broaden my horizons when using materials. But if I had to pick three…
I love a pencil. I enjoy using Derwent Sketching pencils, specifically grades 2B-4B.
And a sketchbook. I love a Moleskine. I was a bit dubious about why people love them so much but I gave one a go and am now completely sold, I always have one on me.
I'm also very into dip pen work. In saying that I love the similar effect you get with the Pentel Brush Pen – it's great for when I want to create something punchier.
And now for a bit about you. Have you been drawing ever since you can remember, or can you remember that moment when you decided to pursue being an artist?
I've always drawn. When I was very little my family didn't have very much money and my mum's friend worked in a paper mill, and she always brought over huge offcuts of paper so I'd be drawing all the time. I was a keen model maker, too. I liked doing things with my hands as a teenager, it was a nice way to help you relate to the world as a half grown adult, trying to capture things with drawing. It's a really important meditative process, to sit down and look around and capture something.
I was really into chemistry and maths as well as art. It could have gone either way, really. Then I realised that oil painting was kind of like alchemy! It's probably also why I'm so into anatomy. It was a bit of a flip of a coin, whether I studied art or science.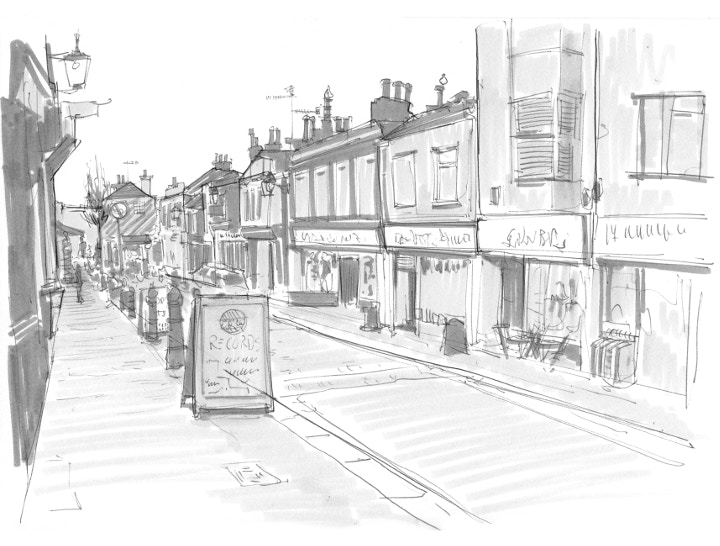 So what decided it for you?
I went to a life-drawing class by John T Freeman. He just embodied what you imagine an artist should be. He made me realise it was hard work to be a full time artist but that you can do it. So I trained with him, and it led me to pursuing it as a profession.
Where did you study art?
I took an Art Foundation in Farnham. It was a great place to go, a dedicated art school that was really exciting, and it was near John's studio so I could also carry on with his classes. And it showed me I was interested in things beyond education, so I didn't go and do a degree. I wanted to learn from other artists but not through uni. It was harder work but very exciting and took me on a route I wouldn't have gone on otherwise.
I grew up not far from Brighton, but I didn't like it much at the time, I just thought it was a bit of a grubby city. But I hopped from Farnham to Devon to London, and was offered an exhibition in Brighton so I moved there. At first I slept in my car, on my picture framer's floor, but I found my feet and got a studio and have stayed there since.
Do you draw every day, without fail?
Yeah I really do. I didn't at first. When I spent 3-4 years as a full time painter I drew just for training, and drew for pleasure less. Now it's become a really fundamental thing for me. I sketch ideas and am much more confident sketching in public than I used to be. And it's a way of looking – you've got to practice what you preach! I'm really anxious if I don't have a sketchbook on me. I pick it up before my keys or my wallet when I leave the house.
When I'm sketching I get approached a lot and it makes for nice conversation. Lots of people say things like 'I wish I could draw' or 'I used to draw but I don't any more' but I try to tell people it's not about talent. It's a skill you can develop by practising. You can learn to do it.
It's like at John's art class, there were young ones there who were much more talented than me, but it's about the time you put in. The innate talent you start with isn't a big part of it – it becomes about your choice.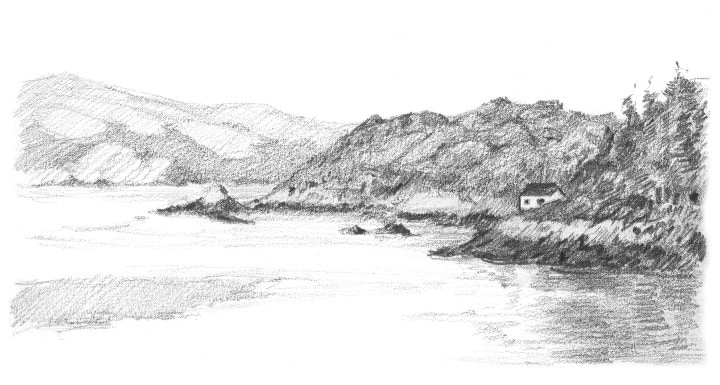 At Cass Art we believe everyone has the potential to unlock their creativity. And you've kind of alluded to it already, but do you believe that anyone can draw?
Yes, absolutely. The main thing is we teach ourselves not to draw. All children can and do draw, and the older you get you convince yourself you can't. You develop a self-consciousness and learn not to be able to draw, and you need to unlearn that. And I've taught people that prove that. One student took up drawing at aged 50 having not drawn a thing since he was 10. He didn't know what way to hold a pencil. But with practise he's become so much better.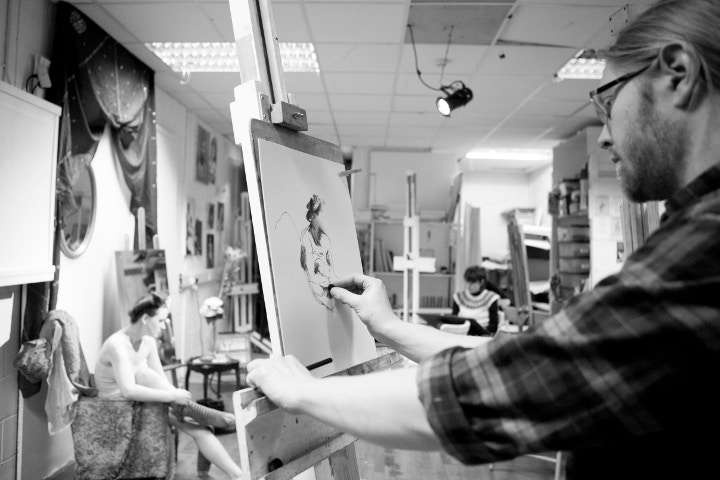 List three things that influence your artwork.
The first thing would be the book Faeries by Brian Froud and Alan Lee, who did a lot of the art for Lord of the Rings. When I was a child we had a copy of the book that fell apart, so we had pages from it all over the walls. You could see the pencil marks. I absolutely loved it. That was a big thing for me.
The second thing…as an art student I remember discovering Paula Rego's lithographs. I saw them at Brighton Hove Museum and just found them wholly inspiring. They were images that told stories, and that was really exciting.
And finally probably John Freeman's life-drawing classes. They made me realise you could teach people to be better and that you could learn to be better yourself. I've met so many art tutors in my time and he's still one of the best I've ever met. He's really curmudgeonly, and a great de-mystifier of things. He opens doors and doesn't keep secrets; he shows you that art is a practical, human process.
So what inspires you to keep drawing?
A lot of it's people, really. I enjoy the interaction of it. Drawing others, teaching people to draw, finding ways for others to express themselves. It's always exciting.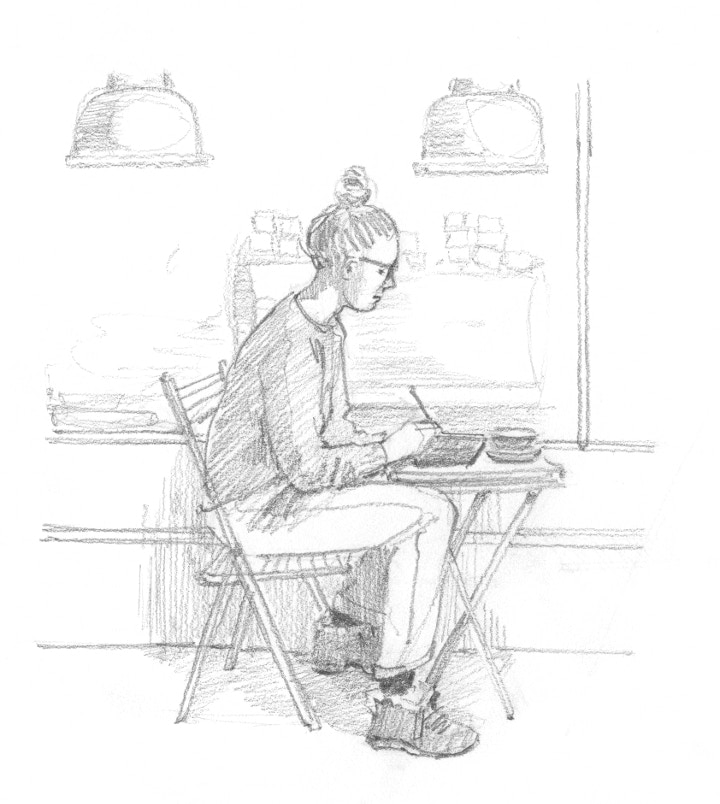 Feeling inspired?
Visit Jake Spicer's website here and follow him on Twitter at @BrightonDrawing.