Posted by Cass Art on 26th Oct 2017
Illustrator Johanna Basford is known for her wonderfully intricate colouring books for adults: Secret Garden and Enchanted Forest. Colouring for grown ups has been thrust into the limelight in recent months for its therapeutic and stress relieving qualities but it was Johanna who first pitched the idea to her editors at Laurence King, before the colouring craze took hold.
Johanna lives in rural Aberdeenshire with her husband, baby daughter and crazy dog Simcoe. She studied Textile Design at Duncan of Jordanstone College of Art and Design in Dundee, and her magical, winding illustrations have captured the hearts of people across the globe.
We caught up with Johanna to find out what inspires her drawings, and what art materials she uses to create her inky wonderlands.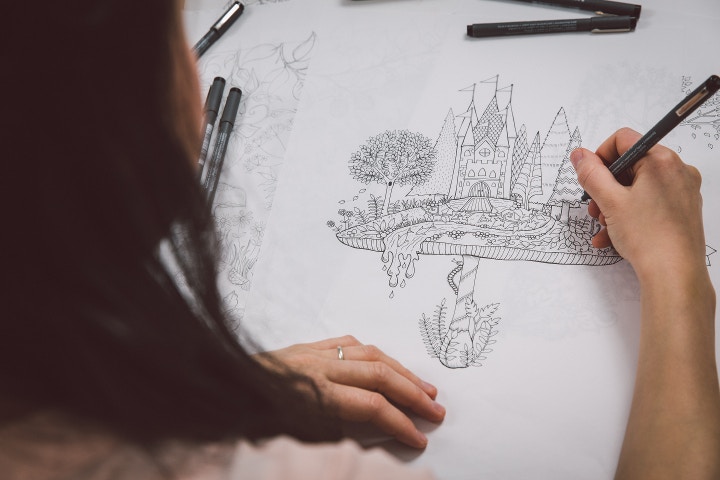 Hi Johanna! What gave you the idea for a coloring book for adults?
A few years ago I created a series of illustrations which I put on my website for people to download as desktop wallpapers for free. I was working as a commercial illustrator at the time and always looking for interesting ways to increase my profile and connect with potential new clients.
One of the people who downloaded my 'Owls in a Tree' illustration was my soon to be editor at Laurence King. She got in touch and asked if I would like to create a children's colouring book. I pitched the idea of an adult colouring in book – my signature style of illustration was super intricate, hand drawn, black and white work and for years my clients have been telling me that they wanted to colour in my drawings. This was 4 years ago, before the worldwide trend for adult colouring kicked off, so you can imagine how quiet my editor went. They weren't sure if colouring in for grown ups was silly and if there would be any demand for books like that.
I sat in my studio and drew the first 5 pages, then emailed them to my editor. They got back to me that day and said to go for it! And with that, the inky adventure began!
Why do you think so many adults are colouring in?
In terms of why I think people are embracing the colouring craze, I think there's been an underground adult colour shading movement for years, it's just more recently that it's come to light and become socially acceptable! I get emails from people saying until my books came out that they used to wait till the kids went to bed, then got their books out and had a sneaky colouring-in session!
More seriously though, I think colouring has 3 main reasons it appeals to adults:
Firstly it's a great way to de-stress. That notion of being 'in flow' and completely absorbed in a task - particularly an analogue task that doesn't involve a screen - is just so soothing. Everyone's lives are now so busy and so digital, I think colouring offers a welcome opportunity to unplug and allow yourself to be completely immersed in a task without the constant chatter of Twitter or the lure of Facebook. This is how I feel when I'm drawing, blissfully submerged!
Secondly I think everyone has a creative spark, they just need the opportunity and encouragement to allow it to flourish. An empty sheet of paper can be daunting, but a colouring book offers a gentle buffer to those with blank canvas anxiety! I think of the books as a collaboration, I draw the outlines then the owner of the book brings the colour. They don't need to worry about composition or layout, only colour palette.
And finally, there's the nostalgia factor. Chances are the last time most people did a spot of colouring in they didn't have a mortgage, a mean boss or worries about the fiscal debt. Colouring gives hard working grown ups the opportunity to play and to indulge themselves in an activity which likely reminds them of more carefree days.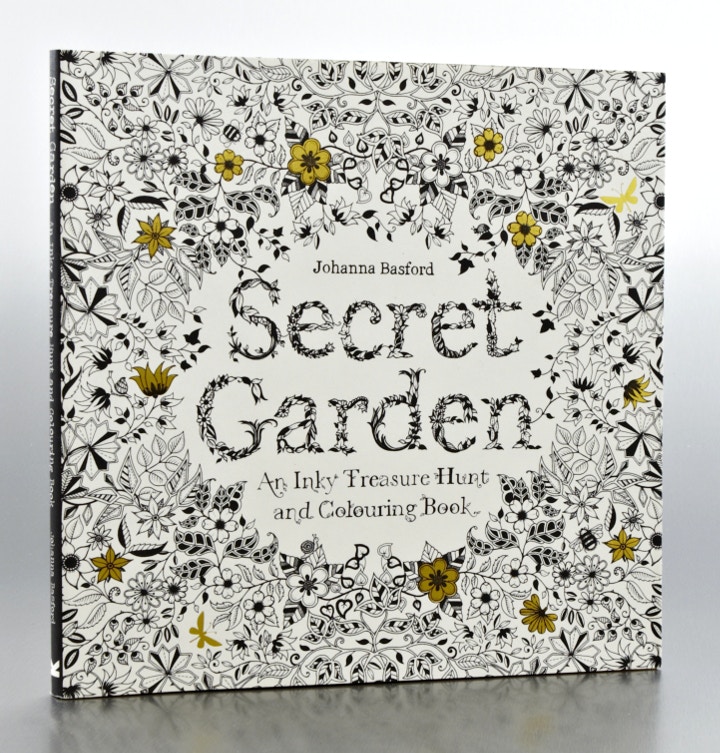 What inspired your Secret Garden and Enchanted Forest books?
The books take their inspiration from my childhood holidays spent on the Isle of Arran on the West Coast of Scotland. My Grandfather was the head gardener at Brodick Castle gardens there and we would visit him and my Grandmother for summer and Christmas holidays.
The gardens were an amazing place for a child with a big imagination to be allowed to roam free and play. There was a formal walled garden, complete with precision planted flowers beds, honeysuckle clad pergolas and a beautiful sundial at it's center. I have a vague recollection that there were beehives hidden in gaps in the walls, but I can't remember if this is fact or just the imaginings of a bee curious child!
Out with the walled garden lay acres and acres of forest peppered with spectacular blossoming rhododendrons, ponds with lily pads big enough to stand on, a half hidden summer house lined with pinecones and row upon row of humid greenhouses where the 'behind the scenes' work went on – trays and trays of seedlings, seed pods in little paper bags and mountains of plant pots! Much of the inspiration for Secret Garden came from those early days I spent playing in the Gardens and helping my Grandfather at his work.
Whilst the Gardens influenced my first book, the sprawling forestry and woodlands which surround them and creep up the mountainside of Goatfell (an extinct volcano studded with crystals!) is where my second book, Enchanted Forest has its roots. The woodlands were dark, mysterious places with lots of fallen trees to climb and curious little leafy hiding places for beasts of the real or imagined variety.
When my Grandfather passed away I inherited his library of botanical reference books. These are an invaluable source as they detail so many weird and wonderful species – many of which I'd never see growing here in Scotland. I often take a leaf from one plant, a petal from another and perhaps a seed pod from a third and combine them in a drawing to create an imaginative botanical hybrid. This type of fanciful horticulture ensures I always have plenty to draw!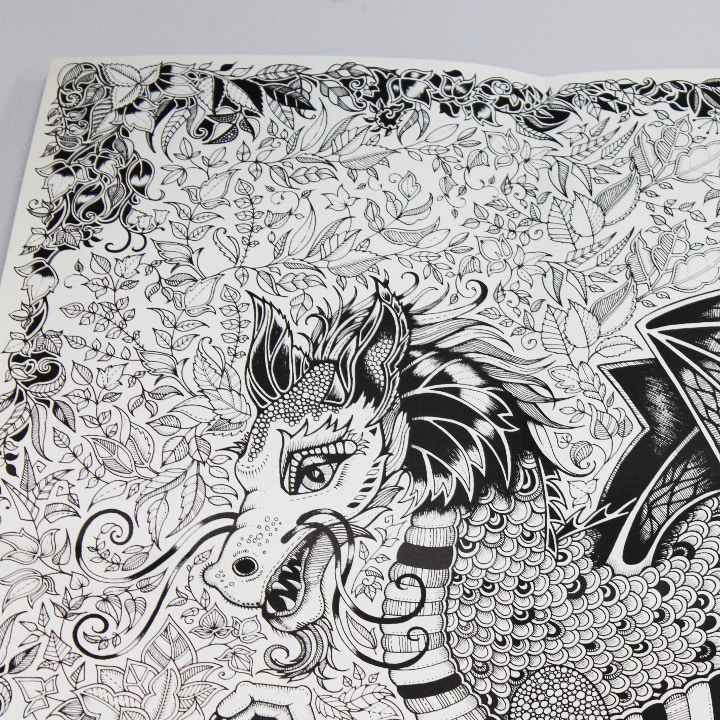 Why do you think your illustrations, in particular, appeal to adults?
I think a good grown-up colouring book should contain a mini work of art on each page. A variation in pattern, motifs and panoramic illustrations keeps things interesting whilst an intricate level of detail makes sure the grown up wielding the felt tip pen or colouring pencil is adequately challenged!
My illustrations are super intricate and delicate, a style which I think lends itself well to the colouring book format. Also, I work by hand; creating each illustration in pencil and pen, before scanning into the computer to edit (I don't create on the computer) Unlike computer generated graphics which can be a bit cold and clinical, hand drawn artwork has a sense of charm and character that appeals to people.
If I'm honest, I'm very selfish and create illustrations with just myself in mind! I draw to make images that I myself love to look at and want to colour, then hope that a few other people feel the same and want to buy the books. Whilst this might sound a bit inward, I think it's a good way to work. I'm not swayed by current trends or even the lure of trying to get a commercial success, I just want to make beautiful books. I feel that as long as I remain true to those values, I'll continue to make products that other people will (hopefully!) enjoy too.
What is it you like about the Staedtler Pigment Liners?
These little grey pens are my bread and butter. I use them to draw almost everything in the studio, including the original artwork for this book. The opaque ink runs smoothly from the delicate nibs and allows you to add intricate monochrome detail with lots of precision. Love them!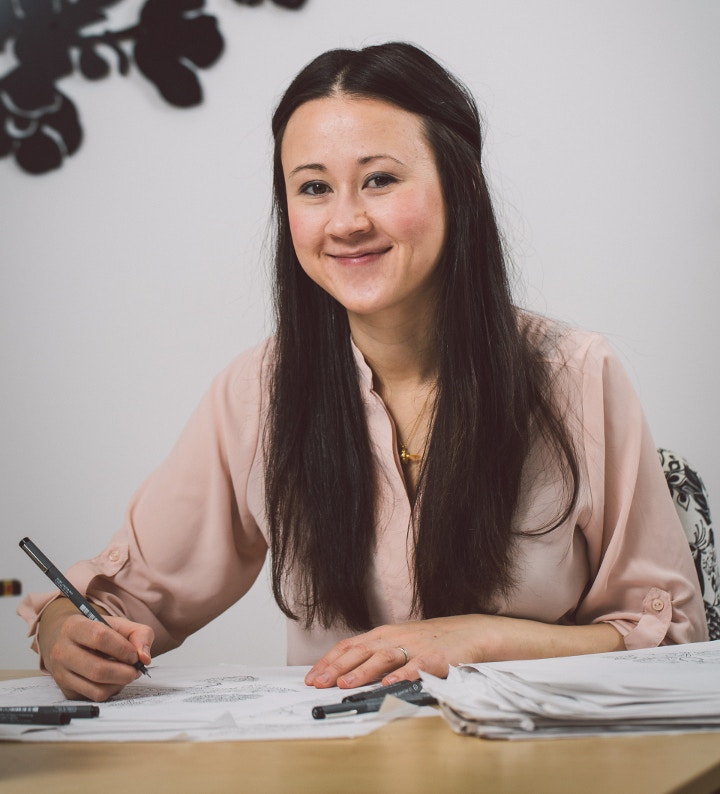 Why do you prefer working with pencil and pen as opposed to digitally?
I have a lot of contemporaries who produce amazing work digitally, but for me personally, I just love the imperfect circle and a slightly crooked line. I think there is something natural and soulful about the little intricacies which are evident in a hand crafted illustration. Vector artwork is so precise, almost clinical in it's make-up, whereas something created by the human hand has character and depth (and wobbly bits!). I've always felt this way, perhaps in part to my inability to use a computer, but also because so much of my work is nature inspired. It seems jarring to try and capture the beauty of nature using a machine.
Feeling inspired?
Shop for Johanna Basford's Secret Garden and Enchanted Forest, and browse her beloved Staedtler Pigment Liners, both online and in-store at Cass Art.
Images courtesy of Laurence King Publishing.