Posted by Cass Art on 1st Feb 2019
At Cass Art we continue to support the next generation of artists through various prizes, awards and opportunities. We understand how much stability in working space can help aid an artist's progression. Each year Cass Art, in partnership with Brighton University and Phoenix Brighton Studio sponsors a year-long studio space for up to three graduating students at the University of Brighton.
This years winners were artists Sophie Hulf and Jessie Yates. We caught up with them both to hear about their experience of winning the prize, how their work is going in the studio and their plans for the future.
Hi, it's great to meet you Sophie and Jessie! Congratulations on winning the Cass Art & Phoenix Brighton Studio Award!
Sophie: Hello! Thank you, it's been amazing.
Jessie:Thank you! It really is an amazing opportunity.
How have you settled into your new studio space – and what has winning the award meant for you and your work?
Jessie: The new space couldn't have come at a better time, after a long summer of wanting to paint but not having the space to! The funded studio has given me the opportunity to continue painting while also living independently from my parents. It is so difficult to get a studio at Phoenix, with waiting lists being about 2 years long. Having a studio in a building with a thriving artist community has enabled me to continue my painting in a supportive environment.
Sophie: Really well! I want to be in there all the time; it has given me huge amount of space and freedom to make bigger and more experimental work. This week I've been painting with rollers and brushes on the end of bamboo sticks, which I wouldn't have dreamt of doing if working from home. Another aspect that I didn't anticipate so much is being in the headspace of 'working' whilst in there which I think as a new graduate is invaluable motivation. I feel very lucky.
That sounds fantastic, we're glad that your spaces are already benefiting your work and development! Now I'm sure our readers will love to learn more about your practice, plans for the future and of course your materials.
Jessie & Sophie: Great!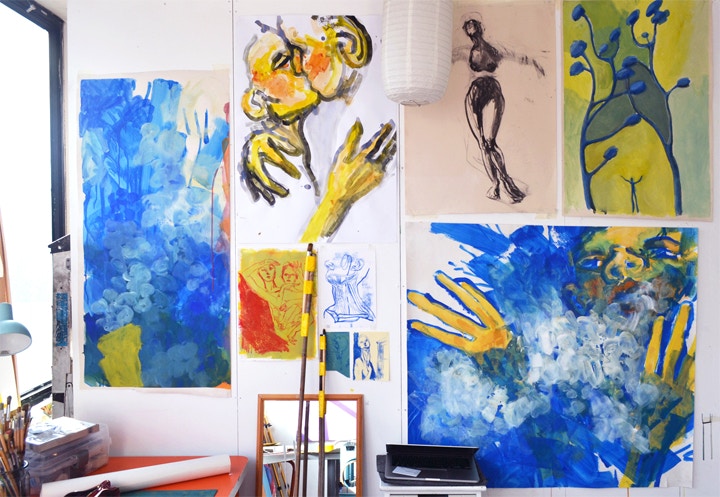 Sophie Hulf studio shot
SOPHIE
---
Your work is such a vast investigation into form – particularly the female form. You've also used your own body in your work – with photography and video, what is it about the human body that interests you as an artist?
People in general are my biggest inspiration, how we feel and work biologically, and how these factors shape the relationships that we have with our own bodies. Matters of the body are layered with meaning and significance which are different for everyone, I suppose I use my own body so much as its the only real reference I have. Images of the female figure come embedded with additional connotations of meaning - it's a statement before anything has been said. The female body is sadly often culturally divisive, but also 50% of the population has one. I like to play with the normality of it; distorting, celebrating and exploring but mostly just being.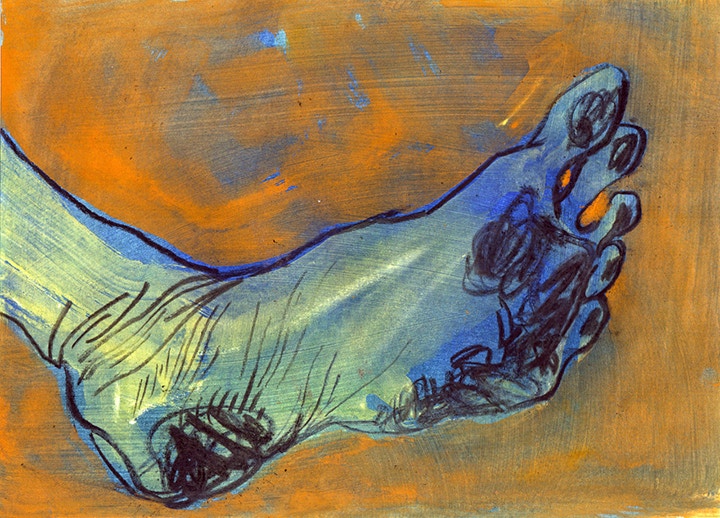 Sophie Hulf, Studio Foot, 2018
You have a varied approach to paint and ink application – broad layering of brush marks and colour to build up shape alongside fine line work – do you enjoy experimenting with these different types of mark making?
I'm a messy artist! And sometimes I think a bit lazy. I like fast methods that don't require lots of intricate technique. Image making is a bit like sculpture - I can paint, draw, rub out and rework, adding and taking away until I find some sort of balance between idea and aesthetics. Charcoal, ink, paint and big paint brushes allow me to create work quickly and almost encourage making mistakes which often work out best. A lot of it is trial and error, I'm all about process and sometimes it seems like pure luck if something ends up looking alright too!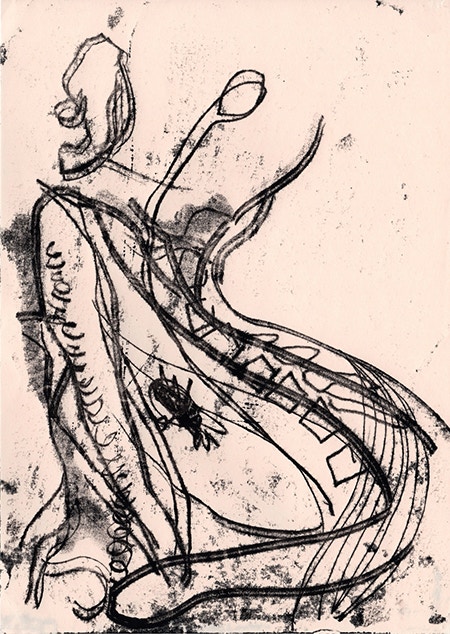 Sophie Hulf, Worry Knot, 2018
And speaking of materials, could you talk us through your varied use of different processes– for example I know you use a lot of gouache in your paintings, but you also explore print making and other techniques.
Yes I use a lot of gouache but also love drawing ink to layer different transparencies. I've been painting mostly just on rolls of wallpaper lining because it's cheap and I can't be too precious about it! I find mono-printing good for smaller or more detailed areas as I can't fuss over it too much, and I like the surprise of seeing what is underneath when I peel the paper off the ink. Collaged acrylic or found paper also works well for me as building blocks to work over.
And are there any particular brands you always return to?
I've only started using gouache this past year and went for Winsor and Newton Designers which I've found great. Quink ink by Parker is another product I can't seem to get enough of; I love how the colour changes when you dilute with water and the texture you get if painted over acrylic. I tend to always have some Caran D'ache wax pastels on me too.
See more of Sophie's work on her website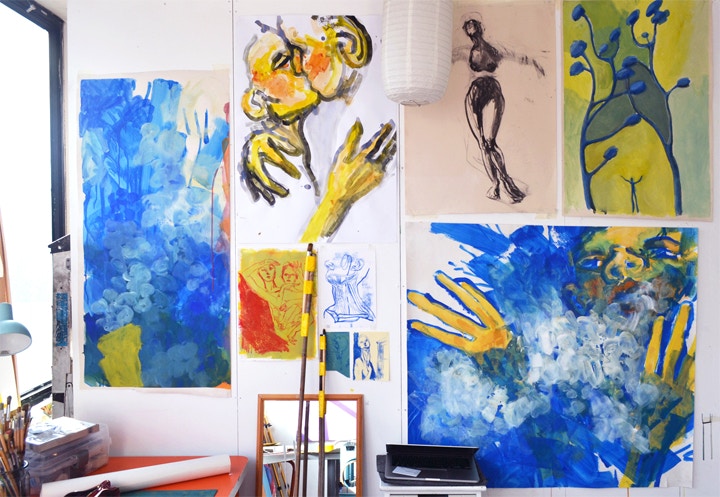 Jessie Yates studio shot
JESSIE
---
Your paintings are such a wonderful celebration of colour and shape! Could you talk our readers through your use of colour, and how you decide on your palette when you're approaching a new painting?
The colours I use are so instinctive. I usually opt for very acidic colours which sit on top of more muted areas; this allows the colours to really pop. I also am drawn to opposite colours and often have two opposite colours that overlap. They vibrate against one another, almost like static from a TV from the 90s or early 2000s.

Jessie Yates, Link (4), oil and cotton threa on canvas, 90cm x 120cm
I'm very curious about the mix of materials in your work – oil paint and plastic! How did this combination come to be? And for our readers who are now I'm sure taking a closer look at their screens – could you talk us through how you integrate the plastic in your surfaces?
This combination came about through a need to interrupt the flow in the paintings, to introduce something unexpected that changed the balance in the works. Plastic is a material that I can use as an anchor to paint around and through, with curiosity. I wanted to use something modern, something that like my use of acidic colours, would echo our current time and advancements in technology and our fixation with shiny screens. The plastic becomes part of the surface of the canvas. I submerge it into the ground at the beginning of the painting so that the plastic would not just lay on top of the paint but would virtually be engulfed by it. I have since started to think more and more about materials and the importance of surface in my paintings.

And speaking of materials, are there any particular paints you like to use? A special brand you always return to for instance?
I am always drawn to Michael Harding's artist's oils. As expensive as they are, they allow me to create a freshness I would find it hard to achieve without!
See more of Jessie's work on her website
Thanks so much for taking the time out to chat with us – one final question for you both, what plans have you both got for your time in the studio, are there any new series of work you're planning to explore?
Sophie: Recently I've been particularly interested by how emotions translate into our biology and visa versa, exploring illness as well as the everyday. Feeling anxious, overwhelmed, elated… all can manifest physically even if it's not outwardly visible. I don't know how this work will take shape yet, that's the beauty of not feeling tied down to one medium. Occasionally I make jewellery as it can be read as a badge between public and personal, how we feel on the inside and look on the outside. I'd definitely like to expand this side of my practice over the coming year.
Jessie: I have always been very interested in surface, and so I am starting to explore this idea further. I have stripped my surface back to just canvas, stitching sections of old paintings together with raw bits of canvas, allowing the hems to be visible, and the actual material to occupy a more physical space. I want to experiment more with layering, not only stitching canvas together, but building up some areas by sticking new canvas on top. It will be exciting to see how this new surface will affect the paintings; the edges and shape of each mark.
---
Feeling Inspired
Spurred on to create your own works? Pop in-store or shop online for everything you'll need to get you started. Our staff artists will be more than happy to give you advice on materials. Don't forget to hashtag #cassart on social media to show us your creations