Posted by Cass Art Staff on 7th Dec 2021
The heats are over, and now eight talented portrait artists are ready to compete in the Semi Final of Sky Arts Portrait Artist of the Year Series 8. As they prepare to battle it out to win a £10,000 commission to paint celebrated violinist Nicola Benedetti for the Scottish National Portrait Gallery, and win £500 of art supplies from Cass Art, we caught up with the artists to find out more about their experience of the show, their work, and the materials they love…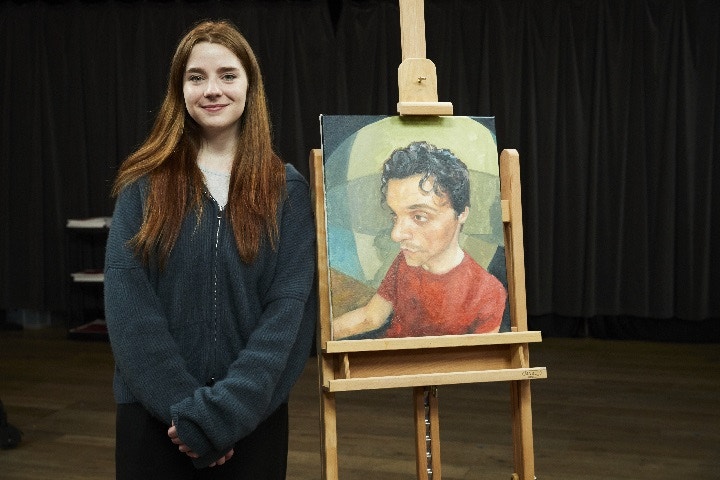 HEAT 1 WINNER KAT HUGHES
---
Hi Kat, congratulations on winning Heat 1! How did you find the experience of painting a celebrity in front of the cameras and judges?
Thank you! Painting in front of the cameras was terrifying. It's hard enough for me to work normally, let alone with the knowledge that every mistake is being captured! It was a challenge to get out of my self-conscious headspace and stop worrying about how I look, because I'm not very confident in front of a camera, and just focus on the piece. Once I got into the flow of things it came a lot more naturally. I wasn't too worried about the judges, because prior to applying I hadn't watched much of the show! I felt a bit silly when they came on set and I didn't know their names.
You were tasked with painting actor Jacob Fortune-Lloyd, who liked your finished piece so much he chose to take it home! You chose a distinctive fish-eye camera shot to work from, which gave the piece a cinematic feel and created a sense of drama and narrative. How important is creating that narrative for you in portraiture?
The fish-eye came about through a college assignment based around 'scale'. I had a clip-on fisheye lens for my phone lying around, and when I tried it I ended up really liking the exaggerated and warped features it created. As a film student studying directing, I'm always pushing to create an intense sense of emotion in everything I make; I think if the viewer feels strongly about a piece, whether that be positive or negative, then it's done its job. I love looking at a portrait and trying to decipher a story behind the sitter's expression. I loved watching Queen's Gambit during lockdown, so it was an absolute honour to work with Jacob who is such a talented actor. I definitely don't envy him being in front of the camera all day; I'd much rather be behind it.
Your submission piece, a self-portrait in acrylic, took 40 hours to complete, how do you speed up your process to complete a portrait in just 10% of the time you would usually spend on a painting?
The time constraint was daunting to say the least. I usually pour over a painting, obsessing over tiny details until I'm sick of it. My self-portrait wasn't even technically finished when I submitted it; I literally had to put down my materials and send it in to make the application deadline! On the day I approached the painting how I usually do; gridding out, taking a good reference photo, sketching the figure using the grid; basically doing everything I could to put off actually putting paint to canvas. I'm used to having very limited materials as an amateur artist and broke student, so using the paints provided on the day gave me a lot more freedom. Towards the end of the day I thought; I can't expect anything from this, I'm lucky enough to just be here and have this opportunity, I may as well have fun! Once I started enjoying the experience, it came together a lot faster than I thought. It was somewhat liberating to loosen the reigns and just slap loads of paint on the canvas; in the end I had to stop myself from overworking it. I was really happy with how the final piece turned out.
What are your go-to materials for portrait painting?
In short; whatever I can get my hands on! I used to be a pure acrylics artist because oils were very intimidating with all their fancy chemicals, drying times, and layering rules, but around the time I submitted my application I forced myself to get into oils and it's true what they say; I don't think I'd ever go back! I don't really have the money for fancy materials, so I usually work on whatever canvases I can find for a non-extortionate price. My brushes and paints are mostly second hand; one of the benefits of having a mum who is also a painter! Growing up whenever I wanted to try a new medium or ran out of something, I'd just ask my mum if I could borrow hers, so over the years I've accumulated a lot of dusty old paints and brushes. I'm pretty sure I have a tube of oil that's from the 80s lying around somewhere.
Thanks Kat!
HEAT 2 WINNER RUHKIA JOHNSTON
---
Hi Ruhkia, congratulations on winning Heat 2! How did you find the experience of painting a celebrity in front of the cameras and judges?
Thank you so much! I can definitely say that the experience was one that I hold closely to my heart. I was of course thrilled to have such an amazing celebrity sitting less than 3 metres away from me but then it quickly dawned on me that I actually had to recreate her on my, then very blank, canvas in just 4 hours. Working alongside the cameras was certainly interesting. There were shots of my work that I wasn't allowed to be in but I came to cherish those breaks as they forced me to take a breath, step back and take an analytical look at my work.
Despite the constant fear that I wasn't going to finish on time, this experience has been so special to me. Getting to speak to the judges I had been watching on TV for years, making so many friends and getting the opportunity to paint Ms Karen Gibson MBE were just a few of the beautiful moments.
You seemed to really hit it off with Karen, and you managed to capture a likeness and a warmth in her expression. How important is likeness in a portrait do you feel, and is it important for you to get a sense of who that person is in order to capture that?
Although I work mainly from photographs as opposed to life, I take likeness pretty seriously in my work, which is why it tends to take me on average 30 hours+ to create a portrait that I'm entirely satisfied with. Personally, it just fills me with a sense of artistic gratification when likeness is achieved. I tend to connect better with my painting process when I'm not just painting a complete stranger. Considering the painting should carry some (even if minute) essence of personality, speaking to the sitter is an excellent way of achieving that. Small fragments of their personality will inevitably shine through your work without you even trying. Granted, I wish I could have talked much more than I did that day but I'm a slow painter and time was against me!
You incorporate African wax print fabrics and gold leaf into your work, dividing the canvas, making a pattern-like composition. You positioned the figure lower in the canvas allowing space for the fabric placement. What do you feel the fabric adds to the painting and how do you approach decisions about composition when starting a piece?
The fabrics I use in my artwork are a way of me giving a nod to my African and Caribbean heritage. Each fabric design has its own story to tell, and they add a greater depth of meaning, colour and culture to my pieces. I usually have quite a loose structure and only a blurry image of how I expect my piece to end up. I rely a lot on instinct, therefore it was not entirely intentional to have the figure placed lower. Personally, it helps to not get too bogged down by the small details, just letting my intuition run free whilst the brush is actually on the canvas. At home, I may start with a single small sketch just to see how the subject works with the negative space and then I add in plants/fabric as I go.
What are your other favourite art materials to use for portrait painting and do you have any tips for aspiring portrait artists?
To be honest, I'm very simplistic with the things I use. Alternating between perhaps only 3 specific brushes for an entire piece; a large brush to cover the background, a small filbert/angled brush and then a micro detail brush. My work contains the art materials I enjoy the most; fabric, oil paint and gold leaf.
As for any aspiring portrait artists, I'd say to decide why you want to paint (money, relaxation, to share it?) and then follow through with practice. It's often hard to find which style suits you best (I'm still searching myself) but if you just put your heart into your pieces without holding yourself to super high expectations, you'll eventually reach a place where you love your work and have an individual style that you're proud of. I'd also say that you don't have start with the most expensive materials, work your way up. There is definitely a difference in quality, but you can still produce amazing art with a small oil set that cost you £3!
Thanks Ruhkia!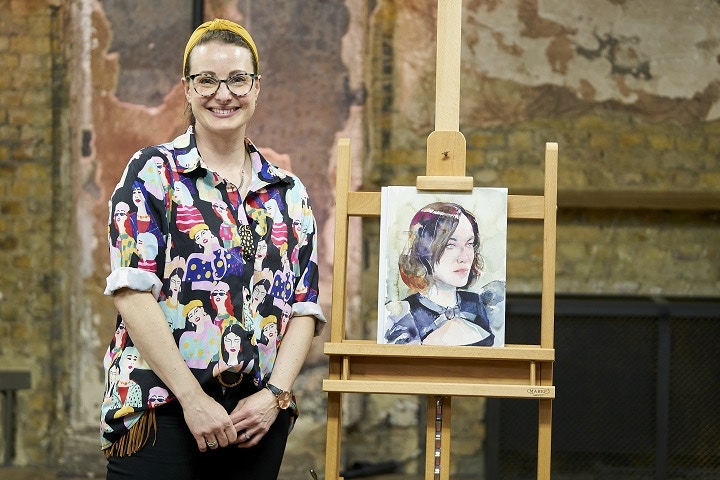 HEAT 3 WINNER SARAH HARVEY
---
Hi Sarah, congratulations on winning Heat 3! How did you find the experience of painting a celebrity in front of the cameras and judges?
My experience was really positive actually, I managed to zone into my painting fully when I was painting as I had music to listen to, but when chatting to the judges, I just love to talk, so was quite happy to do so! There of course were a few moments when the paint was drying in front of me and was hinting to the judges that I needed to get on! The camera crew were just fabulous and really put my mind at rest so that was great.
You painted style icon Alexa Chung and captured something in her gaze, drawing our attention to her eyes with a wash of colour, almost mask-like across her eyes. How do you find the balance between capturing a likeness and creating an exciting painting?
I'm a true believer that you have to 'feel' a painting, and not 'think' too much about being clever. In my experience, the paintings that I find don't work as well, are those that have been over thought or fiddled with too much. Water colour is a relatively quick medium, so it doesn't leave you with much time to ponder over what you're doing before it dries! I think this this worked well for me!
The judges described your work as cool and contemporary, with an anarchic way of handling colour. Working with watercolour wet in wet looks like a really fun, and slightly nerve-wracking way to work, how much can you manipulate the paint and how much do you have to relinquish control?
I have to say, I do love an element of surprise! I do have overall control though because I feel that I know the medium well enough. The thing is, what I do love is that, you can never know 'exactly' how it's going to dry when you're working wet on wet, and this actually forces me to make split second decisions. I'm sure this sounds scary to some, but for me, I love how the painting can literally go in so many directions depending on the natural flow of paint. I want to bring out the glory of watercolour that is fluid, soft, transparent, I want to let it 'do its thing' - and not over control it. This makes each painting exciting!
You mentioned you also work in oils, what are your preferred materials to use for portrait painting?
When painting portraiture, I always paint in watercolour, I've never done traditional portraiture in oils! My oil paintings are of large landscapes of figures under water. When painting in watercolour I have been using 'Rosemary' Brushes which are just beautiful to paint with. I use a variety of shapes, but I do like a large brush which can hold a lot of painting with a point so I can drag paint in different direction. I use a variety of excellent watercolour paints including Winsor & Newton's professional range, Holbein, Schmincke, Sennelier and Daniel Smith. I get so absolutely excited when I receive paints! I have some lovely ceramic palettes that are large and flat, allowing me to mix colour to colour rather than a little well that only allows you to mix 1 colour in each well. For the paper, I use a Bockingford Block, but I just love the Canson Heritage paper. This is what I used when painting Alexa. When it comes to Oils, I use some really wonderful red sable brushes made by Da Vinci. I find they really suit me for my style and technique. I mainly use flat headed brushes. When painting the water in my oil paintings, I paint glazes - maybe 20 - 30 glazes, and each glaze is built us with huge flat brushes. I have 100's of tubes of paint! They are all organised though (sort of!). My favourite brand of oil paint is definitely Michael Harding, but I also use Old Holland (which has an incredible Cobolt Turquoise), and Winsor & Newton (which have an amazing 'Winsor Violet'). My palette is a 1.5 metre piece of board that my dad always tells me is good enough to frame!
Thanks Sarah!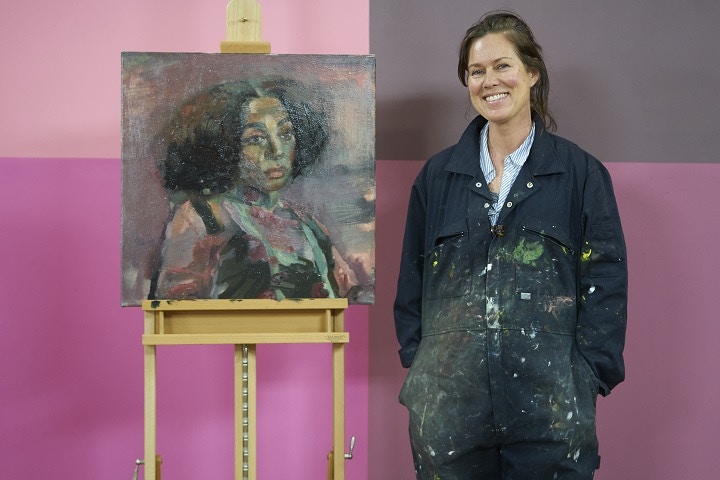 HEAT 4 WINNER LUCY THRELFALL
---
Hi Lucy, congratulations on winning Heat 4! How did you find the experience of painting a celebrity in front of the cameras and judges?
Thank you! The experience was unlike any other… fascinating to see how the program is made and surreal to meet the judges and presenters who have become so familiar through watching the program. But of course performing under pressure is tough and especially with all the distractions of lights and cameras and people and interruptions!
Whilst you were painting, you had a list of reminders next to you which included, 'Drawing first, do not rush, mix palette colour story, step back, use mirror, change mind, keep paint thin, and get some weirdness in!'. This sounds like great advice for creating any painting. Can you talk us through some of these tips?
Yes, I needed that list to ground me and calm me! It's hard to think straight and with such time pressure it would be easy to paint in a frenzy, forgetting the most important principles. Painting is a balancing act between different parts of the brain: the technical/rational side and the imaginative/unconscious side need to be engaged at the same time. I find it very helpful to pre-mix the palette, in that way you are creating the framework or 'story' of the piece, rather like how with music you would choose the key that you are composing in. In this way you avoid confusion and clashing notes. The mirror is important because it refreshes the eye. Normally you would step away from the painting for at least a few hours, preferably a few days, but when that's not possible the mirror helps your eyes see what you have done as if for the first time, by reversing the image. For me, strange marks and 'weirdness' are an important component of painting which shouldn't try to 'copy' the world but to make an interpretation that enhances our experience.
The judges called your piece of Brit Award Winner Celeste sensitive and spiritual, how do you convey mood in a painting?
I was very lucky to have Celeste as a sitter. She has an extraordinary quality that is almost other-worldly, a very strong presence that really helped me deal with all the distractions. Any sensitivity or spirituality that I managed to convey in the painting was only as a result of picking it up in her. I think if one consciously tries to convey a mood it won't ring true, it's only by responding truthfully to what's in front of you that something magical can occur.
If we were to delve into your studio, what materials would we find and which colours can you simply not do without?
With oil paint you really get what you pay for so cheaper brands are a false economy… I use Michael Harding and Old Holland oil paint. A good quality off-the-peg stretched canvas is fine as long as it's been primed with gesso or acrylic primer. I prefer stiff bristled brushes as I like to put energy into the brushstrokes… I want to see the brush marks. For the medium, I start with a turps-heavy very thin medium to give a translucent quick-drying first layer, then a thicker medium containing linseed oil and a little damar varnish. If there were time I might use a glaze medium over dry paint to give depth and luminosity.
Thanks Lucy!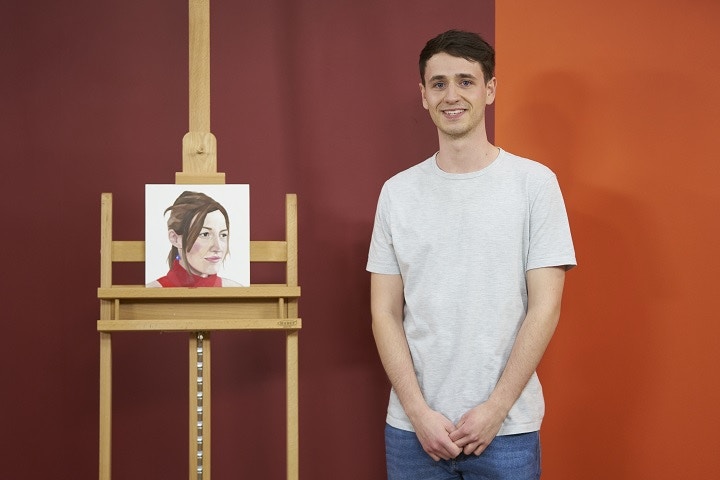 HEAT 5 WINNER CALUM STEVENSON
---
Hi Calum, congratulations on winning Heat 5! How did you find the experience of painting a celebrity in front of the cameras and judges?
At first, it was a rather daunting prospect. I am used to the solitude of my studio where I am the only judge. I went into it with no expectations and just tried to enjoy what I thought would be a one-time experience. Kelly Macdonald was a dream sitter for me, she has a great personality and a very calming presence. It was rather difficult to block out the cameras and other distractions however, once I began painting I felt at ease.
The judges said you captured an incredible likeness in your painting of actress Kelly Macdonald, and described your piece as a perfect representation and a very elegant painting. Do you have any tips for capturing likeness?
I get very caught up in proportions when I am painting as I feel it is one of the most important elements to a good likeness. I spend a good while getting my drawing perfect before I apply any paint as this is the foundation of what I am about to build. Once I start painting, I pay close attention to the detailed areas of the face such as the eyes, nose, and mouth. Colours are also very important, I want to find warm and cold colours in the face and bring them into the painting, this helps to create a nice colour balance overall and add to that likeness.
Many artists lay down colour and block in sections, building up layers over time before finally refining details, but you almost work in reverse, filling in fine detail initially, then completing other areas of the canvas in one layer. How did you develop this style and what are the benefits and pitfalls of working in this way?
I have been practicing and developing my paintings for years but my process comes naturally to me. Of course, I had to change my approach slightly due to the time constraints so starting with the detailed areas of the face felt like the most logical way for me to begin. If you only have 4 hours using oil paint, it doesn't really dry so it can be hard to come back in with details if you have already put paint down. It can be difficult to manage your time working this way, you can spend too long on the details and not leave yourself enough time for the rest of the face.
When painting, you started off with the eyes, using some very small brushes, size 5/0, tell us about your preferred art supplies for portraiture.
I am a big fan of square-headed brushes so I use mainly Pro Arte Polar Series brushes and Cass Art White Synthetic brushes. For line work and very detailed sections, I go with Pro Arte Miniature Synthetic brushes. For oil paints, I use a combination of brands, Michael Harding, Daler Rowney, and Winsor & Newton. When I want a colour to really stand out my go-to is Michael Harding. They contain a high pigment content which allows for a really bright and powerful visual. I often build my own surfaces to paint on using Cass Art Stretcher Bars and canvas. I enjoy the meditative process to it all however, when time is of the essence I like using Global Artist Panel premade boards.
Thanks Calum!
HEAT 6 WINNER GABRIELA COHEN
---
Hi Gabriela, congratulations on winning Heat 6! How did you find the experience of painting a celebrity in front of the cameras and judges?
Thank you! It was a very strange but wonderful day, I'm not used to performing to a camera so it was a little uncomfortable at first but once I met Dr Maggie Aderin-Pocock and the painting began I settled my nerves and tried to ignore what was going on around me. Maggie was a pleasure to paint, she was so reassuring and caring when she saw how anxious I was and I hope I managed to capture this aspect of her personality. At first I was a little intimidated by the judges, it was hard to gauge how they felt about my unusual approach; I certainly was not expecting their decision and it was great to finally find out what they had to say about my portrait! Overall it was a beautiful day, the artists and the crew were all so lovely and I couldn't recommend the experience more.
You use Polaroids for source material can you talk us through the other edits you make to the source image before you begin? What effects are you looking for?
I have a fondness for the past, I love how Polaroids add a soft nostalgic sheen to every photo, this lends itself well to oil paints and my technique of rubbing back the paint to reveal the canvas beneath. I find they capture a gentle unspoken quality of a person; combined with my digital editing to manipulate the colours, I aim to create a composition that is an accurate representation of my sitter's aura through my own lens.
The judges said you have a very disctinctive style of painting, calling your work inventive and playful. In both your submission piece and the work of Space scientist Maggie Aderin-Pocock, you created a composition which framed the figure in a circular way, within the square canvas which creates quite an iconic look. You also make really interesting colour choices. Can you talk us through your process from start to finish and how you make these decisions along the way?
Thanks! To me the circular frame is reminiscent of portrait miniatures and in some ways pays homage to the care and tenderness that went into painting them. After taking my Polaroid photos I scan them (or take a photo with my phone) and begin editing this image on Procreate, changing colours and experimenting with compositions. My colour choices are intuitive and I gravitate towards what I feel is the best match for the sitter's energy. Once I've chosen my composition I will map it out on my canvas using a grid technique. I like to paint the whole canvas first and then wipe away the paint so that there is only a trace of the colour remaining, then I continue to build up and wipe away until the painting is complete, working on the whole painting in one go.
What are your go to art materials and why are they integral to your practice?
Of course I can't go without my Polaroid camera but I'm also very keen on working on a smooth canvas. I stretch my own canvases using Cotton Duck Canvas and I use a combination of PVA, Michael Harding Non Absorbent Acrylic Primer and a fine grit sandpaper to create a flat-polished surface. I always rely on Zest-It to wipe away and smudge the paint in order to create the layered appearance.
Thanks Gabriela!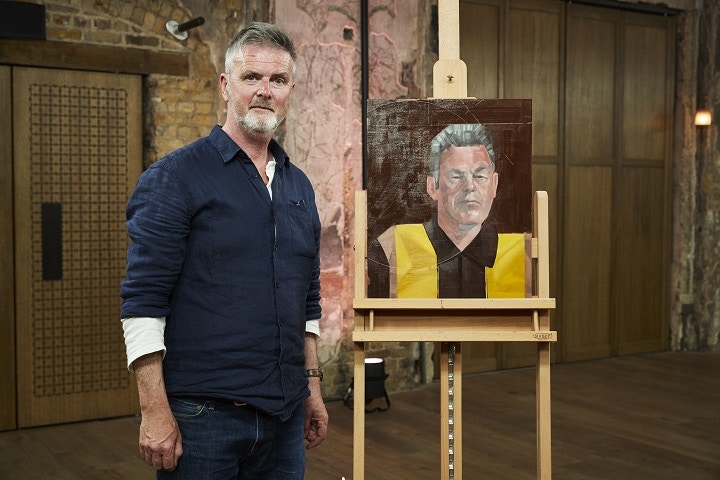 HEAT 7 WINNER MARK OLIVER
---
Hi Mark, congratulations on winning Heat 7! How did you find the experience of painting a celebrity in front of the cameras and judges?
Yes, that was a shock. The whole experience was a little head-spinning. It takes some effort to get focussed. Large lumps of machinery moving around and very near can be distracting but the crew were wonderful, always encouraging and considerate. I can honestly say that interaction with Kathleen, Kate and Tai was the best part of the day, they really know their stuff and ask really probing questions about technique, style and influences. A consultation with any one of these experts would be a gift, but three...! (I did overhear Baroness Bakewell grilling Katherine, who was painting next to me, and that made me anxious too, but Joan, graciously, passed me by).
You painted presenter, campaigner, author and naturalist Chris Packham who was so happy with your piece he chose to take it home. You began with a geometric mapping out on the surface which determined the compositional lines in the piece, and almost immediately identified a sweeping compositional curve running through the painting. You strike a wonderful balance between a geometric style and a realist representation; can you tell us how you developed this practice?
Chris was great, he took the task of sitting very seriously and seemed to enter a meditative state for the full four hours and I'm honoured that he chose my painting. You often see artists sketching in construction lines for faces when creating a portrait, in a similar way I look for 'invisible' lines that connect the body to the space around it, lines that the figure 'leans' into or 'rests' upon. So I start by making a small thumbnail sketch (for me, a small sketch offers the same objectivity as standing back) where I map out the key architecture of the composition. Chris was a gift as he has an angular presence and chose to wear strong geometrical clothes. My father was an engineer and a strong creative influence, and I work as a digital illustrator as well as being passionate about life drawing, so I guess my approach to painting (which is still developing) is a combination of all three of these factors.
Given your focus on the geometry and compositional lines within a painting, how important is likeness to you in a portrait, and how do you go about capturing this?
Undoubtedly, in a portrait, likeness is important. But, for me, other things are important too: style, technique, narrative, etc. Painting is an opportunity to observe and present that which may not be immediately obvious. There is real beauty in 'a line' and, given more than four hours (!), I would spend time drawing and redrawing 'a line'. I see figures as kinetic architecture, gravity pulling upon and light interacting in ways that create uncompromising geometry.
Your tool kit was impressive! From using compasses to scrape away paint with sweeping arcs and adding straight lines with a screen-printing squeegee, you have some very unusual techniques! Tell us about your favourite art materials and why they work for you.
Painting is still a voyage of discovery for me. There's a wealth of established technique to learn, but sometimes I need a certain type of mark or I want to experiment so at these times, I look around for things other than brushes or knives. I find a creative problem, experiment to solve the problem or learn from the mistakes when I fail. One of the very best things about an art shop is wandering around looking at different mediums, surfaces and implements and thinking 'what would happen if....?'
I have a variety of different paints, Winsor & Newton being the most common, and I like to paint on wooden panels, typically Global, unprimed as I often add a coloured W&N acrylic to the gesso if I prime it (careful not to add water to this mixture as you don't want the extra moisture in the board). I'd also give a shout out for Strathmore toned sketch pads, these are wonderful for life drawing with Derwent Inktense pencils, use the white for highlights, the paper texture is just right for detail. My very first job after leaving college was for a small, design company upstairs at 11 Charing Cross Road, right next door to the original Cass Art shop, I spent a lot of my first wage packets in there!
Thanks Mark!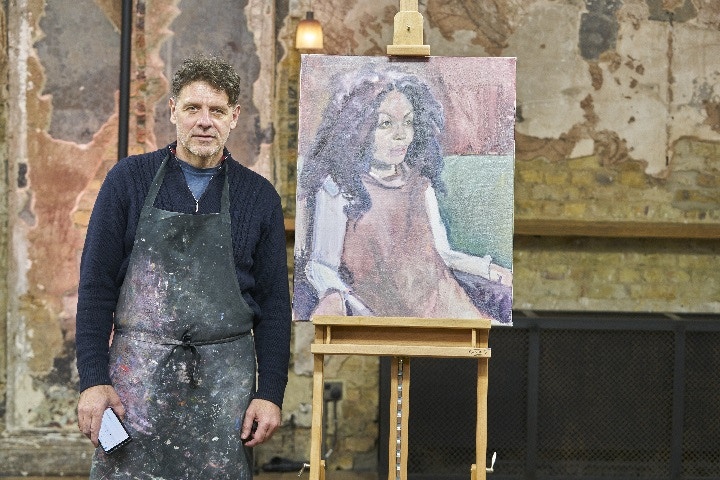 HEAT 8 WINNER CHRISTOS TSIMARIS
---
Hi Christos, congratulations on winning Heat 8! How did you find the experience of painting a celebrity in front of the cameras and judges? It was your second appearance on Portrait Artist of the Year as you were in the semi-final in 2020, did having that previous experience calm your nerves at all?
I was less nervous this time around because of the past experience, however towards the end when everyone was waiting forever for the results it was nerve racking.
You were painting presenter and social historian Emma Dabiri. Many of the artists on the show paint from photos taken on their devices, but you prefer to paint from life. Why do you prefer to paint from life and what does it add to your work that working from a photograph does not?
I do prefer working from life because there is a sense of freshness, directness, atmosphere that it is more difficult to achieve by using a photograph. However, I did use my phone as well, because of technical difficulties and interactions associated with the production.
The judges said you were an emotional painter, creating painting that's 'full of humanity'. They were very impressed with your method of painting of diluting oils to an almost watercolour like consistency in order to add and remove marks more freely. Can you tell us about your new painting style. How does this style impact the atmosphere in your works?
I like to constantly experiment with new technics and hopefully get someone good results, I don't see the point of developing a recipe that will give me the same result all the time, although my work seems to be identifiable.
What materials would I find in your studio and are there any colours you simply can't do without?
In my studio you will find oil paints some spray paint and charcoal. I can't do without titanium white, I use Michael Harding oil paints because they are very good quality. I also use less expensive student quality paints like Winsor & Newton when I go crazy in my studio and I squeeze the tubes on the canvas and mix them with my hands. Some of that paint I remove using a scraper or a palette knife.
Thanks Christos!
Feeling inspired?
---
Could you be the next Sky Arts Portrait Artist of the Year? Applications for Sky Arts Portrait Artist of the Year Series 9 close on 11th February 2022. For more information, and to apply visit skyartsartistoftheyear.tv/portrait.
Image credits: Photography © Sky Arts, paintings © Storyvault.