Posted by Cass Art on 20th May 2021
We caught up with multidisciplinary artist Tamsin Relly to talk about her journey as an artist, her practice and the relationship of art with mental health and her involvement with Hospital Rooms –an arts and mental health charity that commissions extraordinary artworks for NHS mental health inpatient units across the UK.
Relly's own practice reflects on the disrupted environmental conditions of a shifting global climate, considering the erasure and construction of wilderness, whether for industry or leisure.
Hi Tamsin! Thanks for taking the time to chat, firstly could you introduce us to your creative journey so far?
Hello! Thank you for the invitation.
My first love was for oil paint which I started working with in my teens, but I have always enjoyed experimenting with new media – discovering what is unique to each. Over the years I have brought more printmaking and photography into my practice. I enjoy working with the fluid and unpredictable qualities across each of these media. And also seeing how one composition may translate from a certain medium to the other and back again.
I'm interested in ecology, recognising our role in the global climate crises and exploring how we can move towards a more reciprocal relationship with our environment.
I grew up in South Africa and moved to London in my late twenties when I signed up for an MA at City & Guilds London Art School.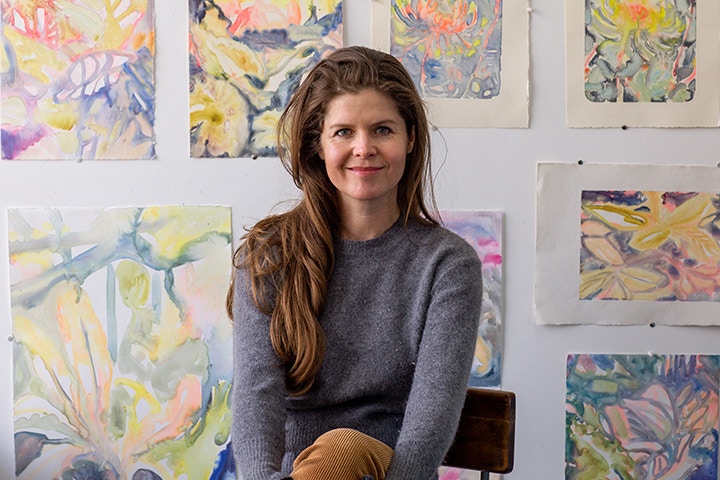 Your work involves as much research as it does making, exploring huge subject matters of global environmental conditions – how do you approach a new subject of interest?
Where possible, I love to experience what I can first hand – whether a particular terrain or climate, built environment or industrial site, and to be able to speak with people local to that place. I'm fortunate to have joined residencies in places like Svalbard in the Arctic Circle or deserts in the American South-West. I also enjoy taking independent research trips which can feel like mini-residencies. I camped at the Eden Projects in Cornwall for most of a week, so that I could spend each day in the gardens and educational galleries – dragging a heavy rucksack of cameras and notebooks around. I've spent time in the National Maritime Museum archives studying some of the earliest photographs taken in the Polar regions.
There are also so many interesting discussions to tap into. Before the pandemic, I regularly attended talks or symposiums exploring the intersection of art and ecology. Invisible Dust and Worm Ecology are two of a growing number of interesting platforms exploring these themes. In 2018 I co-chaired a panel titled Art Meets Science – That Which Cannot be Transmitted at 'Polar 2018 – A SCAR & IASC Conference', a week long Polar science conference in Davos, Switzerland.
I always have a number of books going, albeit at a slow pace with a toddler in my life right now. I think podcasts are a brilliant resource and can highly recommend Emergence Magazine, For the Wild and the Botanical Mind for diverse and insightful discussions and essays on our rapidly changing world.
You work in a variety of different mediums, from painting to print making – and even some tapestry work. Is it a natural process to decide the medium you're going to use when starting a new work?
I do work quite intuitively in my material choices but there are projects that lend themselves to one medium or another and the are formal considerations too. For example, where I want to work with more of a drawn line, I might use hard ground etching or trace-monotype, whereas painting or watercolour monotypes lean towards creating more fluid or dissolved forms.
Sometimes the materials relate more directly to the content of the work. Whilst I was on the Hogchester Art Residency in Dorset, I collected grey clay from the nearby Jurassic Coast and used the pigment to paint portraits of rocks found on the same shoreline.
Other times it could simply be about what you have available or access to, and you have to find ways of working within the parameters of a certain time, space or budget. Photographic work can be especially costly, so these are usually slower moving projects for me.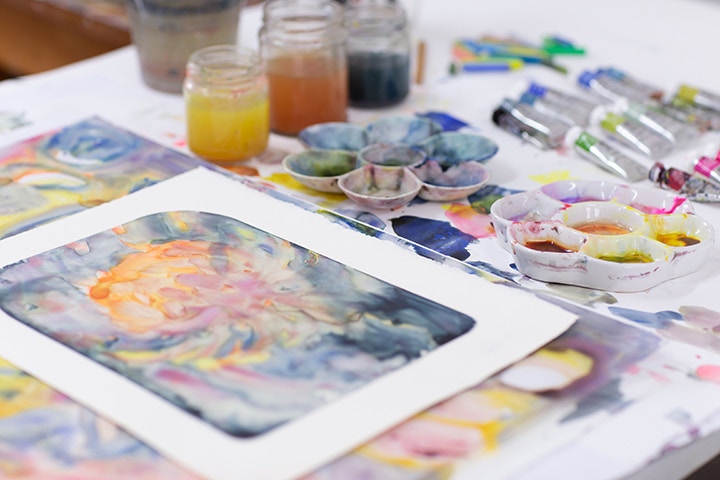 Could you also expand a bit more on some of your works on paper – particularly your use of watercolour. What is it about the medium you love to use?
I've used watercolours for many years to make monotypes, which are unique prints. I paint onto a clear acetate-like plate, leave it to dry and then run it through a press transferring the image onto damp paper. I work with the paint quite wet so a lot can change as it's drying, and the image comes out in reverse. I enjoy the fluidity of this process - you never quite know what you're going to get until it comes off the press.
It's only recently that I've started working with watercolour direct to paper, which in my experience is very different in character to the watercolour monotypes. For example, in the way that the two surfaces of the plastic plate vs paper receive the brush so distinctly. For a long time using watercolours on paper just didn't work for me. I started experimenting with alternative paper surfaces until I found one - a tough handmade cotton - that started to make sense for my mark. I still find it a challenging medium but always enjoy the way the paint moves and bleeds on paper and the spectrum of subtle to highly contrasting marks. Sometimes I like to wash away the surface of the paint or build it up in layers, giving a soft-focus to the image.
And speaking of materials! Are there any particular ones you're drawn toward, any brands that you love to return to?
I have a soft spot for Sennelier. Many years ago I bought a few oil paints and pastels directly from their magical HQ store in Paris. Their materials are presented in towers of enticing old wooden drawers and shelves and I remember how the colours I chose transformed my palette at the time.
I love Caran Dache neo-colour II, water-mixable pastels. They are firm yet creamy, they don't flake and come in a terrific range of colours. I use them on paper, and also for water-based monotypes.
And it feels like since I can remember Winsor & Newton have been there as a reliable go-to for all kinds of wonderful paint and materials!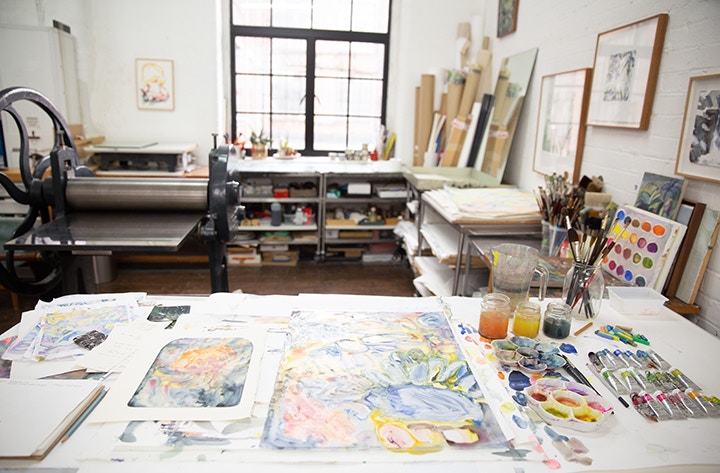 You've been commissioned a couple of times by Hospital Rooms to create permanent work for locked and secure mental health units in the UK – what do you think it is about art that has the ability to help in spaces such as those?
There are usually six artists to a project and having worked on two now, I have seen how as each contribution starts to take shape, the feeling and mood of the entire ward completely transforms. You can feel it from the moment you walk in the entrance.
Hospital Rooms curate the wards with such sensitivity, but without comprising on their aim of bringing museum quality work to each space. This can invite positive change to the experience for both service users and staff in so many ways. Being surrounded by interesting and/or beautiful work can help offer warmth and upliftment but I think also helps people feel recognised, respected and intellectually engaged too.
For each project the artists also run workshops with the service users and staff. This helps everyone get involved and is a great way of getting to know how people use the space more intimately, and can inform the direction of the commissioned work. The Hospital Rooms Digital Art School was launched in 2020, as a way of continuing to bring creative play to these spaces during lock down. It's an ongoing series of live and archived online workshops that are free and open to anyone – so please tune in!
My Mum has bi-polar and as a family, we have had to have her hospitalised many times. I can't explain how traumatic and conflicting this process can be – knowing that she needs the medical support, but also knowing how hard she finds it to be there. As a supporter, trusting that the person you love can be welcomed into a space that feels a little more inviting, and perhaps less restrictive or clinical, can make a very real difference for everyone involved.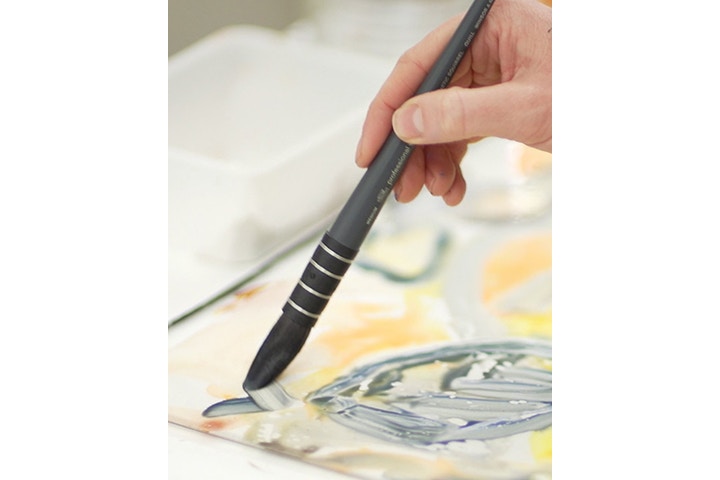 Speaking of art and mental health, the past 12 months have been difficult for us all for numerous reasons. Has your creativity helped you navigate this difficult period? And do you have any advice for those who may be struggling to keep their creative motivation going.
My daughter was nine months when the pandemic began, so I was just beginning to adjust to ways of managing between parenting and my art practice when it all started – and there have been moments since when I've felt impossibly stretched between the two. Yet at the same time, these are the very two things that have also kept me going – for both you just have to get up every morning, stay present and optimistic. And yes absolutely, I have found it reassuring to make work - to find momentum and flow there, despite everything going on. That journey feels alive for me right now.
Mid-third lockdown I started a studio ritual I call an Offering to the Muses. Before making work, I select an image of an artwork, some text or a poem, a photo, an art material, an object from nature, and something to listen to - a piece of music or podcast. I choose quickly from things that may or may not have to do with current projects or research and lay them out… as an offering to the creative pot, to keep me company, and invite a moment to engage - or just be with - some of the books, things, poems and practices that interest and inspire me, but can too easily sit untouched for too long.
When I'm feeling demotivated, I find the idea of planting seeds for things helpful: start small, play without expectation of outcomes - I find approaching something playfully can help things feel open and possible. And anything new starts with small steps.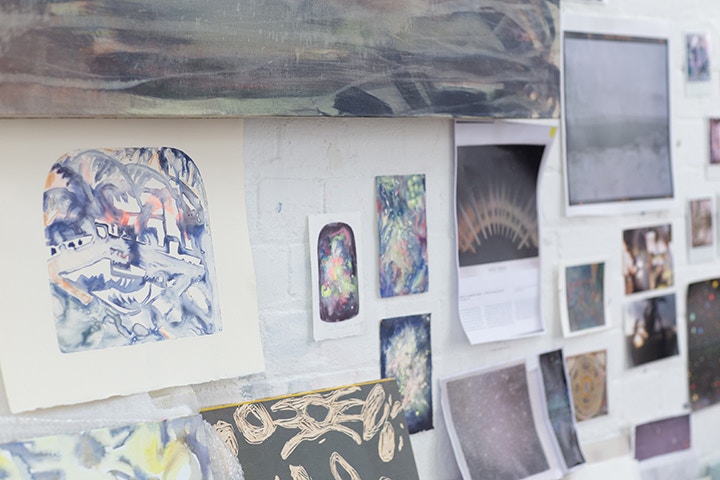 Thanks so much for sharing so much with us, final question! What's next?
I have a few group shows coming up including one with Oliver Projects titled Into the Light of the Present Day, where I'm delighted to be showing alongside Mary Herbert, Kemi Onabulé, and Henry Hussey, all of whose work I admire.
Otherwise I'm looking forward to some slow studio time. Having had quite a bit going on recently, it feels important to get back to the basics of making for a while!
Feeling Inspired?
---
Start your own watercolour journey today and find your materials online