Posted by Cass Art on 18th Jul 2022
The Contemporary British Portrait Painters collective is presenting a major new exhibition of work this summer from 11th-18th June at The Department Store in Brixton, London. Founded in 2018, the collective includes some of the most recognisable and cutting-edge names in contemporary portraiture and offers a platform for the mutual support and promotion of artists. The exhibition will showcase works by over 50 artists, with portraits that reflect all aspects of society, expressing diversity, vibrance and community, providing a unique opportunity to see a snapshot of what's happening in British portraiture today.
We caught up with some of the artists ahead of the show to find out more about their practice. Look out for our series of interviews over the coming weeks, find out more about the exhibition below and take a look around the 3D exhibition scan by The Net Gallery…
---
LUCY PASS
Hi Lucy! Can you tell us about your creative journey so far?

I'm a self-taught artist and have had a huge passion for art since I can remember. There was never a doubt that I wanted to have some sort of creative aspect to my career, but it wasn't until 2018 when I got a place in Sky Arts Portrait Artist of the Year that I decided to make art full time – until then it was part-time alongside my dressmaking business, but after filming Portrait Artist of the Year I threw everything into my art. During the first lockdown in 2020, I saw an opportunity to not only stay sane, but also intensively develop my practice by starting a daily painting challenge, #100heads, and making them available as part of the Artist Support Pledge on Instagram. I created around 150 paintings that year which really propelled my practice forward. I'm very grateful for such a positive thing to come out of such a difficult time.

What draws you to portraiture and can you tell us about your approach to it?

My intention isn't to create a true depiction of a subject, but instead to use the human form to illustrate and elicit emotions. For me, working from photos of strangers helps me achieve this as I can focus only on the facial expressions without any preformed ideas of the person to influence my approach. I very rarely set out with a plan, preferring to feel my way through the process. Key features are picked out or obscured based on my own reading of the face and they are tangled with a language of abstract marks and shapes for the viewer to decipher. I try not to impose solid narratives. I like the viewer to feel their way through, as I do, with no constrained direction on how a piece should or shouldn't make them feel. I like this participatory nature of filling in the blanks and taking something away for ourselves.
What are your go-to materials for portrait painting and can you share any tips or techniques with our readers?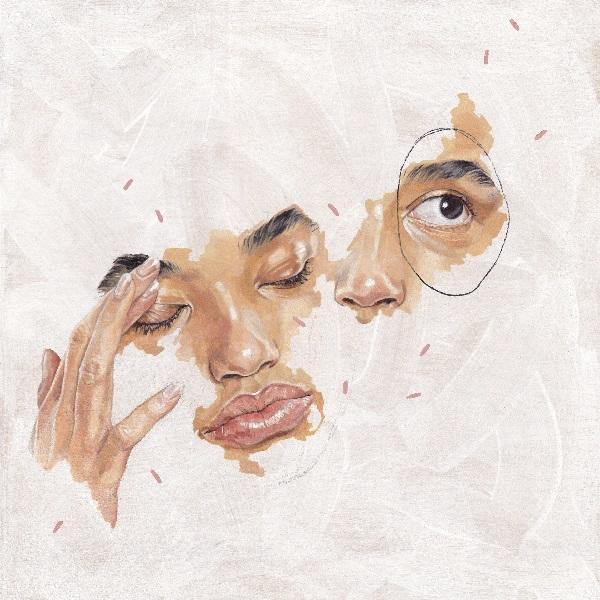 I work mainly in oils - I have a go-to, reduced painting palette of cadmium red, lemon yellow, cobalt blue and titanium white in large Winsor and Newton tubes, but I work so sparingly with it that it takes years for me to finish one! I used to prefer working on canvas, but starting my 100 heads project required me to stockpile something less bulky, so I switched to 3mm plywood panels. This was quite a learning curve as the smooth, hard surface meant I had to alter my painting style to create the soft edges that the texture of canvas allows for far more easily. Even though this was a struggle at first, the stability of wood opened up the choice of materials I could use for mark making and I started using pencils and crayons to create the loose, scratchy threads and scribbles which now feature in most of my pieces.
Thanks Lucy! To see more of Lucy's work, visit lucy-pass.com or follow her on Instagram @lucy.pass.artist.
---
MARTYN BURDON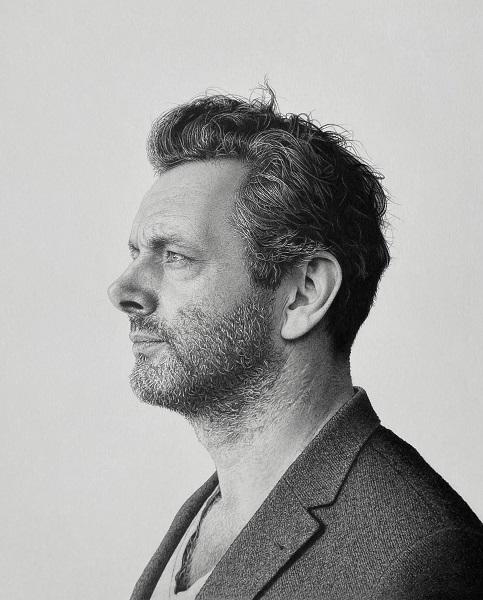 Hi Martyn! Can you tell us about your creative journey so far?
I studied Art at A-Level, but aside from that I'm largely self-taught, which means there's probably an awful lot a don't know, but I think art has always been in my blood. I've always drawn and painted, and always taken an interest in the history of art. I've been fortunate enough to take part in the BP Portrait Award on two occasions, in 2017 with my painting of Matt Berry and again in 2020 with my painting of Lenny Henry. It does feel quite special to see your work exhibited in the National Portrait Gallery. In the same building as work by Singer Sargent, Hockney, Reynolds and Freud. I've also had my work selected for the Royal Society of Portrait Painters show in 2021 and 2022, which is a great honour.
What draws you to portraiture and can you tell us about your approach to it?
I think it's portraiture that I'm often most drawn to when I'm looking at art. There's something quite elemental and primal about portraiture, it's also very accessible. There are a lot of artists that I admire and I'm sure their work must have influenced me in some way. Paula Rego, John Craxton, Jenny Saville, and Euan Uglow have all been influences. I'm also quite interested in the work that Francis Bacon did with John Deakin. I always need to spend as much time as I can with my sitters, to try to get to know and understand them a little. I'm trying to discover something about the sitter, but also discovering something about myself with each painting. My approach is always very instinctive, I rarely have any preconceived ideas about what I'd like to achieve, I like just to work with the individual and the light, in that moment.
What are your go-to materials for portrait painting and can you share any tips or techniques with our readers?
I draw a lot, even when I'm working on a painting there is a lot of drawing involved, I used Derwent Graphic pencils, and Kum long point pencil sharpeners. (I get through those very quickly, unfortunately!) When I'm painting, I use acrylic paints, a mix of Winsor & Newton Professional Acrylics and Golden Heavy Body Acrylics. They are both lovely to work with and they have a lot of pigment in them. I use lots of thin glazes of paint in my work, slowly building up the image, but when I need to it's good to be able to get solid coverage of pigment without having to apply the paint too thickly. Those paints allow me to have the finesse and delicacy that I like in the brushwork. I usually paint on gesso primed wooden panels, but sometimes canvas as well.
Thanks Martyn! To see more of Martyn's work, visit martynburdon.com or follow him on Instagram @martynburdon.
---
PETER JAMES FIELD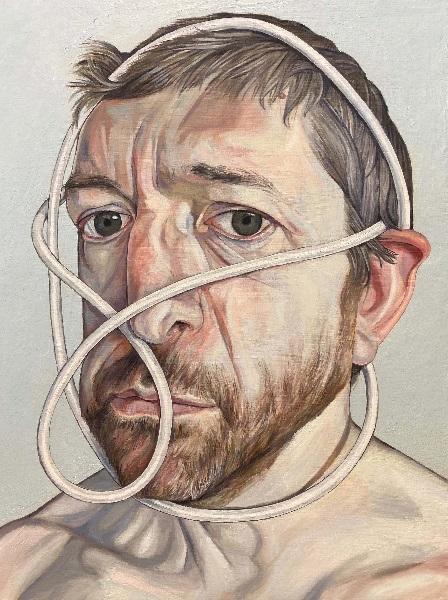 Hi Peter! Can you tell us about your creative journey so far.?
I did a degree in illustration at the University of Brighton and have been a full-time illustrator and artist for 17 years. At first, I was primarily an illustrator, doing figurative pencil illustrations for clients like Penguin books, The New York Times, Vanity Fair and TIME Magazine. From 2017, I started to move toward fine art painting. My work has been selected for the BP Portrait Award show at the National Portrait Gallery (2018 and 2020) and the Royal Society of Portrait Painters show (2019, 2020 and 2022).
What draws you to portraiture and can you tell us about your approach to it?
I've always been fascinated by art history, and since I was very young portraiture was the genre which held the greatest fascination for me. I guess this is because I'm interested in people - not only the sitters but also the artists through whose creative lenses these likenesses are refracted. My own portraiture could broadly be described as an ongoing attempt to understand and become part of that process myself. My approach is very intuitive, I never go in with a specific plan. Drawing is the core of my practice; all my paintings begin with a fairly long-winded process of making multiple drawings to try and unlock something which excites me enough to make a painting. I want to feel like I'm discovering something about my sitter.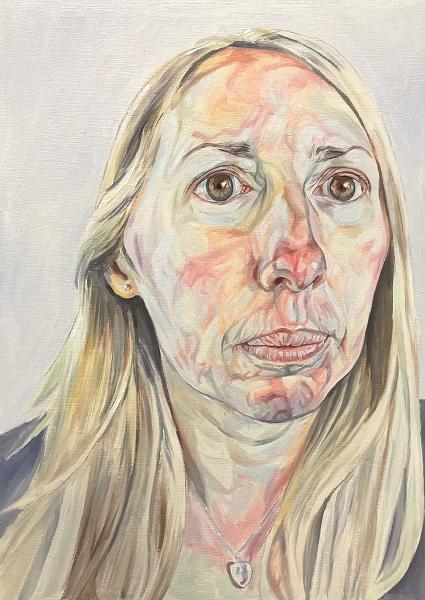 What are your go-to materials for portrait painting and can you share any tips or techniques with our readers?
I paint on primed wooden panels. Sometimes I get them made up at my local timber yard, but often I buy them ready-made. I use fairly cheap synthetic brushes. I try to buy the highest quality paints ( Michael Harding is the gold standard, or so everyone says) but it's hard - some colours are eye-wateringly expensive, so I do often go for slightly cheaper alternatives. My only technical advice would be to find your own way... I think a lot of people are searching for the ideal approach, but in truth there's no such thing. It's just a case of trying out a few different approaches and finding what works best for you. Doing a short course in oil painting (I did an excellent one a few years ago at Draw Brighton) can still be a good way to get a firmer grasp of the basics.
Thanks Peter! To see more of Peter's work, visit peterjamesfield.co.uk or follow him on Instagram @peterjamesfield.
---
TAKE A LOOK AROUND...
The Net Gallery specialises in creating immersive virtual tours for the art world and has worked with the CBPP across a number of different projects, capturing both group exhibitions and the studios of individual members. Take a virtual look around the show below.
The Contemporary British Portrait Painters 2022 Exhibition is on display downstairs at The Department Store, 248 Ferndale Road, Brixton, London, SW9 8FR, from 11th-18th June. Admission is free and there's no booking required.
Exhibiting Artists include: Samira Addo, Mary Jane Ansell, Simon Bartram, Ange Bell, Paul Benney, Tim Benson, James Bland, Ilsa Brittain, Martyn Burdon, Darren Butcher, Clive Bryant, Jonathan Chan, Tom Croft, James E Crowther, Belinda Crozier, Sam Dalby, Peter Davis, Simon Davis, Mark Draisey, Belinda Eaton, Miriam Escofet, Samantha Fellows, Peter James Field, Jane French, Ian Goldsmith, James Hague, Philip Harris, Geoffrey Harrison, Curtis Holder, Danny Howes, Owain hunt, Hero Johnson, Preslav Kostov, Jemisha Maadhavji, Catherine MacDiarmid, Michael James Monaghan, Peter Monkman, Sarah Jane Moon, Charles Moxon, Ruth Murray, Lucy Pass, Anastasia Pollard, Caroline pool, Laura quinn Harris, Carl Randall, Joseph Andrew Ryan, Duncan Shoosmith, Lucy Stopford, Liesel Thomas, Andrew Tift, Oliver Winconek and Antony Williams.
Find out more at: thecbpp.org or follow the CBPP on Instagram @thecbpp
The exhibition is supported by: The Sinclair Gallery, The Net Gallery & Cass Art