Posted by Cass Art on 16th Jul 2022
The Contemporary British Portrait Painters collective is presenting a major new exhibition of work this summer from 11th-18th June at The Department Store in Brixton, London. Founded in 2018, the collective includes some of the most recognisable and cutting-edge names in contemporary portraiture and offers a platform for the mutual support and promotion of artists. The exhibition will showcase works by over 50 artists, with portraits that reflect all aspects of society, expressing diversity, vibrance and community, providing a unique opportunity to see a snapshot of what's happening in British portraiture today.
We caught up with some of the artists ahead of the show to find out more about their practice. Look out for our series of interviews over the coming weeks, find out more about the exhibition below and take a look around the 3D exhibition scan by The Net Gallery…
DARREN BUTCHER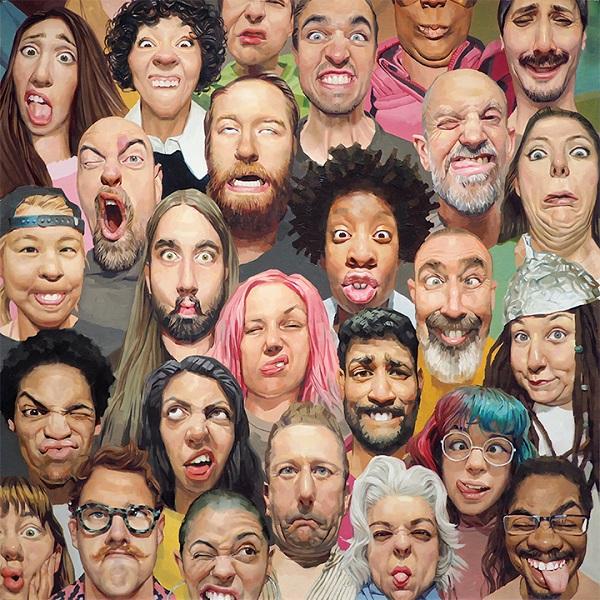 Hi Darren! Can you tell us about your creative journey so far?
I started off at Lincoln college of Art and Design where I did a general art and design course and specialised in Illustration. From there I went to Anglia Ruskin University where I studied Illustration for 3 years and started to really enjoy figurative drawing. I had always had a bit of an interest in animation and one day I decided to get a computer and learn how to animate, this was a bit of a turning point in my career when I got a job doing animation as it gave me the luxury of keeping painting to the side as a hobby and took away any pressure on myself to earn a living from it, and to this day that is still the case. I started thinking about how I could bring more expression to my portraits and so I began asking anyone and everyone on Instagram to send me photos of themselves pulling faces and began creating group paintings of them. I found it was a great way for people who perhaps aren't that close to art to be a part of something artistic, and for everyone to realise portraiture doesn't have to be so serious. The first two paintings were exhibited at the Royal Society of Portrait Painters Exhibition during the lockdown and have since been in storage. I have since Joined the Contemporary British Portrait Painters and will be exhibiting all 4 group expressions paintings together, which will also be the first time I've seen them all together.
What draws you to portraiture and can you tell us about your approach to it?
I've always been drawn to portraiture because of character, and the aim to create character in a painting. Faces can change character so quickly by just opening the eye slightly or changing an eyebrow or opening a mouth a fraction and it's this concept that fascinates me so much about portraiture.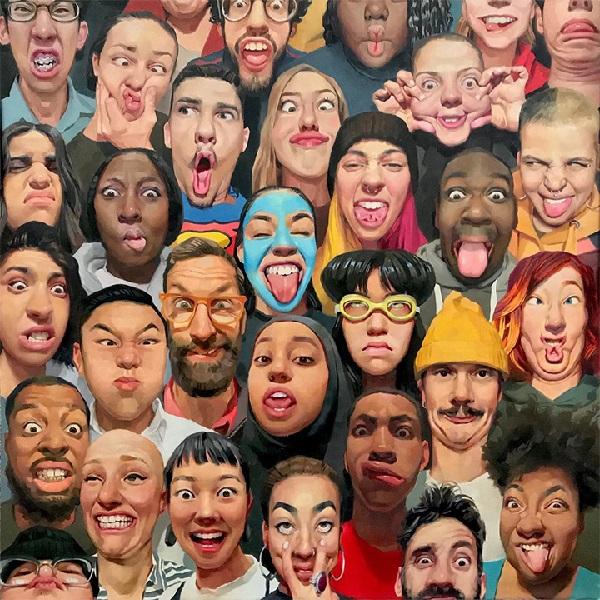 What are your go-to materials for portrait painting and can you share any tips or techniques with our readers?
I don't particularly have any special equipment or materials that I use and if I'm honest I've never owned an expensive set of paints so I couldn't really tell you if they're better or not. The ones I buy are normally Daler Rowney and Cass Art oil paints. I like to paint on a smooth surface as I find it quite hard to get a crisp and clean stroke on a canvas, and I use basic nylon flat brushes. If I had any tips, it would be to use a mirror to check your painting every now and then so you can have a fresh perspective on it, and also check yourself that you're not being too serious, it's painting after all, it should be fun.
Thanks Darren! To see more of Darren's work, follow him on Instagram @darrenbutcherart.
LUCY STOPFORD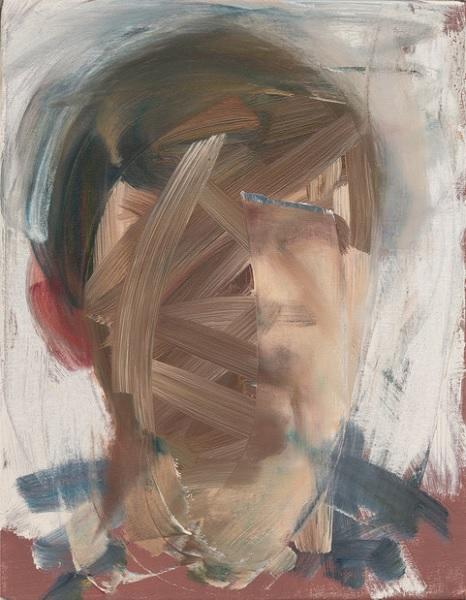 Hi Lucy! Can you tell us about your creative journey so far?
Probably the greatest influence on my work has been the sight-size method that I studied in Florence. Through the strict discipline of standing back between each brush stroke, I have developed a focus on economical marks. Although very different from the classical images produced in the Florence studios, my portrait of Tim Moreton exhibited in the 2017 BP Portrait Award at the National Portrait Gallery, refers to the preliminary stage of the method and demonstrates how reducing each mark to the minimum can convey not only likeness but also the experience of painting a portrait.
What draws you to portraiture and can you tell us about your approach to it?
Faces remain an enduring obsession: the three-way connection between the painter, the sitter and the viewer is uniquely interactive. Each is looking and my approach has evolved out of an interest in recording the experience of painting to share with the viewer. Though I work in silence, working from life is by its nature a sociable activity and I find that often the better I know the model the better the outcome. I also enjoy working alongside other portrait painters in the studio which allows me the space to experiment. The diversity of portraiture is its great strength, just as every subject is unique so is every approach individual and in both, I find endless inspiration.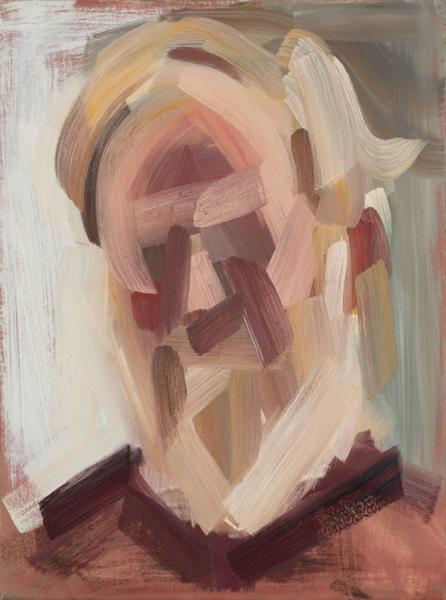 What are your go-to materials for portrait painting and can you share any tips or techniques with our readers?
I first discovered my lead-weighted palette, a mahogany veneer 'Diaz' palette, in Paris. It is designed to balance the weight on the wrist and is invaluable when walking backwards and forwards for any length of time.
I paint the linen canvas with a light coat of linseed oil before starting to provide a slippery surface for the paint. I also use Old Holland oil paints for their high oil content in a limited palette for speed: warm and cool primaries and titanium white, otherwise known as the Impressionist Palette which includes Cadmium Red, Alizarin Crimson, Cadmium Yellow, Lemon Yellow, French Ultramarine, Prussian Blue and Titanium White.
I always use the same size paint brush for each painting, inspired by Picasso's remark that one size of brush should be used throughout each painting to provide coherence, especially when working in an experimental style. The BP portrait of Tim Moreton was painted with two-inch Omega varnish brushes series 40 - and 'Boy' was painted in one inch Omega varnish brushes also series 40.
Thanks Lucy! To see more of Lucy's work, visit lucystopford.com or follow her on Instagram @lucystopford_artist.
PHILIP HARRIS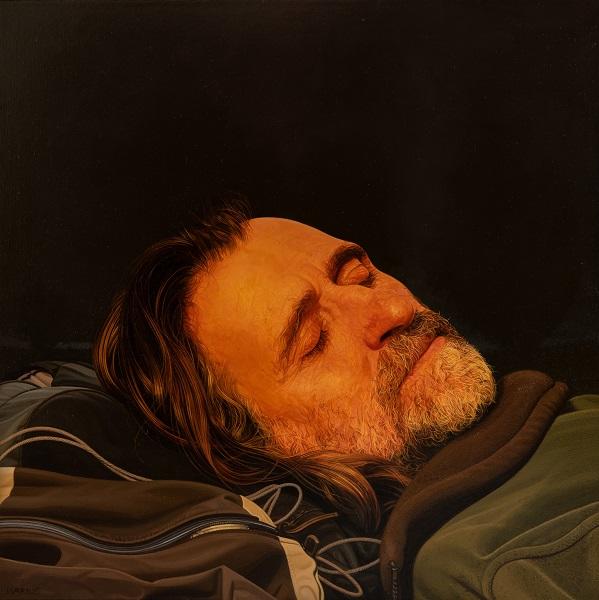 Hi Philip! Can you tell us about your creative journey so far?
I left school as soon as I was able and went to art school for two years in Mansfield followed by three years in Bradford. After completing my degree at Bradford College of Art in 1986 I moved to London and started painting full time. After a few years of intensive painting I started exhibiting publicly, had a few successes in competitions including winning 1st and 3rd prize in the BP Portrait Award and undertook some private portrait commissions. I had numerous solo exhibitions with galleries including Beaux arts and was selected to participate in some flagship exhibitions like 'Painting the Century, 100 portrait masterpieces' at the National Portrait Gallery and Reality at The Sainsbury Centre and Walker Gallery. I also undertake private portrait commissions and have works in the collection at the National Portrait Gallery and Jersey Museum.
What draws you to portraiture and can you tell us about your approach to it?
As a rule if someone comes to me for a portrait they aren't looking for a rose-tinted Instagram selfie, they are looking for something resonant and of lasting interest. My approach is always to get to know the sitter a little and to get beneath the surface but also to understand what the purpose of the portrait is. Ultimately, in any portrait, I want to subtly express universal ideas about humanity and not just about that one individual.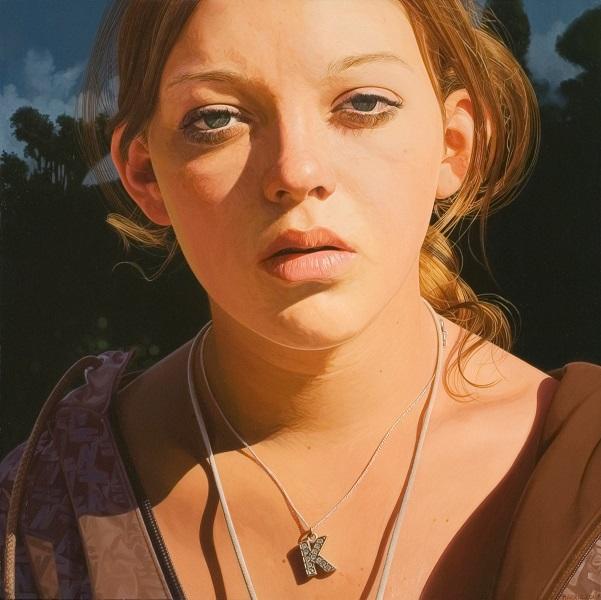 What are your go-to materials for portrait painting and can you share any tips or techniques with our readers?
I use oil paints on linen. My basic process is to sketch an idea, take many photos to use as reference material and then create a photo-collage. From this point, I draw onto superfine primed linen and then build 3-4 layers of paint on top of that. The painting develops dramatically from the photo collage over the long process whilst becoming increasingly detailed. I use Winsor & Newton or Michael Harding artists' oils. My favourite brushes are Rosemary and Co' Series 301. pointed round.
Thanks Philip! To see more of Philip's work, visit philip-harris.com or follow him on Instagram @philip_harris_art.
The Contemporary British Portrait Painters 2022 Exhibition is on display Downstairs at The Department Store, 248 Ferndale Road, Brixton, London, SW9 8FR, from 11th-18th June. Admission is free and there's no booking required.
Exhibiting Artists include: Samira Addo, Mary Jane Ansell, Simon Bartram, Ange Bell, Paul Benney, Tim Benson, James Bland, Ilsa Brittain, Martyn Burdon, Darren Butcher, Clive Bryant, Jonathan Chan, Tom Croft, James E Crowther, Belinda Crozier, Sam Dalby, Peter Davis, Simon Davis, Mark Draisey, Belinda Eaton, Miriam Escofet, Samantha Fellows, Peter James Field, Jane French, Ian Goldsmith, James Hague, Philip Harris, Geoffrey Harrison, Curtis Holder, Danny Howes, Owain hunt, Hero Johnson, Preslav Kostov, Jemisha Maadhavji, Catherine MacDiarmid, Michael James Monaghan, Peter Monkman, Sarah Jane Moon, Charles Moxon, Ruth Murray, Lucy Pass, Anastasia Pollard, Caroline pool, Laura quinn Harris, Carl Randall, Joseph Andrew Ryan, Duncan Shoosmith, Lucy Stopford, Liesel Thomas, Andrew Tift, Oliver Winconek and Antony Williams.
Find out more at: thecbpp.org or follow the CBPP on Instagram @thecbpp
The exhibition is supported by: The Sinclair Gallery, The Net Gallery & Cass Art