Posted by Cass Art on 23rd Apr 2019
It was whilst studying Fine Art at the Epsom School of Art & Design that Michael Harding discovered his passion for creating oil paints. Sparked by a curiosity to understand how Rembrandt achieved such a rich consistency in his whites, it could be said that his experiments just kept coming.
Years later, Michael Harding is a renowned innovator in the world of oil paint; he is one of the few manufacturers to make his paints by hand using traditional techniques. The ambition to create materials that are true and vibrant, and producing paint that is durable and favoured by many artists worldwide, has contributed to his resounding success.
To celebrate his new warm colour Alizarin Claret, we're offering you the chance to win a year's supply of wine, and the chance to have a drink with Michael Harding himself! Enter the competition here. And in the meantime, read on for our interview with the man behind the oil paint.
How did you develop your processes to find the right consistency and aesthetic look?
I was driven by my own particular quest - to understand what enabled Rembrandt to make his whites have such a beautiful sloppy goopy nature. So, the first colour I made was Titanium White with linseed oil and my finished product looked great, until it dried as a very yellow white. I realised that due to its natural colour, the oil tended to come to the surface producing this yellow colour, a problem that was alleviated by adding zinc white. I was in my early twenties and had a wonderful naivety. Things would go wrong, but I learnt quickly and soon found making paint a wonderful and experiential process.
It has to be said that your range of oil paint is now extensive, with more and more new colours – what prompted you to expand on the original colours available?
After many years of being asked for numerous additional colours I decided that the time was right to add new and exciting oil paints to my range. Customer demand primarily drove the desire to create my new colours. Also, my love for some colours which I privately had my eye on for many years like Rose Madder, a wonderfully romantic deep red familiar for centuries to the old masters, spurred me on to make them. Finally, some of my new colours are historically valuable to artists and are important to my range in providing artists with both the historic tones of the Old Masters and the new colours of our ever changing world.
The craft of paint making seems like a combination of science, cookery and wizardry – is this at all similar to what developing the new colours has been like?
Sometimes it seems a mystery to me I seem to just put the ingredients together in a way that appeals to me. The result comes out in a way that everyone tells me is wonderful, beautiful. I really enjoy formulating and mixing ingredients to create something of great value to the artist's eye. Finally the way in which I formulate and make my colours is that I want them to "leap" out to the artist and scream "paint with me!"
It's been said by many artists who use your materials that there's no need to include a medium as the paints are so perfect already. Can you tell us about the mediums available in the Cass Art rangeand what elements they bring to working with the paint?
I always tell artists if they can already achieve with the paint what is in their minds eye then there is no need to add a medium. That said, a medium should only be added to assist in a handling quality or to obtain a surface which cannot be achieved with paint alone. I feel often artists mistakenly assume that adding a medium is like adding a magic ingredient which will have magical results which is not the case.
Beeswax paste is added to a paint to give it body and increase the impasto brush stroke.
Dammar varnish is applied at least 6 months after a painting is totally dry and gives the painting a moist, glowing appearance enhancing the colours and at the same time providing a protective coat against atmospheric dirt.
Oil Paint Medium (PM1) is added to the paint to increase its flow and translucency. It will naturally thin the colour making it more transparent for the artist who desires more translucency in their paintings.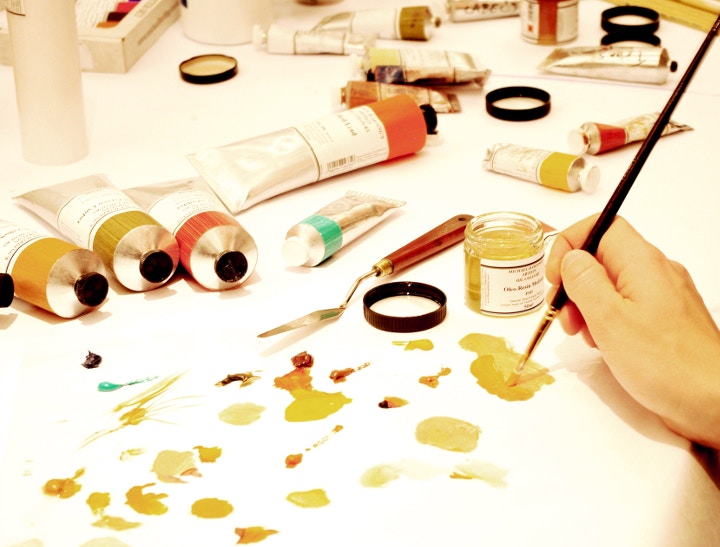 Can you tell us a bit about your new oil colour, Alizarin Claret?

During my travels I have had numerous artists, especially in America, expressing their queasiness in using Alizarin Crimson due to its slightly fugitive nature. Therefore, I decided to add Alizarin Claret to my range because it is a superb modern pigment which is lightfast with great beauty. In mass tone only, it is slightly lighter in appearance than its sister colour Alizarin Crimson yet more robust.

For those of you who are concerned about Alizarin Crimson, please be assured that it is particularly vulnerable when either in direct sunlight or very tinted with whites. Generally, in good gallery conditions one does not need to worry about lightfastness with Alizarin Crimson.
My Alizarin Claret is an organic pigment made with PR 177 otherwise known as anthraquinone. It possesses average drying time and has high oil content and tint power. Alizarin Claret is beautiful for glazing and creating gorgeous skin tones and is a real "must" for the portrait artist.

Do you still paint yourself?
Yes…Shh.
What are you most proud of through the last few decades of paint-making?

I am a person who always looks ahead. I look at what I want to achieve next more than I look at what I have achieved. I love what I do and I am one of the lucky few that can say that. I just love oil paint!
Feeling inspired?
Michael Harding will be giving in-store demonstrations at Cass Art this February, in our Islington, Kingston, Glasgow and Bristol shops. Click here to find out the exact dates and times. The demonstrations are free so drop by at any time during the session.
Get 10% off if you spend £100 on Michael Harding oil paint, including his new colour Amethyst, until Sunday 8th February. The offer will also be honoured at the in-store demonstrations.