Posted by Cass Art on 7th Jan 2019
Following on from the success of the first ever Pébéo Mix Media exhibition in 2016, we're excited to announce that the winners of the Cass Art and Pébéo Mixed Media Art Prize 2017 will be on display in a colourful and diverse Exhibition at the Strand Gallery in Central London this June.
Over 50,000 mixed media artists entered their work, showcasing a breadth of practices, techniques and textures using the Pébéo products. We caught up with the artists showcasing their work at the Strand Gallery this year, to find out more about their motivations for using Pébéo, mixed media and how the range has transformed their practice…
Alan Keen
"I started painting minimalist black and white portraits a few years ago, as I always loved contrast in colour and thought it would make a unique style if applied to paintings of people. Creating a clear black and white image requires bold colours that can leap from the canvas, and the Pebeo Studio Acrylics serve that purpose better than any range I have found before.
The 4Artist Marker has also been a great discovery, with the various sized nibs allowing me to create fine detail, which I would otherwise struggle to do with a paint brush. People often comment on the unique glossy finish and boldness of colour that the markers and acrylics create. Pébéo's products allow me the freedom to create the paintings with clarity and ease, and I can't imagine using anything else."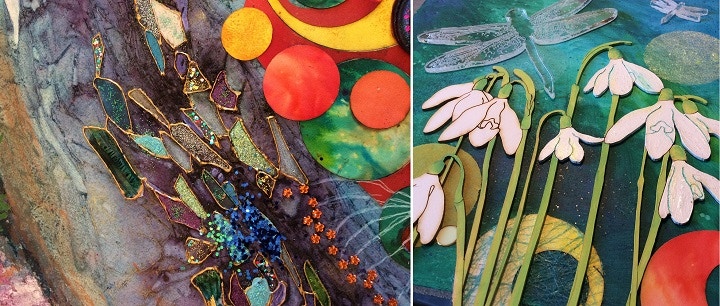 Dawn Beedell
"As an artist working with mixed media, this allows me to be wonderfully creative as I find there are no rules or limitations. My work is strongly influenced by the beauty of nature, the mystery and intrigue of getting up close in natural environments, such as the brook that influenced my painting Dragonfly Dance.
As a former teacher of Design Technology I have an interest in experimenting with many different materials and media, including found objects, new and smart materials and using a laser cutter in my designs. Using Pébéo products such as Fantasy Prism and Fantasy Moon has extended my range of media and has given me unusual and interesting effects, pushing my creativity further as I explore how these products react in combination with other materials such as glitter or nail varnish.
I work with resin which has the ability to flow around and over objects, containing or encapsulating them and preserving them forever. Resin also deepens and brightens colours and adds an optical effect to the metallics and sparkle that I can achieve with Pébéo products."
Explore more of Dawn's work on her Facebook Page.
Charlotte Esposito
"As a mixed media visual artist, my work takes many forms, crossing the boundaries between Art, Sculpture, Design and Textiles. When I begin a sculptural canvas work I will often cut in to, sew, adorn and build up the surfaces with interesting and unusual media. My passion for materials extends back to childhood when I would raid cupboards or look to nature for alternative media. I like to unite new and traditional techniques that make my work my interesting and diverse.
The Pébéo range perfectly fulfils my desire for experimentation. I am drawn to the diverse range of effects that I can create with the materials. I like the beautifully vivid colours and the incredible variety of options for trying out new techniques.
In my most recent piece Golden Decay, I dribbled Red Indian Ink and pieces of Gold Leaf through the Pébéo Gedeo Glazing Resin, to create an interesting effect on the top surface of the canvas. I like to combine Pébéo media with other interesting elements such as Coffee, Flowers, Biro, Silk Threads, Gauze, Spray Paint, Emulsion and Fabrics - The list is endless!"
Explore more of Charlotte's work on her website www.charlotteesposito.com

Dawn Angela Cope
"Photographic imagery is an integral part of my work, and is underpinned by an affiliation to place and time. I attempt to create atmospheric paintings, and the beautiful, vibrant colours in the Pébéo Studio Acrylic range have enabled me to achieve this in my piece for the exhibition."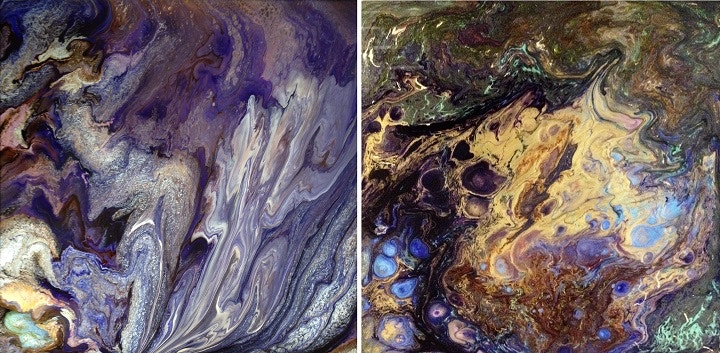 Peter Cross
"I am very new to the Pébéo range of paints and am still discovering their possibilities. I have created several pieces using a range of Vitrail, Fantasy Prisme and Fantasy Moon products. The uncertainty and organic nature of the paints reaction to one another is what appeals to me.
The final work evolves before your eyes, it is this nature of the paint that keeps brining me back to try it again. I have painted for many years, some water colours in a more traditional approach, mixed media and metalic paints.
I have recently purchased a small range of Pébéo acrylic paints, which I am currently experimenting with. Perhaps experimenting is not the right word, but as the work evolves the media dictates how it will look once completed - welcome to the world of abstract and fluid painting!"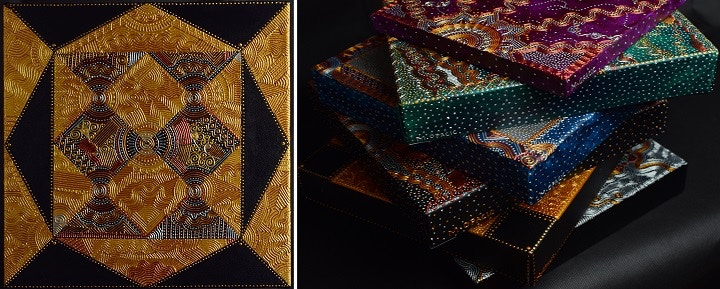 Milica Opacic
"My work is inspired by aboriginal and tribal art, which I appropriate into my own modern imagery. I create intricate pieces, using fine markings to build up images. I like combining geometric backgrounds, with intricate, detail overlays.
Pébéo's Relief Outliners are the sole medium I use to create my textured work. The outliners come in vibrant, metallic colours and the fine application nozzle helps me to create my intricate patterns."
Explore more of Milica's work on her website www.melloartslondon.com
Suzon Lagarde
"In my practice, I mainly use oil paint to achieve a realistic render, so my first encounter with the Pébéo Mixed Media range was a bit of a challenge. My goal was to associate the unpredictable reaction of Fantasy Moon and Fantasy Prisme into a more controlled figurative painting.
I prepared myself as much as I could, with a lot of upstream tests and thinking, and then... I found myself having so much fun! Literally tweaking the material itself, letting go with control, trusting the process, I left with the total incapacity of taking my eyes out of the paintings as they were reacting.
I strongly encourage everyone to give a try to Pébéo Mixed Media, as there is something so spontaneous and playful in those paintings, coupled with gorgeous colour! "
Explore more of Suzon's work on Instagram at @suzonlagarde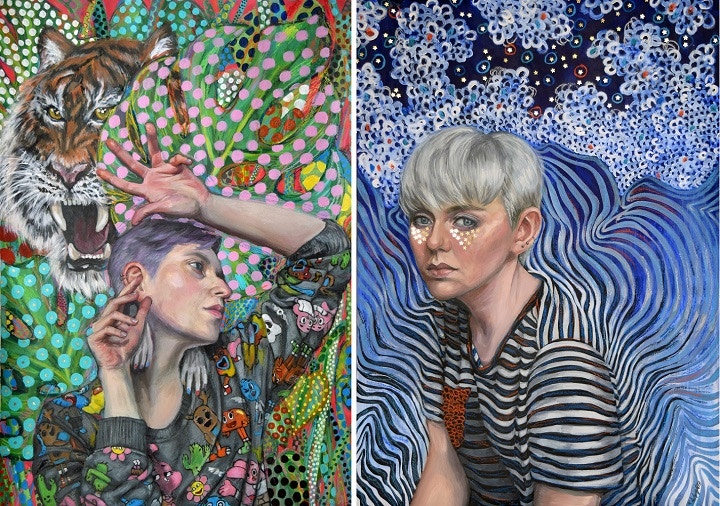 Katarzyna Wojdyla
"In my art I like to improvise, through trying new techniques and materials. I believe having freedom in creating a painting is incredibly important, as it encourages creativity and helps with establishing your own style.
Through the use of Pébéo materials - Mirror Effect Leaves and Fantasy Prisme - I was able to create unique effects, which are not possible with regular acrylic paints. As an artist, I was always attracted to using gold in art, whether in medieval paintings of saints (which I used as my inspiration for this piece) or contemporary art. Thanks to Pébéo, I discovered affordable materials that attract attention and add something extra to my art."
Explore more of Katarzyna's work on her Tumblr Page and on Instagram at @katwojdyla
David Roman
"My work explores the human body in motion - I'm fascinated by its complexity and the people who excel at moving, whether through sport, dance, martial arts, yoga or just general movement practice. In my paintings I try to capture the flow and energy of their movements.
Pébéo paints allow me to experiment a lot and find new ways to express my vision. I have used these paints to create over 300 paintings, and I really love their quality and vibrancy."
Explore more of David's work on his website www.davidromanart.com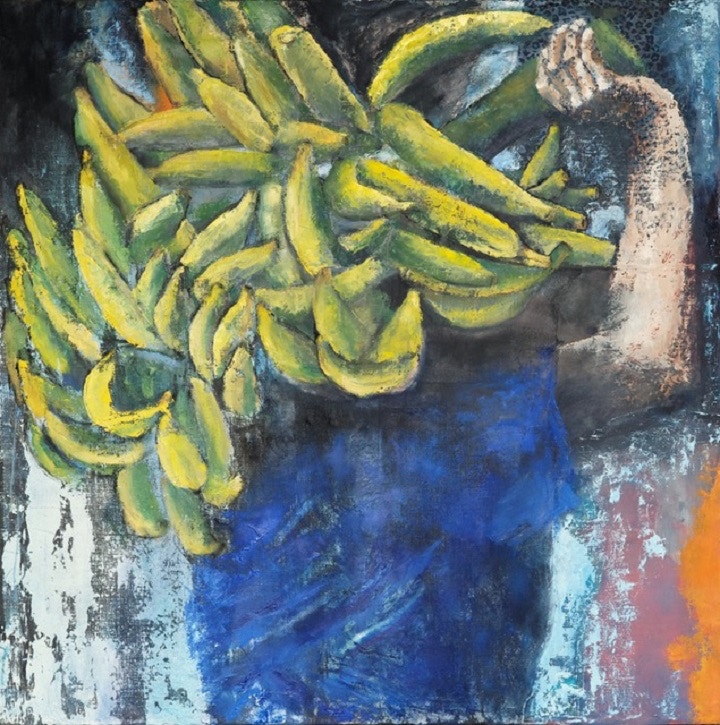 Virginie Delmas
My work is focused on the rendering of textures and materials, in order to attain the colours' vibrations at their fullness.
Every artwork is a path from collage, towards colours and painting. I have naturally turned my attention to Pébéo's Mix Media products, particularly Pébéo's Prism, Fantasy and Moon ranges, to widen the scope of creative possibilities to express textures. These products are easy to use and their rendering is interesting and unique."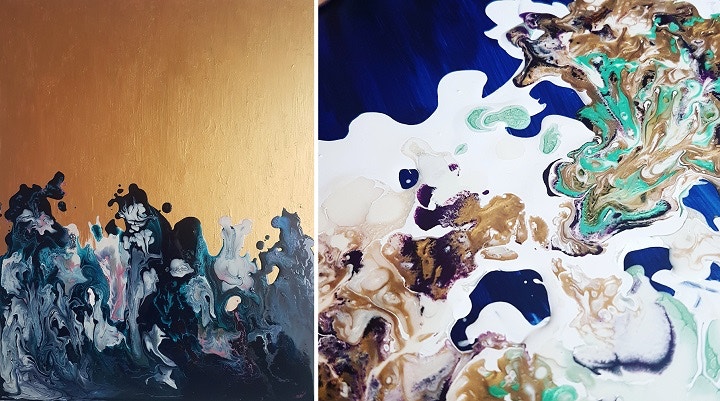 Yvette Kissi
"As a print designer, working mainly on fabric, I love creating different textures to incorporate into my designs. I use a range of materials, with a particular fondness for dyes and watercolours. This made the paints from the Pébéo Mixed Media range and the Prisme, Moon and Vitrail ranges appealing as they allowed me to create a unique range of pieces.
By layering and combining paints, I am able to achieve many texture variations that continue to serve as inspiration for new ideas. Ever since I bought my first Pébéo Mixed Media starter set I have been able to explore new ways of creating dynamism and complexity within my designs. The range has become an extension to the experimental approach I adopt as part of my design ethos and is now one of my go to media for developing my print designs."
Explore more of Yvette's work on her website www.yvettekissi.com or on Instagram at @yvettekissi
Ben Copping
"I'm actually a photographer by education and profession, but I've always had a deep obsession with exploring ways it could be pushed, through production and print. Combining things I documented photographically with pieces I had built in photoshop and tangible mixed media, has developed my process with the scanner being the image maker and Pébéo being the subject.
To me, the unpredictability is the beauty of the Pébéo Mixed Media range. I use the Ceramic, Moon, Vitrail and Prism in my works, and their ability to work with and against each other is what makes it so special.
The Ceramic is great for colour blocking and creating a base, but when mixed with the Vitrail creates a bleed/surface that has a dense 'island-like' look. Applying the Prisme or the Moon within those paints pushes anything around it outwards, making you at the whim of the formula until it dries. You never quite know what's going to happen no matter how familiar you are to its behaviour with certain things, which it's just put simply: darn exciting."
Explore more of Ben's work on his website www.bencopping.co.uk/thousandislands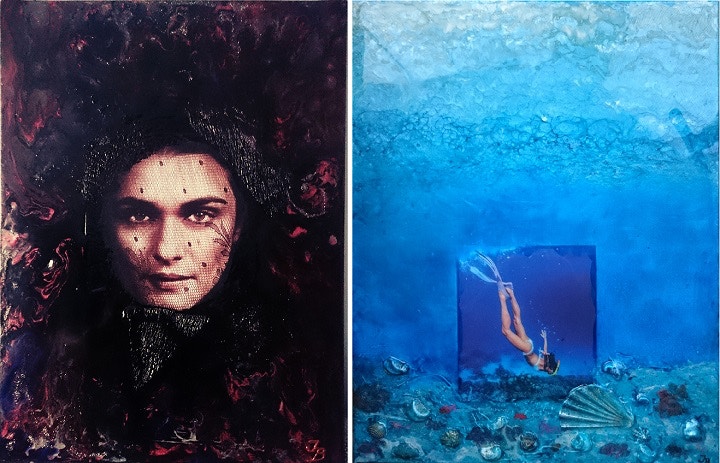 Jana Belicova
"I've started using Pébéo paint products very recently and I feel it has opened up a new world of possibilities of making Mixed Media artworks. I'm fascinated and excited about every picture I make.
Thanks to Pébéo paints, my work has totally changed direction and I have discovered a passion for abstraction. There is so much to experiment with and possibilities are endless. As an Artist, I was astonished by Prisme, Moon and Vitrail colours - the way they combine and the final effect is so exciting.
Also, I have experimented with other products from the range, such as Glazing Resin, Modelling Paste, Bindex Brillant, Acrylics and Mirror Effect Leaves. All of these are great quality, vibrant and allow me to achieve amazing abstract effects within a realistic picture."
Explore more of Jana's work on her Facebook Page or on Instagram @JBfantasyArtwork
Rosalind Dando
"My work is inspired by the natural world, particularly rocks and minerals, as well as dramatic landscapes. 'Wildscapes II' came out of walks in Scotland and the North Yorkshire moors, and 'Volcanic' and 'Jokulsarlon' were inspired by trips to Iceland. I enjoy looking for movement and contrast in my work - flashes of a bright colour against the dark, interesting textures, and places where the media interact well.
The Pébéo range has enabled me to expand my working style and explore new methods. I have recently loved working with the texture paste and gold mirror leaf to add dimension to my abstract work. The wide variety of options available gives me the chance to keep experimenting and trying new ideas, mixing textures and media in different ways."
Explore more of Rosalind's work on her Facebook Page.

Enriqueta Ahrensburg
"I create imaginary constructions from my own perception of the Universe as an analogy with the Neo-Platonism referred to 'The One'. I try, through the seemingly infinite repetition of dots, to find the apparent silence in the world, the very origin of the universe, as a representation of atoms transformed in millions of particles forms the cosmos.
Painting is the language I use to express the connection of the spiritual world to the material world. I create bridges between worlds through spots, dots, shapes, colors and lines, evidenced as visual footprints of the journey.
"One of the things I like most about Pébéo's Acrylic Paints is their wide range of colors, which helps me in the creative process. My technique is greatly benefited because they yield a lot and their great pigmentation does not lose its brilliance or quality of the original colour, allowing for better coverage and excellent final results."
Nicola Latham
"I love this forever changing, colourful world around me; the dancing shadows and kaleidoscope reflections. This is enhanced by varied textures both natural and manmade and the patterns within them, as well as the patterns they make. I want to capture it all.
The Pébéo Mixed Media range has brought another dimension to my artwork. I use Pébéo glazing resin with the Moon, Prisme and Vitrail range for water movement and reflections. Pébéo modelling paste is a complete contrast to the smooth texture of the fantasy range, and I love using this for fur and feathers, rocks and grasses, and buildings and land masses.
I only discovered the range last year and they have re-energised my creative enthusiasm and passion. They are also great fun to work with! You are never entirely in control of the way that these products interact with each other and so the results are pleasantly surprising!"
Explore more of Nicola's work on her website www.NicolaLatham.co.uk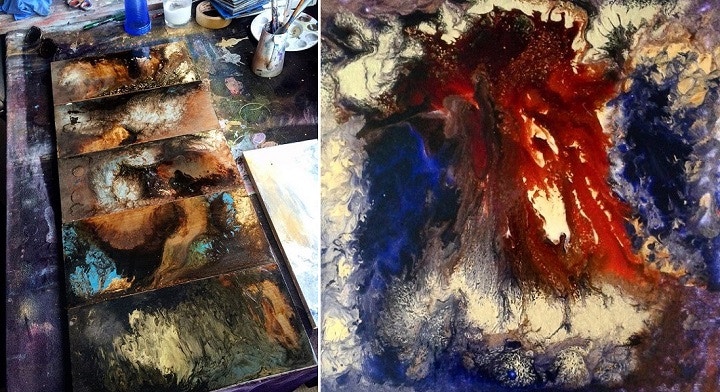 Lisa Payne
"Pebeo provides the tools that allow me to express my experimental nature, the fluidity and contrast within the range provides a strong platform that visually communicates my emotional awareness. The quality is outstanding and the ease of use makes the experience that more enjoyable, Pebeo can be mixed with different textures and create combinations and outbursts of colour that can be intense or as light as you desire."
Explore more of Lisa's work on her website www.anellavae.com
Feeling Inspired?
Discover the full Pébéo range on our website and across selected Cass Art stores.
Explore more work by the artists featured in this year's exhibition in the second part of our Pebeo Artist Interviews.
Explore our tips & techniques for the full range with our How To Guide on Experimenting with Mixed Media and Pébéo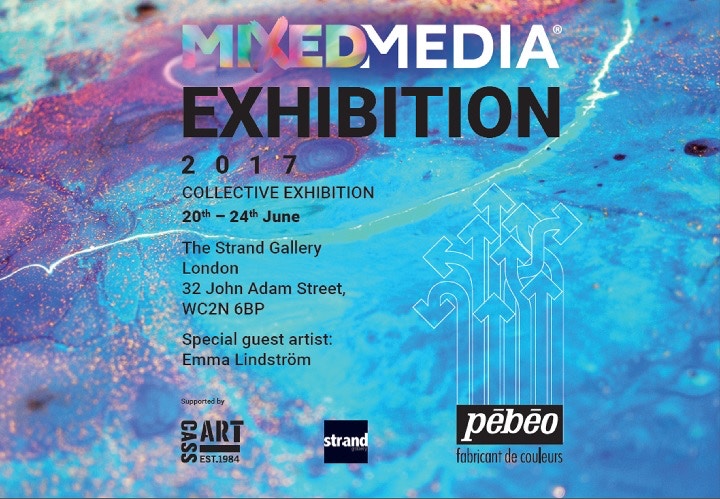 The Pebeo Mixed Media Exhibition 2017
---
From Tuesday 20th to Saturday 24th June, we invite you to explore the 40 selected artists' work and start experimenting with your own mixed media artworks, at a series of live demonstrations in the gallery. Find out more on our event page: Pebeo Mixed Media Exhibition 2017
Join our breadth of creative events demonstrating the possibilities of the Pébéo Mixed Media range. Find our full list of events and workshops on our Events Page.
You can vote for your favourite mixed media artist in this year's selection on the Pebeo Competition Website: www.Pébéo.co.uk/competition