Posted by Cass Art on 13th Oct 2017
LOVING VINCENT is the first full painted, feature length film of its kind. Telling the life and controversial events of Vincent van Gogh's death, we follow the story through his paintings and by the characters that inhabit them.
The portrait of the artist is built via a series of interviews conducted by Armand Roulin a year after Van Gogh's demise. He becomes obsessed with van Gogh's death, caused by a bullet wound to the stomach. Was it an accident? Was it suicide? LOVING VINCENT seeks to unravel the suspicions surrounding his untimely death and resolve one of art's great mysteries.
We caught up artists Seamas O'Labhradha and Sandra Hickey, two of the painters who created the film to find out more about their experience on-set and how they adapted their painting style to mirror one of the all-time greats...
Painter Training
Hi Sandra and Seamas! What was the experience like painting for the film?
Seamas: The best way to describe working in the studio is it was like a Renaissance Master's Studio, with all of the apprentice artists working day in, day out painting in the style of their Master. Accept the master was a depressed, post-impressionist painter who's madness, and hopefully his genius, rubbed off on each of us at some point. We really embraced the madness.
Seamas: There is a reason why no one has tried painting an entire feature film before – it's really, really hard to do and you would be mad to even try! The workload was quite hellish and it had to be in order to get the job done. After painting for a month, 10 - 12 hours per day, 5 - 6 days a week, among all the usual oil paint related fumes, you could sit back and enjoy the 6 seconds of footage you had created for the film!
Seamas: It was maddening, but that was the nature of the beast. And I loved almost every second of it (even though I cried here and there) and most importantly I love the painters I met, who came from every corner of the world. For the entire, life changing experience - I must say thank you and congratulations to Dorota and Hugh.
Postman Roulin (Chris O'Dowd)
Sandra: Painting on LOVING VINCENT was one of a kind, there was a lot to take in for example after you finished a frame you had to scrap it off and paint over it, something that seemed hard to get your head around as a painter, normally when you finish a piece it's there forever so that took some time to get used to.
Sandra: Also, as an artist you have a particular style and so does all 125 artists that worked on the movie, and with this in mind you have to have a consistency of style for the animation to flow, so you're fighting the urge to slip into your own style or ways of applying the paint very often.
Sandra: As for the experience itself, I feel in love with the project, no word of a lie it was a labour of love, I knew from the beginning that this is something very special and if I had what it takes to be involved with such a production I was going to give it all I got! And that's what I did.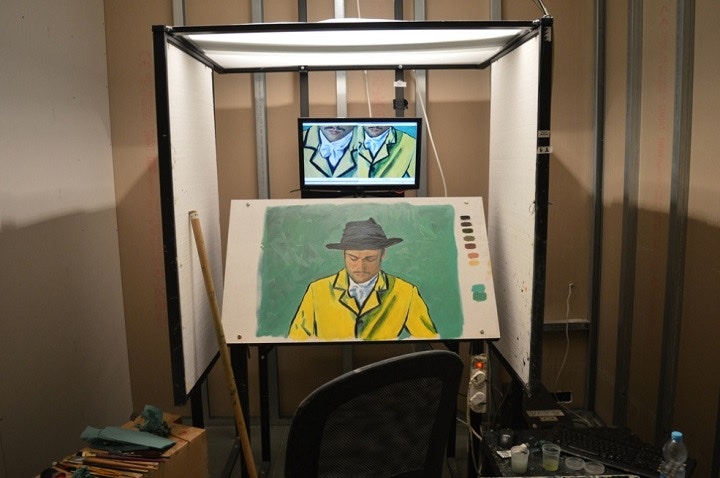 Painter's painting space on-site
Is your own work inspired by Van Gogh and his painting style?
Seamas: I like to paint in glazes, like how old classical paintings are made and I do like parts of my paintings to look naturalistic, especially when I paint a human. However most recently I have been experimenting with colour and pointillist colour mixing has come in very handy, which is an influence from when I studied Van Gogh for the film.
Seamas: It helps me to demonstrate my theory that all colour is mixed optically and that we are never really making new colours, but just tricking the eye into hallucinating them. It also helps me demonstrate that you can mix Red, Yellow and Blue from other colours, which most teachers and painters these days believe is impossible. So I thank Van Gogh for that.
Sandra: I've always loved Van Gogh's work, even as a child I had a tiny painting of Van Gogh's Chair hanging on the wall of a doll's house my father made me - so it's fair to say I have been inspired by Van Gogh's work from an early age, but I think my later work has changed quite a bit. But the way I apply paint would still be inspired by Van Gogh.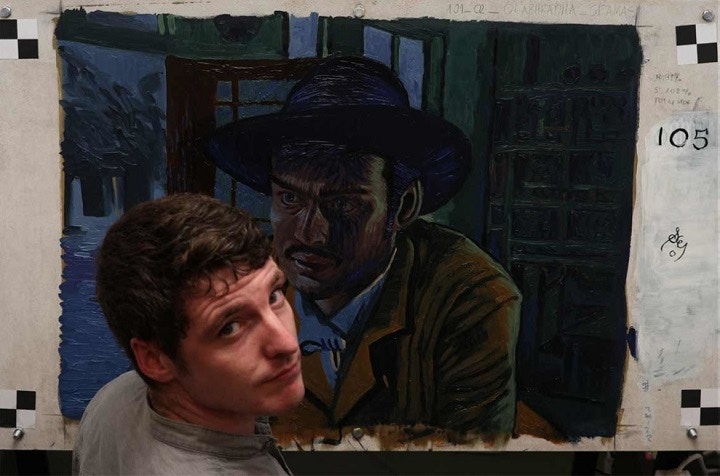 Seamas painting in the studio
How many hours did you spend painting?
Seamas: We worked from 7:30am - 9pm most nights. Some nights longer, out of our own choice and eagerness to see our scene finished. However the studio was very accommodating. So if we had trouble at home or needed a day of rest we really were allowed to stop when we wanted. I think most of us were as mad a Van Gogh though so we tried our best to make 3 - 4 painted frames per day.
Sandra: I worked 10 sometimes 12 hours painting per day, 6 days a week mostly. The process had to be organised to save time, though I could be messy at times! You would have a jar with each colour that was in the scene and you would have enough paint to last for the duration of the scene, to insure consistency.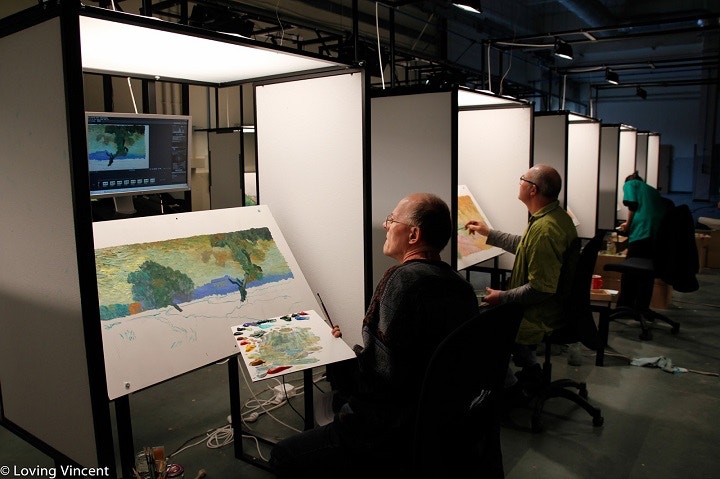 Painters painting in the studio
Was there a process to follow during production?
Seamas: Colour mixing was a very important part of the process. We had forge each other's work so that one painter could pick up where another artist left off. However, the colours we mixed in real life didn't matter as much as the colours on the screen. They were the ones that had to match. And as we were painting in different stations with different lights and different cameras, we had to mix vastly different colours in order for them to all look the same on the screen.
Seamas: I think this is why painters with some background in classical art techniques were chosen to paint the film as they commanded a far greater control over colour and attention to detail than their peers, who went through the more modern art education, where skills like that aren't very important to anyone.
Seamas: We had multiple references for each shot we painted. Of course one of these was an original Van Gogh painting, where we mimicked his use of colour, texture and brushwork. Apart from that we had to constantly be referring to each other's work to make sure we were painting as one.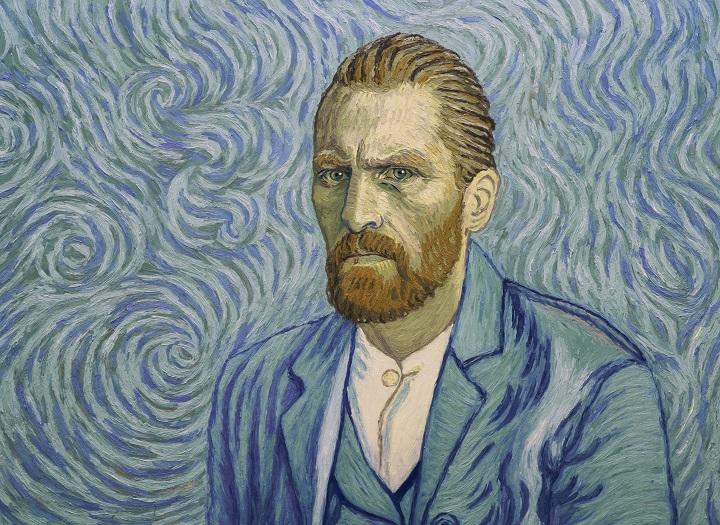 Vincent (Robert Glyaczk)
Any behind the scenes insights you could tell us?
Seamas: I have worked on local TV shows as an artist on sets and things, and there seems to be a class system within the film industry here, for example the crew have their lunches in a different area, and out of sight of the directors and the "talent".
Seamas: However I was pleasantly shocked on a number of occasions working for Loving Vincent. The Directors Hugh and Dorota treated us as equals. He had our lunch together on more than one occasion. This is something I wasn't used to but welcomed gladly. Dorota was always pleasant when I talked to her and we took selfies together. But I guess I have to say a massive thank you to the Producer Sean Bobbit, who kindly housed myself and three other painters when there was a disastrous mix up which rendered us homeless for a night. Sean is a true gentleman.
Sandra: Sometimes you would dream in paint which to be fair, is quite a nice dream and in keeping with Van Gogh himself. I came across this project when my brother shared a trailer on social media and the rest is history.
Artist Anna Kluza on-set painting
Feeling Inspired?
LOVING VINCENT debuts in Cinemas across the country on Friday 13th October 2017. Find your nearest participating cinema here.
Follow the conversation and share your thoughts on the film on social media, using the hashtag #LovingVincent
LOVING VINCENT PRIZE DRAW
Image Credits
© Loving Vincent Sp. z.o.o. and Loving Vincent Limited 2017