Posted by Cass Art Staff on 10th Jun 2018
We're thrilled to be supporting Xhibit, University of the Arts London's annual creative showcase, by awarding a £500 Cass Art Materials Bursary Award to one of the exhibiting artists. Selected by a panel of industry professionals, including Turner Prize Winner Grayson Perry, Fine Art student Harriette Meynell was awarded the bursary for her series of etchings commenting on her journey through motherhood. We caught up with Harriette, asking her about life as an art student, her inspirations and what she intends to do with the prize.
Hi Harriette! Congratulations on winning the Cass Art Materials Bursary. Do you have any ideas what you'll do with the £500?
I'm so pleased to have won this bursary. The first thing I'm going to get is some canvas and decent paper. I've done some recent work on cardboard and MDF, but want to experiment with similar techniques on canvas and to try printing on different types of paper. I'm also going to splash out on some good pastels and acrylics as my current sets are really poor quality.
Harriette Meynell and Cass Art CEO and Founder, Mark Cass, at UAL's Xhibit Exhibition 2017
You've created a beautiful series of abstract etchings for the Xhibit exhibition. Can you tell us about the concept behind them?
The repetition inherent in the day-to-day life we lead is brought into sharp focus by the journeys we make. Home to school, home to supermarket, home to park and so it goes on and on and on....the hum drum journeys day in and day out, week after week - with months, then years slipping by. For example, I have done the school run 5,600 times, with another 4,200 to go.
My art work is a representation of how motherhood can shrink your world. For this piece, one of my children traced, using pencil on paper, the repeated car journeys I have to do for them. All these journeys are less than a mile from home. I then replicated these tracings onto aluminium plates to make armour (see lead image) to wear at the destinations. One Mile Radius is a print (and emboss) of these plates in a formal grid layout, mirroring the monotony, with the journeys gradually fading to only the home point - to represent the stifling feeling of becoming housebound in the end. My daughter's life may have been expanding, but mine certainly wasn't.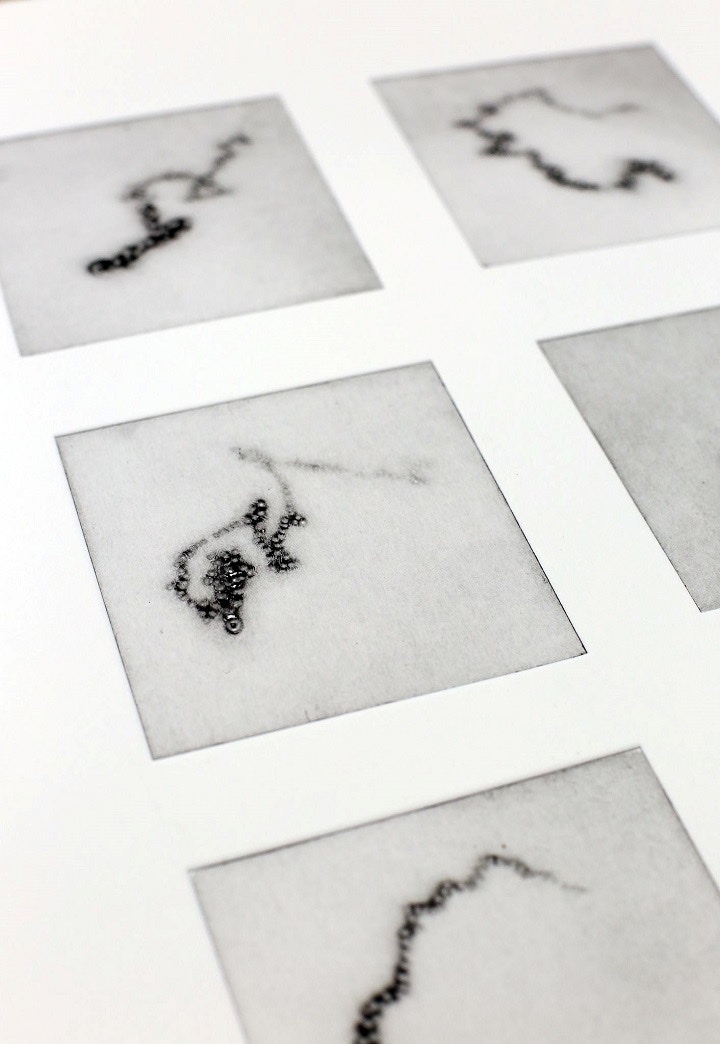 Detail from One Mile Radius (2017), series of etchings by Harriette Meynell
Life as an art student must be a very interesting contrast with life in the corporate sector. Can you tell us a bit about your journey?
It most definitely is! I was desperate to go to art school after A levels, but was not allowed. Instead I did chemistry and industrial economics at university, then worked in the corporate sector for over 20 years. I barely picked up a pencil in all that time. It was only after the birth of my third child, which was one too many for my work to cope with, that I left.
Being a full-time mum is hard, and as a small means of escape, I signed up for a local art evening class. I was terrified, but realised straight away that I could still draw. Those two hours became the highlight of my week, so much so, that I realised that I had to have more art in my life. To make this happen, with the backing of my husband, I signed up for a part-time fine art foundation course at Morley College in Lambeth. It was here that I really started to unlock my pent up creativity - with the support of the fantastic tutors there.
Whilst on my foundation course, I realised there was no going back to the corporate sector. Seeing inside the art schools in London on open days only confirmed it. I was so excited when I got offered a place to study at Central St Martins, where I'm currently in my first year of a BA in Fine Art.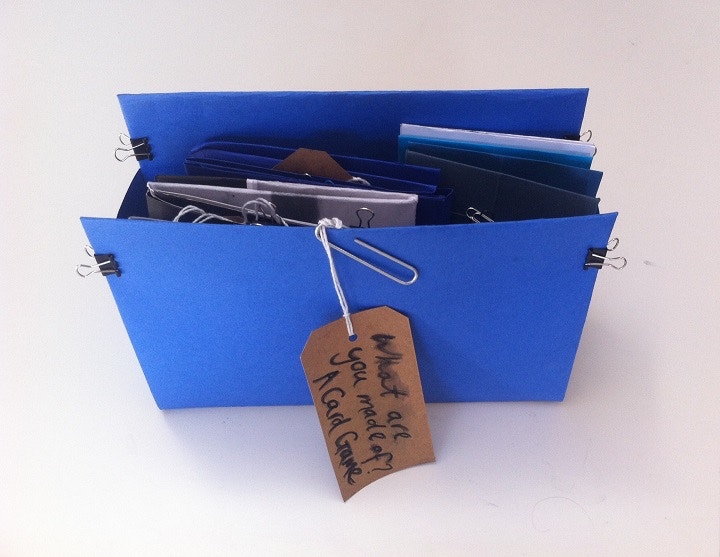 The Memory Game (2016) by Harriette Meynell
Can you tell us about your inspirations for your art practice?
My practice is quite varied, drawing on personal experience as a mother of girls and previously working in the corporate sector. In addition to intimate autobiographical themes I take in institutional sexism and wider international politics at times. I've lived a life and feel I've got a lot to say through my art!
In terms of artists, I love Louise Bourgeois and her use of different materials to realise her varied work. I am also a fan of Martha Wilson and her take on gender stereotypes and the performative aspects of photography.
I like to experiment with materials to develop ideas, and often use different processes to create work. I've found that one approach or process can often stimulate ideas in alternative media. The body of work of which One Mile Radius is part utilised aluminium, cardboard, acrylics, plaster, wool, photography and a bag for life! This bursary will definitely be put to good use.
Film stills from Harriette Meynell's video A Woman Erased (2016)
Do you have any plans for your next art project? Are there any new mediums you would like to try out?
I do, it's based on looking into office spaces from the outside through all the floor to ceiling windows. Not as boring as it might first seem...hopefully.
I have never used oil paints and for some reason feel really nervous about them. I've built it up in my head that they are only for proper artists. Now I've won this prize, perhaps the time has come for me to just get on with it.
Thank you Harriette!
You can see Harriette's One Mile Radius artwork at the Xhibit exhibition at the Art Bermondsey Project Space in London. The show runs until the 14th of May 2017.
Lead Image: One Mile Radius Armour, Destination #3 Park (2017) by Harriette Meynell
Feeling Inspired?