Posted by Cass Art on 30th Jul 2020
#ARTCAMP20 is a weekend arts festival full of performances, talks, activities and much more - all streamed, all live! The UK's first post lockdown Festival #ARTCAMP20. Join the likes of Suggs, Nile Rodgers and many more amazing acts. Groups of parents and other creative carers, who were inspired by, and are missing festivals like Camp Bestival this weekend, have gotten the go ahead from the local authority to run the #ArtCamp20 Family Festival - their own hybrid off and online, and all socially distanced, event for thousands in Devon fields. They're calling for artists across the area to bring their art, to be displayed in an Eclectic Art Trail or to perform on stage, both to be live streamed! Check out the trailer below.
Some of the highlights of the #ArtCamp20 Festival - 31st July to 2nd Aug 2020 - include:
Suggs of Madness talking about his childhood, creative journey and his recent passion for painting cats – "I've stopped painting them now he told BBC Radio London "cos two died afterwards, and I've only got one left"
On-line community screening for 2,000 people of Suggs' epic 'My Life' film – on a collaborative platform enabling people to comment on screen in real time
Video call with Nile Rodgers in New York talking about the importance of collaboration in his life, the DHM in all his songs and why 'We are family'
Focus on the Art of DJing with two late night silent, streamed dance parties, one for teenagers with DJ Sebadee UK DJ Champion 2019 and another for the disco dads (and mums) with DJ Nina Love who teachers GCSE DJ skills
Performance by teacher turned rapper and poet, Casey Bailey
Chat with Steve Lazarides, leading authority on street art and collaborator with and former gallerist of Banksy.
Everyone to get the chance to join a $1m Global art project by designing and sharing selfies proclaiming #ILOVEART and printing them onto t-shirts
Half km long Eclectic Art Trail for 2,000 visitors mown into meadow grasses to feature art from a wide range of art and artists, with contributions sought from local community in a range of categoeries
Saturday night will see a night light trail through the grounds of the host location, The School of Art and Well Being in Honiton.
They're encouraging members of the community, young and old, to showcase their art centre stage, the #ARTCAMP20 weekend led by him and artist Mulumba Tshikuka will be a live streamed virtual extravaganza. Featuring inspiring talks, creative workshops and uplifting performances from local community heroes, alongside world famous UK creativie icons.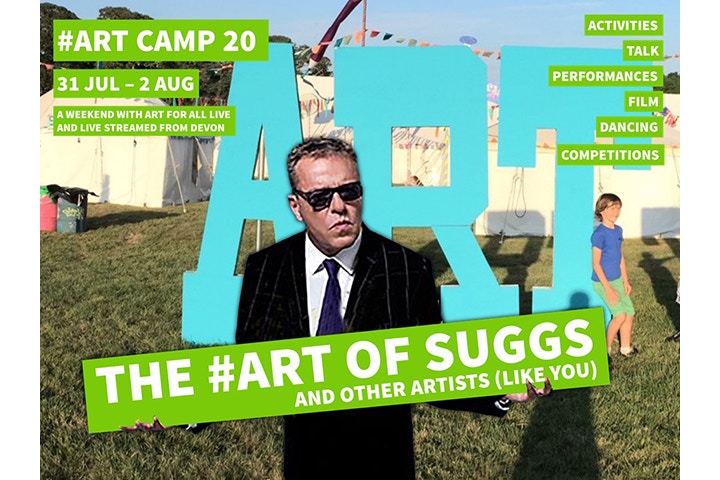 Arts Council England Emergency Grant Funded
This project has been funded with an emergency Covid 19 Grant from Arts Council England with public funding from the National Lottery. A £150m fund was made available to arts organisations – national and grass roots as they faced the most serious challenge to their existence since the Arts Council came into being at the end of the Second World War.
Launching the fund Darren Henley, CEO of Arts Council England said "The launch of a fund is usually an exciting moment: the unveiling of a new opportunity for artists and organisations to realise long-held ambitions. But for now, we are solely in the business of helping artists and cultural organisations to get through this unprecedented crisis"
For further info and tickets see here.
---