Posted by Cass Art on 25th Oct 2019
We catch up with Martin Schneider the artist and creative mind behind the ground breaking Open Press Project – creator of the world's first 3D printed printing press. Martin wants to revolutionise printmaking and give everyone the opportunity to have access to a press, which are traditionally very large and expensive. The Open Press Project fuses 15th and 21st century technologies, and only costing about £5 in printing material and fitting inside a draw no studio is too small!
Read on to find out how the project started, learn exactly what Intaglio printing is and where you can download your own plans for a press…
Thanks for taking the time to chat with us Martin! Firstly could you tell us a bit about your creative journey and how you ended up where you are today?

Sure! I'd say my creative journey started when I was 14. I always liked drawing, but in 2011 I did an internship at "Kölner Graphikwerkstatt", a local printmaking workshop in Cologne. They introduced me to the world of printmaking and to all these awesome and intriguing techniques, it was great! And in a way I never stopped being the intern there, it became a whole second family for me. Besides spending a lot of time with these very "crafty" techniques, I taught myself digital techniques for drawing and painting, earned money as an illustrator eventually and had exhibitions. I also received an award from Adobe when I was 19, things got a lot more exciting! Right now I'm studying design, which has put my focus on 3D-printing and product design at the moment, but as an interdisciplinary designer I'm always trying to combine this with my love for printmaking and illustration!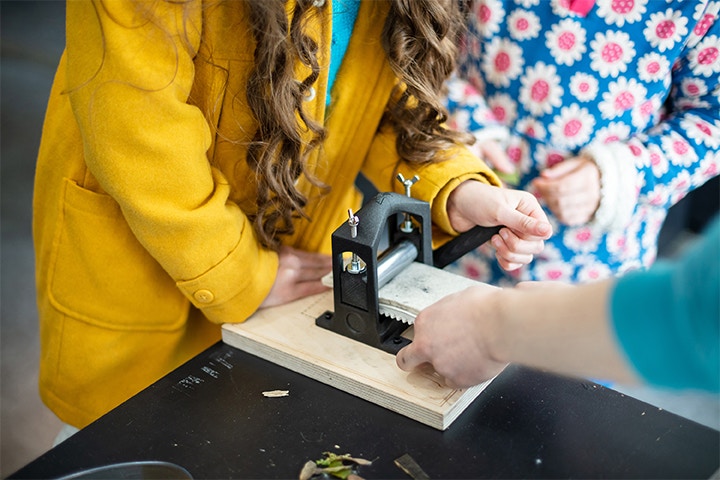 Tell us about the Open Press Project, how did it come to be?

About two years ago I realised that far less people had access to Intaglio printmaking than I thought, most of my fellow students didn't even know about it. The main reason being that a printing press was needed to apply enough pressure for it to work. Lots of artists can't afford to buy their own press, so they have to find these big and expensive machines in universities or specialised printmaking studios. Because I was working with 3D-printing, I wanted to see if I can design a functional miniature etching press that can be printed with a regular 3D-printer and make it accessible to everyone. I would never have thought that so many people would jump on board and create such a wholesome and excited community! People all over the world started to 3D-print their own little presses and send pictures of it in different colours next to their little prints.
Earlier this year we ran a crowdfunding campaign for everyone without access to a 3D-printer and were able to sell 1500 inexpensive presses in 30 days! A good friend of mine and fellow student joined the project, we just founded a company and are now working on manufacturing them all and ship them to people all over the world!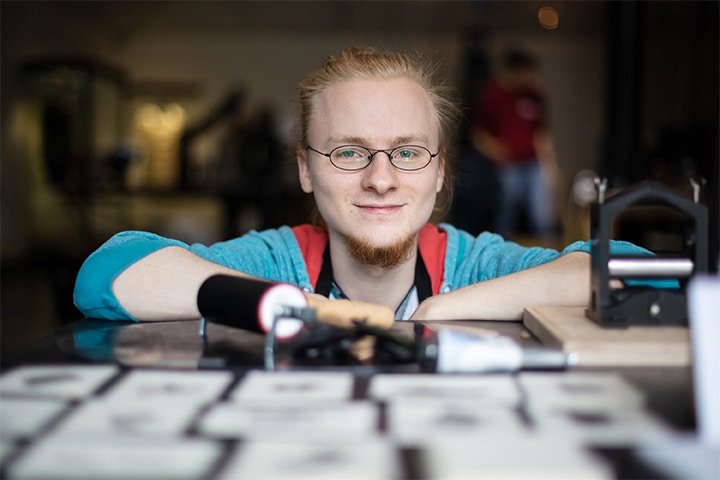 What place do you think printmaking holds within the creative world, why do you think these very handmade skill based techniques have survived the test of time?

For me the fascinating and fun part of printmaking is the actual process of working with a metal plate, learning, experimenting and combining various processes, working with the mistakes you make and the very meditating procedure of inking up a plate, rolling it through a printing press and lifting the paper afterwards to see if you were able to convey your idea. The whole process of printmaking is a good contrast to the very digital techniques that I use most of the time and I think that's part of the reason why more people are actually trying out these techniques nowadays.
Could you explain exactly what Intaglio printmaking is for those that may not be familiar with the process?

With a simple stamp you always ink the surfaces that are raised and lies on top of the surface - these areas will be the coloured areas on a sheet of paper once you've pressed it down. Intaglio printmaking is the exact opposite, you are carving lines into a surface for example a metal plate. You then fill the grooves with ink and leave the surface clean before printing. You then have to put paper on top and apply lots of pressure to press the paper into these grooves and have it pick up the ink. I was fascinated by intaglio printmaking, because it can be quite close to drawing and offers a huge variety of different materials and processes that have a unique look!
Which materials do you use when printmaking? Do you have any particular inks or papers you turn to?

We mainly use Hahnemühle paper in our workshop and a variety of different inks. I personally like the Cranfield Caligo Safewash inks, because they are oil-based, but can be cleaned with water and soap. It's great for our little press-project, for outdoor-use and a non-toxic workplace! Other than that we really like to use beverage carton/juice boxes for plates, because it's super accessible and easy to work with!


Printing presses are large and very costly; the 3D printed press opens up printmaking to all. The project is a brilliant combination of traditional printmaking made possible by modern technology – where else do you see 3D printing expanding the realms of traditional printmaking?
I think there is still lots of potential in the field of using 3D-printing to create plates for printmaking. Quite a few people are experimenting with this and I think it's viable enough to be added to other and more common techniques of printmaking. Also, a few weeks ago we ran a workshop with kids at a local museum where everyone designed their own paper mould, which we then 3D-printed and made paper with! Why not create paper in various shapes and print on it afterwards!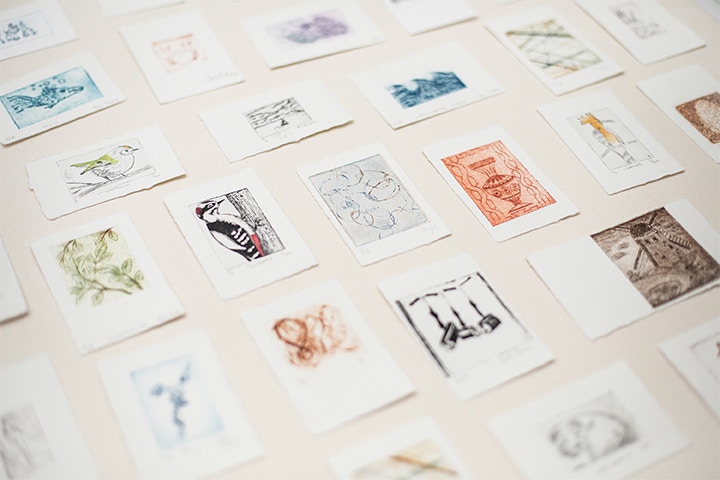 And finally what's next on the horizon for you and the project?

We are currently working very hard on 3D-printing the 1500 presses that we sold during the crowdfunding-campaign. Our goal is to be able to keep selling them to people who want to have access to a printing press, but don't have a 3D-printer. Also, we are planning to host more exhibitions of the artworks that people create with these presses and want to focus on running workshops in schools and museums to introduce more people to the world of printmaking!
Images © Dominik Schmitz