Posted by Cass Art on 3rd Jun 2018
The third episode of Sky Arts Portrait Artist of the Year was full of surprises! The search moved to the National Museum of Scotland where the judges faced their toughest decision yet - ending with two joint winners, for the first time in the programme's history.
Christian Hook and Laura Quinn were both crowned winners of the third heat, with a chance to paint in the semi-final. Sitters this time round included This Life star Daniela Nardini, Spandau Ballet's Gart Kemp and Ashley Jensen. With forgotten glasses and alter-egos, this was one of the most tense and entertaining episodes so far, and the twist of two winners was certainly unexpected.
We're delighted, in light of our support of Sky Arts Portrait Artist of the Year 2014, to interview both Christian and Laura, joint winners of the third episode. What's more, you can catch some of the heat winners and the judges, including painter Tai Shan Schierenberg, at our talk at our art shop and Islington Flagship here.
Christian Hook won for his bright portrait with abstracted brush strokes, whilst Laura's equally vivid portrait with a striking blue background tied in first place.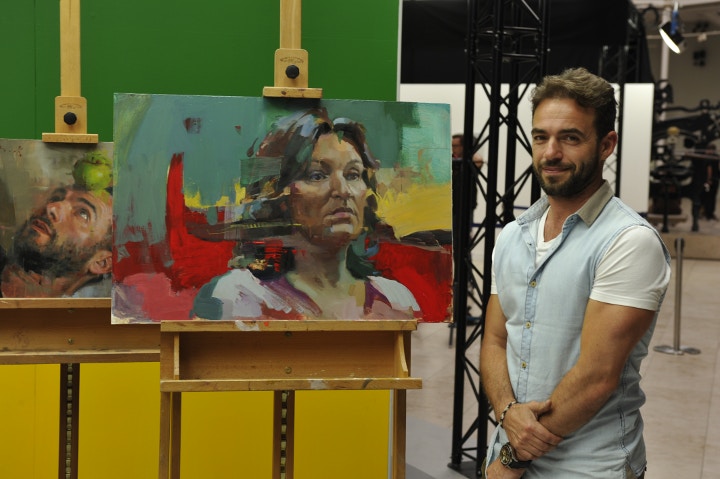 Hi Christian. Firstly, congratulations on winning your heat – and with a surprise joint win! How did that feel?
Thanks, it was nerve racking. I'm not used to having cameras, a live audience, interviews and a group of artists shoulder to shoulder competing with me whist painting. But it was a great experience to share some time with other fellow artists. I hadn't really worked with other artists since my days at university.
The joint win was great. I was too nervous to really think about it at the time, but in hindsight some of the other artists were very good. Although I was well aware that this was a competition at times it didn't feel that way. The contestants were all really friendly and I was happy that someone I already knew would be joining me in another round.
Your self-portrait was very bold and bright – is colour an integral part of your practice?
I'm not actually a fan of bright colours. I much prefer the subdued British palette to the fully saturated Mediterranean one. However, I needed the portrait to stand out in some way. I guess I had to think of ways of making the portrait multi-dimensional; something from this day and age, as striking and creative as possible. I wanted it to transmit an idea as well as a technical accomplishment so I tried to make it interesting in many different ways. I wanted it to have the movement that Francis Bacon captivates us with in his work but still retain my resemblance. I also wanted it to have the classical feel Velasquez has in his portraits and for it to be a conversation piece with some kind of narrative open to interpretation.
Who was your sitter, and were you pleased with your portrait?
My sitter was Daniella Nardini. I was extremely nervous in the heat. They had this really brightly colored background behind the sitter that was really overpowering. I was very tempted to ignore it and work with a different palette. However, the background was an enlarged section of Daniella's favorite painting which made it an important feature so I felt I had to include it. At the end of the heat I was pretty disappointed with the result. I think I could have done a lot better if I had gone with my instinct and painted with my heart instead of my head, but it was a lesson learned.
What art materials do you use to paint?
I use Liquitex Acrylic as a base for my work. I usually work on primed marine ply wooden board. I love the Winsor & Newton oil painting primer because it gives me a really flat finish when I need it.
I use a wide variety of synthetic brushes. Once I've covered the board with a burnt umber acrylic base I switch to water based oils. For this I use the Winsor and Newton Artisan series with turps. When I work on larger pieces I use Georgian oils.
I mix my paints with a palette knife and work on a 100 x 50cm frosted glass palette because it's very easy to clean. I occasionally varnish my work with exhibition varnish from Cass Art.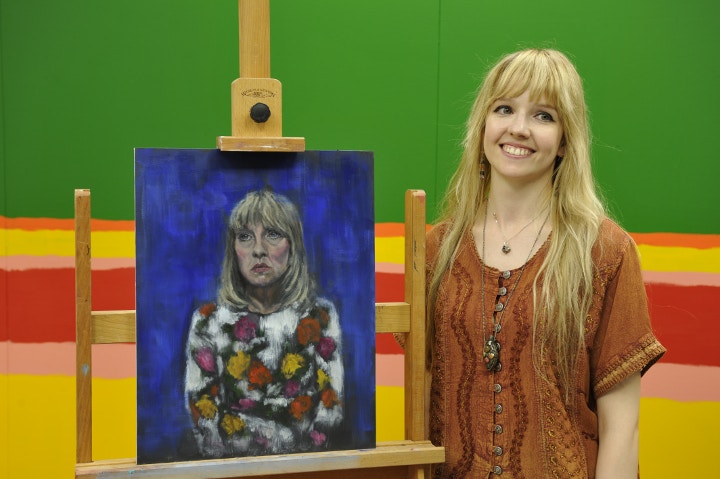 And Laura - a huge well done to you too! Was it a surprise when the judges announced you were a winner, too?
I was completely shocked when Frank announced that I was going through to the semi-final as well because that had never happened before! I was just so pleased that the judges liked my work enough to bend the rules and let me go through too!
Your portrait was so vivid and striking with its blue background – did it turn out as you'd hoped?
Yes I think so. If I'd had more time I would like to have done a bit more work on Ashley's face, but I was happy with what I achieved in the timeframe. Some artists, and even Tai, were disappointed with the brightness of the blue backdrop, but I loved it! I was hoping to get a colourful set up since I was painting onto a dark grey ground and I wanted bright colours to contrast against it. And so I was thrilled that Ashley was wearing a colourful patterned dress and sitting against that wonderful blue wall.
You paint with alkyd instead of oil paints – why is this? What different effects can you achieve with it?
I like the way alkyds have a similar viscosity to oil paint and the same depth of colour, but dry much quicker, meaning I can work on a portrait one day and it is dry by the next. Since I like to build up layers of paint it's great that I am able to paint over what I have already done each day, making it particularly useful when I am working to tight deadlines. I use liquin light gel to improve fluidity of the paint when necessary, although I tend to use oils if I need to cover very large areas quickly as alkyd can sometimes dry out too fast.
Would you encourage other artists to enter the Sky Arts Portrait Artist of the Year next year?
I would encourage anyone who likes to paint portraits to enter Portrait Artist of the Year. I was convinced I wouldn't be selected and only applied the night before the deadline when pushed to by my fiancée, so you never know what might happen! I'm so glad I did enter, it's been a wonderful experience and it is truly fascinating to see what goes into the making of the show. Plus everyone behind the scenes is lovely,
Feeling inspired?
Check out what Laura Quinn had to say at our Sky Arts Portrait Artist panel discussion.
You can visit Christian Hook's website here and Laura Quinn's here to find out more about their painting.