Posted by Cass Art on 4th Feb 2021
We're delighted to bring you the new and exclusive Cass Art Markers. This latest addition to the Cass Art Collection includes a variety of options to suit your every illustrative needs.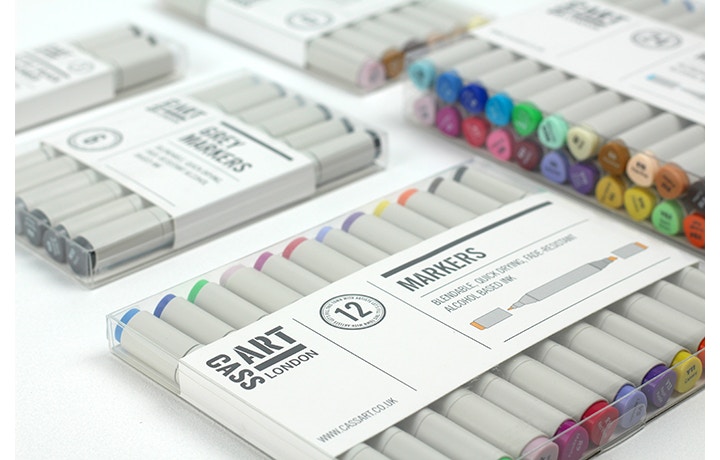 The Cass Art Markers are alcohol based and highly blendable whilst also being quick drying and fade resistant. They offer great control and versatility, with each marker including two durable nibs of differing sizes – A bullet and chisel tip. Allowing you to create defined lines and layers of depth and tone and also create broad bold strokes. The ergonomic barrel has been designed for comfortable extended use, supporting a range of grip and styles.
FRANCESCO LO IACONO - Fashion Illustrator and Cass Art Professional Watercolour Ambassador
I really loved them! I mostly use the markers to add more details on my first watercolour layer. The Cass Art Markers worked finely to this end and I also like the broad range of different colours available. The bullet and chisel tip really allow for a broad range of brush marks. I am really looking forward to try out them again on my new illustrations!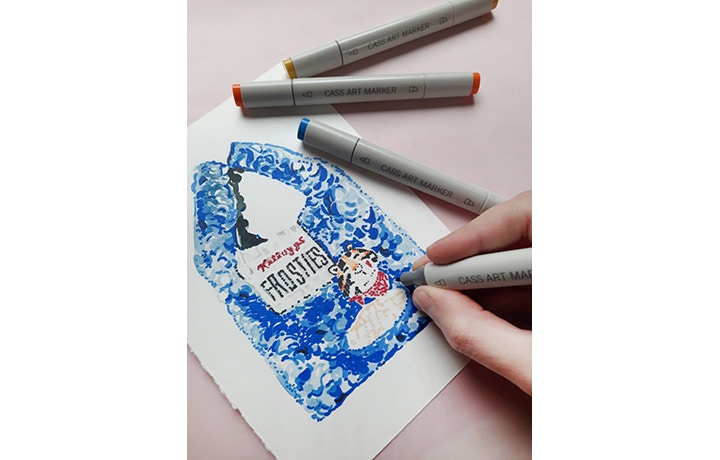 I created an illustration based on a tote bag by designer Anya Hindmarch. The bag is made of sequins and I love its playful attitude. I thought that it would be great to use the Cass Art Markers here as the bag has quite graphic features so the markers would be perfect to enhance that. Also, the different shades of blue available allowed me to work the texture of the bag very easily. - Francesco Lo Iocana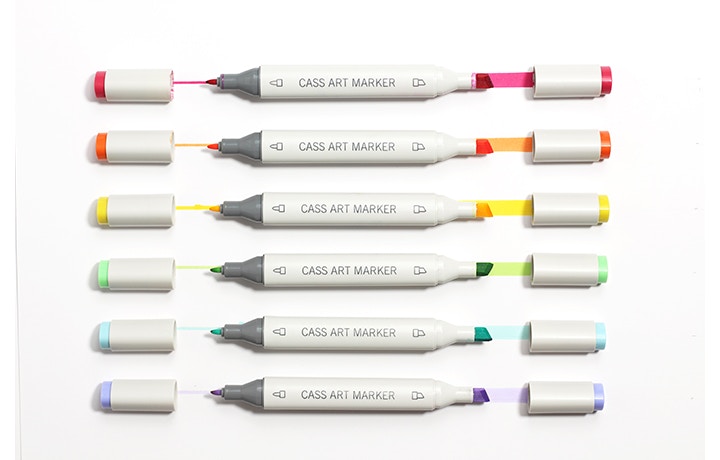 As these markers are alcohol based it makes them permanent so they can also be used on most surfaces such as glass, plastic and metal. They do dry quickly meaning there is much less chance of smudging therefore less chance of producing faded weaker colours. This makes these markers ideal for everything from commercial fashion and graphic illustration to manga art to crafting at a professional and student level.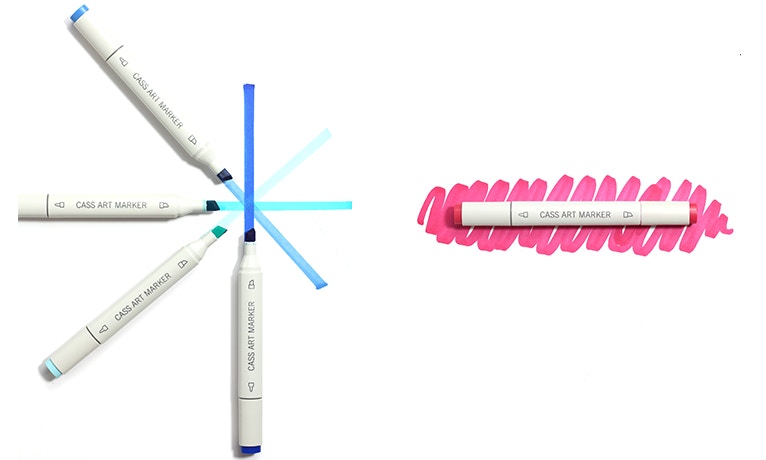 Tips & Techniques
In terms of surfaces for the best outcome, use uncoated, smooth paper as marker tips fair better on surfaces without tooth. See our Cass Art Marker paper here.
It is best to place the paper that you're working on on top of something porous – The ink in alcohol markers can come through to the other side of your paper. But this is normal as the ink needs to soak through the paper's fibres in order to create vivid colours. If there's no porous material underneath, the colours won't absorb very well and begin to bleed. Placing paper underneath will pull the bleed downwards rather than outwards and it will also help protect your work surface.
If you're not using smooth coated paper than in terms of weight aim for ideally above 243gsm (90lbs).
Most people work from light to dark when creating realistic images and blend any harsh lines with the lightest colour. You can work from dark to light if you want a different, abstract effect.
SALLY CLARK - Artist and Ilustrator
Two brilliant things stood out for me about using these markers, firstly the broad range of beautiful muted and unusual colours. Secondly the versatility of them. Being able to draw on surfaces like plastic, wood and glass - it's so exciting, the possibilities are endless. The problem is now - how to stop myself drawing on EVERYTHING!! - Sally Clark
---
SHARE
Share your creations with The Cass Art collection on social media, and make sure to use the hashtag #cassart for the chance to be featured on our feed