Posted by Cass Art on 28th Mar 2021
After graduating in 2019 with a degree in illustration, Aderice Palmer-Jones took on the role of Student Union President of Leeds Arts University. She's now studying to be a nurse while still taking on commissions as a professional illustrator. We discuss what it's like balancing these very contrasting worlds - all in the middle of a global pandemic.
Hi Aderice! Thanks for taking the time out of your busy schedule to talk to us. What's it like studying to be a nurse in these very challenging times?
No problem at all! It's a weird one but in a good way. Coming from a creative background I really had no idea what to expect. It's been a huge change - not only just moving to a new city and university but to a completely different sector. We have a mixture of online lectures and in-person clinical theory seminars combined with our hospital placements, so it's been a big learning curve with the concept that you 'learn on the job'. I won't say it's not been challenging - I've never been the best at time management or self-discipline - but my university has been incredible with support and communication, so it really has made all the difference.
Over the last year you made the transition from illustration graduate to student nurse. Can you tell us a bit more about why you decided to embark on this new journey? So far, are there any aspects of your background in creativity that have helped in your nursing studies?
Nursing was one of my pathways back at sixth form - I felt that nursing was the logical route for a stable career, but illustration and creativity was something I loved. I thought I needed to pick one and that was it for the rest of my life. During this time, I was struggling with anorexia and I was neither physically nor mentally strong enough to even consider the nursing pathway. I've never been so grateful that I decided not to go through with it and pursue illustration at Leeds Arts. The creative space helped me to heal and give me the time and space to nurture and rebuild my self-esteem and to be okay with just being myself. People may think I gave up my creative career in order to get a job to 'pay the bills' but I can't express enough that it wasn't the case. I am still working creatively part-time – it's just that illustration alone is not what drives me and that's okay. It is the combination of illustration and caring for people.
I think as young people we are expected to go to University, pick a career that should be our ultimate passion and carry on with that for the rest of our lives and that is just not the case. I never want to stop being an illustrator, but I don't want to be solely an illustrator; neither do I want to be solely a nurse. I didn't want to put myself in that box. I wanted two careers and to be passionate about multiple things as they directly inspire each other and refuel me.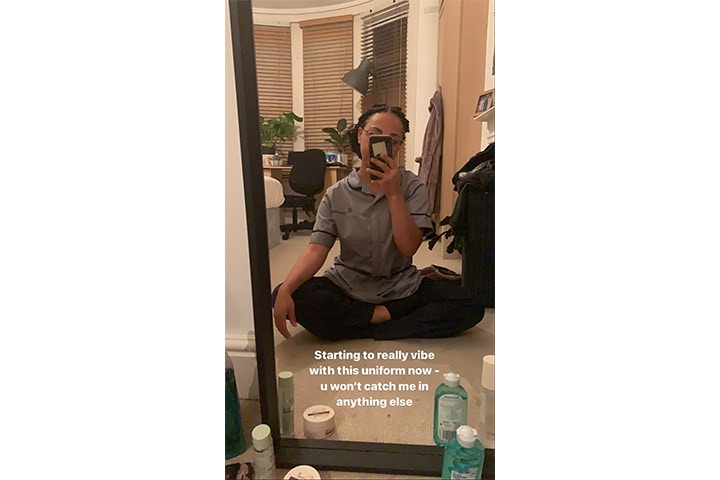 I think creative people often have to be unafraid of a challenge and be okay with stepping outside of the box - you just have to take a risk and give things a go. I think artsy people tend to be quite good at that! I also think studying in an institution that tries to put inclusivity at its focus, as well as being around incredible artists that explore a range of subjects, has really taught me to look at things from other people's perspective. The healthcare industry has so many barriers to it, especially for minority groups and the LGBTQ+ community. This pushes me to question and educate myself about the struggles they face and how I can address them in the way I work.
We love your illustrations – striking, bold blocks of colour depicting a plethora of different subject matter. Are there any themes that you're particularly drawn to?
Thank you so much! I really try to focus my work on black women as it's still really rare to see them as a focus within illustration. Fair enough the industry has been better with representation within children's book illustration, but I want to see black culture inspired prints and people in everything. Another huge inspiration are the styles of the 70s era and the black power movement within that time - it was about community, liberation and self-love. Black people wanted more than just the bare minimum but to love themselves, expect more and feel they were worthy intrinsically. I really want to convey these ideals within my work too. Recently I've been expanding some of the subjects due to commissions and I am having a lot of fun with it - I just want to remain true to my style and inspirations.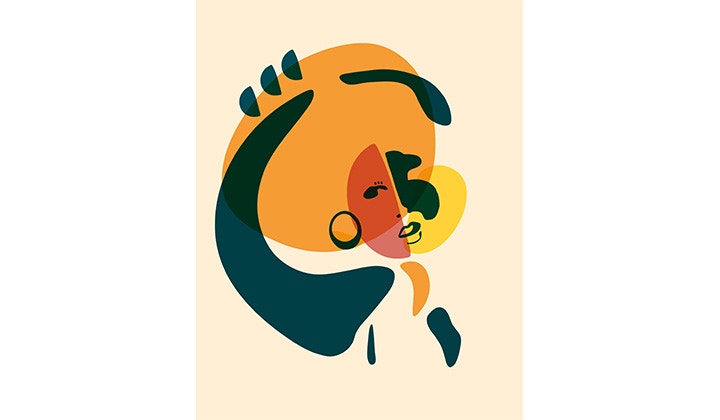 I'm intrigued by your creative process – starting with black ink and shape experimentation in sketchbooks and moving on to scanning and layering in Adobe Illustrator. What attracts you to this way of working?
When I was at university, I tried every way of working under the sun to try and find my own tone of voice and style. It was actually a lack of materials that helped me to figure out this was the way I wanted to work. I moved back to my parent's house overnight just before lockdown and had to leave pretty much all my materials back at home in Leeds. I just grabbed a few brushes and a pot of black ink and literally ran out of the door. I was still working full time at that point and I didn't really have much creative drive so my only priority really was my laptop!
The simplicity, I think, is actually what saved my practice. Colour is awesome but it is a huge distraction for me. When I am trying to think about what I want to create, I want to be focused on the shapes and whether they fit together - not worrying about whether I like the blue I have used.
Something I really miss, which was always my intention for my work, is screen printing. The works I have been creating over the past year were always meant to be screenprinted - hence why I was using the overlay tool - so in a way, they feel unfinished to me. One of the first things I'll be doing when we eventually find our new normal is signing up to a print studio!
Aside from creating an abundance of incredible artworks, last year you were Student President of Leeds Arts University. How did you find this experience? Were there any areas of student life you felt particularly passionate about?
It was an amazing experience and one I really miss dearly. The students are absolutely incredible at Leeds Arts and really are some of the most talented and humble people I have ever met. Honestly, it was one of the hardest things I have ever done as the first national lockdown came in in March and it was a huge change for all the students and staff. We really had to up our game and try to keep things positive which was hard as we had a lot of plans for events that became physically impossible. One thing I am really sad about was missing the graduation ceremony and seeing all the students in their gowns.
I think this was the catalyst to pursuing nursing - I realised how much I valued helping people and using my privilege for advocation of others wherever possible. The reason I ran for President of the SU was because of Black Girl Festival and seeing the importance of taking up space - and once there, using it to open doors for others. I realised how important this is for me and how I wanted it to play a role in my life and career. If I wanted something, it was up to me to have the courage to claim the space but having that courage is not easy.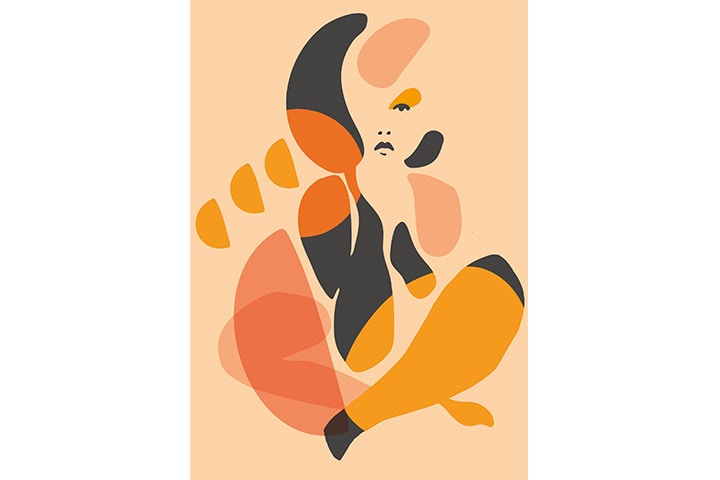 I think students have a bad reputation for everything - art students even more so - and it's so annoying! I think if anything, encouraging students to use their voice is what inspired me when working in the SU. I saw so many talented students hold back because they were afraid they weren't good enough and if anything I just wanted to be the person who was on their side and cheering them on. It may seem small, but I think just having someone who believes in what you're doing makes all the difference.
Your Instagram account is a feast for the eyes! Do you think it's important for artists today to be active on social media?
I do think it is important but recently I have decided to take a break from it. It's another huge distraction and I find myself comparing my life to others' and comparing my work too. If I see someone who creates work in a similar way to me, I instantly feel like a sham, that my work is unoriginal and I should give up. When really we are all just inspired by each other and recycling ideas and styles. Furthermore, a couple of years ago I made the decision to combine my personal Instagram with my work one as I wanted to use it as a blogspace - I didn't want to separate my work from myself. I don't regret the decision but I'm not sure it was a good one either, as it is really overwhelming trying to keep up with comments and messages from both friends and work. I also feel with the new Instagram algorithms, and platforms such as Tiktok, it's really hard to keep relearning how to use them and it can be so overwhelming too. I have decided to stick with Instagram and my website, and against Tiktok. It may be a bad decision but for the moment it is the right one for me.
I would like to get my work out more as all my commissions and opportunities have come from Instagram, but at the same time not at the expense of my mental health. So if anyone has the answer, please tell me!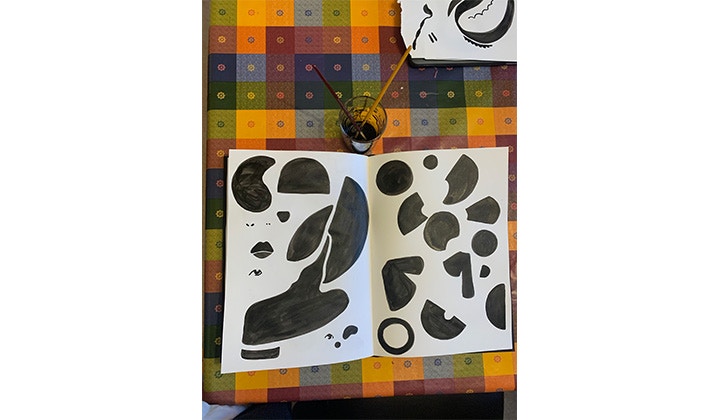 Money is tight for everyone at the moment, so I think having a few staple things that you feel comfortable with and love to use is the way to go. I picked up my Canon scanner for £5 on Facebook Marketplace - it was practically brand new! I really recommend having a look to see what's around on there.
One final question. What's next on the horizon for you?
You know, I'm not sure! Life is really strange at the moment - it is both monotonous and everchanging so I'm trying just to take each week as it comes. Creatively I would really like to work on producing some stationary so fingers crossed that may pop up this year. I've had the briefs of my dreams working with Orion, Sincerely Louise and my personal fundraiser - none of those I expected.
I think right now it's about just doing the best I can, with the time I have, and not being so hard on myself!
Thanks Aderice!
---
Feeling Inspired?
Check out Aderice's Instagram channel here.