Posted by The AOI on 10th Jun 2021
Ailish Beadle is a Norwich based illustrator and co-host of The AOI meet up group CrissCross. Her portfolio is packed with eye-catching drawings, full of bold colours, hand lettering and playful details.
The Association of Illustrators are delighted to run this guest interview with Ailish, to discuss her journey since leaving university in the summer of 2020. One year on, Ailish offers some fantastic advice on how to push yourself forward, and keep connected with a creative community post graduating.
Can you tell us a bit about yourself, and what inspired you to become an illustrator?
Hello! I graduated from Norwich University of the Arts last year from their BA Illustration course but I'm originally from Stevenage in Hertfordshire. I decided to carry on living in Norwich once I graduated as I am way more motivated when I'm surrounded by other creatives - I see Stevenage as a place to relax and meet my friends and family. After I graduated I worked in retail but in January I started a full-time internship back at my university working in their marketing department so that's been a great experience for me to work in a creative role and meet lots of new students/staff. I wanted to become an illustrator because my parents have always explained the importance of being in a job that I love! I have always been drawing with my brother and mum since I was little and the thought of actually doing that for a living still excites me. There isn't much else I could imagine myself doing apart from drawing for a living. Obviously I'm not a full-time illustrator yet, but working a full time job AND doing my freelance work on the side proves how much I want this to work.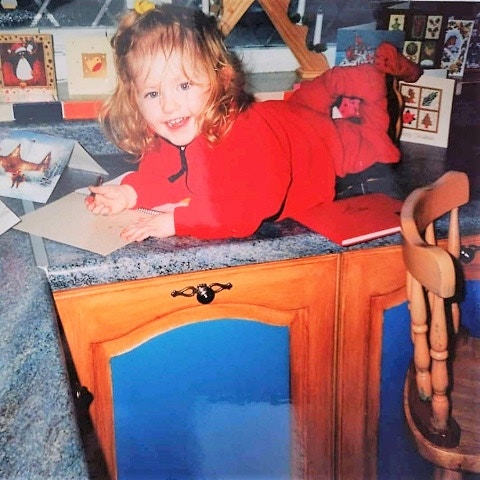 Your style is so confident and bold, it's amazing to think you only graduated last year! How do you think your work has developed since graduating?
Thank you, that is so nice to hear! I think it is more my confidence that has developed which has a big impact on my work. I felt a huge weight off my shoulders when I graduated (which I did not expect). I no longer had my tutors giving feedback on my work, which meant I just started creating work I loved and realised I no longer needed the tutors - which is a huge compliment to them as they fully prepared me for when I left! I think I was just trying to make 'perfect' work by continually asking for feedback on my work. Which now I realise was ridiculous because illustration is so subjective and there's no such thing as perfect. Since graduating, I have developed my typography drawing skills a lot more. Whilst studying, I thought there were all these rules for type, which there are - but only if you want there to be! Since having no tutors I've just been like 'right I'm just going to do what I want with the letters and if they aren't coherent then so what?!' I felt like graduating in a pandemic that the pressure was off of us a bit because the whole world was in a rubbish situation. There seemed to be so much extra help, with art directors and other creatives offering more help as they had time on their hands. Taking up this extra help was a huge confidence boost for me as I would never have spoken to these creatives before, but I realised they're just normal people and they also don't know what they're doing!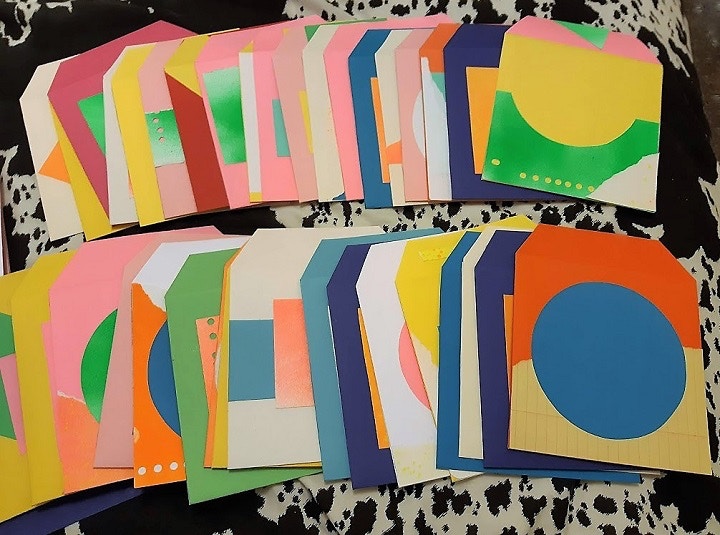 The image above is how I sent out promo material when I graduated. I got booklets of my work professionally printed and made these envelopes. It's just all sorts of coloured paper drawn on, spray painted, cut and glued in all sorts of ways. Who doesn't love getting stuff in the post!
Your work is predominantly digital, do you use any other art materials to help develop your ideas?
Working digitally isn't actually my favourite way of working! I studied Art & Design at college which meant we learnt 8 different practical creative subjects and I loved every single one. Working in an office job means that my eyes feel like they're melting by the time I get home sometimes, so in the past year or so I've really been appreciating the greatness of making things with my hands and drawing. I can't tell you how much I love Poscas, having the ability to draw on literally anything is so cool! I also make earrings with Fimo clay, candle holders with air dry clay, and I love painting with acrylics. I've recently started painting on a skateboard just for a break from digital work too. I really want to start doing more murals and would love to expand my practice in that way. I'd love to be known as a multi-disciplinary illustrator and would ideally be working with my hands more than on screen as I've realised it's not a healthy lifestyle to be stuck to a screen for that long. I find that all of these physical ways of staying creative inform my digital creations because they give me a different perspective on my practice and a way to relax!
This is the air dry clay I use to make random things, here are some candle holders and eggs/worm. I then paint with acrylic and varnish them.
University can offer a great sense of community, which lots of creatives miss after they graduate. How have you stayed connected with other illustrators in the past year?
I managed to find a really cheap studio to rent! I don't get to be in there as much as I like to because of working full time but it's worth it for the times I can get in there as there are 4 other creatives who also graduated or are still at NUA, and it's just nice that we're all in the same boat/same goals of going freelance one day. I find that my internship is a great way of connecting with other creatives as my role involves finding NUA students and commissioning them for various work so I get a lot of creative interaction through my job. Obviously there's Instagram too, I'm always trying to speak to new people or keep the ball rolling with people I've been chatting to for years because it's just nice! I love meeting new people who I can collaborate with, it's just fun seeing what we can come up with.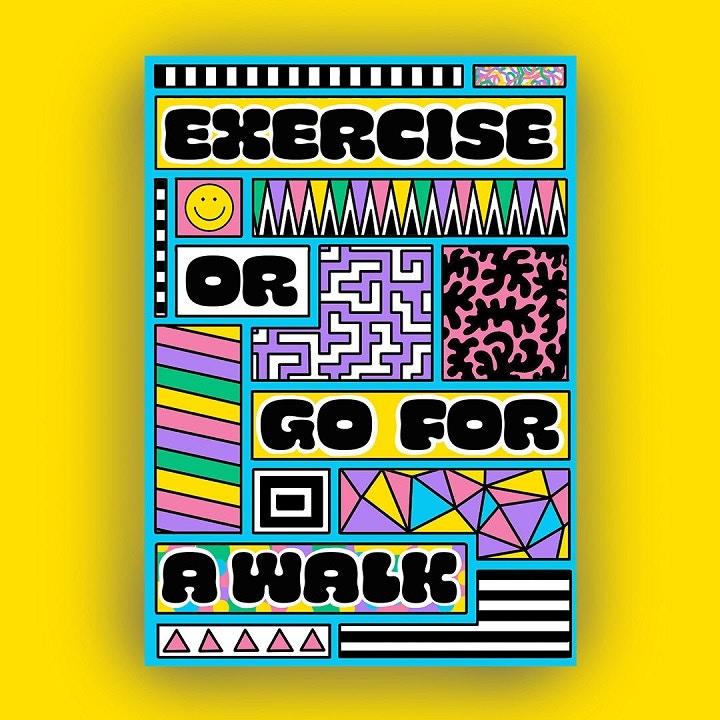 A collaboration I created with Nadina Ali
Can you tell us a bit more about CrissCross, the Norwich based meet up group that you founded with fellow illustrator Charli Vince? How did you get involved and what kind of events do you host?
So CrissCross is the new version of the Norwich AOI meet up group, it is still all virtual at the moment but I can't wait for us to start doing in person meet up's with other creatives in Norwich. I asked Charli back in September if I could join her with hosting events, just because I went to an AOI meet up (pre covid) and it was so fun and a great way of meeting the close knit creative community in Norwich. At the moment we host online events, so last week we had an event all about how to look after yourself as a creative and what to do when a burn out happens. It was so great to see how much it helped people. Charli is a great person to work with, she is far more experienced than me as a freelancer and it is so motivating to work alongside such a positive, knowledgeable creative.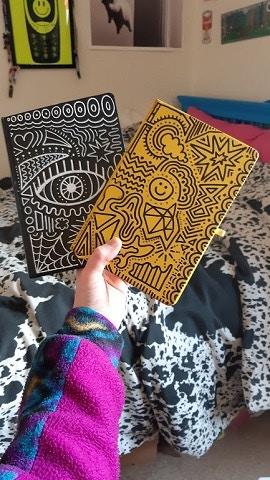 What I do to every sketchbook/notebook I own with Posca Pens
You are brilliant at creating self initiated work, and participating in open calls such as the 36 days of type project. Do you have any tips on how to write your own briefs and stay playful post graduation?
Thank you! Well the first tip I'd say for 36 days of type is to do it in advance. Last year I tried to do the one drawing per day but that was very stressful. So this year I got organised and did them all in January! I just think you have to sit down and say to yourself 'where do I want my work?' and I wanted mine on festival posters, beer cans, and all that sort of stuff. So I made a list when I graduated and found mockups on Behance and tried to create realistic mockups. This way, when people look at my work they can see what it looks like in situ and hopefully commission me for something similar! I'd say a tip for staying playful is to do what you love, and set aside time to actually do this. If you don't, when you have a full time job like me its easy to forget about that stuff because a nap is more tempting.
The process of a huge painting that me and my housemate (Heather Morgan) painted in lockdown
Running your own business can feel like a lot of pressure sometimes. Where do you look for support and practical advice?
I've been a member of the AOI now for about 3 years, they have helped me a lot when I am in a panic about pricing or anything like that. They have loads of great materials with advice when I'm unsure about what to do with a commission. I've also had a business consultation with them a few weeks ago which really helped me, especially with it being my first year having to organise my taxes! I'm also really lucky, having being a graduate of NUA, it means that I have lifetime access to their employability team. So for any interviews I've had, or commissions I've just had a video call with them for a bit of reassurance. I also have a LOT of self help books or factual books which help with the business side of things for when I'm lacking in motivation.
What's been your favourite project so far? And how would you like to see your career develop next?
My favourite project so far has been for Ferment magazine, commissioned by Beer 52. It was for the cover and was just such a flexible brief. I had so much fun creating it and they were a really friendly client to work with. I'd like to see my career develop so in the next 5 years I can drop down to part time at work and put more time into promoting my work. I really want to work with more mural, fashion and event illustrations and I just need to sit down and create more mockups that focus on this. Like I said earlier, my main aim is to spend less time on screen and more time with a paint brush or Poscas in my hands to create physically.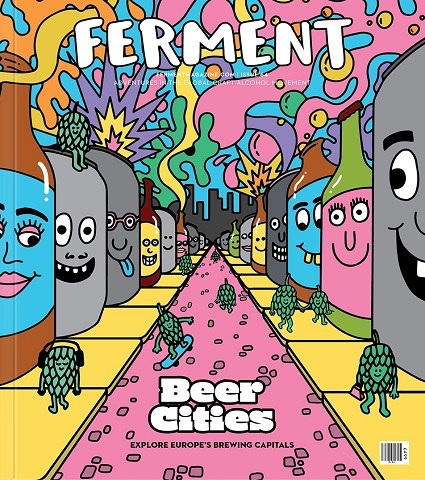 What are 3 pieces of advice that you would give to new graduates looking to kickstart their own illustration career?
It's going to take time. Don't compare yourself to people who have graduated and are straight away full time freelancers. If that happens to you, great! But otherwise think realistically, work really hard and you'll get there eventually!
'Fake it till you make it'. Basically seem confident even if you don't feel it, it really makes a difference.
One day at a time! Just take it easy, it's hard leaving university and it's easy to overwhelm yourself, especially comparing yourself to others because of social media. I would really recommend taking breaks - I'm trying to get to the point where I delete mine at weekends.
FIND OUT MORE:
Check out Ailish Beadle's website www.ailishbeadle.com or follow her on Instagram @ailishbeadle
The Association of Illustrators:
Ailish first joined the AOI as a student member, and continues to be supported by organisation as she begins her career as a freelance illustrator. Established in 1973, the AOI is world's leading professional body for illustrators. With 2700+ members around the globe, The AOI champion illustrators at every stage of their career, especially those starting out in the industry. Becoming an AOI member can help you kickstart your career with confidence!
AOI membership offers you unparalleled support for your career, including 1-1 business advice and practical resources. Members enjoy being part of a vibrant, ever growing community, including our events and local meet up groups. You can also connect with other illustrators through their Members Skill Exchange and Mentorship Programmes.
2021 graduates are eligible still eligible for Student Membership until 1st August - so don't miss out on these significantly discounted rates!
Find out more about AOI membership today.
Illustration by Tania Yakunova