Posted by Cass Art on 25th Feb 2021
Claudine O Sullivan is an Irish Illustrator based in Glasgow. Favouring traditional techniques, her style is an expressive balance of realistic form and abstract colour. Her vast portfolio covers a wide range including serious and socially engaged campaign projects, fashion editorials, exhibitions and colourful print work. We were delighted to be able to sit down and chat to Claudine about her practice, what inspires her to create and what she's been up to during lockdown.
Hi Claudine, Firstly thanks so much for taking the time to speak to us. Can you tell us what inspired you to be in artist?
I've always been a drawer, like a lot of kids, but I guess I just never stopped. My parents ran their own business, my mum definitely inspired me to think creatively and prioritise the fulfilment of work. Like a lot of other illustrators and artists, I had other jobs to pay my bills through university and for a few years after graduating. I kept at illustration after hours, clients or not, saved as much money as I could, and eventually had enough work and a financial cushion to focus on it full time. I always knew I'd go back to work at other things if I needed to, but thankfully that's not been necessary.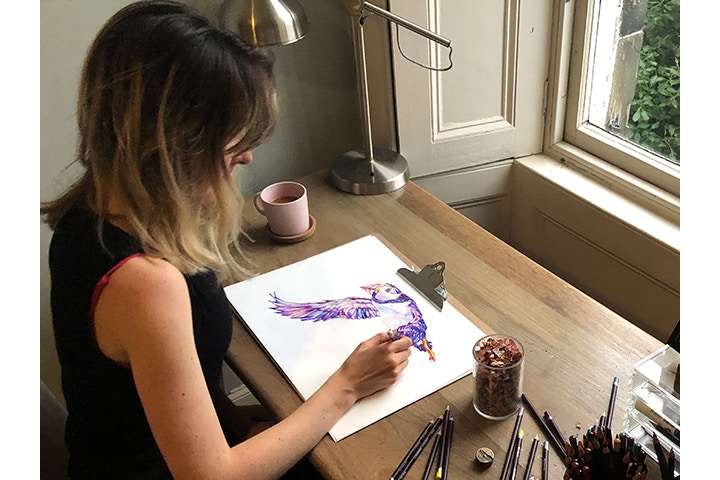 You've a wonderfully unique aesthetic with your work. How have you developed this over the years?
Like I said I've always been drawing, more during some parts of my life than others. I eventually studied graphic design and specialised illustration. I really struggled with finding a unique aesthetic. I was trying too hard, influenced and intimidated by other artists I looked up to. Towards the end of my course, my tutor gave me some very simple advice, just draw - stop looking at other artists and find inspiration elsewhere. From there I almost reverted to my teenage drawing style. The summer before my final year, I spent a few weeks travelling around India on my own and filled a sketchbook with portraits of people and animals - this is where I realised I already had a natural aesthetic, I just needed to stop overthinking it. I'd like to think my aesthetic has progressed from that sketchbook - I introduced colour and fine-tuned my line style, but even now I still very much so stick to the "just draw' advice and try not to over think what I'm doing.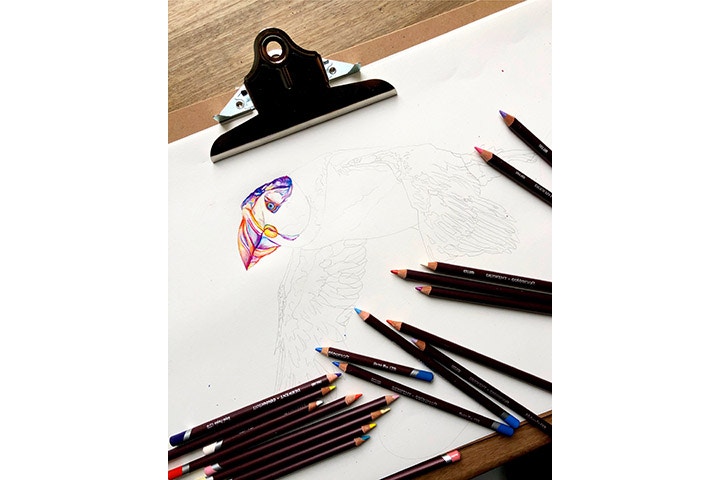 It's been a strange time for us all over the last few months. Speaking to a lot of creatives it's inspired some, hindered others and made other reflect on their entire practice. How have you found the last few months from a creative perspective?
To be very honest I haven't had much time to reflect as I'm a full time mum with an energetic toddler, so I'm back to drawing and working during nap time and night shifts - it turns out the early days of illustrator by night have come full circle. That said, now my daughter is a little older, so it's been really nice to draw with her around and for her to understand that's my job. Up until now I've been focused on client projects, mostly working digitally so I can dip in and out of pieces quickly and make edits easily in the small windows I get to work. Recently I've started some personal work again so have dug out the drawing board and pencil sharpener. I'm making the most of the bright evenings - we all hang out and play with pencils until bedtime, which has been really nice.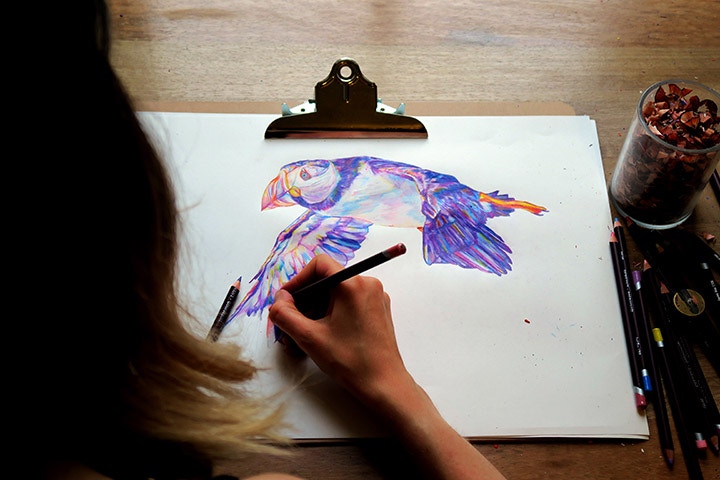 If we were to take a wander inside you studio what materials would we find? What do you never find yourself never without?
I'm very simple, I have paper and pencils and little else. Even when I work digitally I use one pencil type on a single layer. I have a really good metal sharpener, as I probably spend half my drawing time keeping my pencils super sharp. Although my illustrations are super colourful, my most used pencil is white, I use it to blend and highlight so always have a few spares. I'm a big fan of the Derwent Pencil Erasers. I don't use erasers much as a correction tool - I like to embrace the mistakes, but they're brilliant for picking out highlights and some light blending. Daylight is a big must too when working on paper, so my desk is currently in the playroom next to the window, but I'll happily sit in the park with my drawing board too.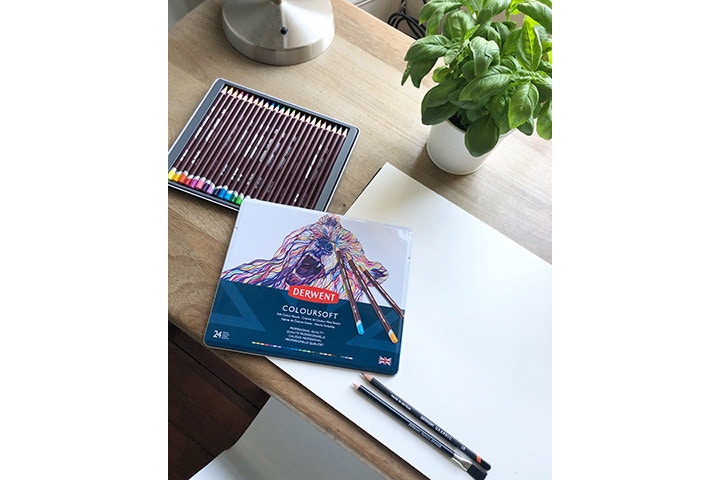 What is it about Derwent Coloursoft you love to use in your work?
I use Derwent Coloursoft pencils as they have really high vibrancy but also blend well. I've recently started experimenting with them on black paper which also works really nicely for a more graphic aesthetic. I've mixed them with the Derwent Metallic range and they work brilliantly together. As I said, the eraser pencils are great for highlights and blending too.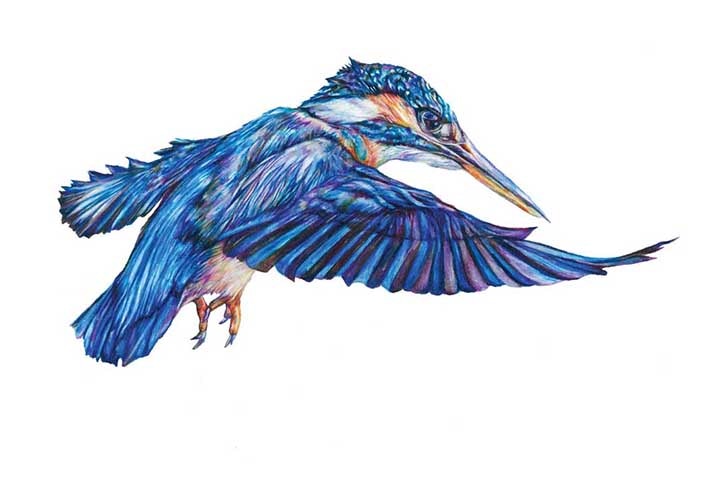 In this day and age it can be really tricky to stay focused when we're inundated with distractions at every corner. How do you get into that state of flow to create work?
Make time to get away from all the distractions. I haven't even had music on the last few times I've been drawing. It's so mentally relaxing to focus on creating something but simultaneously impossible to do without that headspace. I have very small windows of time to draw, so make sure when I do it's literally just me and the drawing board. Put your phone away! Or better still, my newest motivator has been to record a time-lapse, that keeps me in the chair, off my phone, and kind of feels like drawing while holding my breath.
Do you have any advice for anyone struggling to find that spark to get their creative juices flowing?
I struggle with personal work a lot - often a client brief and a tight deadline is my best motivation. So this is advice I've been giving myself recently: make the time to draw, just for me, and start with observational drawing. Remember the process is more important than the outcome, so don't be too hard on yourself. I left London when my daughter was born so now we live in Glasgow, right beside the incredible Botanic Gardens, so if I'm struggling for inspiration I grab a sketchbook and go for a walk, collect some leaves to bring back or sit and draw in the glasshouses and gardens.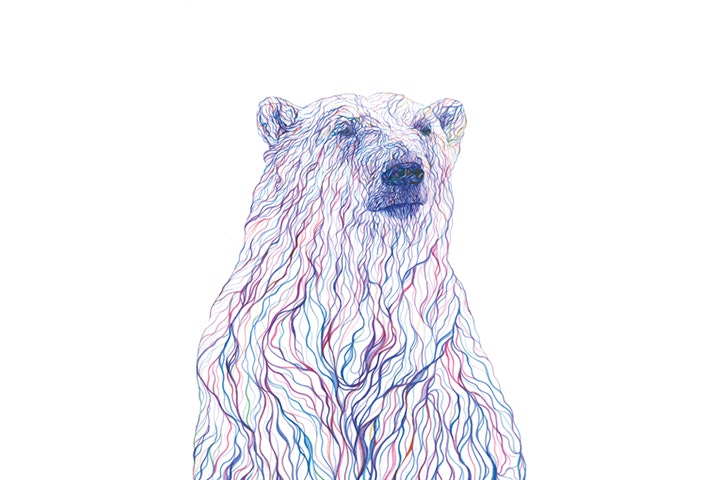 Thanks so much for taking the time to speak to us, finally, what's the rest of 2020 got in store for you?
It's an impossible year to predict, but luckily freelance life has prepared me well for not really knowing what comes next. I have some fun client projects in the pipeline and as I've said I've started more personal drawing that will eventually be new prints. I'm still figuring out the full time mum/artist juggle but it keeps everyday interesting and I'm grateful for the balance - even though it can wild and exhausting at times.
You can see more of Claudine's work here and follow her on her Instagram here.