Posted by Cass Art on 16th Mar 2021
We caught up with Staff Artist Liesel Thomas to talk about her creative journey, her practice and some of her go to products! Liesel is our Partnerships Manager at Cass Art, part of the CBPP (Contemporary British Portrait Painters collective) she has exhibited in the BP Portrait Award at the National Portrait Gallery and ING Discerning Eye 2020.
Hi Liesel! Thanks for taking the time to chat to us about your creative practice. Firstly, could you introduce us to your creative journey?
My pleasure! I've always had an interest in figurative painting and portraiture in particular. I grew up in Tonbridge in Kent and started life drawing at my local adult education centre from the age of 15. After studying my Foundation course at West Kent College, I moved to London in 2000 to study my BA (Hons) degree in Fine Art Painting at the Slade School of Fine Art, where I also had the opportunity to take UCL's 'Anatomy for Artists' course. After graduating I stayed in London, enamoured with the art scene and the myriad of galleries, and shared studios with fellow artists. In 2007 I enjoyed an artist residency with Takt Gallery in Berlin, and I have since exhibited internationally within group shows in Berlin, Edinburgh and London, where I now live and work.
I mostly make work for private commissions, but I also enjoy making work to exhibit. In 2018 I entered the BP Portrait Award and was selected to exhibit my Self Portrait. It's extremely competitive and entering had been on my bucket list for a long time. The self portrait is now part of the Groucho Club's amazing permanent collection and hangs in the Dining Room alongside works by some incredible artists such as David Shrigley, Sir Peter Blake and George Shaw. That same year the CBPP (Contemporary British Portrait Painters collective) was formed by artist Ian Goldsmith and I was invited to join. In November last year I was selected for the ING Discerning Eye exhibition 2020 which is an exhibition exclusively for small works.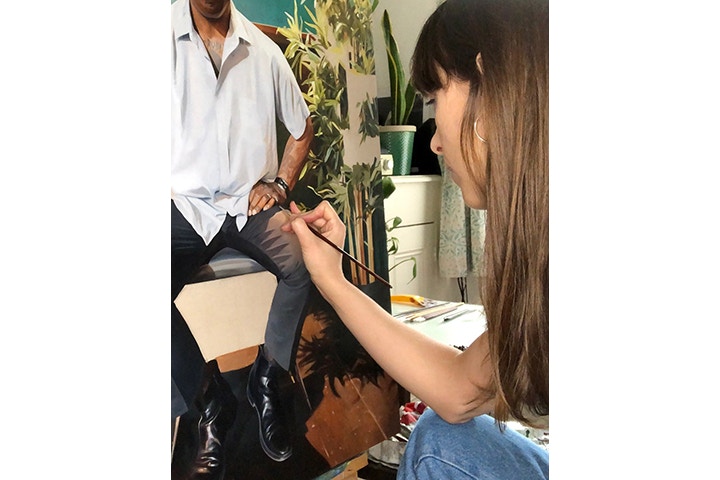 Community is important for so many artists, whether in shared studios, visiting exhibitions or mixing at private views and events. As a member of CBPP (Contemporary British Portrait Painters) how has the group adapted to the last year in terms of maintaining a strong community connection?
The CBPP seeks a more contemporary definition of portraiture which reflects our modern society. We were able to have our inaugural group exhibition in March 2020, and most of us got to meet each other in the flesh just before Covid hit. We now have a network of over 50 artists, and we reach out to one another on Instagram all the time for tips, advice, and support, so it's been a great way to stay connected during lockdown. The collective is artist led, and artists are encouraged to collaborate in a collective annual show and in smaller group projects.
Over the last year many of the CBPP artists have taken part in artist Tom Croft's worldwide 'Portraits for Heroes' project, painting portraits of front-line workers in the NHS. 'Portraits in Isolation' is a forthcoming group show of around 20 artists' work made during lockdown, organised by artist Lucy Stopford. The show is physically hung in an empty gallery at the Old Fire Station in Oxford, it can be viewed virtually from 31st March 2021 via thenetgallery.com and will be opened by the BBC's Will Gompertz.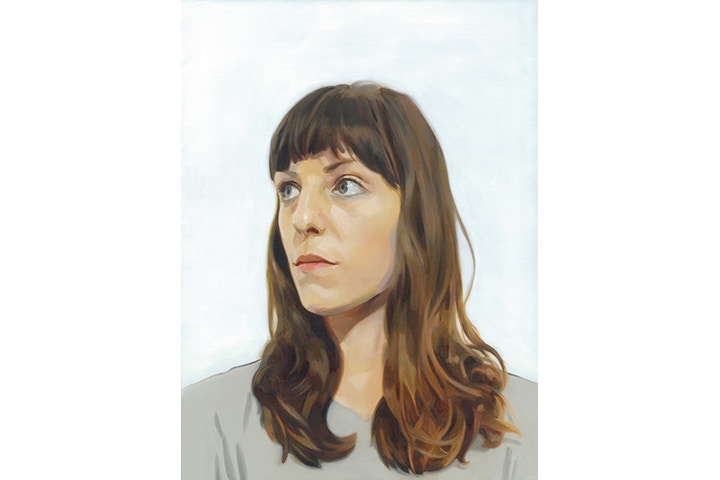 Self Portrait. 30cm x 40cm, oil on panel, Liesel Thomas © 2017
Due to the global Covid19 crisis ING Discerning Eye, like so many other exhibitions and events, was held online. How did you find this digital experience?
It was certainly different! I'm quite a sociable person so I miss walking into a room full of strangers at a private view and chatting to as many people as possible. That said, the digital experience was very well organised, including an opening night with exciting prize announcements. Although it's rather odd to be 'at your private view' whilst simultaneously sat on the sofa in your living room. As galleries have got to grips with new ways to bring us virtual shows, I think the legacy from this period will be much better digital representations of exhibitions in the future, which can only be a good thing.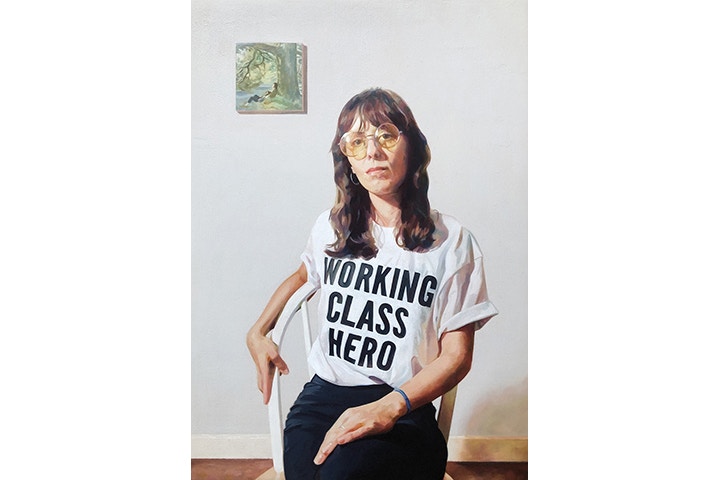 Self Portrait as Working Class Hero - A Tribute to John Lennon. 20.8cm x 29.6cm, oil on panel, Liesel Thomas © 2020
Your piece in the exhibition was a self-portrait celebrating John Lennon, wearing his famous Working Class Hero t-shirt. Could you talk to us a bit more about your connection to the piece, and do you find it to be important to be emotionally invested in the subject matter of your work?
Last year marked the 80th anniversary of John Lennon's birth and the 40th anniversary of his death. Artist and curator Harry Pye reached out to me to invite me to take part in his exhibition of 80 fantastic artists' works celebrating Lennon's life, which took place at the Stash Gallery in London in between lockdowns. I was reluctant to paint a straightforward portrait of Lennon, I felt all the famous images of him are too familiar to us now, I wanted to make something a little different and approach it from a fan's perspective.
Lennon's song Imagine was number 1 in the charts when I was born, shortly after his death. Like most Brits around my age, his music and that of the Beatles echoed throughout my childhood and teens, and he's one of the few artists I come back to time and again. His songs are still so relevant, and I was reminded of the lyrics to his political song Working Class Hero from the album Plastic Ono Band as the nation applauded our key workers and the NHS during the first lockdown in England. While we showed our appreciation from our doorsteps, they remained underpaid and underfunded by the government. This painting portrays me as a John Lennon fan, wearing a replica of a T-shirt Lennon himself had been photographed wearing, on the wall in the background is the cover for the Plastic Ono Band album.
It's certainly preferable to be invested in a work, to have some connection with it emotionally, politically or philosophically, but it's not essential. As a portrait artist I work to commission a lot, often having no connection to the subject at all. In these instances, I prefer to meet the sitter and take my own photographs to work from, but sometimes that is not possible - especially in a lockdown! If I need to work from photographs that have been supplied to me, it helps to know a little more about the subject, and the story behind the image.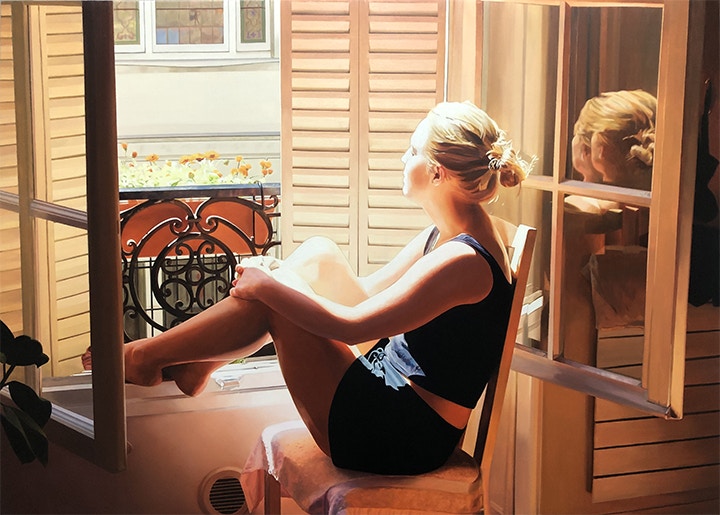 Spring in Paris. Commission, 50cm x 70cm, oil on panel, Liesel Thomas © 2019-20
I wanted to talk a bit about the challenges of being a vegan artist. Materials deriving from an animal origin have always been so common place in art .
As people take more stock in understanding the roots and impacts of the materials, they use art manufacturers have been listening – developing alternative products which still hold the same level as the products we know and love.
Are you excited about the future for vegan and non-vegan painters who want to use more ethically sensitive products?
Yes absolutely! I've now been vegan for 7 years, and I was vegetarian for 4 years prior to that. Veganism has grown in popularity exponentially in recent years and now vegans and vegetarians are set to make up a quarter of the British population by 2025. In the past few years more and more brands are beginning to clearly label products, giving the consumer a clearer understanding of the environmental impact of their purchases. I'm absolutely delighted that this is now beginning to happen in the world of art supplies. When looking at the supplies I already own, it was hard to know whether these contained animal products, with most paint labels simply listing the pigment codes rather than a list of ingredients. I decided to reach out to the manufacturers of the oil paints I use to find out which colours contained animal products and I'm happy to say they responded swiftly with detailed information. I was pleasantly surprised at how many colours I already owned contained no animal products.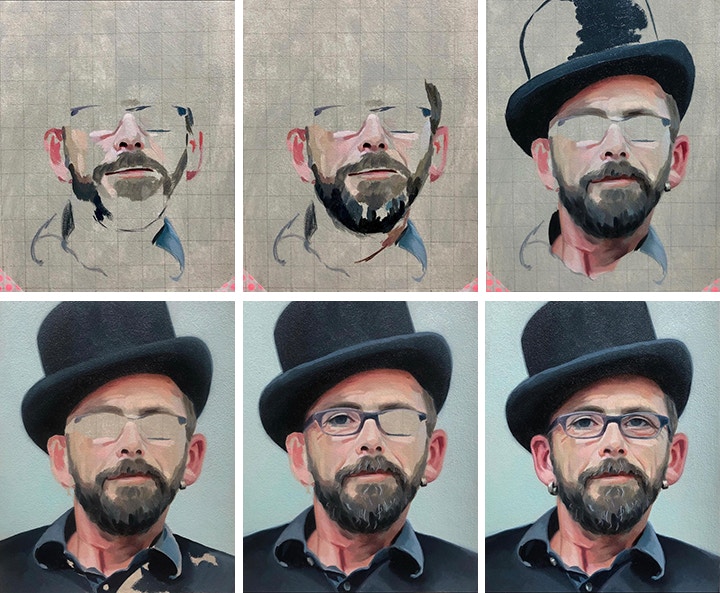 Mr Corner (work in progress), 10.4cm x 14.7cm, oil on paper, Liesel Thomas © 2018
If I were to go rooting through your studio, what products am I always likely to find? Do you have any particular brands you turn to?
I have an outrageous amount of oil colours! I have bought so many different colours over the years, it's completely unnecessary to have so many, but it's also a joy to try them all, and I find a use for all of them. I paint mostly with Winsor & Newton Artists' Oil Colour and Michael Harding Oil Colours. In the Winsor and Newton Artists' Oil Colour range, only Ivory Black and Blue Black contain animal derived ingredients. In the Michael Harding Oil Colour range, only Ivory black contains animal products (I last checked this information in summer last year – it's best to double check any new additions to the ranges). I prefer to mix blacks from other colours anyway so for me, both brands are perfect.
In terms of brushes, I use the Winsor and Newton Monarch filbert brushes, I found these to be a suitable alternative to mongoose hair, offering the softness whilst maintaining enough resistance. For fine detail, I like to use Isabey Isacryl filbert brushes, Pro Arte Acrylix 205 filbert brushes, and for even finer detail, Pro Arte Acrylix 202 round brushes and Pro Arte Miniature Synthetic brushes.
My studio doesn't get a huge amount of daylight, so daylight lamps are essential to be able to see the correct colours on my palette. There's a great range available, I have a couple.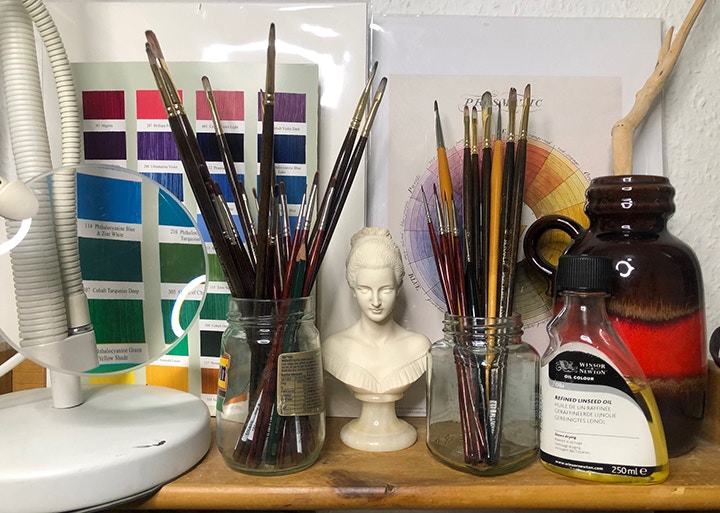 Do you have any other products you'd recommend for artists wanting to cut down the amount of animal materials they use in their work?
I used to use sable watercolour brushes and natural hair watercolour mop brushes for blending out brush marks in oils. I was struggling to find a suitable synthetic version of these until I bought an inexpensive pack of eco-friendly, synthetic makeup brushes which do the job but tend to lose hairs easily. So it's great to hear that Winsor and Newton have produced high quality Professional Watercolour Synthetic Brushes and Professional Watercolour Synthetic Mop Brushes, so I can finally say goodbye to those loose hairs!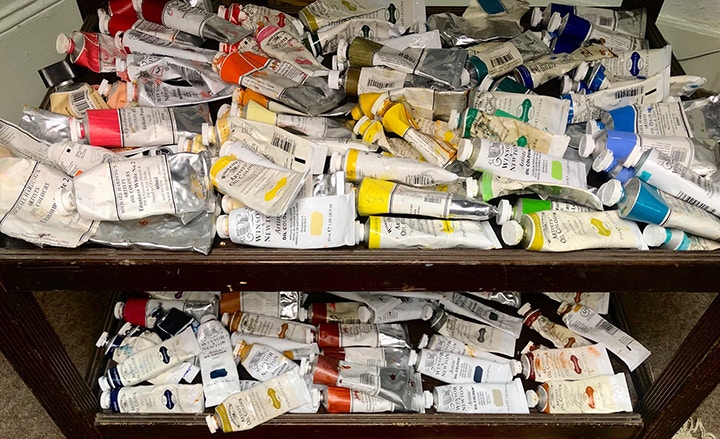 Thanks so much for taking the time to chat! One final question, what's next for you and your work?
Alongside portrait commissions, I'm broadly starting to make work about the relationship between human and non-human animals. It's early days so I'll keep it vague for now and see how it develops.
As part of their Live Interviews series, I'll be discussing working from photographic reference with artist Laura Ryan from the drawing community @Draw_Brighton, live on Instagram at 2pm on Saturday 20th March 2021.
Feeling inspired
---
Follow Liesel @liesel.thomas.artist on Instagram and Facebook or for portrait commissions get in touch at lieselthomas.com.