Posted by Cass Art on 7th Aug 2018
Earlier this summer our Islington flagship played host to a very special event and world first – Winsor & Newton Masterclass LIVE. Winsor & Newton Masterclasses are a free online resource of video tutorials for artists from the renowned brand, and this event was the first time that the Masterclasses jumped from the digital into reality.
Winsor & Newton Masterclass artist Rebecca Boyd Allen joined us for an evening of all things watercolour. A captive audience watched as Rebecca demonstrated her mastery over materials with various watercolour techniques. They learnt new painterly skills, experimented with Winsor & Newton's famous Professional Water Colour paint and were fascinated as the Winsor & Newton lab technician showed how they make their legendary paint.
American born Rebecca has studied art in some of the finest institutions in the world, from New York to London. Read on to learn more about her life, art work and get some more expert tips!
Can you tell us more about your background and how you got into the Arts?
When I was about 9 or 10, my mother declared Sunday afternoons to be our 'art day.' The first paints I used were watercolours and I still have a brush that I engraved my name onto, with my brother's engraving tools, so I think I instinctively knew that these materials were very important to me.
What led you to becoming an artist?
I grew up in a small town called Norton, in Kansas, U.S. A. My High School art teacher was very encouraging, we had to start a sketchbook and turn in a new drawing every week. Being my favourite homework, I usually spent hours on my drawings and soon they outgrew my A4 sketchbook and I was turning in watercolours and oil paintings. By the time I went to University I knew I wanted to do an art degree.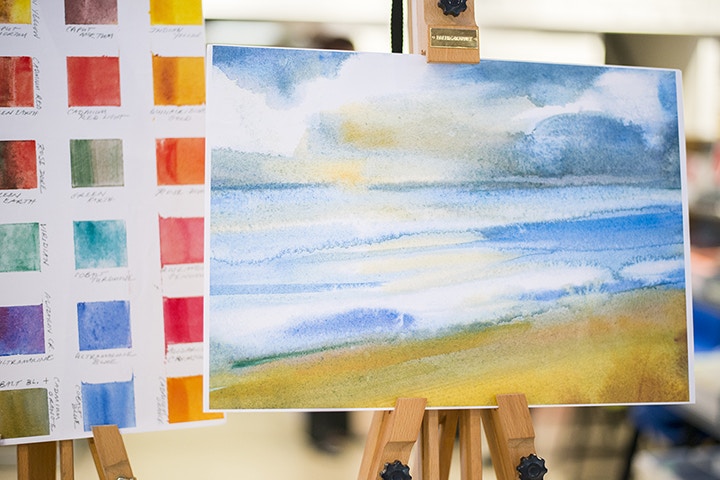 An example of how you can use Winsor & Newton water colour washes to create a whimsical landscape
Where did you study and how has your work evolved?
After doing an undergraduate degree at Kansas State University, I moved to New York and studied at the New York Studio School. In 1990, I came to London on an exchange programme from the Studio School and studied for a year at the Slade before finishing my formal study of art with an MFA at Parsons School of Design in New York. I did masses of life drawings and representational painting during my years of art school, but I always knew that I wanted to apply this training to create images from memory or imagination. I admire artists who use beautiful lines, but tone and shape are my starting point and have become especially important to my work as it has gradually taken on more abstract qualities.
Tell us about your involvement with Masterclasses?
I really love the unique qualities of watercolour and the way it has helped me to focus my decision making as an artist. I like showing people how they can literally collaborate with the many variables in watercolour to experience creating a painting. With the Masterclass it is great because people can watch this and then try the materials out themselves.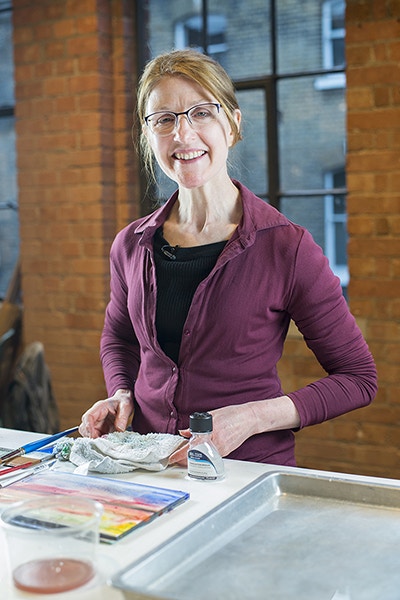 Rebecca at our Masterclass LIVE
What are some of the key watercolour techniques you use in your work?
I use two main watercolour techniques which both involve layering colours and shapes. On dry paper, I like to start a painting with an idea about how the colours will eventually show through one another and create new colours, so I often put down one colour wash of some shapes, let it dry, then add others. Ox Gall can be added to the water to help each layer fix to the paper so that new layers can go over the top without bleeding underneath.
Other times, I like the spontaneity of working onto a piece of paper, the front and back sides of which have been fully soaked. Wetting the paper prior to painting allows it to stretch and suction to the surface its on, so the paper remains flat while I work on it. The paint will not stain wet paper and the wetness dilutes the colour, making it easier to layer tones, remove paint and rearrange shapes. Adding a bit of Gum Arabic to the water also makes lifting the paint easier. I like to feel like I can move shapes around as the painting develops and with this method I paint the image all at once. As the paper dries and the water evaporates, I make the final marks and decide how to finish the painting. This can be challenging but is like having a conversation with the water, the colours and the paint, and when the time is up (because the painting is drying), the painting is finished and the conversation is over.
What do you like about the watercolours and mediums?
In particular, I love the Aquapasto medium. I've done some experimentation with it and I like the semi-opaque quality, layered with thinner areas of paint.
Rebecca Boyd Allen, Sea Unseen
In terms of your own practice, what have you been working on?
For the past few years I have been working on a large series of watercolour on the problem of ocean plastics, which could be referred to as "sea unseen." I'm interested in using the forms and shapes I associate with the many plastics in everyday life. As I use fragmentation and layering most people don't see my subject right away, which mirrors the unseen nature of the problem - and in fact how the products themselves have almost camouflaged themselves into our lives and oceans.
Watercolour is the perfect medium for this series because it is all about seeing the multi-layered forms and colours. The new Winsor and Newton Professional Paper is exceptional - I love the whiteness of it and the surface can take a lot of paint going on and coming off it.
Thanks so much for your time Rebecca, we've certainly picked up some new techniques to try!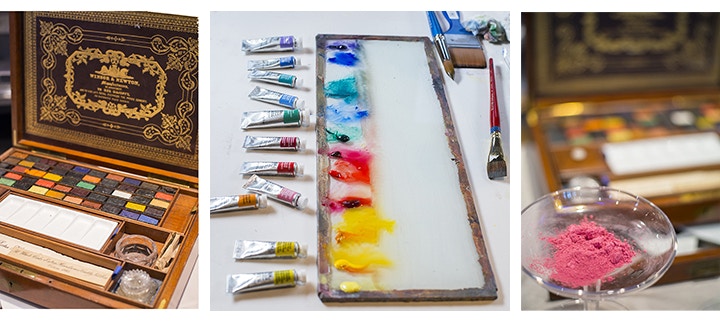 Winsor & Newton Masterclass
Winsor & Newton Masterclasses are a free online learning tool from Winsor & Newton. Their videos demonstrate a variety of techniques where you can see their materials in action – learning about everything from water colours to oils, charcoal to acrylics. So whether you're into washes or impasto they're bound to have a tutorial that will suit your creative needs.
Feeling Inspired?
Want to follow along with a Winsor and Newton Master Class video but need to top up your art supplies? Pop in store or shop online with us for all of your material needs.
Don't forget to hashtag #cassart on social media to show us your artistic creations.