Posted by Cass Art on 27th Feb 2019
We're excited to see the creativity and innovative work at the Talented Art Fair this weekend. Now in it's third year this independent art fair was started in 2017 by Lemon Art, bringing a space filled to the brim with the next generation of contemporary artists. We caught up with three of the exhibiting artists Martin Turner, Jana Nicole and Mia Hawk to talk about their practice, the materials they love, and what they've got on the horizon.

Martin Turner, American Respect
MARTIN TURNER
Hi Martin! Looking at your past exhibitions and work I'm sure our readers would be surprised to know you have only been working as an artist since 2016! It seems as though you picked up your pencils and then just didn't stop – could you tell us a bit about yourself and your journey?
I think I am as surprised as everyone else is to be honest. I started drawing in 2016 with no real intention, other than to reignite a passion from my childhood. As a child, I loved to sketch and would happily sit for countless hours drawing; although by comparison, it was less realism and more illustrative. Inspiration came from the many illustrations found in Steve Jackson and Ian Livingstone fantasy adventure novels which I used to love reading. Unfortunately, and much like all children, I found other interests and that was the end of that.
It was only in later years, working full-time in IT, when I realised that I was desperate to do something creative. This initially led me to photography, which proved rewarding for the best part of ten years. Then, one rainy day, I thought I'd dust off the pencils and draw one of my photos. It was in that very first drawing that I realised the immense sense of satisfaction and happiness and ultimately what it is to be an artist.
On paper, my art education extends to a rather meagre GCSE, and even that was a stroke of luck given the comprehensive I attended! That being said, it was enough to lay a foundation and teach me the basics. The rest has come from being self-taught, with my own experimentation fundamentally defining my style.
Martin Turner, Looking Back
You describe your work as being more akin to taking the time to read a novel – what a wonderful sentiment. Do you think this want for considered contemplation of your work reflects the care and time required to produce such detailed drawings?
It's about connecting with the audience in such a way that they notice those subtle details that I have spent countless hours working on. I didn't exhibit for my first year of making art, so I didn't know whether my eye for detail was just a reflection of my own perfectionism. I found myself questioning whether the extra time was worth it and how it would be received. Thankfully, when I first exhibited, I found that the audience was drawn to the detail just as I was: it was such a joy to watch people gaze into my work for prolonged periods of time. As my confidence has grown, I've been able to make this even more of a feature: when you come to my exhibitions, you have the opportunity to look closer with the help of some vintage magnifying glasses. I'm keen to help the audience get as close as possible and enjoy the finer details.
A highlight for me is always when someone spots one of the smallest of details I have included in a piece. I am very thankful for opportunities like Talented Art Fair where I get to share my work up close as it has given me confidence as an artist. It's always a privilege to have my work selected and exhibited alongside the calibre of artists represented at these events.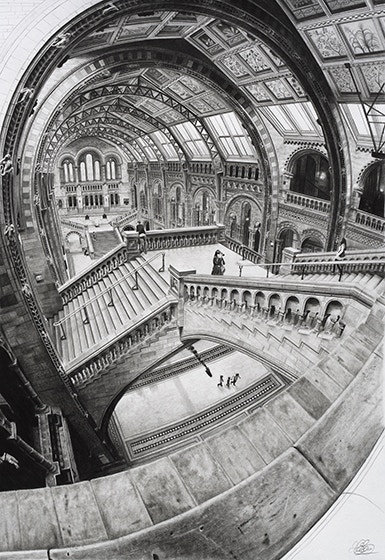 Martin Turner, Natural History Museum
Unusually you don't work with sketch books! Could you tell us a bit about your process when starting a new drawing?
Rather than using sketch books, I usually work from a series of photographs or a Photoshop montage. A recent piece "Torn" was conceptually built from a series of photos which I brought together on the drawing board. I had a rough idea of what I wanted and simply experimented as I went along. For the less contemporary pieces, I usually pick an obvious starting point and then work my way from there, sketching out key lines and adding the detail as I go. It's all about getting it right and correcting mistakes before going too far.
As a self-taught artist, this question has made me wonder if there is a totally different way of approaching the work! I am sure there are ways my process could be improved but I am happy with the result and especially like that I don't follow someone else's rules. I think this has allowed my work to become recognisable up close.
When I first started out, my drawings would take somewhere between 40 and 60 hours. Then, late last year, I jumped up a couple of paper sizes so they are now taking in excess of 100 hours. I sit for anywhere between 1 and 6 hours and aim to do a little every day. I have two young sons, and so the length of each session and the level of peace can vary significantly depending on what is happening in my home! I experience a lack of confidence if I stop for a prolonged period and so, after a break, I will focus more on less precise areas. Thankfully, the confidence comes back quickly and I find myself absorbed again.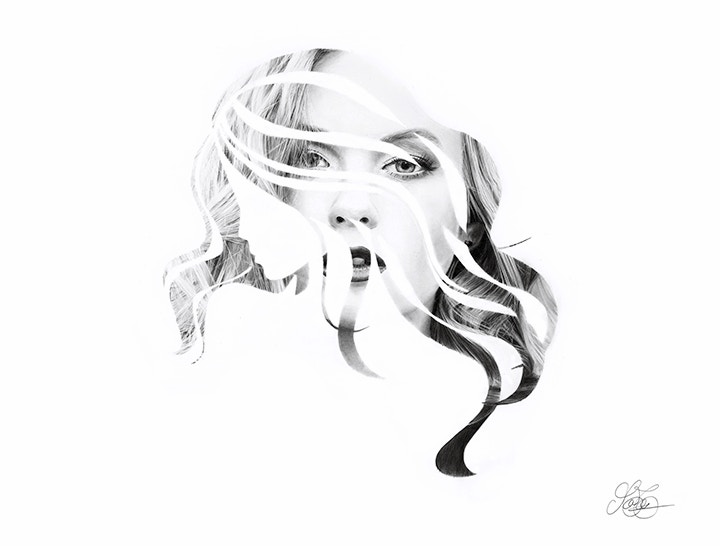 Martin Turner, Face to Face
And are there any particular brands you love to work with?
I use both traditional (Faber Castell 9000) and mechanical (Kuru Toga) pencils on Bristol Board (Canson). Other items in my toolbox are mechanical erasers (Tombow), blending stumps (any) and a good old fashioned desktop pencil sharpener (Helix).
And finally – what's next on the horizon?
This is an exciting time of year for artists as there are many fairs in the Spring. If you are interested in seeing my work up close, come and see me at Talented Art Fair later this week, I am excited to have so much space and visitors will have the chance to see a wide of range of my work up close. Following that, I will be exhibiting in Surrey, West Sussex, Newbury, East Sussex and finally Windsor.
I love exhibiting and the thrill of meeting people and talking about my art. I am inspired and motivated by watching their reactions and having time to answer their questions. Time spent with other artists is always fun and thought-provoking and I leave with fresh ideas and perspectives.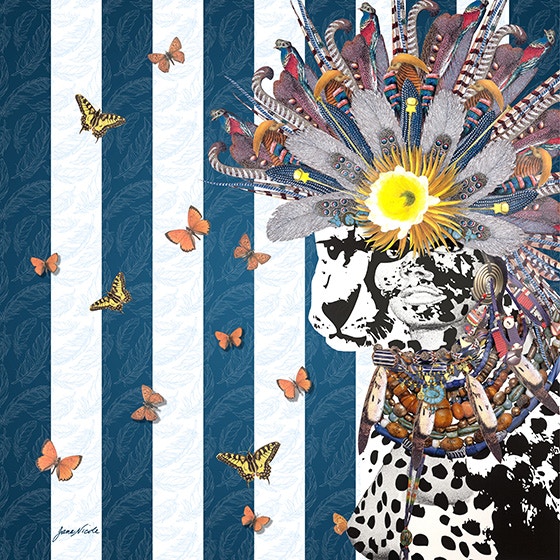 Jana Nicole, Animal Attraction, Nakoda
JANA NICOLE
---
You use a lot of upcycling in your work – juxtaposing the old and the new, the organic with man-made. Could you expand on the relationships between these materials on the surface?
In a world of genetic modification and Artificial Intelligence, the lines between the man-made and the organic have become increasingly blurred. You can see this everywhere in the imagery that populates the art world now. There seems no limits to the surreal. That is why many years ago my imagery would almost certainly have confused by the very nature of their combinations, perhaps as the Dadaists or Surrealists did in their time, but now far from shock, simply are accepted for their beauty and decoration as if the norm for the 21st Century imagination. My use of the old and the new combined is simply and extension of the freedom to be able to explore these ideas ... and I hate throwing anything away as I am a firm believer that there is nothing that is not good for something.
Jana Nicole, Animal Attraction, Suki
Would you say that your identity as an American living in Britain is a big influence in your work?
I am asked this all the time and the truth is I don't know. There are lots of things in my life that I have a different perspective on having grown up in the US and those certainly played a part in my choice of subject for some time but not necessarily how to deal with them. For me being American is mostly about character traits. The difference raises itself usually in social situations between Americans and the British. But I have been here so long that I have honestly forgotten the difference. Does the difference bleed into my Art these days? Perhaps as I am receiving commissions for American retail, but with a requested British twist. But I think I have quite a European perspective now. I almost consider myself somewhat British now, not by right of course, but more simply because I mix within a community in Britain that does not question where you are from and I have a husband and three children who don't question the idea of me being any different.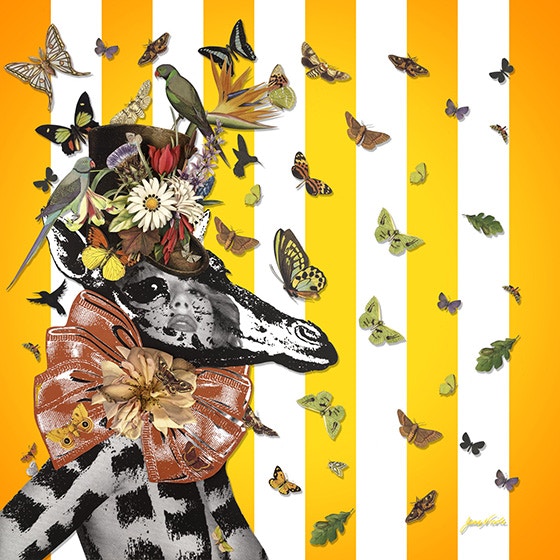 Jana Nicole, Animal Attraction, Gerogie
Your practice involves many different processes – from collage, to painting and printmaking. When approaching a new body of work which is the guiding factor, the material or the subject?
The many different approaches I take are simply a reflection of the diverse ideas that I seem to have and the experimental way I attempt to realise them. I see them simply as a broad set of tools in the same way that perhaps an oil painter sees the numerous colour variations available to them. Once an idea has formed I use whatever tools I can to try to create a visual of it as quickly as possible to maintain the momentum, That process usually defines the approach throughout as you tend to fall in love with the feeling when it first comes together and you put that down to the process you have used to get there.
Jana Nicole, Animal Attraction, Betty
And finally what's next on the horizon?
2019 is full of new opportunities for me. I have just finished my defaced bank note for the book Cash is King by the fabulous Bob Osborne and Carrie Reichardt. I am also really excited to be collaborating with Zoe at Muck N Brass on my upcoming wallpaper & fabric designs. Stay tuned!
MIA HAWK
---
Hi Mia! – could you tell us a bit about yourself and your journey, you're completely self-taught?
I've always been drawn (no pun intended) to creativity. I have a long background in music and drama/theatre, and was always doing something creative when I was growing up. I used to draw as a child, but stopped in my teens to focus on school work and other hobbies (like music). It wasn't until a few years after university (studying Actor Musicianship at drama school) that I started doodling again. I started designing t shirts and small illustrations. At first it was a bid to create a small side business, however it soon became obvious that I was hungry for more and to create more epic things.
My art work is heavily influenced by what I learned during all those years of studying music and drama. I use a lot of the same principles I learned in creating theatre and I often work with actors as models for my paintings. Creating the basic reference for a painting is often like creating a mini piece of theatre. I like to think of my paintings as a small moment in a story where the viewer must imagine the beginning and end.
I aim for qualities in composition rather than focusing on external characteristics, and really stripping it down to just that, for example the quality of hope, vulnerability, strength or wonder. I suppose this is why a lot of my work has that feeling of begin placed in a sort of mythical or fairy tale-esque place. Like with a great piece of music or theatre, I want to leave the viewer with a sense of bitter sweet wonder of life, and of feeling more connected to it all, both the good and the bad. It's all part of the wonderful ride.
In terms of just skill, (being a self-taught artist), I devoured several books, online tutorials and youtube videos, all dependant on what exactly I wanted to learn. This was usually dictated by what it was I wanted to create, or by running into problems when trying to paint something. A good deal was also learned by just doing.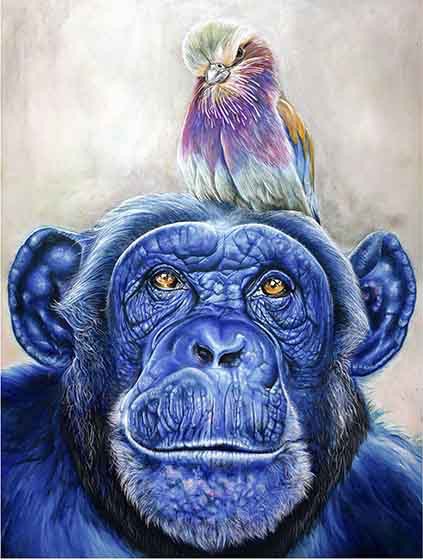 Mia Hawk, Billy and Blue (acrlyic on canvas)
You use a wide variety of materials in your work, from acrylic, to oil, screen printing and watercolour. Is this selection of material a very natural process, do you find that your subject guides your choice?
It really depends on the purpose of the piece, and what I want and need to use it for. I usually prefer to create illustrations with watercolour, ink or pen. Design work for screen printing is done (by hand) digitally with a pen and tablet, to have greater control over the colours. More detailed animal illustrations are usually done in acrylics. I love the striking colours of acrylics! (It also provides a lot shorter drying time, which is great for impatient people like me!).
Portraits and my personal work I usually prefer to do in oils. I much prefer painting skin in oils, you can blend it wonderfully and add subtle highlights by dry brushing or glazing later and it is brilliant for detailed work. Personally I found it to be the most versatile medium, though it is more time consuming.
Mia Hawk, Waiting to fly, (oil on wood board)
And what are some of your favourite materials, are there any brands you have a particular affinity with?
I think my absolute favourite has to be oil painting. A close second has to be acrylic painting. In terms of brands, for oils I use Winsor & Newton Artists' Oil Colours - great colours and great to work with.
I usually use either pre-stretched canvases (Winsor & Newton linen canvases being my absolute favourite), wood panels or just make my own boards with ply wood. I usually prime any surface with Golden Gesso, which I apply in several thin layers and sand in-between to get a smooth surface suitable for detail work.
For acrylics, I love Golden! I actually rarely use "traditional" acrylics. I have a small set of golden open acrylics (which has a much longer drying time than normal acrylics), and a range of both golden fluid and high flow. I also love Golden's neon colours! So lush!
For watercolours I use Winsor & Newton professional watercolours. I love the intensity you can achieve with these! Occasionally I mix in a little acrylic ink in the top layers of a watercolour. For paper, the absolute best I have found is Fabriano Artistico. They make wonderfully smooth and thick papers, which is great if you're like me and like to layer and layer with lots of water and don't want to deal with stretching the paper.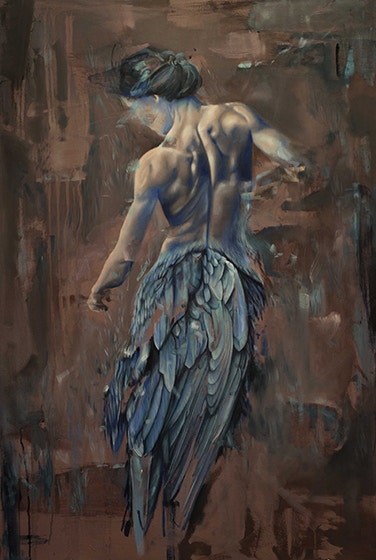 Mia Hawk, Metamorphosis into the unknown being (oil on canvas)
Your choice of colour is just wonderful and vibrant! Could you talk us through the use of colour in your work?
I think colour is magic. I think it's a little like highlighting the wonder in the world and making it visible. I often feel in awe of strong colours. Colour is so effective in giving it an emotional tone and adds another layer of context that can be almost symbolic, to a piece. It can also be super effective in guiding the focus of the viewer.
At the moment I'm having a little love affair with the colours of the ocean, (particularly indigo, highlighted with viridian green). For me it just reminds me of that vastness and depth that you feel when you stare down in the ocean at a deep point. It sort of looks blue/green but then disappears into darkness and black. You can't image how deep it is, or what's down there. The mix of the feelings; the excitement of potential of what's down there, the anxiety of the unknown and the awe of the incredible vastness of the huge body of water that is the ocean, I find absolutely mesmerising.
If my instinct tells me to add such colours to a painting, it's usually no accident, and though out the process it becomes apparent why that was the right choice. It's usually an utterly delightful experience. It adds something to a painting that extends it beyond naturalism, and for me, helps tell the story better.
And finally – what's next on the horizon?
I'd really like to focus on creating a series this year, and I would love to work towards a solo show of some sort, if I can find somewhere suitable to show it! I think my first years was spent exploring and learning, and now that I feel I've found my voice and expression I would love to find a good way of sharing it properly.
---
Feeling Inspired?