Posted by Cass Art on 5th Sep 2018
This week we saw another batch of excited artists head to the Wallace Collection in London with paint brushes poised, to take part in the competition for a chance to become 'Sky Arts Portrait Artist of the Year', win a £10,000 commission and £500 of art supplies from Cass Art. Tasked with creating a portrait in just four hours from a live, celebrity sitter, Heat Four's artists had the pleasure of capturing model and presenter Rachel Hunter, actress Stefanie Martini and actor Conleth Hill.
We interviewed Lisa Puhlhofer, winner of Heat Four, to find out how things went and discuss her practice beyond the show…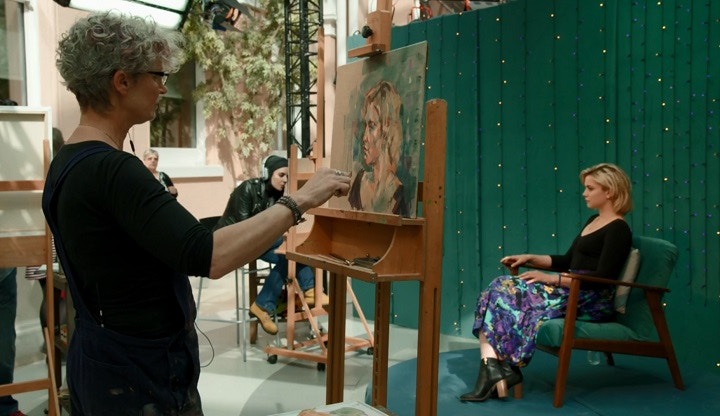 Tell us a bit about yourself, where do you live, what is your background, where did you study and how long have you been an artist?
I have always sketched a bit and had pastel lessons when I was 12. I always loved drawing but my career as a nurse and family kind of took priority. My father was very creative and was always painting or carving wood as a hobby. After he died I got out his old paints and brushes one Saturday and had a go at a painting using his watercolours. From then on, I was hooked. After taking lessons with Tony Merrick ROI I decided it was what I wanted to do as a career. I took early retirement moved to Suffolk to free up the money I needed to go to college. I studied at Heatherley's School of fine art in Chelsea, because it was the only School which had a Portrait Diploma at the time, and I liked the idea of being taught by professional working artists.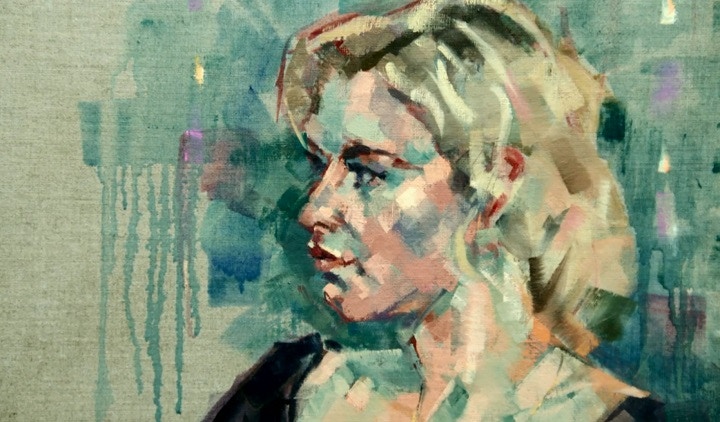 The judges were impressed with the way you captured Stefanie's likeness, they mentioned it can be difficult with such a young sitter, how did you find it?
I always find it a challenge to capture a likeness. That day was no different. I just try to look at shapes and line them up horizontally and vertically. It's always a wonderful feeling as they start to emerge. That's why I love it so much, especially when you have a live sitter. I thoroughly enjoyed the day, once the initial nerves had settled.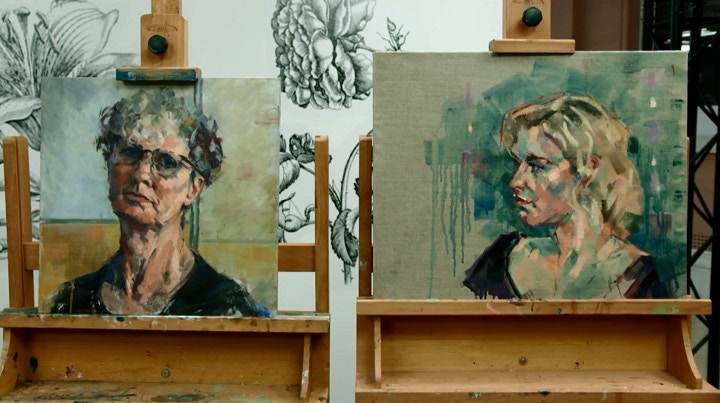 How do you capture an emotion or tell a story in a portrait?
I try to remember what first attracts me to a person's face, and the emotion I feel from them. I usually do a quick sketch first, this helps to identify what's important. Narrative comes with the emotion, pose, and perhaps from including objects which have a meaning for the sitter.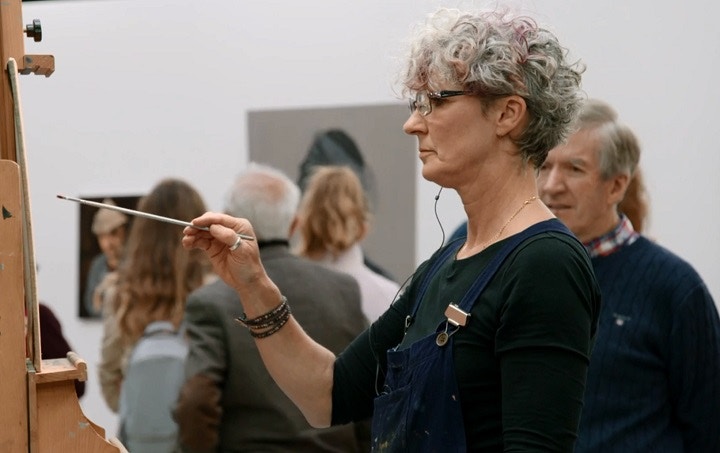 How did you feel about painting in front of a live audience, and did you adjust your style to be able to complete the painting in just 4 hours?
Surprisingly I enjoyed the experience of painting in front of a crowd and had some good feedback which helped me on the day. I didn't adjust my style, just aimed for more of a study than a finished painting. I must admit I don't have a formula. I never know where a painting is going to take me. It's always a series of decisions.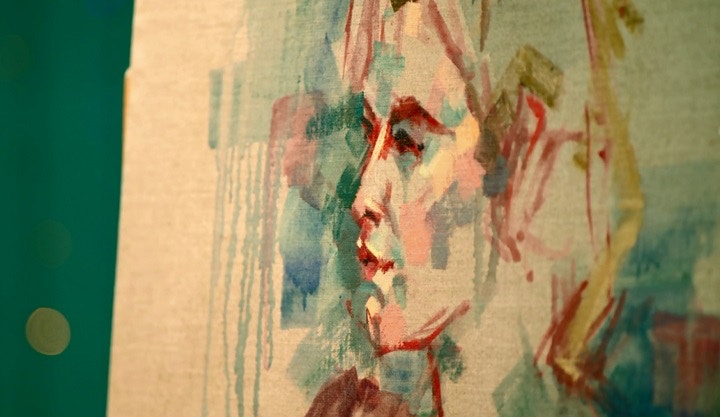 You started by sketching in the figure with a deep red paint, thinned to the consistency of watercolour, and built up faceted tones from there. Can you talk us through your process?
I used the dark red to draw because it is the complementary colour to green which was in her background scene. I use this technique sometimes, the use of complementary colours can make a painting sing. I also like some of the drawing to show through at the end, one of my favourite painters is Degas and I love this aspect of his paintings. I love watercolours and the way they run. I try and use the oils in this way to find happy accidents. I then aim to build thicker paint as I progress. As a said before I don't have a formula, to be honest I cannot really remember my process on that day! Paintings for me, once I'm working seem to just happen, as I make decisions along the way like a journey. My old art teacher Tony Merrick used to say "It's like dancing in the dark" and he is right.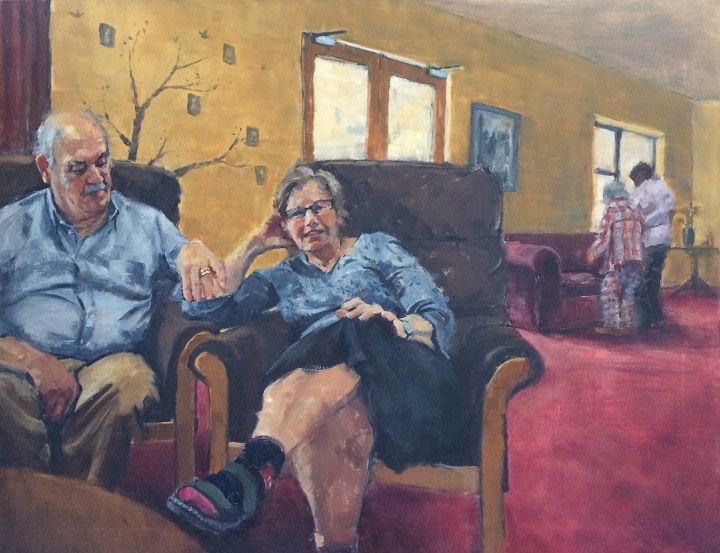 For Better or Worse, oil on canvas
What are your favourite paints to use and what type of brushes do you prefer?
The paints I use the most at
Winsor & Newton
and Roberson's they are consistent and I've got to know the colours. I have a few tubes of
Michael Harding
which I have to say are my favourites. I use only short flat brushes usually starting the painting with hogs for their paint holding capacity, then moving in on to synthetics when I need more detail. I find a can get a wider variety of marks with these. I have recently discovered
Sterling Synthetics
in Cass Art and like these very much.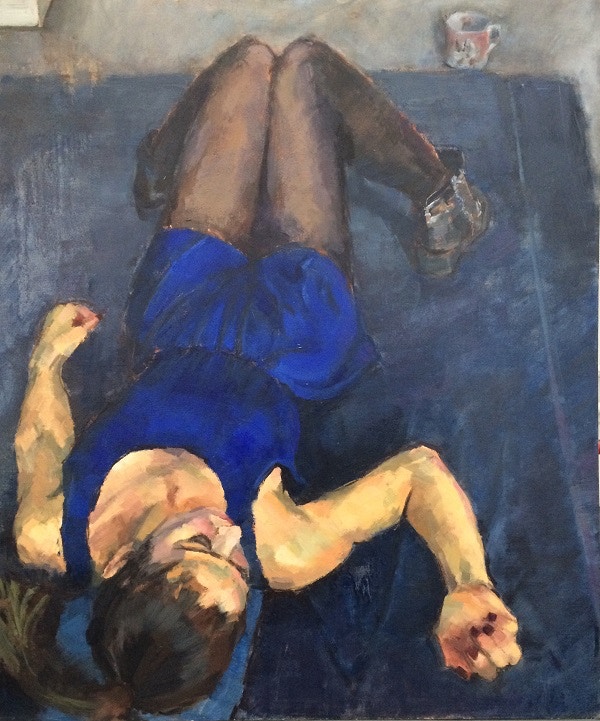 Valentina Resting, oil on board
Do you have any tips on colour mixing? What colours can you simply not do without?
When it comes to colour mixing I try not to mix too many opaque paints together you can more easily end up with mud. I try not to use colours with too many pigments for the same reason. I use a fairly limited palette. I find I can mix most colours with these and if I need to recreate a colour I can easily remember what I used to make it. The colours I use are: Ultramarine Blue (
Winsor & Newton
or Michael Harding); Lemon Yellow or Yellow Ochre depending on the sitter (both Winsor & Newton); Alizarin Crimson, Cadmium Red and Titanium White (again all Winsor & Newton or Roberson's). I will occasionally add the odd accent colour my favourite is Cerulean Blue. You can't experiment enough with colour mixing, in time you will get to know your paints.
Jane, oil on board
Which other artists inspire you?
There are many artists that inspire me. In Portraiture, the ones I always turn to for inspiration from the past are Rembrandt, Degas, Manet, and an American artist called Robert Henri, his book The Art Spirit is fascinating. More contemporary artists are, Louis Morris, Andrew James, Simon Davis and of course Thai Shan Schierenberg.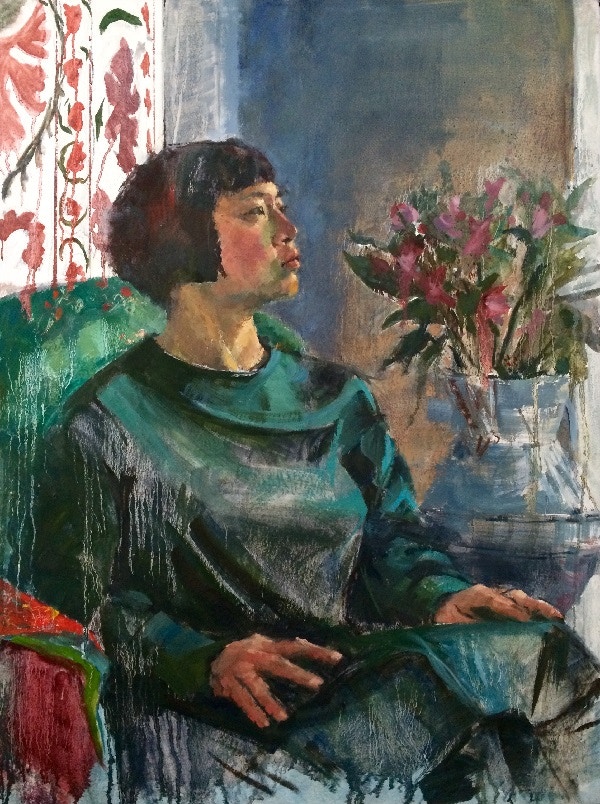 Hallana, oil on canvas
Tell us a bit about your other artworks. What subjects interests you?
I enjoy all genres of painting and drawing with any medium. My first love however is portraiture, I will never tire of the different facets of the face and character. The paintings I enjoy doing the most are the ones that develop rapidly. I get bored with paintings if they take too long. 'Hallana' was a project I did as part of my art course, it just seemed to fall into place from the beginning. In 'Valentina Resting' I was looking for an unusual composition I loved the challenge of the foreshortening. I think the painting that is closest to my heart though is 'For Better or Worse' which has been shortlisted for Artist and Illustrators Artist of the year 2018. This painting is of an ex patient of mine suffering with Dementia and her husband. I found them sitting together like this and just had to try and create something that would show his feeling for her. Dementia is a subject matter that I plan to explore more in the future.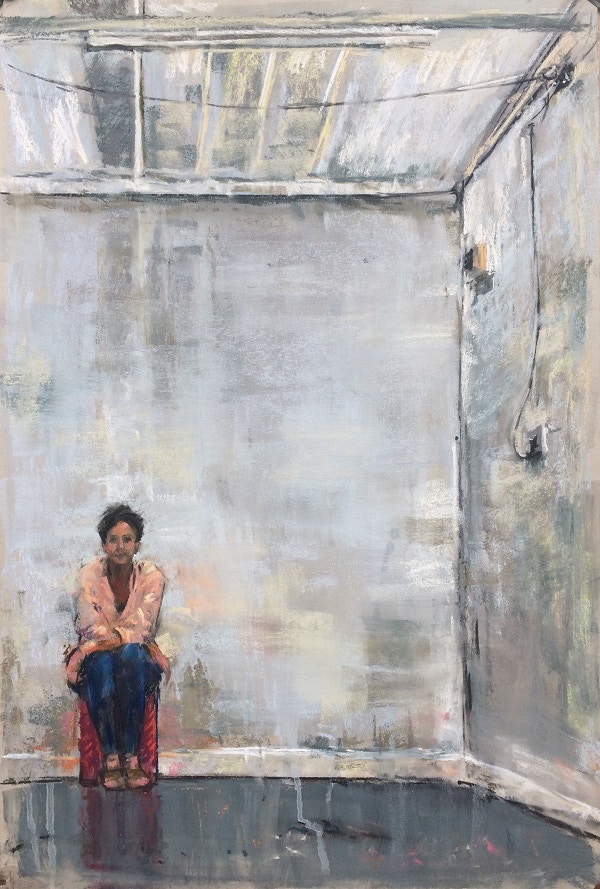 A Fresh Start, pastel on board
What advice would you give to other artists thinking of applying to take part in Sky Arts Portrait Artist of the Year?
My advice for anyone thinking of entering is go for it! It has been one of the greatest experiences of my life, the Judges and crew are very supportive. Refreshingly for this type of TV programme, this one is all about the art.
Feeling Inspired?
You can explore our range of
oil paints
and
brushes
online and in-store. Share your portraits via our social channels using the hashtag #PAOTY2018 and don't forget to tag #CASSART
CALL FOR ENTRIES NOW OPEN
Inspired by this year's heats? Sky Arts is once again on the hunt for the next Artist of the Year. Whether you're a master of portraiture or a pro at plein air, submit your works for a chance to win a £10,000 commission and £500 worth of art materials from us here at Cass Art. Both competitions are now open for submissions. Find out more by following the links below:
Image credits: All artwork images © Lisa Ann Puhlhofer