Posted by Cass Art on 3rd Jun 2018
Inspired by Abstract Expressionism at the RA, Cass Art and the Royal Academy of Arts have invited today's abstract artists to be part of an exclusive exhibition at the Cass Art Islington Flagship.
All artworks on display in Ab Ex 2016 were selected by Edith Devaney, curator of Abstract Expressionism and the Summer Exhibition at the RA, creating an unmissable exhibition of contemporary abstraction.
"We were overwhelmed with the number of submissions," says Mark Cass, Founder and CEO of Cass Art. "Edith and I strongly believe in creating new opportunities for artists, and it was a pleasure to work with the RA in realising this exhibition of artists experimenting with abstraction today."
Artists including Pollock, Rothko, Still, de Kooning, Newman, Kline, Smith, Guston and Gorky sent shockwaves across the art world that continues to resonate today. This unique, group exhibition showcases the powerful impact of the 1950s American movement on contemporary artists.
We caught up with the artists ahead of the show, to discuss their inspiration and influences and why the show is an exciting opportunity for them…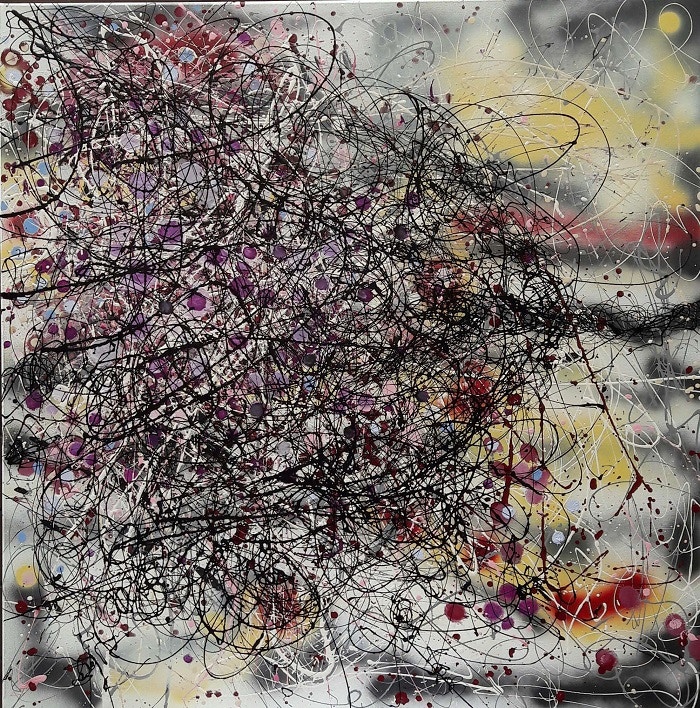 Alison A. Gargett
Alison was born Durham City, County Durham in August 1952. Turning down a Foundation Course at Leicester College of Art, she was distracted by the lights of London and continued her creativity as an evening hobby. Since retiring, Alison has returned to painting, inspired by a trip to Cologne in 2015, where she visited an exhibition in the Museum Ludwig showcasing works by Jackson Pollock and Joan Mitchell.
This work greatly excited her and she began to experiment more confidently with abstract free form work. This has resulted in the creation of a number of paintings inspired by Abstract Expressionism, which relates to her current piece hung in the show today.
"Artists work hard to satisfy their own expectations and personal standards and quality of work. To have these expectations appreciated in the form of having a piece of work selected to be hung in a prestigious exhibition is wonderful," says Alice. "Then for this exhibition to be running alongside a Royal Acadamy exhibition showing work by world renowned Abstract Expressionism is about as good as it gets. I am honoured to have had a piece of my work selected for show."
"My taste in art has resulted in the appreciation of an eclectic group of artists from the French Impressionists, Monet, Cezanne and others to Paul Nash – war artist and more recently Ken Howard, Barbara Rae and Grayson Perry. Most of all I have been intensely appreciative of Jackson Pollock's work and that of Joan Mitchel which I was first introduced to at an exhibition of her work at the Museum Ludwig in Cologne in 2015. Although not all abstract artists these are the artists who have most influenced my love of art and production of my work."
Adrian Perry
Adrian gained an honours degree in Fine Art from Falmouth College of Art. He now lives in Richmond and has recently taught oil painting at Kingston Adult Community College. His works are mostly small scale and occupy the liminal space between abstract and representational landscape. Adrian is interested 'in creating a world that bridges the viewed reality, of say a traditional landscape, with that of the imagined: as represented by the paintings by abstract expressionists of the 1950s'. Adrian has previously exhibited in London and most recently in Aldeburgh in Suffolk.
"I have not had the opportunity to show in an exhibition specifically dedicated to Abstract Expressionism before, so be alongside others that paint similarly will without doubt be an interesting, inspiring and no doubt humbling experience." comments Adrian.
"The artists I have been most influenced by are Willem de Kooning, Hughie O'Donoghue and Pollock. But Turner and Monet have also been a great inspiration to my use of colour."
Explore more of Adrian's work here: https://adrianperrypaintings.wordpress.com/about/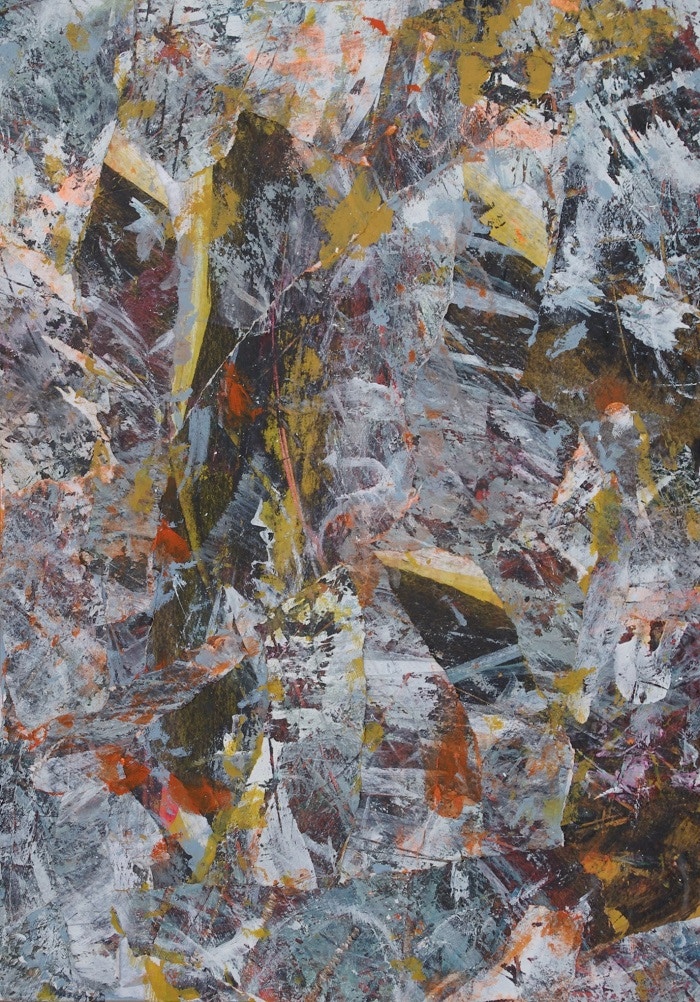 Jana Kühne
Originally from Germany, Jana has been living in London for six years. Working as a market researcher, she recently started to explore painting a few years ago. Jana is currently studying for a Certificate in Painting as the Art Academy.
Her works are abstract, exploring textures, colours, materials and tools in an intuitive and playful way, embracing chance to let the painting naturally develop.
"This is my first painting ever exhibited!" says Jana. "I draw my inspiration from all kinds of areas which can be landscape, architecture, music, memories and emotions."
"I made this painting after reading about Rothko and seeing his Seagram Murals at Tate Modern.
I was intrigued to try playing around with his techniques using layering of thin paint, as I tended to use mainly thick, textured paint at the time. Using the palette knife and listening to Shostakovich, the paper started ripping so I ripped everything into pieces and glued it all together again."
Nalini Sharma Khattar
Born in India, Nalini pursued painting as a hobby alongside her studies as a software engineer. A self-taught artist, Nalini enjoys expressing her themes through a variety of art forms including; murals, madhubani art, temple art, metal embossing, oil painting, sketching, ceramic art, clay art and mixed media.
"I am very excited as this exhibition has been curated by Edith Devaney. I would love to see people's response to my work. This is what keeps me going and motivates me to improve my work further." comments Nalini. "I have been fascinated by art for as long as I can remember. Colours excite me, I love experimenting with them."
"I enjoy painting within oil and acrylic colours, it helps me transfer my thoughts to a visible medium. I grew up admiring artists like M.F. Hussain, Anjolie Ela Menon, Van Gogh and Da Vinci - 'Bliss' is influenced by the works of Jackson Pollock."
"I believe art is a reflection of his/her inner self. Life is beautiful and it inspires me to paint. Abstract art holds the most interest for me at the moment as it gives me a lot of freedom. I am always interested in learning others' rendition of my abstract artwork."
Explore Nalini's practice on the Saatchi website: www.saatchiart.com/NaliniSK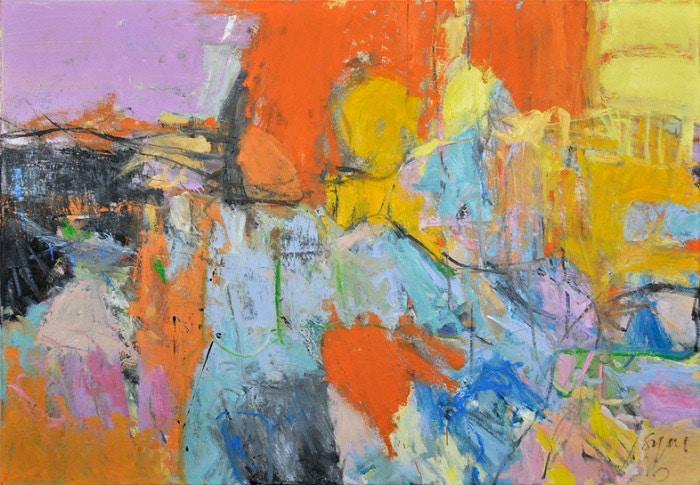 Soren Elizabeth Mayes
Soren is a graduate of The Crawford College of Art & Design in Ireland where she grew up before moving permanently to East London in 2001. She has been painting in her Hackney Wick studio since 2010, and her practice explores abstraction and expression through what she calls 'emotional narratives' primarily through use of line, colour and composition.
"There is a sense of authenticity in the art of the Abstract Expressionists, presently on show in the Royal Academy of Arts, that I find captivating. In art college my early influences were Gorky, de Kooning and Mitchell – especially Mitchell's energetic yet carefully considered mark-making." says Soren. "While my own work is from a different time and. I usually find myself starting from a place of landscape, a known location such as Hackney Wick (E9) before allowing the painting to develop into a story of sorts."
"As the layers of paint build, are scraped away then worked into again the composition and narrative emerges. It is in this moment that I almost crackle with electricity because something is being created from nothing.
"I like to think paintings exist on both 'intra' and 'inter' personal planes. The journey the artist makes in their creation followed by the interaction between that creation and the viewers who subsequently encounter it."
"I am constantly surprised by how people respond to my paintings – what they see, no matter how different to my understanding, is always fresh, compelling and equally valid. This is what attracts me to expressive abstractions and had me submitting work to Ab Ex 2016 – the inherent ambiguity allowing for different 'tellings' and 'experiences' of the same art."
Explore Soren's practice here: www.sorenmayes.com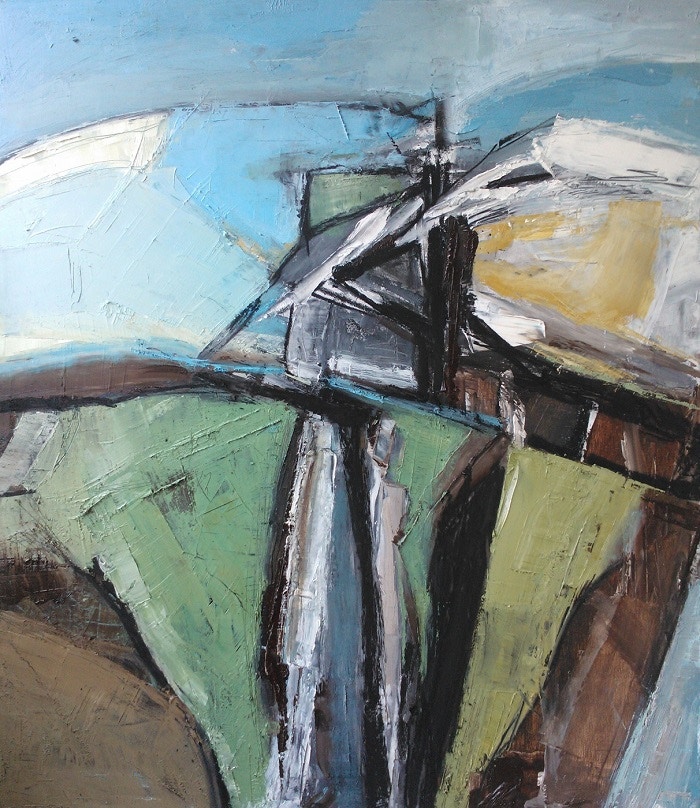 Dan Bilton
Dan completed an Art Foundation Diploma at Salisbury College and studied Fine Art at Plymouth University. He has since been part of group exhibitions around Wiltshire, Hampshire and Devon. He has paintings on permanent display in several independent businesses in Salisbury where he currently lives and works.
His paintings are built up layers of oil paint and mixed media focusing on the colours, textures and forms found in raw rugged landscapes. He mainly works from memories of specific places which help give his paintings a more abstract feel.
"Being part of the exhibition is amazing because abstract expressionism is something that has always inspired me, so to have my painting surrounded by other paintings/artists influenced by the same thing but in different ways will be amazing." says Dan.
"Peter Lanyon, De Kooning and Joan Mitchell have always fascinated me. Using the landscape as a starting point and taking small elements from it to create something to celebrate it in a totally different way from the way our eyes perceive it."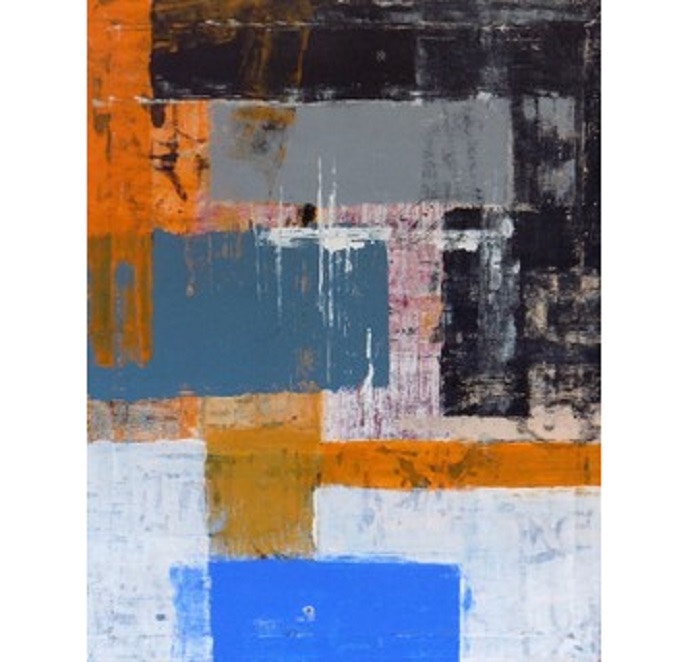 Dennis Downing
Dennis is a self-taught artist exploring abstraction for over 30 years. His early paintings were predominantly influenced by the cubist period, particularly Picasso and Braque. But over the years, he has studied the work of the American abstract expressionists, in particular DeKooning, Pollock, Newman and Rothko and his work has become more abstract.
"Being part of this exhibition is a great opportunity for people to see my work as they have never seen it before" comments Dennis. "The painting shown in this exhibition is one of a recent series, where I experimented with the method of painting in an unusual way.
"I placed the canvas horizontally on an easel, and applied the paint from paper to canvas with rollers and brushes." says Dennis. "On some paintings printed typescript is transferred at this stage, with the finished piece aiming to draw your eye to the block colours underneath.
Explore more of Dennis' works at: www.dennisdowningart.co.uk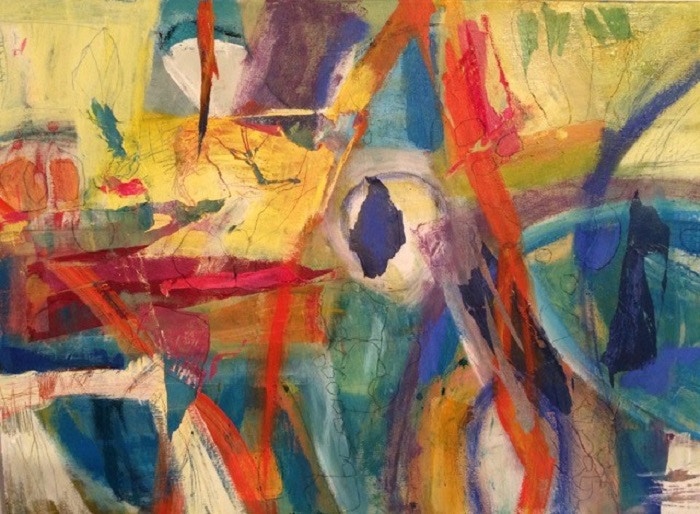 Julia Watson
Julia graduated from UEA with a degree in English and Art History, followed by a Post- Grad Diploma in Fine Art Textiles from Goldsmiths. Working as a printed textile designer and consultant in the London fashion business, she has since moved to North Essex and concentrated for the past twenty years on drawing, print making and painting.
Her practice explores the use of colour, space, light and shape with textural mark-making to express her personal relationship with the world she finds herself in.
"This exhibition is so exciting as it shows that one of the most ground breaking innovative movements to emerge in 1950's America is as relevant and important today as it was then." says Julia. "The instinctive expression conveyed by use of colour and gestural mark- making in abstract expressionism painting has always been at the core of my painting practice so I am very excited to be part of this exhibition."
"I have always worked as an 'abstract artist' and the current Abstract Expressionism exhibition at the RA is full of so many icons for me. I have always admired Helen Frankenthaler, de Kooning, Frank Kline, Philip Guston as well as Giacometti, Henry Moore - his textiles particularly – Ben Nicholson, Peter Lanyon , Diebenkorn and Antoni Tapies …. My list is endless!"
Explore more of Julia's work at: www.juliawatson.co.uk
Katarina Lalic
Katarina is currently studying for a Foundation Diploma at Kingston University and is planning to pursue a Fine Art Degree in London. Previously studying at the Tiffin Girls' School in Kingston upon Thames, Katarina initially took up oil painting as a hobby which later led to her desire to follow a career in Fine Art Painting. Her work is mainly abstract and done in oil, but she has previously enjoyed working with embroidery and acrylics to create artworks as well.
"Being only 18, this exhibition is exciting as assists me in beginning my career as a practicing artist as well as allowing me to show my work with so many experienced and talented artists." says Katarina. "I have visited the Abstract Expressionism exhibition at the Royal Academy numerous times and the Abstract Expressionism movement in general is a huge inspiration for a lot of my artwork, so being picked to present my piece 'MS-16' in this show is immensely thrilling."
"For this piece in particular, I was hugely inspired by Abstract Expressionists Clyfford Still and Joan Mitchell (one of the few female artists within the movement) both influencing my colour palettes and the general directions of my pieces. I was inspired by the fact that Still's work didn't have one single focal point but hand many, as well as the way he combined textures of oil paint on a canvas, which I tried to emulate in my piece 'MS-16'."
Feeling Inspired?