Posted by Cass Art on 1st Apr 2020
In this series of blogs we're looking beyond the artwork and into the Artist Studio! Come inside the artists' studios and uncover the environment artists work in, tips on how to be inspired and find the 'flow state', what the studio means to each artist and how it influences their practice.
Artists' studios are mysterious creative hubs of liberation and creative endeavour. We want to unwrap the mystery and speak to the artists. For the second edition we're delighted to speak with the incredible Vincent Kamp.
Vincent was born in Surrey and is acknowledged as one of the UK's most evocative and exciting new painters. He is fascinated by underground subculture and dark, gritty environments – heavily influenced by cinema, crime and gangster genres. Recent exhibitions include his Barbershop-inspired 'Fear and Loathing in East London series'. 'Inspired Lives' a celebration of the pianist and songwriter Ruben James and 'The Long Game' an interactive solo show compromising of thirty paintings, depicting a gangland poker game that ends in an explosion of violence.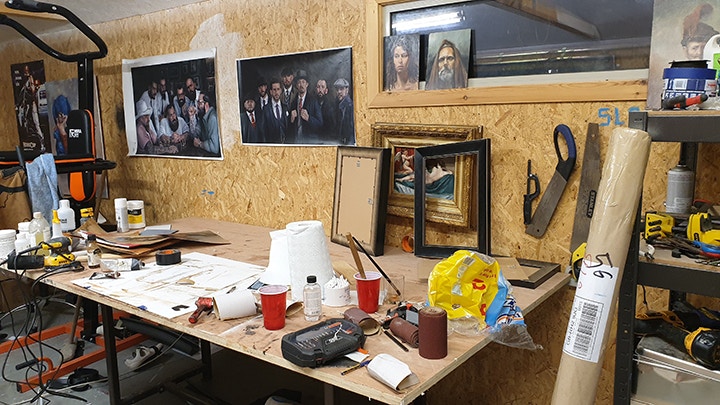 Vincents Studio
Hi Vincent, thanks so much for taking the time to speak to us. Firstly, could you tell us a little about your journey as an artist?
Well, let me take you back to the tail end of the 1970s, to a small two up two down terraced house in Mitcham, south London. There you would find a small boy lying on a threadbare rug drawing endlessly while his Dutch immigrant parents worked all the hours building a small engineering company. All just trying to liven up the typical start to pretty much every artist's journey. Just lots and lots of drawing as a boy. I didn't study art at school or college. My parents loved art and took me and my sister to galleries and museums but it was something you did as a hobby not a career. I ended up working at the family engineering business and painting and drawing in my spare time. I also wrote stories and plays; I even wrote a shitty novel (unpublished). When my Mother died 15 years ago, I had to take over running the business so my art dream was completely put on hold until my children arrived and I started drawing and painting again. I made a comic book for my eldest son and self-published. I painted and drew at night after work. I would get up at 4am to get in some before work as well. Eventually, I managed to get away for a couple of weeks to Rome to study with Sean Cheetham. Sean made me believe I could make a go of painting as a career. When I came back to the UK I went all in on creating a series and hitting a few art fairs, I then organized a show and was eventually approached by Clarendon Fine Art.
The Long Game, Vincent Kamp
In your work one of the most striking things I found was your ability to evoke great tensions in scenes. How are you able to achieve this?
All great stories thrive on tension. I pretty much always have some idea of a story that I write down and then look for the scene that best helps me tell that story. Body language, and facial expression, no matter how subtle will tell that story and hopefully describe that tension. Humans are masters of reading faces and the emotions behind them.
Looking at your work reminds me of an interview I read with Martin Scorsese in which he speaks about how much he was influenced by the power of Caravaggio's paintings in his own directorial style. Specifically, Caravaggio's ability to stage a scene and his extraordinary use of light to emphasis scene intensity. I'd love to know what influences you to create your works and style. Whether that be artists/movies/films etc.
Of course, Caravaggio is also a huge influence on me. I also love the intensity he portrays in all his work. HIs paintings were designed to hang in a specific place in a church, it's no wonder people were awed by God and religion. If you see a Caravaggio in a church in Rome, it's so much more powerful than in a gallery. You cannot help but be moved by the experience.
I love film and TV. I'm at the cinema on my own every week. I sit in the car afterwards making notes about what were the moments that evoked the most emotion, what fired me up, what was the colour palette, the lighting etc... Anything I can remember about the film that triggered something in me.
Harris Harper, Vincent Kamp
I was happy to read a quote on your website ''When it comes to sausages, knowing how they're made is just going to ruin your fry up. It's different with art. We all love that behind the scenes stuff.' That's essentially what this blog series is about, getting inside artists' studios to uncover what goes on behind closed doors. Could talk us through your painting process, how you approach a blank canvas and develop your work?
The process starts with me writing a story, often as a screenplay as the end goal is after all a piece of drama on canvas. It also helps the actors I then cast as the various characters and the stylist to help with costume and to find a good location for the shoot. The shoot is quite like making a film, there's hair and makeup, wardrobe, lighting and all that jazz. I'll usually have a shot list, with lens selection planned and take tons of pictures. Next it's playing around in Photoshop and then sketching to push poses and expressions. Finally, weeks later it's onto canvas. If it's a huge piece I'll project and just mark out tops of heads and key locations like shoulders, and hands. Tracing the image never works, it just doesn't look right, I think you change one thing and just buggers everything up so I've found drawing in paint with rough idea of where it all goes works better.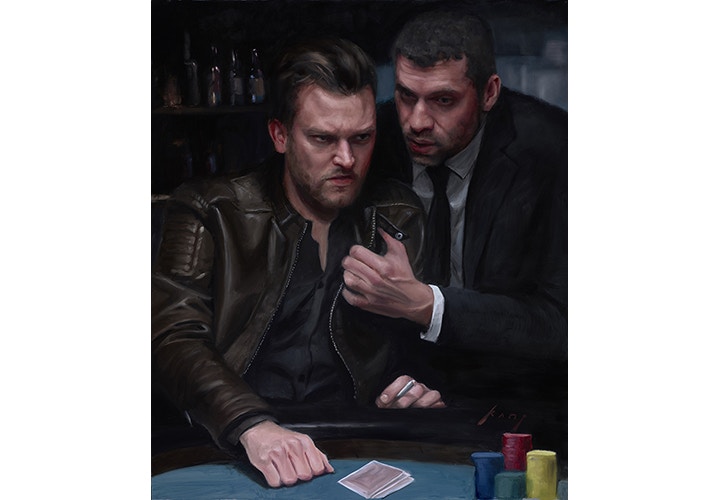 Hold Back It's Not Your Night, Vincent Kamp
I'm very intrigued by what happens behind the closed doors of the artist's studio, what can of environment they feel comfortable in or create for themselves to immerse themselves in their work. Could you tell us about your studio?
I've experimented with so many setups but have now finally found what works for me. I have totally matt grey walls and no natural light coming in. I use large LED panels at around 4500K to get somewhere near what people would have in their homes and what the gallery uses. I also wear dark clothing so I don't get any colours reflecting in the oils as I paint. I have just started using a Dyson air purifier which has been a game changer. If I'm painting faces or hands I work in silence or very basic background music, if it's anything else, I listen to podcasts and books, though I often drift off a bit so not sure how much I actually hear.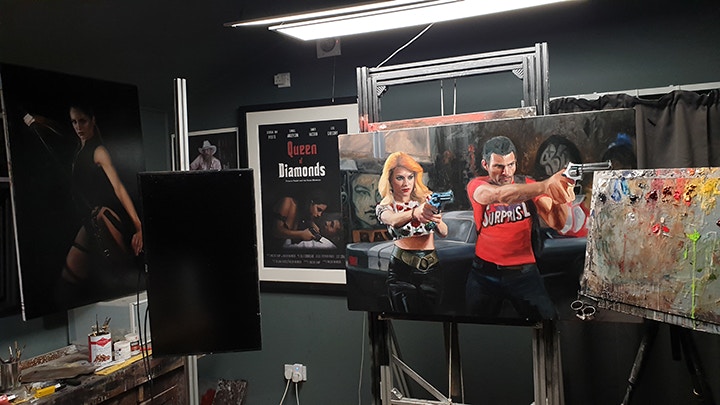 Vincents Studio
What art materials would I find in there?
I use mostly Michael Hardings with a few tubes of Old Holland. Linseed oil and zest it mineral spirit. I made myself a vertical glass palette which sits in the same light as the painting and scrape everything off each night. I've been really trying to sort out the fumes in the studio lately and the Dyson air purifier has been amazing for that, it measures the VOC (volatile oxidized compounds) and cleans the air. I've got a chinup bar, weights, treadmill and peloton bike in my studio. I'm here soooo many hours and I've found that keeping in shape helps me to paint longer and stay focused.
Can you talk to us a little about your studio habits at all, how do you find a state of flow or comfort zone to be able to produce your work? Also, would you have any advice for anyone who is struggling to find a creative spark?
I'm in my studio from 8am til 6pm every week day and often a few hours each day at weekends. I try to stack my meetings all on one day a week as I'm often up in London. I work in 90min blocks and try to exercise at lunch times. For me to do good work, I need to be a professional. I need to work regular hours and not only paint when I'm feeling creative. There is so much more to this job than just painting pretty pictures. If you want to make this your career, be a pro. I highly recommend reading Steven Pressfield's War of Art. It will give you the kick up the arse you need. There are many days I don't feel like coming to the studio, but I do it, because the muse only shows up when you are at work.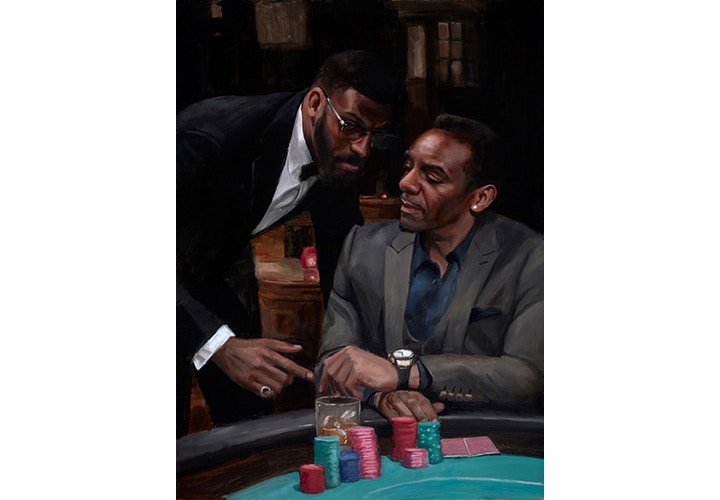 Holdback, Vincent Kamp
Thanks so much for taking the time to speak to us Vincent, wonderful to get an insight into your practice and studio habits. Very best of luck with the upcoming shows in London and New York.
---
Feeling Inspired?
You can see more of Vincent's work here.
Shop online for everything you'll need. Don't forget to hashtag #cassart on social media to show us your creations.