Posted by Cass Art on 7th May 2021
MasterPeace is an Art School in Belgravia London, run by a team of 20 artists where painting is a form of meditation, or mindfulness. Their focus is not on what the pieces end up looking like their passion is more about helping create an environment where painting can be enjoyed as a way to relax and unwind. We spoke to its Founder Zena El Farra all about how this amazing project works. Enjoy!
Hi Zena, thanks for taking the time out of your busy schedule to speak to us. Firstly, could you introduce MasterPeace to any of our audience who aren't aware?
For sure! MasterPeace is a Mindful Art Experience in Belgravia London, run by a team of 20 artists. At MasterPeace, we practice mindfulness through painting. It's not about how 'good' you are. It's about enjoying a moment of creative calm in an always-on world. In addition to offering 90-minute drop-in experiences hosted at our studio, external venues and offices, we also offer a big range of At Home Art Kits, where you receive everything you need to complete a painting of your choice through your letterbox, alongside a video masterclass with a professional artist in our app. Our mission is to help guests build creativity into their weekly self-care routines, so they can paint themselves an even better picture - wherever they are!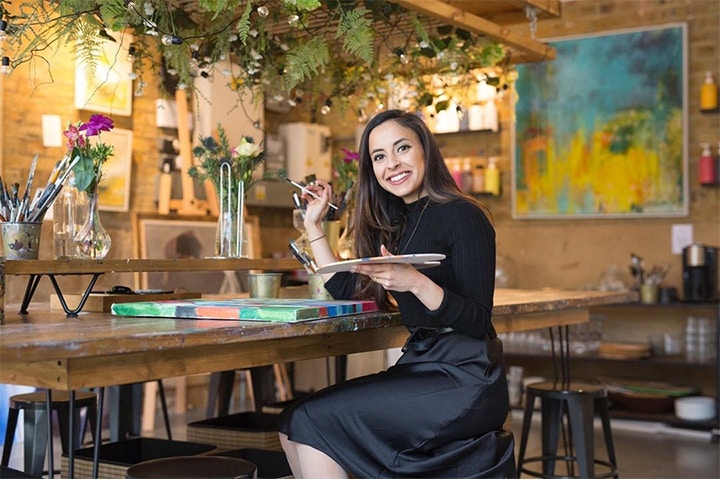 One of the fundamental aspects of this amazing facility and creative endeavour is the combination of art and mindfulness, how do you achieve this in your sessions?
For us, mindfulness through painting is simply about offering an alternative route to finding that zen-like 'contemplative flow' you might associate with other forms of meditation or breathwork. It can be much more accessible to those of us who find prolonged periods of sitting in silence quite challenging and are more suited to more active meditations.
We give our guests the space and the tools to tap into that state of 'creative flow' by:
1. Enabling guests to practice seeing, not just looking: studying an image in a non-judgemental, observational way can be a great way to tune out ruminating thoughts and focus on the innate beauty of the world around us
2. Creating for pleasure, not masterworks: we encourage guests not to evaluate their work as "good" or "bad" but to focus on the process and lived experience instead.
3. Making it effortless to get started, even for absolute beginners, through little 'cheats', like our projectors which help guests trace out their personal photographs ready to paint in no time
4. Practicing letting go through a series of exercises that enable us to unblock the creative energy absolutely everyone has within them (yes everyone!)
5. Making it fun: studies have also shown that live creative activities that involve face-to-face social interaction are especially beneficial for our mental wellbeing. In this way, we like to promote our classes as social activities as much as mindful ones. Creating a beautiful and inclusive space in which to bring family, friends and colleagues together has never been so important to us as we emerge from lockdown.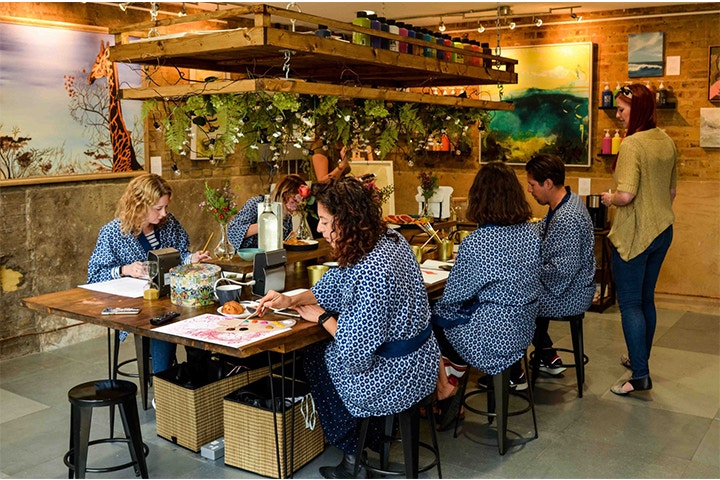 Could you give us a taster of what's in store at a MasterPeace workshop session?
We run four main regular classes which all have different set-ups. All materials are provided so guests just need to bring themselves.
1. We are famous for our Coached Classes, where guests can turn a photo of their choice into a painting in just 90 minutes with the support of a professional artist, using our clever light boxes, even as a complete beginner. Each class comes with a complimentary drink and a sweet treat.
2. Our Al Fresco Classes take place in our gorgeous courtyard in Eccleston Yards. Guests can select from 10 different painting kits on arrival, each featuring a beautiful and unique motif. They work semi-independently with a professional artist instructor on hand to help and guide them through their piece.
3. Each month we feature unique 'Masterclasses'. This month it's Portraiture with professional artist Jack Ford, who appeared on this year's Sky Portraiture Artist of the Year. Guests can study a portrait of their choice, like a loved one.
4. Our Mini MasterPeace Classes are for those younger budding artists aged 7-12. We make creativity intuitive, playful, and rewarding with a focus on confidence building.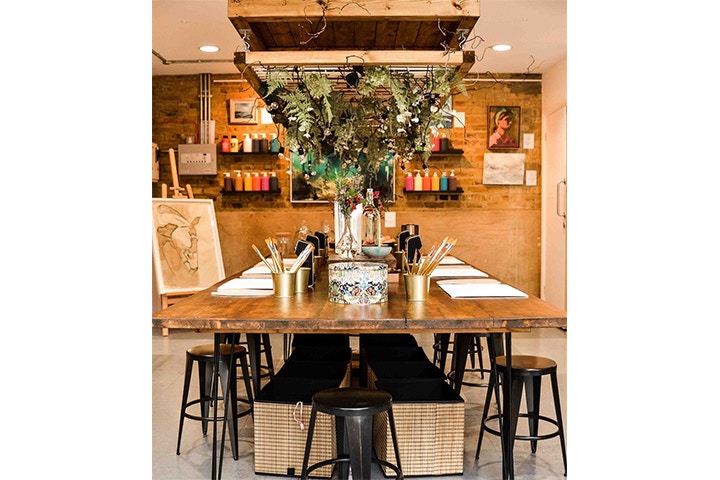 It's always a poignant topic but never more so than now with it being Mental Health Awareness week but what do you think the benefits of mindfulness-based art are?
We are inspired by research such as that from UCL in collaboration with the BBC which quantified the impact of painting and other forms of creativity for managing anxiety and depression. It concluded that creativity can reduce stress and anxiety in 3 main ways: as a 'distraction tool' to block out stress (76% of participants); as a 'self-development tool' to build up self-esteem and inner strength (69%); and as a 'contemplation tool', to get the headspace to reflect on problems and emotions (53%). These benefits are enhanced when the creative activity is new to you, engaged in regularly, and involves face-to-face social interaction (rather than virtual).
In general, art experiences as an adult are very formal, but mindful art focuses on the journey and the experience rather than the output.
I think that mindful art can be a really great alternative to something like journaling as a form of meditation or mindfulness. Not everyone finds writing a meaningful or easy way to reflect so painting can be a great processing tool for some people. It allows time to be introspective and to physically experience one's emotions without judgement or fear. In this way, it can be a super restorative experience.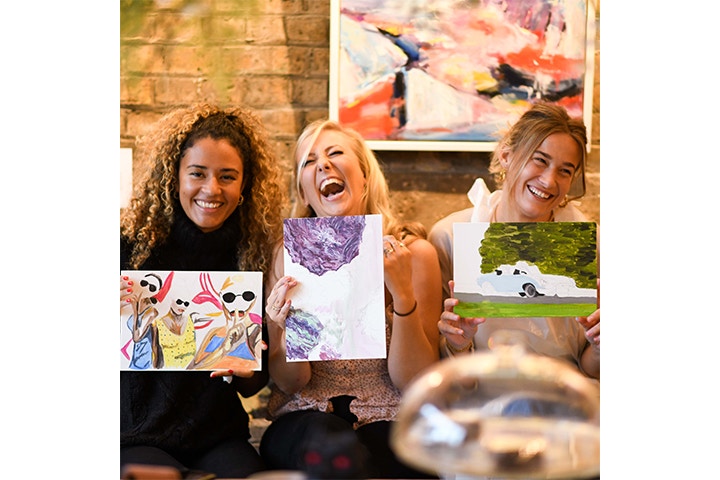 The last few months have been very tough for all of us, but there is almost an expectation for creatives to thrive in times of adversity, but it turns out this isn't always the case. Do you have any advice for any people struggling for creative inspiration?
Finding creative inspiration can be super difficult in times of struggle. Stress and overthinking have been proven to be major inhibitors to creativity so freeing up the mind is an important first step to helping you unleash your creative side! It is for this reason that we like to start out art classes with a moment of active meditation carried out by one of our instructions. Meditations can help calm and ground the mind, making it easier to let your creativity flow.
We find, particularly with beginners, that the idea of getting creative can be very daunting. Those who feel like creativity doesn't come naturally to them often pigeonhole themselves as 'not creative' but in fact, everyone is creative! It's a trait that is completely unique to us as humans and something I really believe everyone should learn to harness and nurture. In our classes, we have light projectors to help guests sketch out their piece and start with mini warm up exercises to help break down the barrier between the person and the canvas. Introducing constraints such as time limits can also be effective in reducing the trepidation that most people feel before they first sit down to paint or draw. It creates a creative space that is manageable for you whilst allowing you to look at things from an alternative perspective.
The final thing I would say about this is the importance of stepping away from technology when you are suffering from a creative block. These days, technology permeates into every aspect of our everyday lives but what we don't realise is that being perpetually interrupted with messages, emails, phone calls etc. means that we are constantly distracted. Putting away your phone or switching it to airplane mode gives you space and time for your mind to wander and daydream, which is sometimes all we need.
Congratulations is in order after your wonderful experience on Dragons Den and investment from Deborah Meaden! How did you find this experience? Surreal I assume!
Thank you so much! It was surreal, full of highs and lows, but ultimately a very happy ending. With Deborah's support we've been able to totally relaunch our Art Kits into gorgeous sustainable packaging. We've gone from making each kit to order from my spare room to having a proper production house in Sloane Square where we can now make them in their thousands, shipping all over the world. She helped us launch our brand-new product, 'IlluminArty', which is an Artist's Projector for home, doubling up as a time-lapsing device, easel and even a desk lamp. And lastly, she's helped us gear up to relaunch the studio post-lockdown, with a view to opening up many more around the country soon.
Finally, what's next on the cards for 2021?
In the immediate term, we are very excited to say that our studio will be reopening on May 17th, with a creativity-packed summer schedule of Coached, Al Fresco, MasterClass, Mini MasterPeace Classes for kids, and more! We are welcoming some amazing new artists to our artist collective, as well as defining some new class ideas & art kits ready for the summer ahead. You'll see us at a few festivals too!
Longer term, the future for us is all about launching our Art Kits & IlluminArty Projector into a few big retailers (including Cass we hope!) and getting ready to open up more studios around the country.
Check out Masterpeace on their website and be sure to give them a follow on Instagram.
FEELING INSPIRED?
---
Shop online for everything you'll need. Don't forget to hashtag #cassart on social media to show us your creations