Posted by Cass Art on 7th May 2021
Edinburgh College of Art student Jenna Waldren is building a reputation for her drawings depicting the domestic aspects of student life. We speak to Jenna about her creative process, the closure of her art college over the last year and her plans for the months ahead.
Hi Jenna! Thank you for taking time out of your busy schedule to talk to us. What a challenging year it's been! Can you give us an insight into what it's been like to be an art student during the pandemic?
Hi there, thank you for taking the time to interview me! It has definitely been a difficult time to be an art student and at times quite a surreal experience. As someone who would normally spend every day in the studio, adapting to working from home has been quite a challenging task. It has, however, taught me a lot of valuable lessons and made me far more self-sufficient, which I feel will serve me well as I venture into the working art world.
I am particularly grateful that during this time, I have shared a flat with two fellow art students. Living with like-minded people enabled me to retain some of that studio culture I loved so much — it also meant there were people around to give me artistic advice if needed!
A Trivial Pursuit (I), 2020. Oil on plywood, 15 x 31 x 0.6cm
Your artworks give the viewer a unique snapshot into the domestic aspects of student life – the communal kitchens, bottles of spirits and endless cups of tea. I love that the scenes are mundane, yet your colour palette and composition elevate them to something that is striking and hauntingly beautiful. Can you tell us about your creative journey in developing this unique aesthetic and choice of subject matter?
The basis of recording everyday, mundane moments, was inspired by the works of Chantal Joffe, Charlotte Saloman and Paula Modersohn-Becker. All of these women use their own life experiences as central themes within their work, which made me contemplate the transient period in which I find myself in, as a 21-year-old woman at university. As I began to record the ongoings of life around me, the moments captured came to be more and more centred around the domestic, with the subjects frequently caught mid gesture, performing commonplace activities.
In a visual sense, I am constantly experimenting and playing with the balance of the graphic versus the painterly, attempting to juxtapose bold lines against delicate, detailed areas of focus. Artists such as Alice Neel, Emma Amos and Margaret Kilgallen are of great influence to my work visually. I love how they are able to strike the balance between these two notions.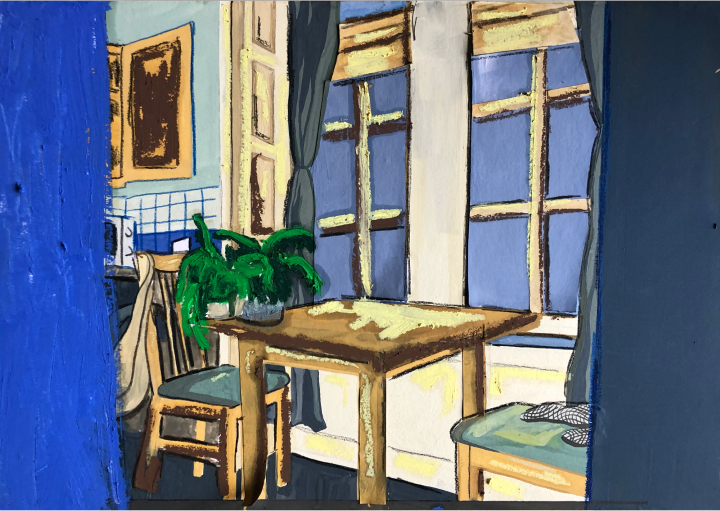 Kitchen Table, 2020. Gouache, collage, coloured pencil and oil pastel on board, 21 x 29cm
It's interesting how artworks created during the pandemic give us an insight into people's emotional state of mind in the way the photos cannot. I imagine in years to come, art historians will be fascinated by the artworks created during this time. Have you found that the events of the past year have affected your own art practice?
Yes and no. My work was already focused on the depiction of domestic spaces and interiors before the pandemic, so I don't think it has affected my subject focus in any way. However, I do think that lockdown has made my work feel a lot more insular, as I was often creating pieces that captured the very same rooms I was working in. I think this overlap fed into my work in a positive way - in fact, adding another layer of intimacy to the pieces. One huge positive of working from the same space was that if I ever needed to correct a perspective or figure out a specific detail, I could immediately go and look!
Untitled (Kitchen Study), 2021. Promarker on paper, 29 x 21cm
I would love to find out more about your artistic process. How do you go about preparing for a piece? Do you draw and paint from life (or memory) or do you prefer to work from photos?
With the majority of my work focused on capturing everyday moments, I have found the medium of photography allows me to quickly capture a scene, without having to interfere or disturb the actions of the subject(s). Generally, I try to not put too much thought into the photograph itself, as I want the people depicted to appear as natural as possible. As a result, I am constantly taking photographs of random moments observed around me, which I continuously refer back to when I begin a new piece or series.
When attempting to translate these photographs into works, I often use drawing as a starting point. Drawing enables me to distil the subject matter and focus within the image. Similarly, I can also alter the narrative within the photo to create a more balanced or dynamic composition.
A Wallpaper of Life, 2021. A series of 7 ink on paper paintings, each 50 x 17cm in size, digitally composed together
I'm also intrigued by your choice of art materials. If I ventured into your working environment, what materials would I find?
A lot! Over the years I have amassed quite a varied collection of art materials, as I like to create impulsively, selecting from a range of mediums with varying textures, tones and depth. In recent months, I have been particularly fond of using Promarker pens, as I love how vibrant and strong the colours are directly from the pen. Oil pastels are similar in nature, but instead, have this beautiful buttery quality that is incredible for areas that I feel need more of a blended look.
Lately, I have also been using a lot of gouache paint, as I enjoy the way in which I can lay down solid blocks of tone in a quick and loose manner. I often overlay coloured pencil on top of the gouache, to allow for defined edges to shapes and objects. I would say, however, that oil paint has been the constant medium that I've always reached for throughout the years and something I feel I will always go back to no matter what.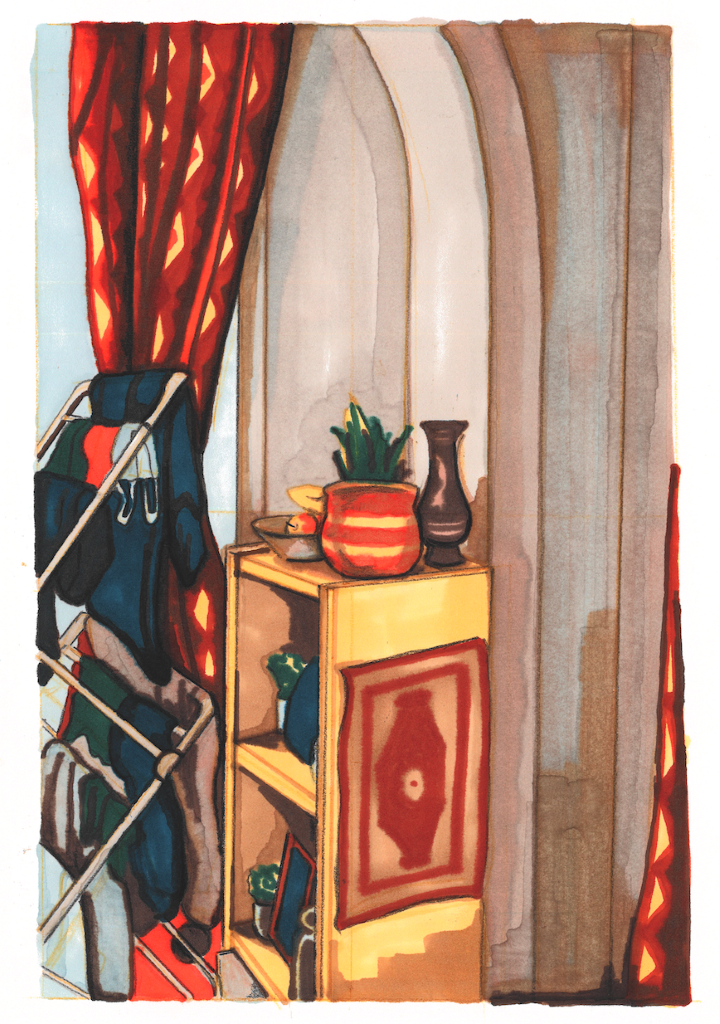 Alcove, 2021. Promarker on paper, 29 x 21cm
Looking forward, I imagine you are excited (and relieved) to be getting back into your art studio at university? Can you give us an insight into the general feeling of students as we are making steps back to normality after such a challenging year?
About two weeks ago my peers and I were finally able to access the university art studios for the first time in months. It came as a massive relief, as those of us who are still based in Edinburgh are now able to finish the work needed for our upcoming submissions.
I am currently using the studio as a base, to finish off a series of oil paintings I've been working on. It's made such a difference to be able to finally use oil paint in a purpose-built studio, rather than having to worry about turpentine fumes or spilling paint anywhere in my rented flat. Over the summer, I am hoping to continue to use the facilities, in particular the printmaking studios, as I'd love to make the most of my limited time left at art school.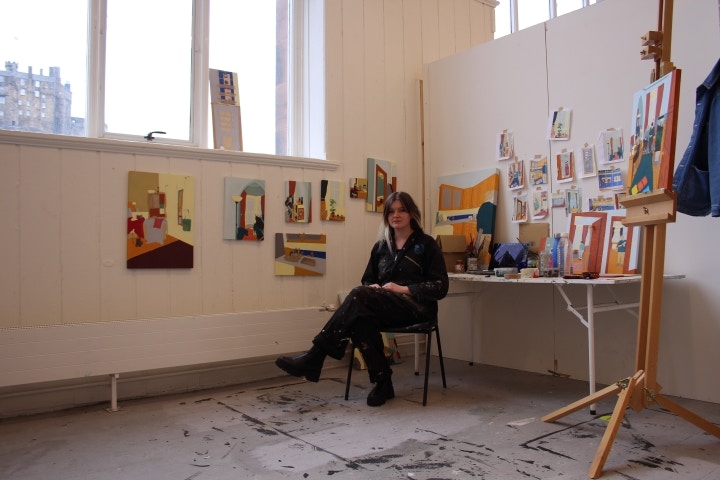 Photograph of Jenna Waldren in a temporary art studio at Edinburgh College of Art
You already have several impressive exhibitions and awards under your belt. Do you think it's important for art students to be thinking about their professional practice and preparation for life beyond university?
I really do think it varies from artist to artist, but for me, I have always felt that it is important to just try and apply to these opportunities. There isn't much to lose, especially when there is no entry fee and even if you aren't accepted or don't win, it is all still valuable experience. I feel extremely grateful for every exhibition and competition I've ever been a part of, as each time I am given the opportunity to meet an array of amazing artists and curators.
One final question, what's next on the horizon for you Jenna?
I'm really looking forward to continuing my practice post-graduation and applying all I've learnt at art school to the next chapter of my journey: as a young emerging artist.
I have recently applied to a few artistic opportunities, which fingers crossed I will hear back from soon. I have also been speaking with an Edinburgh-based art collective, who are looking for the next generation of artists to take over. This is an experience I am very much looking forward to being involved in - so stay tuned for big things!
Thanks Jenna!
Feeling inspired?
---
Find out more about Jenna's work by checking out her Instagram and website