Posted by Cass Art on 22nd Feb 2021
Watch artist Lyora Pissarro in action as she uncovers her distinct geometric oil painting techniques and read our exclusive artist interview, where we discuss Lyora's artistic family history, her love of Winsor & Newton materials and how she approaches her creativity.
Hi Lyora, thanks for taking the time to chat! For those not familiar with you and your work, could you take us through your creative journey so far?
I was born into a large family of painters. My great-great-grandfather was Camille Pissarro one of the founding fathers of impressionism. There has been a total of 20 artists in our family, spanning over 5 generations and over almost 150 years. It is a legacy I am very proud to be a part of. I learned to paint at a very young age. I was four years old when I started to create with my mother, who taught me how to look at a subject and to try to copy nature in a realistic and unique way. I always loved painting, it spoke to a part of my identity I wanted to nurture, but in all honesty, I struggled with technicality for years. Always feeling like my work was not quite where I wanted it to be, most likely from a pressure of coming from such a big family of painters. I embarked on a journey to find my own artistic language, in search of a unique style that would lead me down an ever expanding and winding path. I was always fascinated with drawing, painting and understanding colour, and have been painting landscapes ever since I can remember.
I went to the Rhode Island School of Design (RISD) where I did my foundation year, before transferring to New York to continue a degree in Fine Art at Hunter College. Today, I live and work in Brooklyn, where I paint, experiment and run art classes.
From one family legacy to another! Could you tell us a bit about your family's background for those who aren't familiar with the Pissarro history?
My family are all creative and passionate about art in some shape or form. Spanning over five generations, the history of the family demonstrates a passionate commitment to either making, writing, collecting, dealing or curating art works. As I mentioned, in the past 150 years the Pissarro family have continued to pass on painting techniques and ideologies, resulting in an inspiring 20 painters in the entire family. That's quite amazing!
Camille Pissarro was one of the most influential members of the French Impressionist movement and the only artist to participate in all eight Impressionist exhibitions. The movement focused on capturing moments of time and how the ever-changing light would transform a particular scenescape, in a moment as quick as the setting sun. They were rejected by the art critiques and collectors, under the belief that what they were painting was not art, but merely an 'impression.' These painting techniques were passed down and taught generationally and were considered more valuable than art school. I grew up in London, in a happy and creative home. My mother was always around, painting in her home studio and my father was working in a beautiful gallery in West London and would come home with various new art works to adorn the walls of our home. At the dinner table we would discuss art exhibitions, and movements and were encouraged to have an opinion.
My interested in painting was undeniable, even though parts of me resisted the predictability of my path, but it was somewhat of an obsession, my mind to hand, to paper, constantly had something to say.
There have been two five generation exhibitions at Russell Fine Art Collection in Austin Texas, these were the first exhibitions to include my work, as an artist, part of the Pissarro family legacy. That was a huge honour for me, and a very surreal feeling. You can find a permeant collection on display at Stern Pissarro gallery in London, where the gallery has an ongoing exhibition of all the artist's included in the family. If you ever get the chance to go, it is well worth seeing, the comparisons and similarities across siblings, parents and generations, is outstanding. There is nothing else like it in the entire history of art…
You describe your landscapes as 'mindscapes' what an inspiring term! Could you expand a bit more on the inner worlds that you're attempting to capture?
I think the term mindscapes came quite naturally to me. My subjects are rooted in elements of landscapes; earth, wind, water, but are more representations of the unknown space of the mind. A state of mind, or a place inside the brain, hence the term mindscape. Breaking away from impressionist techniques however, my style embraces geometry to play with chromatic conventions and defy the laws of gravity. Rivers run poppy red, skies fall in gradient shards of lavender and striped orbs levitate mid canvass where one might expect to see a sun or moon. In deconstructing the typical line on the horizon, the work proposes a new topography that is both monumental and whimsical, substantial and dreamlike, balanced and surprising. Whereas impressionism aimed at capturing the effects of light on the viewer's eye, this series explores how painting can capture the mind when enlightened, or in other words, the enlightened mind.
So I look inside my own mind, I witness the noise, the chitter-chatter, the critique and the fears. As I do my own personal work, to find peace of mind, stillness, acceptance, clarity and balance, I find myself able to visualise these ideas in colour and form. Creating space for a new a new perspective, one that is extremely vibrant and colourful, and far more positive.
Your use of colour is other worldly. With rich yellow tones, to cool blues and earthy reds, how do you approach your palette when you start a new work?
I plan my subjects digitally before I paint them physically, so the design is carefully calculated before any painting even starts. I spend weeks sometimes months, experimenting with different colours in the digital space, until I feel I have obtained a totality, unifying equilibrium and mystical effect. Often, I will start by thinking 'what colours have I not used? And how can I incorporate them here?' I was observing the work in my studio recently and I noticed that I often use a combination of blues and lilacs together, and so I kind of gave myself a challenge to not include those colours and to try and find a new palette that has never been explored before or colour combinations that I haven't dared to try. But in the end, I always find myself coming back to blues… that colour spectrum completely captivates me.
Moving away from the more traditional painting techniques I was taught, I found a freedom in the non-comital tools in digital space, where replacing colours and pressing undo, removes the limitations of reality. Perhaps there is an element of rebellion, but also embracing the tools available today.
The paintings are extensions of my character. I'm a colourful and friendly person, and I think my work mimics that – I want the feeling to be uplifting, bright and positive. Someone asked me recently if the pandemic influenced any darker energy in my work, and I thought about it, but the answer is no. There is enough art out there that looks into the socio-political pain the world caries, my creative medium is about giving the viewer a break from sorrow, and although it honours both light and darkness as integral to balance, it does not focus on the later, but the former to create a portal that sheds light on what we need to see.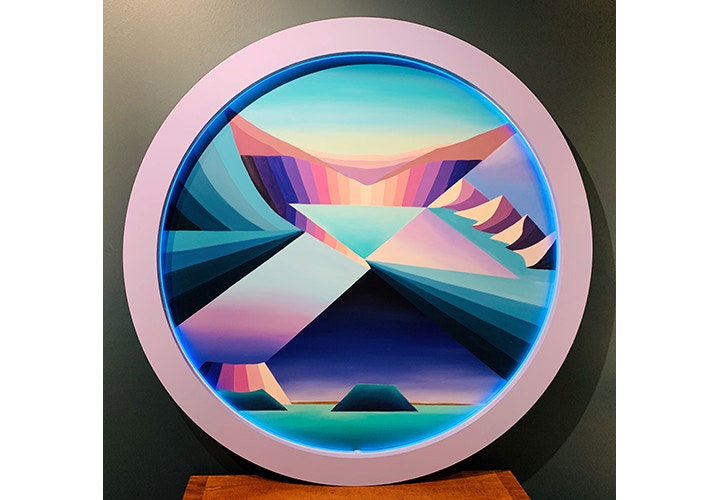 You've mentioned your use of the iPad, how do you integrate that with your work?
I use the iPad to create a preliminary sketch of the painting before I start working on any canvas.
The idea is rooted in a tradition of working with a subject and relying on an image to re-create a version of reality. Observation, interpretation, perception and communication are the foundations of this practice. For me, the subject is the starting point of everything, upon which form is built and colour is engaged. Through digital painting tools, I am able to deconstruct reality, endlessly manipulating shapes, move mountains, and explore a multitude of colour spectrums, until a visual equilibrium is formed, and concrete decisions are made.
The designs are carefully and meticulously planned, and I think a lot of people don't realise that when they look at the final product of the work. The digital design is really the hardest part of the painting, it is far more mental and calculated. Once the subject is ready, the next part is painting the design onto canvas, where my main focus become matching the colour's I've chosen, on the screen using oil paint. That part is far more intuitive, I never really payed attention to the names of all the colours, I just know which colours need to be mixed to make a particular tone. That is my favourite part, it's like cooking with colour, mixing the right ingredients to make a delicious meal. Paint brands like Winsor & Newton makes this part even more enjoyable - the colours are reliable, vibrant and consistent. You know what you are getting, the quality is always perfect.
Could you also talk a bit about your use of circular surfaces – what is it about the circle as a visual plain that you love to explore?
Firstly, the circle stands apart from the traditional rectangular canvas. It opens the picture to new possibilities and allows me to think of varying ways to intersect the natural elements and edges of forms. Beyond that, it is also a shape that reminds me of globes, planets, worlds, which activate these landscapes as such. It is also the universal notion of totality, with no beginning and no end, the circle has always represented infinity, eternity and God. Painting the 5 elements of nature; Earth, Water, Fire, Air and Space, the circle represents the endlessness and perpetuity embedded within the foundations of nature.
The circle is not flat to me, it also functions as a hallow ball, a space inside the mind, both empty and full of ideas. My concepts are based on these mindscape lands, and act as a visual translation of the thoughts flowing and colliding through the shores of our cognizance. For now, these landscapes inhabit spheres, but who knows what the future holds, I can't imagine I will stay confided by the circle forever, for now, however I am enjoying the limitless potential I see in each canvas, and the continuity of own form.
If I delved into your studio what materials are you always likely to find?
You will find shelves full of Winsor & Newton paints, brushes, and paper! Rows of oil paint, acrylics, watercolour, gouache, spray paint and enamel. You'll find paint everywhere - all over the desk and the floor. And benches with huge wooden circles on them! You'll find Liquin, a solution I use instead of Linseed Oil, which really helps with drying time, something I transitioned to a year ago or so, and a good tip I would share with anybody working with Oil. Liquin dries overnight whereas Linseed Oil takes three, four days, and it has a nice gloss to it. There is also a lot of tape in here, and some angular brushes, something I also switched to a few years ago. Angular brushes are great, they allow for a lot more control of the paint and edges, especially useful when working with geometric shapes.
There are also a lot of plants in here, and light and that makes a difference to my creativity and inspiration.
Do you have any brands that you love to return to?
Most of my paints are made by Winsor & Newton, almost all of them in fact, and I also use Gamblin. I like the Montana spray cans and adore Fabriano paper. Good quality materials makes all the difference, my mother always placed a big importance on paper and the weight of it, whether it was hand pressed or cold pressed. I've done a lot of experimenting and trying out different brands and kinds of paint. I shop mostly at Blick in the States and Cass Art in London. My canvases are all handmade now and so are my frames. Winsor & Newton is an all-time global favourite though, my family have been using it for years, we appreciate the consistency, quality and reliability.
This recent period has been an extraordinary time for the arts industry. How have you stayed motivated during the Covid-19 pandemic, and do you have any tips for creatives who may be struggling to stay motivated?
Yes, it was definitely challenging. I can say I did not feel very inspired the first few months of lockdown in New York. It was chaotic in Brooklyn, and it took time to process what was happening to the world as we knew it. I believe, it is important be patient with ourselves, and in the creative process, moments of silence can transform into profound moments of awareness that later come out as inspiration. For myself, I observed the difficulty, and after taking a pause and processing a cancelled exhibition in London and being confided to my home, I started slowly, by making a watercolour a day in my room. After a few weeks, I was making more and more a day and starting online Live Life Drawing classes, and regaining fuel from the growing need of creativity indoors.
I realised that being at home with Artworks took on a whole new meaning, when you can't go outside, paintings turn into windows onto other worlds, allowing your mind travel and your heart to bear witness to infinite possibilities. People need that more than ever.
Tips if you struggling to find creativity:
Find something simple and try to stick to that.
Choose a medium, or learn a new skill, take InDesign classes or try to fill a sketch book.
One thing you feel, you can commit too and try to make a routine around, a practice of it, you don't have to share it with one anyone yet, it can be your experiment.
The creative part of the brain is a muscle that we need to use and train, and so even if what you're doing feels small, it's still a workout that counts.
I find when I am less inspired, looking at artwork gives me ideas, I have so many folders on Pinterest, over spilling mood boards of ideas that spark creative thoughts and fuel visuals with new concepts.
There are also things you can try like the 100 a day project, a challenge that encourages thousands of people to make one thing a day and share it, maybe the audience and the guidelines help.
And if you still don't feel inspired to make with your hands, then watch creative documentaries, listen to inspiring podcasts, dance to music and be creative with your meals, it all fuels imagination in the end.
And finally! When everything returns to our 'new normal' what's next on the horizon?
What's next is learning how to create a portable studio, so I can be more mobile! A notion inspired by the pandemic and the friends around me who are all working remote from anywhere in the world.
But until then I am in Brooklyn, back in my studio, preparing for an Exhibition in November at The Other Art Fair. I have endless ideas for painting designs, and sensorial experiential exhibitions. I am starting to work with LED lighting and I find myself fascinated with projection mapping and the possibilities involved in turning these 2-dimensional worlds into installations. I want to start working with resin and in even bigger space, to experiment with idea's like colour rooms and exploring how digital mediums could expand upon the core principles within my research. How to create immersive space, where the viewer feels both balanced and transported, through a fully embodied experience. Those progressions in the world excite me a lot.
I love collaborating and working with different artists too, and I have an amazing team of friends here in Brooklyn, who inspire all kinds of possibilities, from desert art installations, to immersive designs. My horizon is crystal clear with making, creating, experimenting and constant researching