Posted by Cass Art on 7th May 2021
Printmaker and collage artist Megan Fatharly shares her experiences of running an art business during the pandemic - from the challenges to new directions in her art practice. She also shares some top tips on utilising social media in a positive and effective way and explains why she's launched her new venture as a 'creative cheerleader'.
Hi Meg! Thank you for taking time out of your busy schedule to talk to us. What a year it's been! Can you give us an insight into the life of a professional artist during the pandemic? Have you found that your art practice has taken new and unexpected turns?
Thank you for having me. I quit my job at the start of the year (2020) and was about to start a new one in the events industry doing workshops for galleries and charities in London. However when covid hit I lost this job overnight. That was pretty daunting, having just quit a full time job in the January to finally try to pursue a more creative path. A lot of my friends are also creatives and with already a small following online and having opened an online shop in 2019 I sort of had to make it work. I started making collage care kits for close friends but one of my followers wanted to one so I started to sell them when the pandemic hit as a way for people to keep creative during an uncertain time. At this point I was also finally able to use my printing press, whereas before I just didn't have the time and mental capacity to use it. I started making affirmation embossing's that I think people were drawn to because of their accessible and universal message. They were also pieces that people could send to each other.
I think art really came to the forefront during the Pandemic because of people looking for something as a sign of hope. The Artist Support Pledge was also a game changer for artists over the pandemic as it meant more people were seeing my work. This meant it was profiled on some really exciting blogs and magazines. My work has really come into its own through in the last 12 months. I have had that time and drive to really push myself. I've learnt a lot about selling my work as an artist and not having the guidance of anyone behind me other than myself. I still struggle with knowing what is the right decision to make in that given moment. I am learning to pace myself more.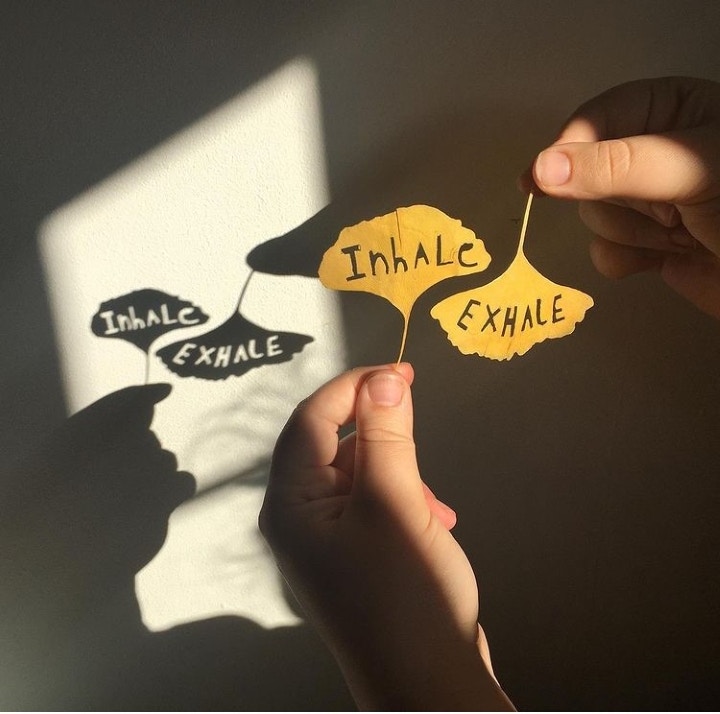 Looking at your profile, you have a number of different strands to your work – from beautiful collages illustrating lively domestic interiors to embossed prints, where a delicate aesthetic is juxtaposed with a powerful self-affirmation. Can you tell us about your artistic journey so far, and how you have arrived at this point as a professional artist?
My work has many different strands and threads but I am learning that the thing that ties them together is me and the process behind them. I have always been wary of doing more than one thing. However I love to experiment and this is something that I've always done. Process and action leads my work and its never really about the finished artwork. It's more about the qualities within the work. The edge, shape and tactility of something. I graduated 3 and a bit years ago having studied BA Drawing at Falmouth University. I specialised in Printmaking and it was the meditative process that calmed me and helped me find solace and balance in my making and experimenting. I think my work is about that edge between a lot of different things. The intensity of my little collage interior scenes capturing an intimacy of the everyday, my embossing process being about the subtle textures and shapes of being about the tactile surface and manipulating something otherwise flat. I really enjoy pushing this idea of what print or collage making is. I am currently trying to find a balance between selling my work online myself and working and collaborating with galleries and other brands. Recently I've worked with The Body Shop on one of their anniversary campaigns. That was pretty exciting. I still struggle with the 'You're a professional'…I think it is because of how much my practice and making means to me. It has always been a therapy so when that becomes job and income too that is really hard to navigate.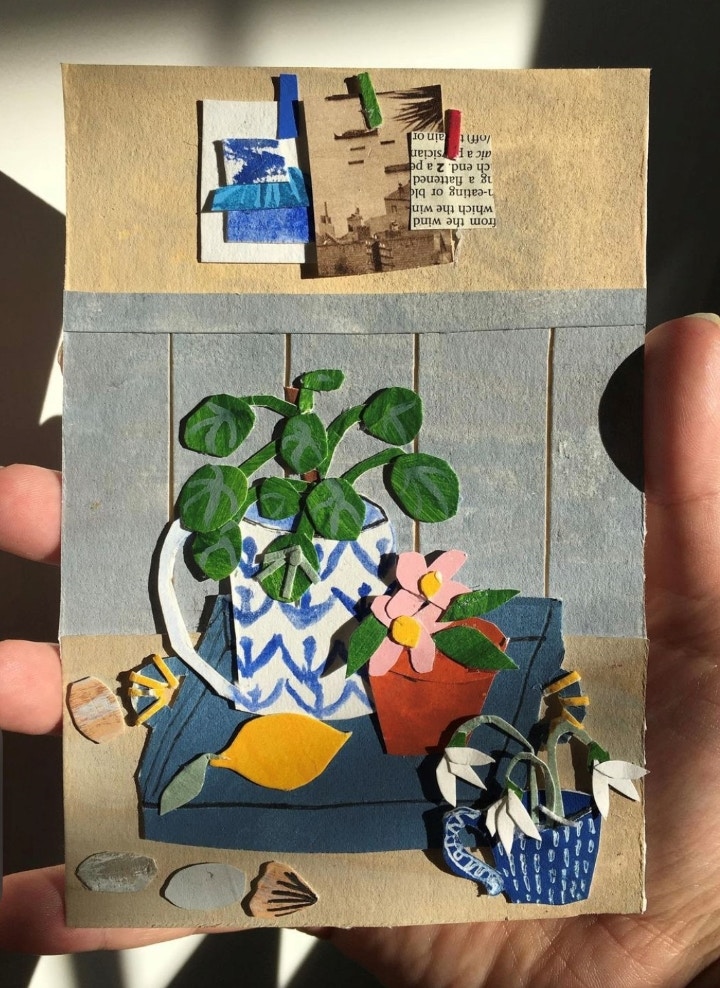 I'm always intrigued by your choice of subject matter. Are there any themes or aspects of life that you're particularly drawn to?
I am drawn to details and moments. I think these everyday occurrences that are often overlooked are what I find inspiration in. Shadows, reflections and shapes formed by the natural world. I really enjoy playing with scale in a small way. Creating a really busy composition on such a small surface allows the viewer to appreciate the detail. The focus is on the details.
Can you describe your creative process with our readers?
Chaotic, Spontaneous and fluid. I experiment and make what I am drawn to.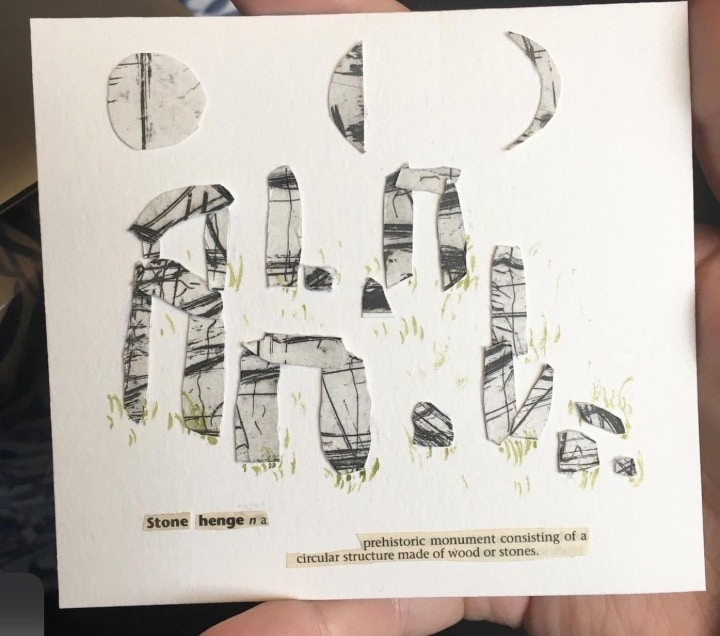 If I ventured into your studio, what materials would I find?
A heater, I currently work out of a garage so in the winter can get pretty cold. I've got my etching press which has been amazing to work bigger and more efficiently. I like to think I thrive in chaos as I always believed if I had more of a routine it meant my art would be boxed in. However I am also now learning this is not the case. It is important to find an ebb and flow and sometimes trust that process. I have a few tables that act as surfaces for me to print and emboss on.
Following your posts on Instagram, I've seen that you are an advocate of self-care and mental health awareness, often sharing your experiences of the positive and negative aspects of social media. Can you share any advice with our readers, who are just starting out in their creative journey, how to utilise social media in a positive and effective way?
I would say share the process not just the finished resolve. I would also try to remember that you can't really fail in art. Experimenting is still really important whatever stage you're at. I have found social media a really fun way to connect with other creatives.
You recently launched the Instagram account @creativecheerleader – supporting and championing the work of other artists and makers. What's the response to this been like? It's already generated quite a following!
I have always helped other people see their creativeness. I really love to see others thrive. It is a competitive world out there and as creatives even more so because it comes from a sensitive place at times. I share the work and write about the art of emerging artists. It is a positive space to encourage you to think about helping each other but also to find the work of someone new.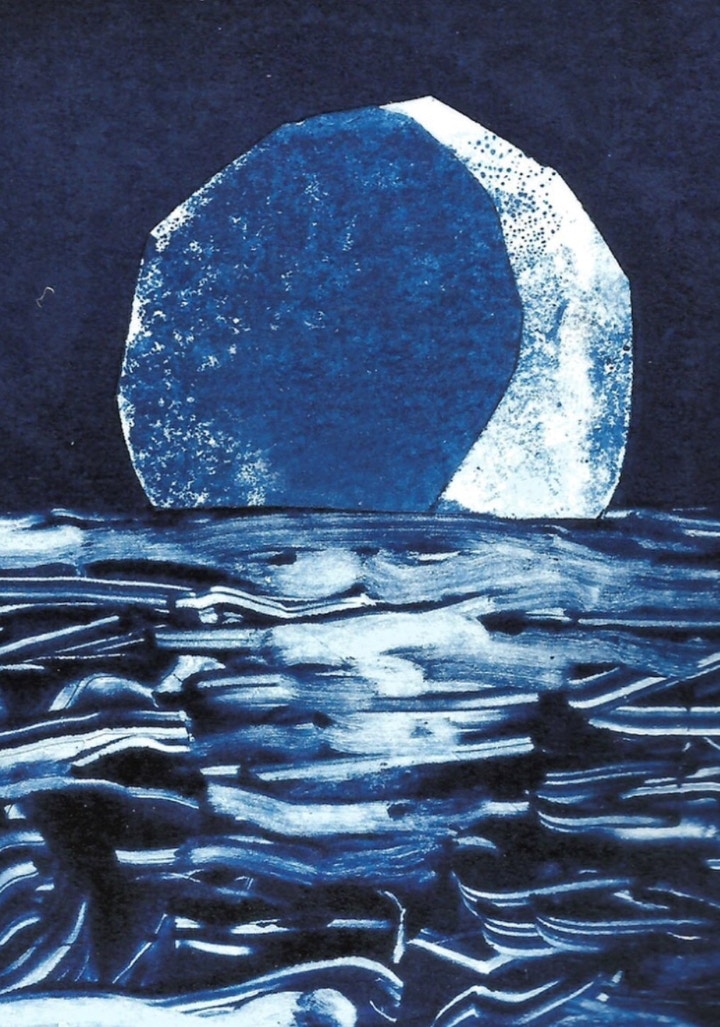 One final question, what's next on the horizon for you Meg?
I am working towards some exciting shows across the UK and something really big launching in November. I am always honing and trying to pace myself. I have just set up a Patreon where I am going to be sharing my art process and running workshops in printmaking, collage and embossing. I want to make and write things I know I would find useful as a creative. It can be really isolating being a maker so forming a community away from social media is really important to me.
Thanks Meg!
Feeling inspired?
---
Don't forget to check out Meg's Instagram and website to find out more about her work.