Posted by Cass Art on 21st Jun 2018
Sky Arts Portrait Artist of the Year saw another nine artists step up to their easels this week for the final heat of 2017.
With the final only weeks away, it would seem the judges are really concentrating on portraits which best translate a sense of character and the sitter's experience on the day, as well as exceptional technical and creative flare.
Previously appearing in the 2015 series of Portrait Artist of the Year, it was second time lucky for artist Gareth Reid, who impressed the judges with his delicate, yet sculptural, charcoal drawing of Adrian Childs.
Born in Belfast, Gareth studied at Glasgow School of Art and Florence Academy of Art, and now lives and works in Glasgow. Previously a drawing tutor in Con Ed at Glasgow School of Art, Gareth now teaches at the Centre for Lifelong Learning at Strathclyde University and also runs weekly life drawing classes at Cass Art Glasgow.
We caught up with Gareth to find out more about how he captures a sitter, his experience on Sky Arts and why he favours minimal colour in his textured, black and white drawings…
Hi Gareth! Congratulations on winning the final heat of Sky Arts Landscape Artist of the Year! How did you find the whole experience?
Thank you! I loved it. I did it 2 years ago in Dublin, pretty reluctantly - but it turns out I really enjoyed it, so I applied this year again. I teach portraiture and regularly give demonstrations to the students from the model so I think that the experience lent itself to the whole structure of the show.
I was nervous in the lead up because you're not sure about the imponderables, like who the sitter is going to be, what angle you're going to get etc. but as soon as the drawing started I relaxed and was able to focus on the work. Of course, the other artists and the crew are all so lovely that it's a joy to take part in. Stressful, exciting, exhausting and pure fun – to sum it up!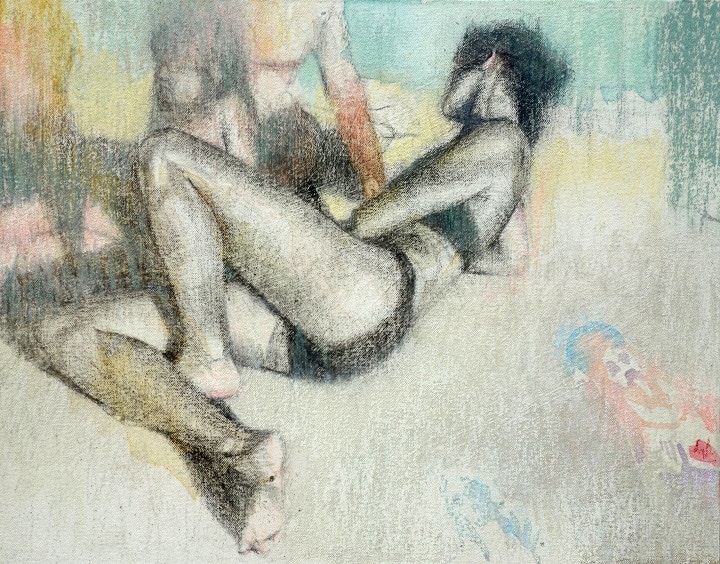 You've recently started to add a touch of colour to your portraits. How has this influenced your work?
In the early 2000s for about five years I did nothing but draw for solo shows in Belfast and Glasgow, most of the time just charcoal on canvas, often quite large scale. Then there was a period of painting but a few years ago I returned to using the charcoal on canvas for an exhibition at the Molesworth Gallery in Dublin. That was the first time a hint of colour made an appearance in the form of pastels, using them really as nothing more than a tint. I never wanted to make fully rendered pastel drawings but to keep it as simple as possible. I had always admired Degas's beautiful charcoal drawings where he used one or two colours to transform them so I probably thought this could work within the context of the competition, though obviously at a much more laboured, clumsy level.
Adrian could barely sit still with excitement! Have you ever had such a fidgety sitter— and how do you approach this challenge?
Ah yes… Excitement? I have a feeling that was sheer boredom! He was pretty bad at the start I must say - I nearly chewed my own hand off behind the easel a few times. Usually I'd consider a sitter not that still if they wavered half an inch, but Adrian was just fully mobile ALL the time.
When you're working from life and not a photo, and focussing on structure and form, it's essential that the sitter is very still (talking is very much allowed but only if they can return to the pose quickly). Any small discrepancy can result in the skull "falling apart", losing solidity or likeness. So we just all basically ganged up on him and kept trying to impress on him the actual meaning of "still". And Frank took him for a brisk walk around the block… But in the end he was great, I was very happy to have had him as my sitter.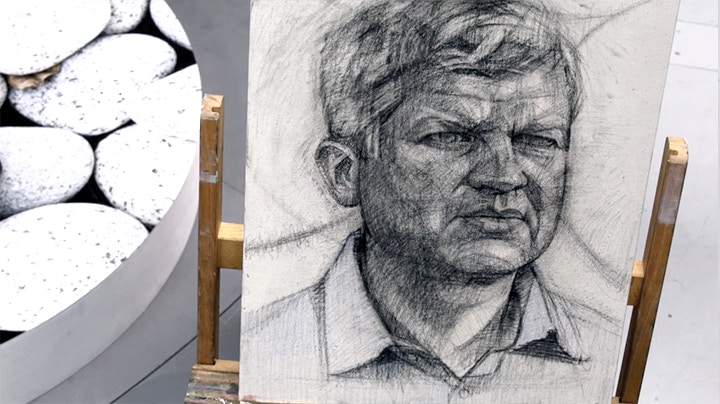 It seems like you really had your work cut out! You captured an almost sculptural quality to Adrian's face. How do you structure your portraits?
That's why I was pleased he was in our section - he has a very solid aspect to him and I wanted to accentuate that. So I drew him bigger than life size and exaggerated the planes of his face, which is probably why it looked quite sculptural.
The thing that I look for drawing or painting the head is the structure - the parts in between the features that join them, and make the portrait believable and strong. I'm always trying to get students not to focus purely on the features (which is human nature), leaving the cheeks, the chin, the forehead blank, but to attempt to convey a convincing three-dimensional human being, not an imagined one.
You use sharpened charcoal to complete your drawings – do you have a preferred set of materials?
I use Nitram Charcoal, a hangover from my days in Florence. Unusually it comes in grades of hardness and I mostly use the H for the finer parts of the drawings on canvas. The advantage is that is can be sharpened to a very fine point and anything else is too soft to deal with the sandpaper-like roughness of the canvas.
The canvas is just a basic cotton-duck, which I stretch, size and glue myself - along with another secret layer - I also use Unison Pastels which are totally beautiful to behold, but slightly unwieldy to use – they're not really for very fine work!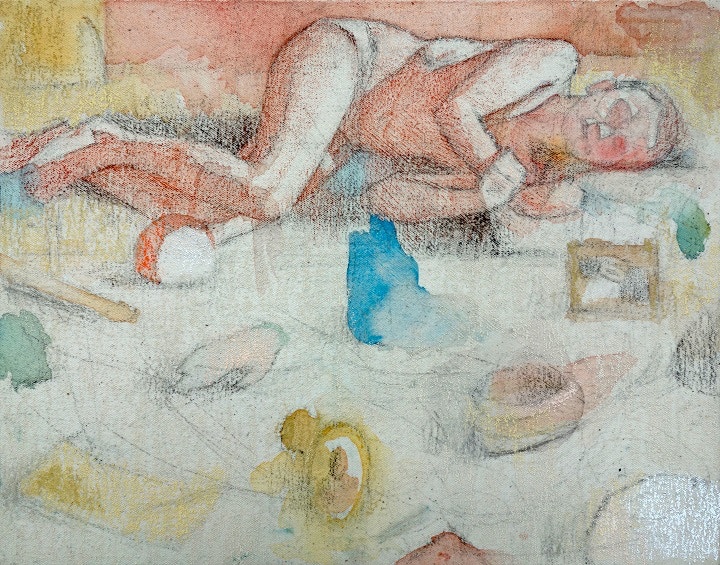 You regularly teach life drawing in our Glasgow Art Space - What advice do you give your students when approaching the figure?
My advice is pretty much: think about the mass of the figure, don't focus on the outline too much. Don't worry it's only a drawing - correct, draw over, keep looking, use your rubber as a drawing tool, correct, draw over, squint, don't start with the head, don't worry about the details, balance, stand back, squint, check, get stuck in, make the figure work… aaaand repeat!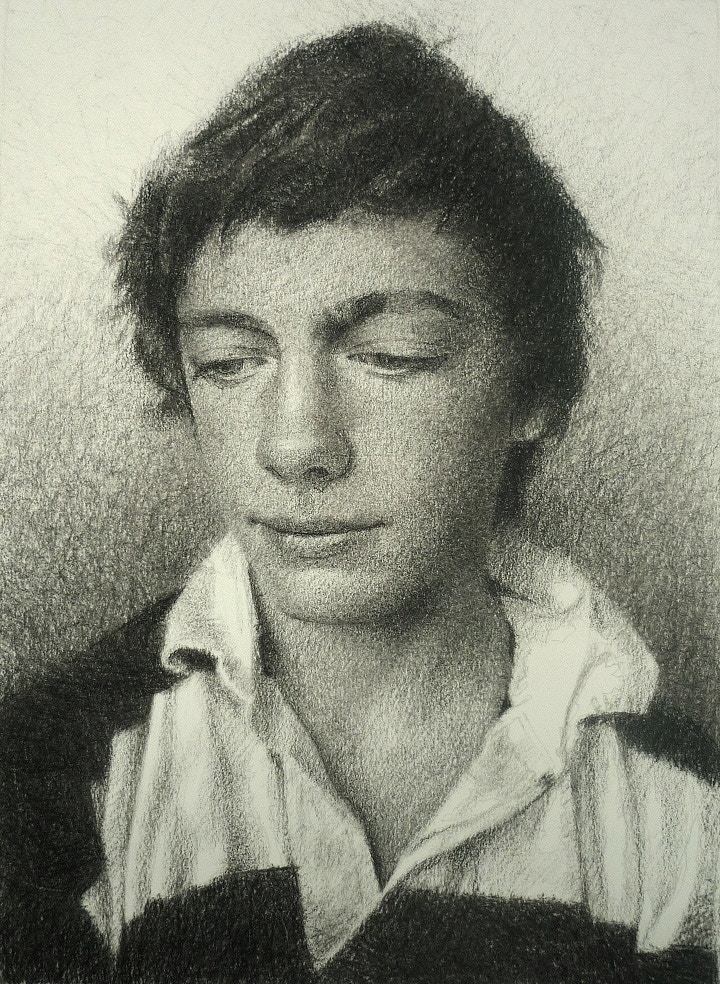 Has your experience at the Wallace Collection shaped how you will approach the Semi-Final?
I'm not sure either way. I just know I'm extremely excited and it's given me some confidence, so there will be an element of just winging it. I find good things often happen if you stay flexible and work with what is presented to you on the day and don't try and plan too much.
It's very hard to anyway with something like this, where you don't know the name or even the sex of the sitter until the very last moment. I'll have a few different options in terms of the size of my boards so that I can attempt some variation in the compositions, but that'll be about it – I'm very much looking forward to it.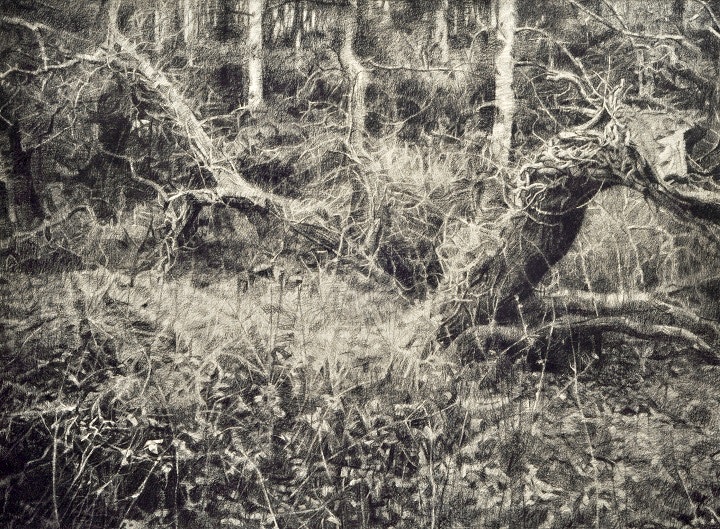 Feeling Inspired?
Explore more of Gareth's work on his website: or via social media on Instagram.