Posted by Cass Art on 4th Jul 2018
We're now over half way through Sky Arts Portrait Artist of the Year 2017 - and the talented artists just keep coming. After an exceptionally strong heat, the judges narrowed down three finalists, all with a very different approach to oil painting.
Catching a moment of actor Trevor Eve that captivated the judges, Greg Mason prevailed as Heat Four winner this week.
Greg Mason is a professional artist who lives in Devon. After an impressive career as an art director, Greg now works from his studio in Exeter as a professional artist. Here, Greg runs Hope Hall Arts hosting two major gallery exhibitions each year alongside Art Week Exeter and Devon Open Studios. He also teaches a variety of painting workshops to develop skills in oil painting.
We caught up with Greg to find out more about his bold brushstrokes, how he approaches a composition and his advice for entering this year's call for entries…
Hi Greg! Congratulations on winning Heat 4 of Sky Arts Portrait of the Year! What was it like painting in front of a live audience?
To be honest, I wasn't really conscious of the audience most of the time. I don't need to use headphones to block out background noise as the conversation I have with myself in my own head while I paint is generally loud enough to take care of that. As the day progressed I did notice the odd camera appear between my legs and under my arm as the public tried to snap my painting on the go. That was a bit unusual!
Probably the most distracting thing was having to stop work every so often to do interviews with the presenters and judges, which is why you'll probably notice that by the end of the first hour I only had three pencil lines down on my canvas. Although we have 4 hours to paint, what viewers most likely don't realise is that a lot of that time is taken up with the mechanics of recording the show.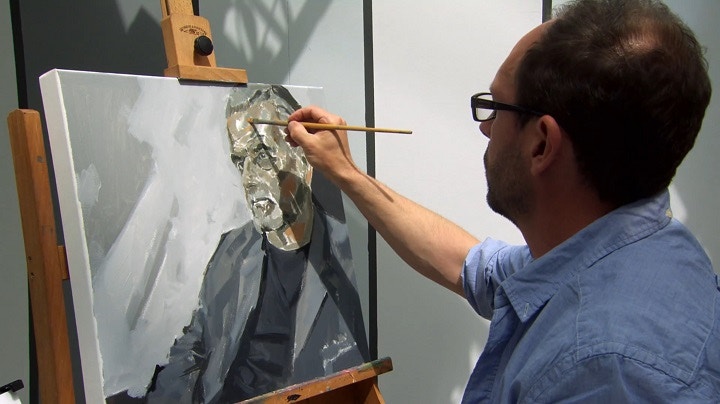 How has your career influenced your journey into painting portraiture?
I studied illustration at St Martins School of Art in the 1980s and lived in London making work for magazines like New Scientist, the Listener and The Times Educational Supplement - sending artwork off on deadline by motorbike well before the days of fax or e-mail. A few years on, a friend showed me a computer he'd just purchased – it was an early Macintosh – one of the first to be used commercially in the UK.
I hunted down a supplier and bought one almost immediately, spending the next 20 years working as a designer, art director and photographer in the fashion industry – travelling the world steering brands like Vidal Sassoon and Aveda with their image-driven identities to become global fashion leaders. It was fast-paced and great fun.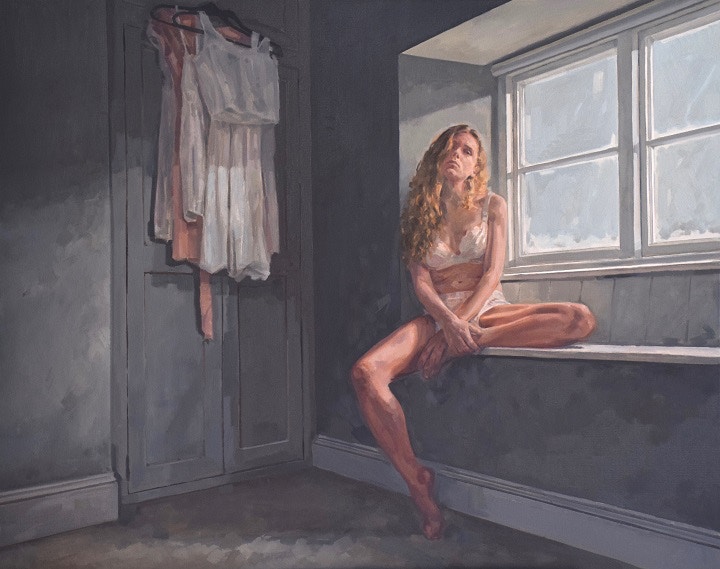 In 2008 I sold my company. I had a window of time to invest in a new direction and I jumped at it. Painting was something I had been passionate about in the past, but had taken a back seat whilst mortgages and children came along. The big question for me was 'where to start'. When you've been disconnected from one type of creative process for so long it's the 'beginning again' which is most scary. Fear can stop you starting most things and I had to find a way of 're-beginning' - eventually working out a solution that would unpick the designer in me and remake the artist.
So… armed with two books by painters I completely adored, Lucian Freud and Tai Shan Schierenberg (which is a bit ironic given Tai's involvement with the show), I hired a model every Friday for a year and painted her over and over again. The books fed my mind, as I tried to get inside the way that these great painters were thinking - and my model provided the muse.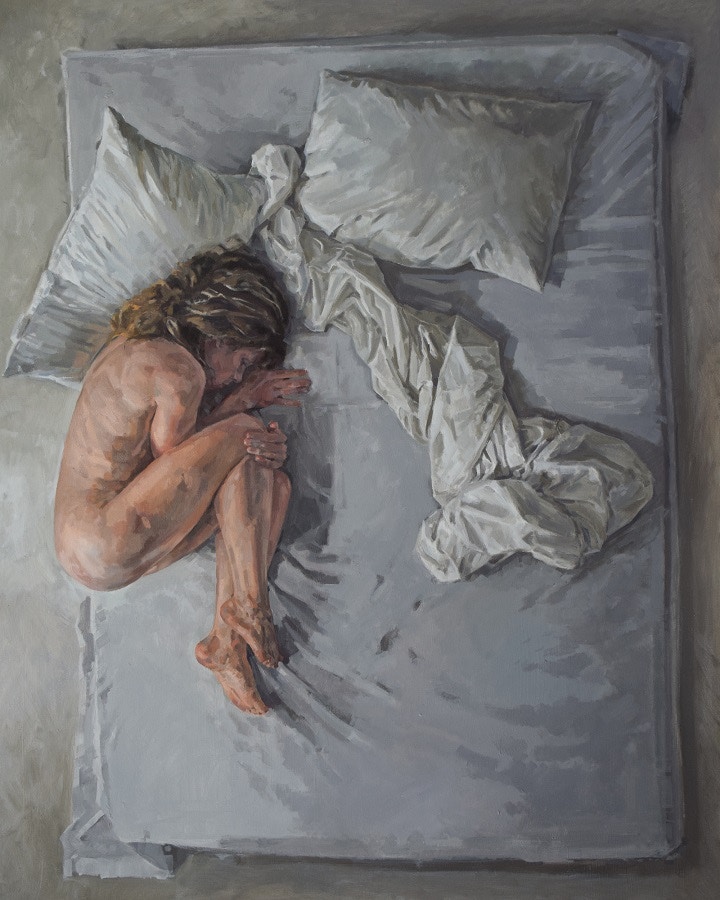 In your professional practice, what do you explore in your work?
For me, painting is all about relationship. It's the relationship with a sitter, the relationship with a landscape or the relationship with the material of paint itself. All these things impact the sequence of choices I make when painting - to achieve something that I can eventually call 'complete'. I guess I look for authenticity in the encounter with the subject as I construct and deconstruct my work in order to find the moment that captures the energy and emotion of that place or person. I never begin a painting knowing what it will look like by the time it's finished - to me that would be pointless.
As well as teaching others, I make sure I get my own practice shaken up a bit and to achieve this I go and train each year with a Colombian artist Nicolas Uribe. For me he's one of the world's great figurative painters and his approach and technique are truly inspirational - he's a painter's painter.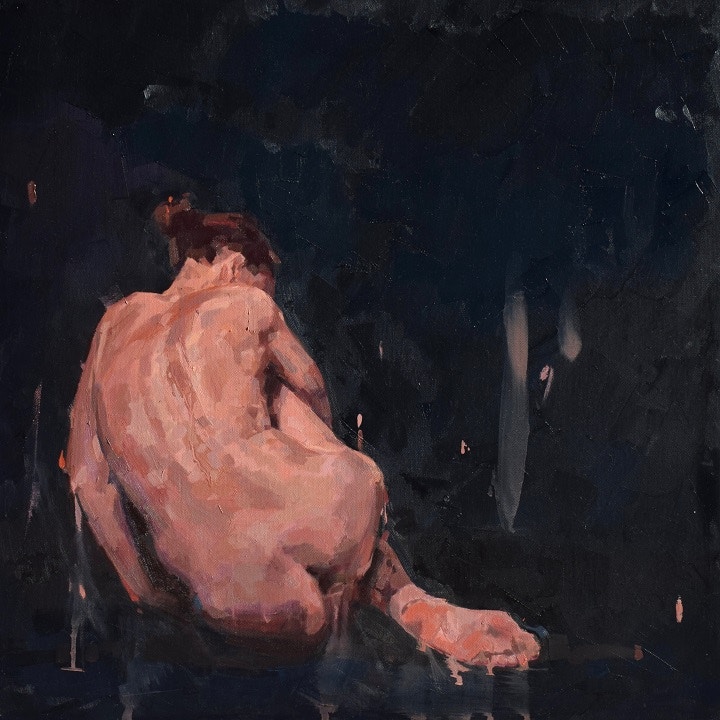 Your carful choice of composition impressed the judges, both in your submission and your portrait at the Wallace Collection. How do you think this influences your portraits?
Composition is everything. When I was designing trend collections for the fashion and beauty industry, I worked with some of the world's top models, stylists and photographers. I learned so much about rhythm, pace and balance - how to help a viewer navigate a piece of work and how to keep tension through composition. Undoubtedly this comes through in the work I make now - I instinctively look for the thing that's a bit wrong or odd, often cropping an image to keep the energy within the canvas. You'll notice I took off the top of Trevor's head and played heavily with diagonals to create echoes throughout the painting.
What materials do you use to achieve your work?
I try not to get too hung up on materials as I'm conscious that there are many more 'qualified' artists out there who understand the chemical processes and possibilities of mediums, varnishes and surfaces much better than I ever will - so I stick to one brand of paint, Schmincke Norma oil colour and one type of surface, 'linen'. Sometimes I will under paint in acrylic and for that I use whatever is to hand. I do like sharp, flat brushes and will invest heavily in this area, as a brush defines the kind of marks you are able to make and I need to know that my tools will give me control in this area.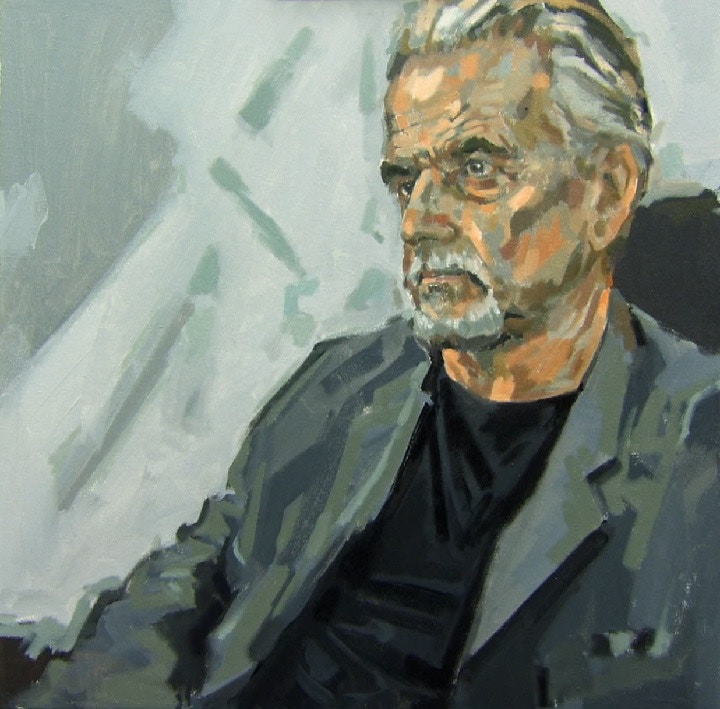 You caught a side of Trevor that he really enjoyed. How do you convey a sense of person in your work?
It's all about looking for that small, special something that's going to add personality. In the case of Trevor, it was an eyebrow he raised for just a second - I caught it and it made the painting come alive. I was so pleased he picked out my work to take home with him - when that happened it felt like 'job done'. If I'd had a target for the day it was to get my sitter to pick mine, so what happened next was a complete bonus in my mind.

The initial drawing was a beautiful piece of work before you even started in paint! Do you always draw out your portraits first before translating them into oil?
I always draw first. If composition is the first choice I make, then solid drawing is the second. It's a bit like putting down the foundations of a house - if you get those wrong then the whole thing falls down around your ears. It's so much easier to correct a drawing at an early stage than to correct a painting half way through when the paint is wet and unfriendly.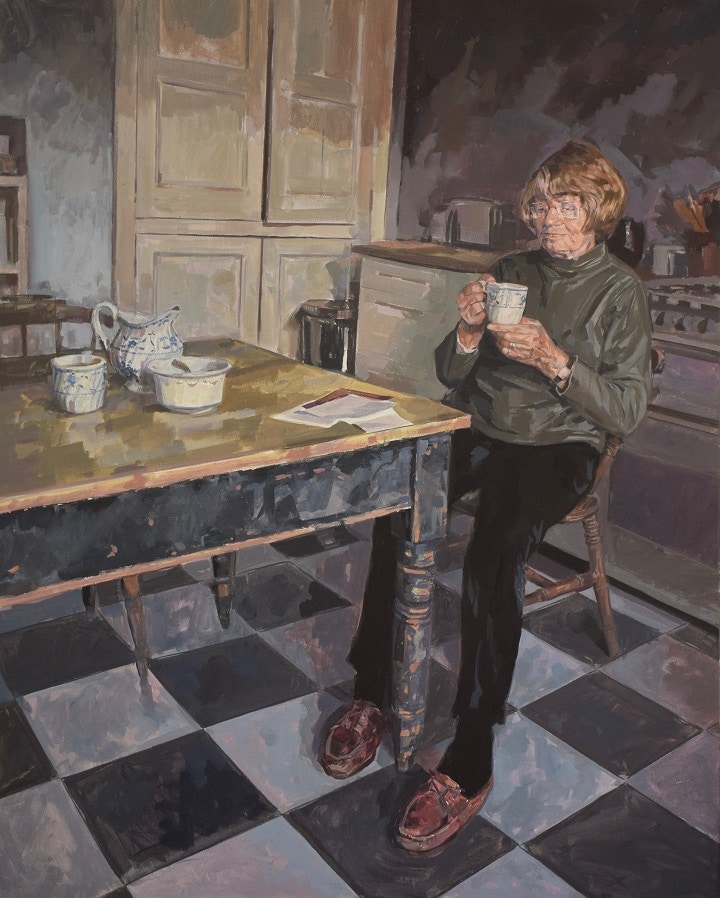 How do you bring an emotional expression into a portrait?
Once I've got the drawing down and I move into acrylic or oils, I know that the likeness will stay within the painting as long as I take care and make good choices. However, getting emotion into a piece and grounding it in some deeper kind of authenticity is often the product of accidents that happen in a more instinctive way. Without wanting to sound too pretentious, I remember feeling about 70% of the way through that my brush just seemed to know what to do and all I had to do was let go. I think that was the moment when it became a more emotional picture.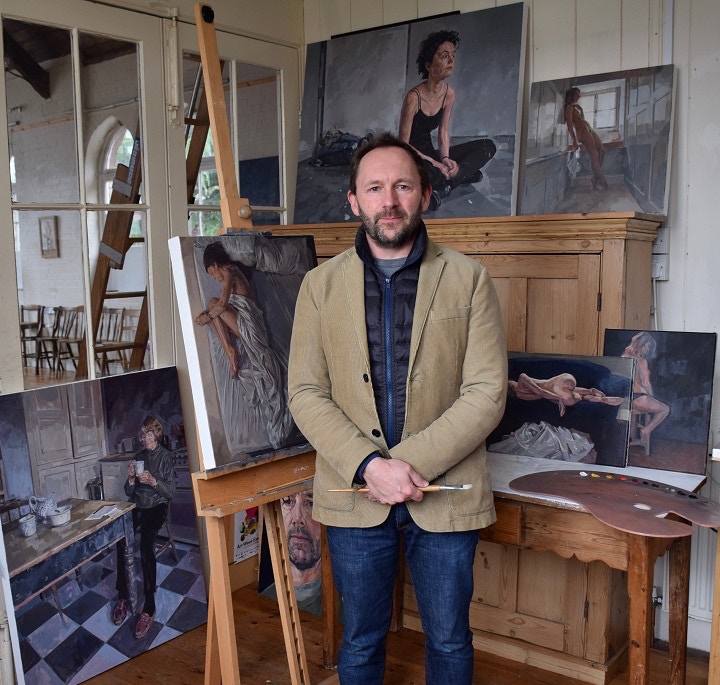 What advice would you give to artists thinking of applying for the next series of Portrait Artist of the Year?
You can't beat the advice of Ewan McClure from the first series of Portrait Artist of the Year, he said "Paint a portrait every day for a month". I tried this running up to the heats and made some of the worst paintings I've ever done in my life. However, what I learned from these terrible results was what 'not' to do so on the day. So, by the time the heats came along I knew I had a shot at making a painting in four hours that would demonstrate something of the quality I knew I could generate when painting normally in my studio.
Feeling Inspired?
Discover more of Gregory's work at www.gregorymason.com
Follow Gregory's lead and experiment with bold brush strokes and oil painting online and in-store. Stock up on your own painting and drawing supplies, and share your portraits via our social channels. Use the hashtag #POATY2017 and don't forget to tag @CASSART
Catch the next episode of Sky Arts Portrait Artist of the Year 2017 on Tuesday 21st February on Sky Arts from 8pm