Posted by Cass Art on 20th Jan 2019
So many students want to make it as a professional artist after graduating from art school. It can seem a daunting prospect – there's so much competition out there, your parents are sceptical about your financial security, and applying for art competitions and residencies seems a tenuous way to begin your creative career.
But artist James Lomax is living proof that if you put in the time and focus your efforts on your art practice itself, you can quickly make that transition from art graduate to professional artist.
After graduating from The Ruskin School of Art last year in 2013, James embarked on an artist residency and later went on to become the youngest ever winner of the Sky Academy Art Scholarship in early 2014. The Scholarship awarded him £30,000 to spend on his practice, and gave him access to mentors for the year, one of whom is Godgrey Worsdale, the Director of the Baltic Contemporary Art Gallery.
At just the age of 22, James has secured himself a studio, giving himself the time and space to experiment with materials and work on a series of paintings.
We wanted to know on behalf of all the art students out there – how did get to this point in just under a year?
Firstly, congratulations on winning the Sky Academy Arts Scholarship 2014! Can you tell us about the application process?
Thanks very much, it has been a bit of a whirlwind! It all started when I became artist in residence at The Lombard Method,in Birmingham, in October last year. One of the studio holders there mentioned that I should apply. I had heard about the prize before but in all honesty, I thought it sounded a bit too good to be true so it wasn't really on my radar. I did a bit more research into it and decided to apply. It is quite unlike other application processes I was used to as you apply with a specific proposal and it is open to all of the arts, not just visual art. They had no obligation to select one visual artist so it was interesting being up against people from such different backgrounds. Over 1000 people applied at the beginning of December and I had kind of forgotten about it when I was on the tube home from work one evening and got an email saying I had been selected for the longlist of 35 people. Four days after that I was told I was on a list of 11 shortlisted applicants and I would be interviewed in two weeks time and 5 would be selected from this. The interview took the form of a 25 minute talk on my practice and 15 minutes of questions; I was presenting to a room of 11 people, who included Godfrey Worsdale (Director of BALTIC Contemporary Art Gallery) and Louise Jeffreys (Director of Arts, Barbican). Four days later, as I was hanging a painting whilst working as a technician, my phone rang, and I got the good news!
What has winning the Sky Academy Arts Scholarship meant for your practice? ??
More than anything the Scholarship has allowed me just to focus time and energy into my practice. When I applied I was in between studios, having recently finished a residency; I had recently moved to London and was just trying to make enough money so that I could think about getting myself a studio on a long-term basis. The Scholarship does offer so much more though and being able to regularly speak to my mentor Godfrey Worsdale is invaluable; at art school all my tutors were artists so having input from a curatorial and theory-based point of view is really interesting.
What other steps did you take after graduating to secure yourself as a professional artist?
I applied for everything that I could as soon as I left art school and was really fortunate to get the Graduate Residency at The Lombard Method. I really love Birmingham and the art scene there is the best I have ever experienced. Being there really inspired my proposal for the Sky Academy Arts Scholarship; the network of artist lead spaces there is so exciting and it's something I would like to involve myself in as much as possible. I was also asked to be in a show at a space in Manchester caller Malgras Naudet. That was a big learning curve because it meant I made my first piece of work outside of art school, without a studio; that changes things a lot, it changes the way you make work. I wasn't particularly pleased with the work as an outcome but as a process I learnt a lot, and that was when I knew I definitely needed a studio on a permanent basis.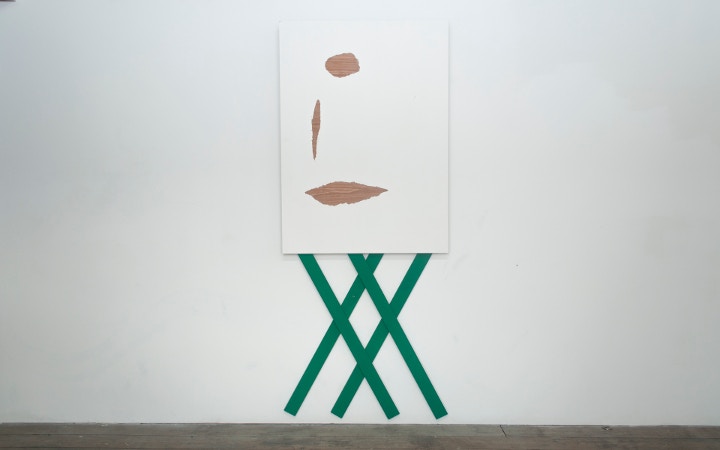 Can you tell me a little about your practice, and how it has developed since leaving art school?
My work is site reactive - not specific. I draw inspiration from a site and development through associated materials is an important part of this process. The sites, which are normally of banal nature, are not made explicitly known to the viewer, although they may be referenced physically and metaphorically in both the work and its title. I think they become more exciting with this itinerant disengagement. Each work locks into a situation, from which an instrument is constructed and a complex identity is tuned.
I would describe my practice as predominantly sculpture/installation based, though since I left the Ruskin School of Art I have been experimenting more with ideas around painting and film. It's really important for me to allow my practice to stay fluid and work across different mediums.
What is your favourite art material - or does it change depending on what you're working on?
My work is largely about materials but for me the material itself isn't necessarily an important aspect; the way in which it is utilised is far more key to the work. 'Get to know your materials' is written down in the front of one of my sketchbooks! It's vital that I understand what I am using, the way that it will work in different scenarios and environments. It might be the way I can use painted turf to create a self-supporting structure, or the way that a work made from instant coffee will give out the acrid smell I want to achieve in a slightly humid environment. Often it's through processes of trying to 'get to know a material' that I begin to make interesting discoveries that then lead on to works.
What are you working on at the moment?
I'm currently working on a series of paintings which are displayed in a similar way to rolling adverts that you might see at bus stops, on pavements and train platforms. I'm still trying to get my head around some of the logistical aspects but disco ball motors and poster tubes appear to be the answers to all of my problems!
Who are your art heroes?
There is a huge list of artists whom I have great respect for but I guess the one that I hold in highest regard would be Ed Ruscha, an American artist working in painting and photography. I remember vividly the first time I saw one of his paintings. It really stopped me in my tracks and put things in perspective for me.
If you could give one piece of advice to an art student graduating this year, what would it be?

Just try and keep making work, and apply for residencies.
Feeling inspired?

James Lomax will be sharing more insight on professional creative practice with students and recent graduates at Free Thinking, a series of Cass Art curated talks at Free Range from 4th-7th July. Click here to read more about the event at the Old Truman Brewery, London.
Read our other Graduate Success Stories on Büsra Wilson, who works at Daler Rowney, and Andrea Tyrimos, who landed her first solo show at Curious Duke Gallery.
You can visit James Lomax's website here, follow him on Twitter and read more about the Sky Academy Arts Scholarship here.